Jimmy Choo is best known for his high-end handmade exclusive shoes. They are the accessory of choice for cutting edge fashionistas and celebrities alike and create a look instantly recognized as "Jimmy Choo".
Jimmy Choo is a Malaysian fashion designer with a net worth of $50 million dollars
While dedicated fashionista fans may think they know every detail about the designer, here are some facts you may or may not have known about the shoemaker: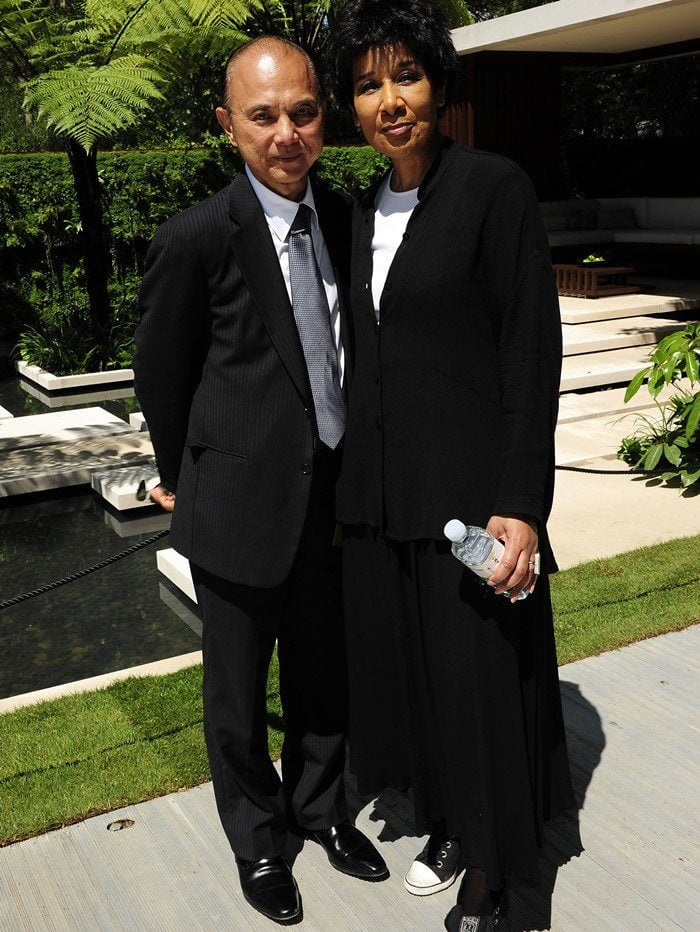 Jimmy Choo and Moira Stewart at the 2011 Chelsea Flower Show – VIP Day at the Royal Hospital in London on May 23, 2011
1. Jimmy Choo Is Owned by Capri Holdings
When you buy a pair of Jimmy Choos at Farfetch or Nordstrom, they may be beautiful and bear the "Jimmy Choo" label, but they are not made by Choo himself.
The Malaysia-born Choo founded the brand in 1996 with British socialite Tamara Mellon but later sold his stake in 2011. The company has changed hands many times. In November 2017, the label was acquired by Capri Holdings Limited (formerly Michael Kors Holdings Limited) and delisted from the London Stock Exchange.
If you want Jimmy Choos that actually have anything to do with him, you'll have to purchase them from the Jimmy Choo Couture Limited Collection. His exclusive shoe line is available by appointment only at Connaught Street in London.
2. Why He's Famous
Jimmy Choo is known for putting his blood, sweat, and tears into his shoes. One time when preparing for a Katharine Hamnett fashion show, Jimmy Choo worked non-stop for three days and nights, just sewing beads on shoes!
If that's not what you call a hard-worker then I don't know what is!
3. Sex and the City
It's been said that Manolo Blahnik's association with "Sex and the City" took him to the next level and that every time Carrie Bradshaw said "Manolo" more and more of his shoes were sold around the globe.
Even Madonna referred to Manolo Blahnik's shoes as being "better than sex," but when it came to her wedding day, it was a pair of Jimmy Choos that she wore.
4. Princess Diana Was a Fan
There are many celebrities that wear Jimmy Choo shoes, but one of his most famous clients was Princess Diana. He designed many pairs for her over the years–so many that he can't remember the actual number.
The day after Princess Diana died, he was scheduled to deliver a pair of just-completed gold pumps to her. Those gold pumps now sit in Choo's closet in memory of his dear friend.
5. Jimmy Chow?
He was born to family of shoemakers on November 15, 1948, George Town, the capital city of the Malaysian state of Penang. Under his father's guidance, he made his first shoe when he was 11 years old. While his family name is Chow, it was misspelled on his birth certificate as Choo!
Moving to Britain for university, he is one of the most notable graduates of Cordwainers Technical College, which he graduated from in 1983. In 2010, his alma mater merged with London College of Fashion
After selling his eponymous shoe label, Jimmy Choo is believed to have a net worth of $50 million dollars. Sandra Choi, the creative director of Jimmy Choo, is the niece of Jimmy Choo's wife, Rebecca. Another niece, Lucy Choi, is also a shoe designer.
Jimmy Choo "Abel" Glitter Degrade Fabric Pointy Toe Pumps, $675
Credit: WENN