TikTok users are delighted that actor Johnny Depp has finally joined the app following the win in his defamation lawsuit against ex-wife Amber Heard. After his account was created, he reached over 10 million followers in just 24 hours.
In his first TikTok video, he shared a montage of fans supporting his trial, as well as other clips of him writing and performing music on stage.
The video appeared to symbolize Depp moving into a time of positivity after a grueling few months at court.
Amber Heard wasn't happy to learn Johnny Depp joined TikTok shortly after the conclusion of their defamation trial (Credit: WENN)
In the caption, he addressed his supporters, writing: "We've been everywhere together, we have seen everything together. We have walked the same road together. We did the right thing together, all because you cared. And now, we will all move forward together."
Depp also praised his fans for being "treasured, loyal, and unwavering."
Following this Tik Tok debut, Amber Heard released a counter statement through her representative.
View this post on Instagram
"As Johnny Depp says he's 'moving forward,' women's rights are being moved backwards. The verdict's message to victims of domestic violence is…be afraid to stand up and speak out."
In 2018, Heard wrote a domestic violence column, for The Washington Post. This article led to Johnny losing work and being hated by the world.
View this post on Instagram
Fast forward to 2022, when the jury labeled this article as defamatory and awarded over $10 million in compensation to Depp.
Heard did however win one of her counter-claims, that Depp's attorney defamed her by labeling her slander as "an abuse hoax". Heard received $2 million as compensation for this.
Johnny Depp reached 10 million followers within 24 hours of posting his first TikTok video (Credit: Cliff Owen / CNP / Startraksphoto)
Speaking on the trial, Depp said: "Speaking the truth was something that I owed to my children and to all those who have remained steadfast in their support of me. I feel at peace knowing I have finally accomplished that."
Amber Heard styled her lace-cut Dolce&Gabbana dress with Brian Atwood pumps (Credit: WENN)
Arriving at the first major film festival awards show of 2016, Amber Heard set the bar high in a body-hugging Dolce & Gabbana dress.
She paired up with her husband Johnny Depp, and the couple looked handsome and sultry posing together on the red carpet.
Amber was a presenter during the awards show, though she dressed like the main event. The glowing actress was a sight to behold in her long, detailed frock.
Actress Amber Heard and actor Johnny Depp with publicist Robyn Baum (Credit: WENN)
The Dolce & Gabbana gown Amber wore featured a wide and rounded neckline with an embroidered trim. With a sleeveless top and exposed black bandeau beneath, the dress dripped with sex appeal.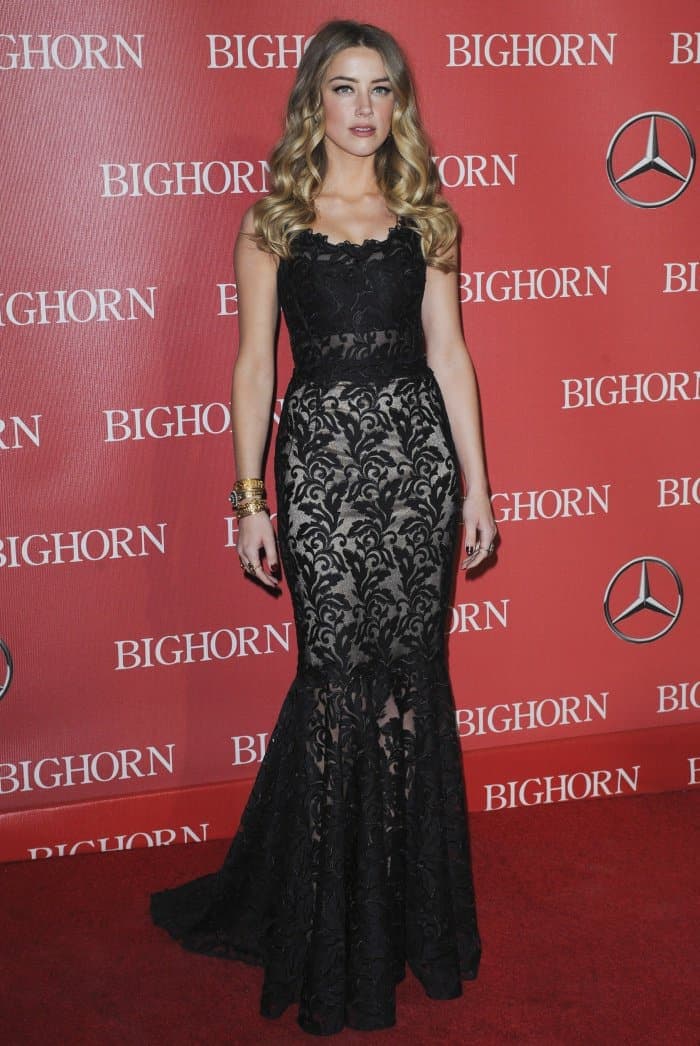 Amber Heard wearing Dolce&Gabbana at the 27th Annual Palm Springs International Film Festival Awards Gala (Credit: WENN)
A natural waistline kept Amber's feminine figure on display, and the fanning of embroidered tulle at her feet added a final touch of elegance.
While the front of the gown was impressive, the real show stopper was the backside, where buttons ran exposed mid-back down to the knee.
The buttons and tight, sheer design of the gown resembled old-fashioned lingerie, while still leaving a tasteful amount to the imagination.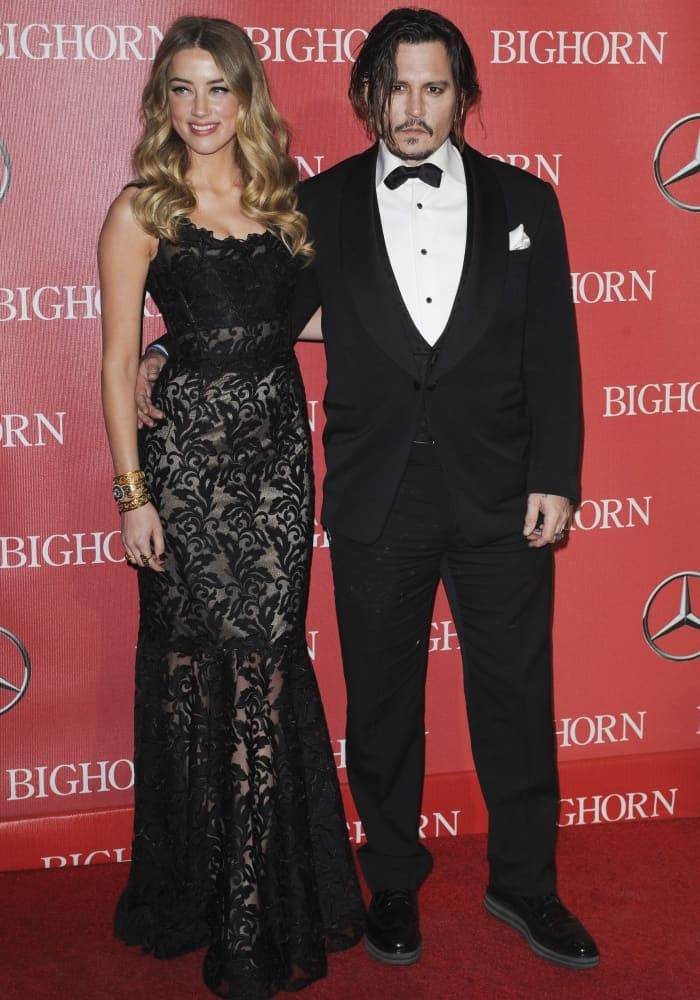 Amber Heard with her husband Johnny Depp at the 27th Annual Palm Springs International Film Festival Awards Gala held at Palm Springs Convention Center on January 2, 2016, in Palm Springs, California (Credit: Apega / FayesVision / WENN)
Amber Heard looked dazzling in the embroidered lace gown. She paired it well with gold and onyx cameo earrings, chunky golden bracelets, and rings, and wore her blonde hair in a sea of soft curls.
We love her choice to wear a long, nude pencil skirt underneath the sheer lace designs.
You can check out Heard's Dolce & Gabbana embroidered tulle gown at Bergdorf Goodman and Farfetch: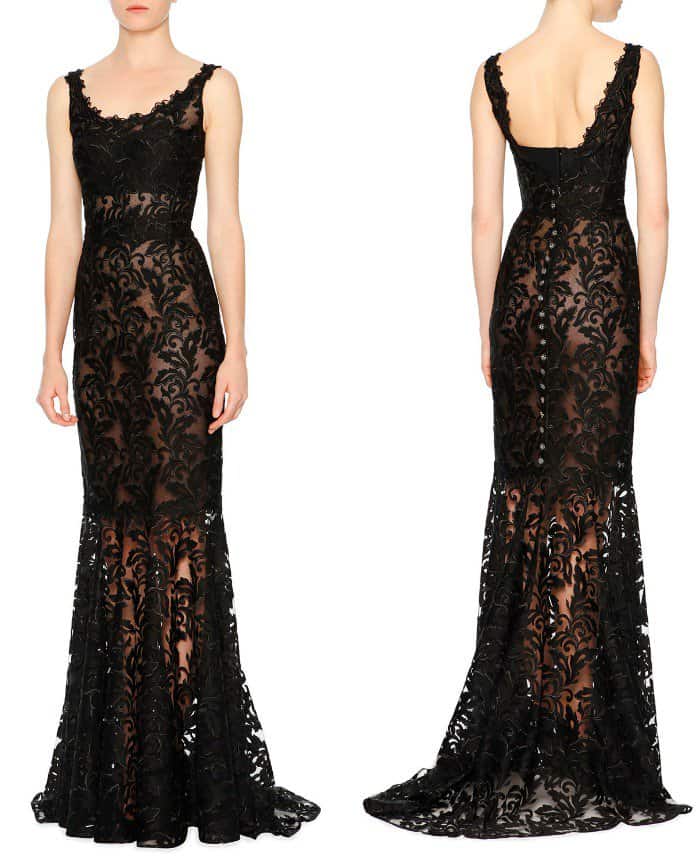 Dolce & Gabbana Sleeveless Round Neck Lace Gown in Black, $7,495.00