Looks like Johnny Depp and Amber Heard are now openly dating. They have been mum about their relationship for a while, but it looks like that is going to change. Just yesterday, the two were spotted holding hands as they left Cipriani Restaurant in London.
It was obviously a dinner date; Johnny was dapper in a three-piece suit while Amber blew us away with her red silk frock and stilettos.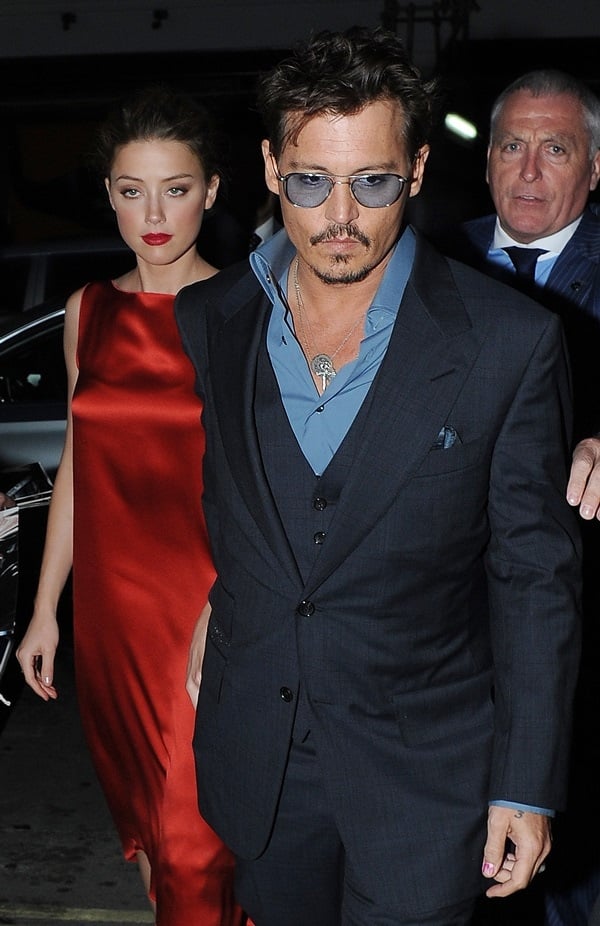 Johnny Depp and Amber Heard looked insanely good together while leaving Cipriani restaurant in London on July 21, 2013 (Credit: Craig Harris / WENN)
We have to admit, they looked insanely good together. No, seriously, we could literally forget the age difference (she's 27 and he's 50!).
Known for his many accents, Johnny protectively held on to his young lady love as the photographers clicked away with their cameras. It was such a gentlemanly gesture, and it made us love him even more.
But as much as we'd love to focus on Johnny today, what we really want to talk about is how amazing Amber looked on their date. Her outfit was very simple, yet she was completely stunning.
And while the matching red lipstick was spot-on, what sealed the deal was the way she finished the dress with a pair of neutral ladylike snake-print pumps. They complemented the frock oh-so-perfectly!
Amber Heard wearing a red silk shift with snake-print pumps for her date with Johnny Depp (Credit: Craig Harris / WENN)
We don't have any information on Amber's shoes at the moment (although we get the feeling they're from Jimmy Choo), but if you're looking for a fresh way to wear your red frock this season, take a cue from Amber here and finish it with snake-print heels.
Be sure to pick a pair that comes in neutral gray, just like Amber's. Nayley from Kim Kardashian's popular shoe club is a reasonable alternative starting from just $10.
Snake-Print Nayley Pointy-Toe Pumps, $10