You might think they're kicking themselves now for picking such a restricting name, but it's just that the idea for new shoe label Ancient Greek Sandals couldn't be any more clear: to make footwear that look like they're from Ancient Greece.
Designer Christina Martini's exact words are "our idea was to make our sandals look like they were archaeological finds but with a modern twist". Together with footwear business owner Nikolas Minoglou, Christina created this line of leather sandals that are not only inspired by Greek Gods and myths but are also all made in Greece.
While it's true that plenty of other brands sell gladiator sandals like these for much less, the value of AGS sandals lies in the fact that they're made of chemical-free, natural tan leather and are handmade by skilled craftsmen using centuries-old traditional techniques. Design-wise, they're timeless, classic sandals that you could wear with a lot of things over many seasons. Couple that with the luxe leather material and you've got yourself a love-forever sandal that'll only look better and feel better on your foot over time.
Channel your inner goddess and check out Ancient Greek Sandals' debut S/S 2012 sandal collection that you can buy at Nordstrom and Shopbop:
Ancient Greek Sandals 'Nausica' flat sandal, $255.00
Ancient Greek Sandals 'Medea' wedge thong sandal, $350.00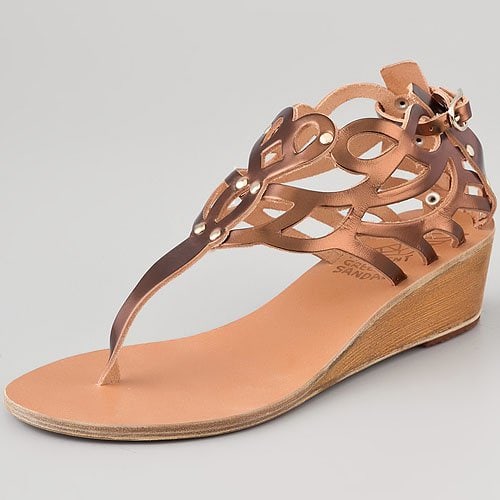 Ancient Greek Sandals 'Circle' ankle tie sandal, $245.00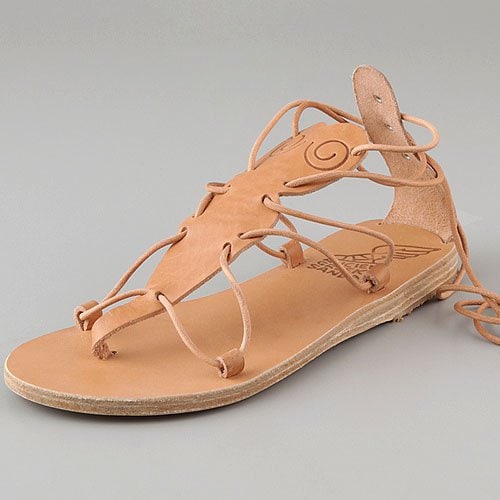 Ancient Greek Sandals 'Kiveli' lace-up wedge sandal, $370.00
Ancient Greek Sandals 'Artemis' knotted strap sandal, $275.00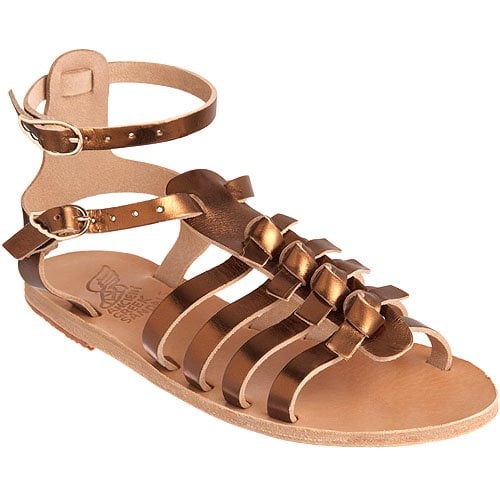 Ancient Greek Sandals 'Medea' metallic leather sandal, $350.00
Ancient Greek Sandals 'Ikaria' winged sandal, $245.00