Angelina Jolie and Brad Pitt attended the 2014 Independent Spirit Awards yesterday. Brad took home the Best Feature trophy for the movie he co-produced, '12 Years a Slave'.
Angie, who was there to support her man, looked stunning per usual in a black ruffled wrap gown from her favorite label, Saint Laurent.
Angelina Jolie leaving the venue of the 2014 Independent Spirit Awards with her partner, Brad Pitt, in Santa Monica, California, on March 1, 2014
The actress, however, tripped on her frock while leaving the venue after the awards show. You can watch the video below to see how the whole scene unfolded.
Angelina Jolie looked stunning in a black ruffled wrap gown from her favorite label, Saint Laurent
Wow. It's amazing how she still managed to look elegant and poised despite an embarrassing mishap. Thank goodness, Brad was there to keep her from falling to the ground.
Of course, the incident isn't the only reason why Angelina is here today. We thought we'd talk about the metallic gold heels we saw the moment she hiked up her gown. Can you ID those shoes? Can you guess from which label they're from?
Being the huge Saint Laurent fan that she is, we're guessing the pointy stilettos are from that label. But can you pinpoint which particular style?
You can actually find slow-motion videos of the scene on YouTube. Angie's pumps look very similar to the Saint Laurent Paris Escarpin Thorn pumps that are currently available at Nordstrom. Only, hers are in metallic gold and are fashioned with ankle straps.
Saint Laurent Paris Escarpin Thorn Pumps in Black Patent, $685 at Nordstrom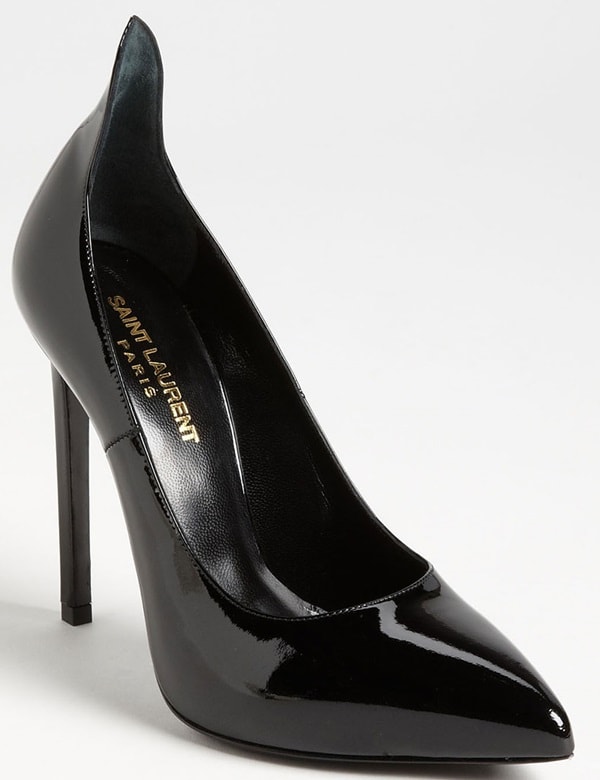 Saint Laurent Paris Escarpin Thorn Pumps in Red, $685 at Nordstrom
Note that these shoes feature a detail that is unique to the style — an upswept and pointed collar at the back of each shoe. The extensions follow the curve of your ankles so they shouldn't be painful to wear at all. Also, these pumps feature 4.75-inch-tall heels, so they are a little on the steep side.
That said, it seems Angelina is into gold shoes lately. Didn't we just see her in a pair of gold Saint Laurent ankle-strap sandals while out on a date night with Mr. Pitt? Looks like she has found her new "neutral," yes? Too bad we couldn't find any product shot of her pumps online, so we may have to wait until they get officially identified.
In the meantime, here's a lovely gold pair from Badgley Mischka if you're keen on channeling your inner Angie today. These are designed with T-straps and will look fabulous with practically anything, even with jeans.
Badgley Mischka "Pila II" in Gold Metallic, $225 at Amazon
Credit: revolutionpix / WENN