She's always had a flair for classic elegance and style, and Anne Hathaway did not disappoint with her choice of outfit at the Cannes Film Festival premiere of her latest movie Armageddon Time.
The 39-year-old actress stars alongside Anthony Hopkins and Jeremy Strong in the movie, written, directed, and produced by James Gray.
It's a semi-autobiographical coming-of-age movie about Gray's upbringing in Queens, New York, in the 1980s.
Anne Hathaway, Anthony Hopkins, and Michael Banks Repeta star in James Gray's period drama Armageddon Time (Credit: Jose Perez / INSTARimages)
Princess Diaries' Queen of Genovia channeled her inner royal in a white sequined two-piece gown by Armani Prive for her Cannes debut.
Looking sleek and classy, the flattering custom gown features a bandeau top and a floor-length column skirt decked out in sparkling white sequins.
Anne Hathaway portrays Paul's mom Esther Graff and says she was honored to play a Jewish mother in the film.
"My mother-in-law, who passed away recently, was simply the greatest Jewish mother I've ever seen. Her legacy my life in profound ways that I am truly, truly grateful for," she said during a press conference in Cannes about Adam Shulman's mother Jacqueline Banks.
"The hand of a Jewish mother will guide the rest of my life; if I have done one thing, and it is to capture that love, I honestly won't even attempt to put it into words. That's why I am so grateful to cinema because it allows you to say things without words."
Anne Hathaway looks regal in a custom white sequined two-piece gown from Armani Prive (Credit: Doug Peters / PA Images / INSTARimages)
Styled by Erin Walsh, Anne dialed up the glamour by wearing a white silk satin stole designed with a large bow that cascaded down her back into a dramatic train.
"You hire Erin Walsh, and you trust her," Anne told People of her Cannes outfit. "You know, I've never been to Cannes, and I've been watching the fashion of the film festival unfold for a couple of decades now. And I've noticed certain things you can never go wrong with."
"You never go wrong with a little sparkle. You never go wrong with something that looks chic and glamorous but feels very, very comfortable. And I noticed that a lot of my favorite actresses had their first experience wearing all white, so that was what I did."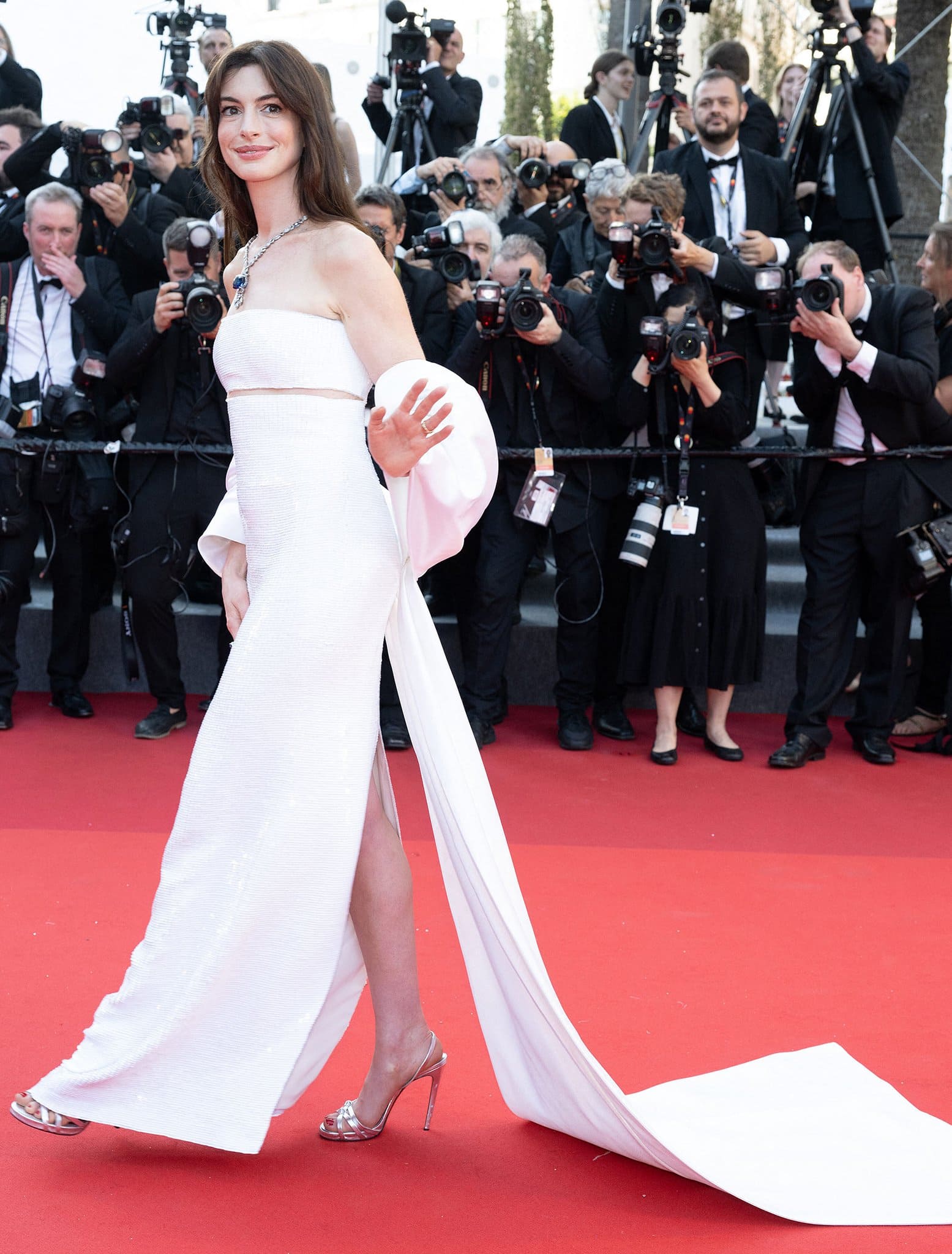 Anne Hathaway's white gown features a white silk satin stole that cascades down her back into a train (Credit: David Niviere / ABACA / INSTARimages)
The real focal point of her outfit, however, was the Mediterranean Reverie necklace from Bulgari's new Eden The Garden of Wonders High Jewelry collection.
Anne, who's been named the Italian luxury house's newest ambassador, debuted the breathtaking piece during her Cannes debut.
It features a 107.15 carat royal blue cushion-cut sapphire stone from Sri Lanka and sits above three diamond drops, complemented by a glimmering diamond chain.
Newest Bulgari ambassador Anne Hathaway wears the Mediterranean Reverie necklace from Bulgari's new Eden the Garden of Wonders High Jewelry collection (Credit: ABACA / INSTARimages)
She skipped the earrings and simply paired the necklace with a matching sapphire ring, a gold snake Serpenti flap clutch, and a pair of Santoni silver sandals.
These $820 slingback heels are crafted from metallic silver leather enhanced with small hand-tied knot embellishments that pay homage to Italian art.
Allowing her natural beauty to shine, makeup artist Florrie White simply highlighted Anne's features with eyeliner, a hint of shimmer on her lids, pink blush, and matching lip color.
Meanwhile, hairstylist Adir Abergel let her chocolate tresses fall down her back in gentle waves.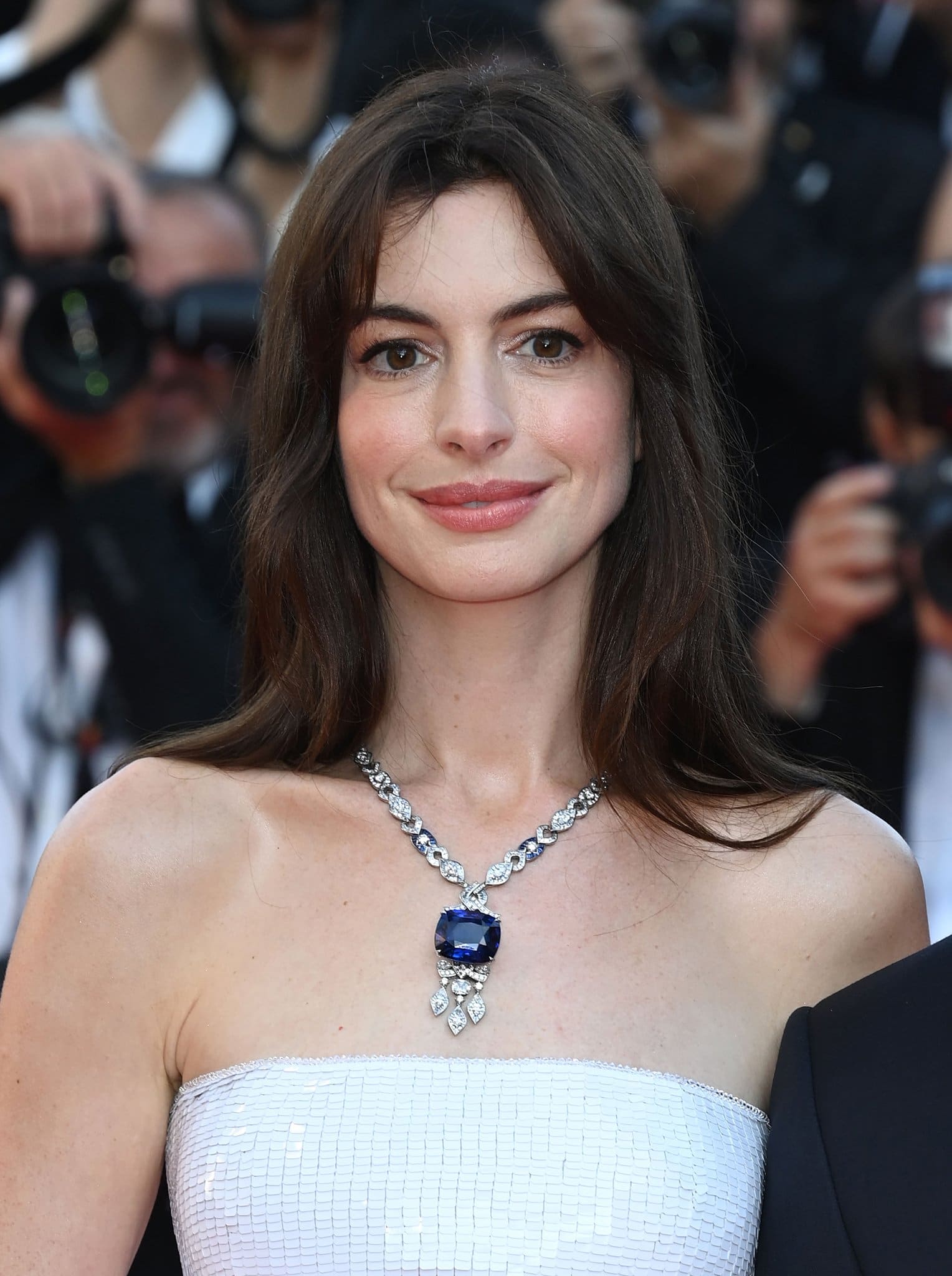 Anne Hathaway wears her chocolate brown tresses down and highlights her features with eyeliner and pink lipstick (Credit: Doug Peters / PA Images / INSTARimages)
A day later, the WeCrashed star switched things up and went the 1960s retro route in a black and blue Gucci mini dress.
Parading her slender legs, the Brokeback Mountain star wore a tiny frock featuring a built-in cobalt blue PVC cone-shaped bra and a bedazzled velvet bottom half. It also has a crossed-back design that ties into a tiny bow.
Anne Hathaway goes the 1960s route in a Gucci mini dress with a cone-shaped bra bustier and a bedazzled mini skirt at the Armageddon Time photocall on May 20, 2022 (Credit: DDP / INSTARimages)
Anne, who prefers to be called Annie, boosted her 5'8" height by slipping her pedicured feet into a pair of metallic silver sandals, also by Gucci.
They have logo-adorned bows on the front, T-straps, thick platforms, and 4-inch block heels.
Anne Hathaway displays her feet in silver Gucci bow heels (Credit: IPA / INSTARimages)
Injecting a touch of elegance to the flirty look, Anne styled with diamond jewelry from Bulgari, including a pair of Serpenti earrings, a Serpenti Viper ring, and a Serpenti Jewellery watch.
She then continued with the 60s vibe by wearing her tresses in a big half-down style and glamming up with winged eyeshadow and pink lipstick.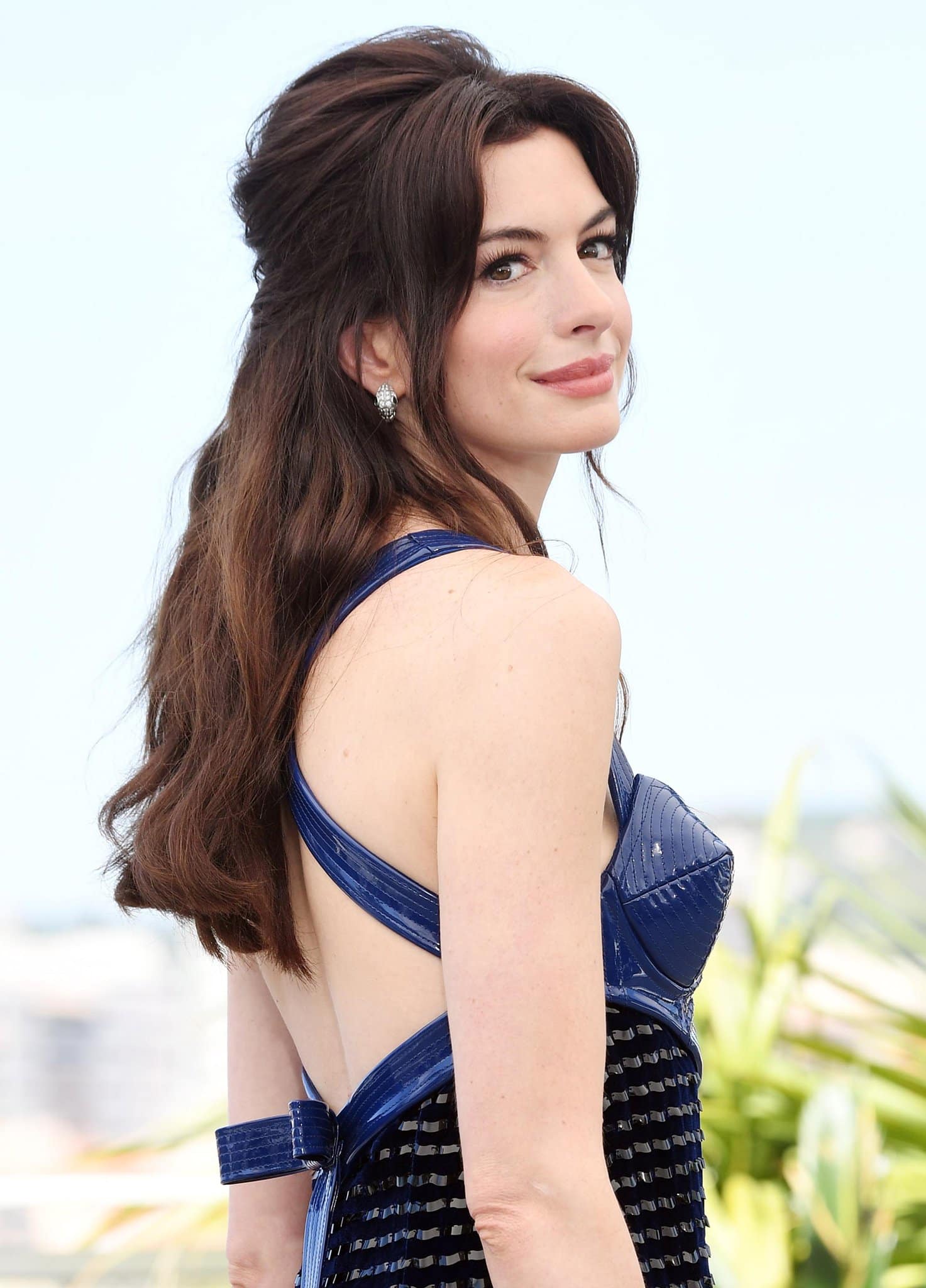 Anne Hathaway styles her tresses in a '60s big half-up hairstyle and wears winged eyeshadow with pink lip color (Credit: Cover Images / INSTARimages)