In February 2013, Naomi Campbell showed off her feet in an amazing pair of Azzedine Alaïa shoes. A few years later, the hacktivist group Anynomous dragged her into a controversy by linking the 1980s supermodel to Jeffrey Epstein.
They leaked a document named Jeffrey Epstein's Little Black Book containing the names of Naomi Campbell, Donald Trump, Ivanka Trump, Phil Collins, Prince Andrew, and Tony Blair.
Naomi Campbell with long straight hair at the 6th annual Essence Black Women in Hollywood luncheon held on February 21, 2013, at the Beverly Hills Hotel in Los Angeles
In a November 2019 interview with The Guardian, Campbell denied claims she has a history of keeping "very rum chums" with figures like Weinstein and Epstein.
"I've met thousands of people at events and been photographed with them – there are pictures of me with everyone," Naomi said about photographs showing her smiling with Harvey Weinstein and Jeffrey Epstein.
This photo reveals all – Naomi Campbell, Ghislaine Maxwell, and trump all in one photo! #Anonymous really here exposing all these cover ups. pic.twitter.com/ekmd678e9d

— Sophieee (@SophieYeoo_) June 1, 2020
Are you going to single me out, when there are hundreds of people pictured with the same people, who you don't care to mention?"
"Yes, I knew him," she said of Epstein in a YouTube video published in August 2019. The American financier and convicted sex offender took his own life on August 10, 2019, in a federal detention center in New York while awaiting trial.
"I was introduced to him on my 31st birthday by my ex-boyfriend Flavio (Briatore). He was always front and center at Victoria's Secret fashion shows."
"What he's done is indefensible," she added. "When I heard what he had done, it sickened me to my stomach, just like everybody else, because I've had my fair share of sexual predators, and thank God I had good people around who protected me from this."
"I stand with the victims. … They're scarred for life. For life. I'm not going to stop – and I won't be undermined or have my team be undermined for all the wonderful and great work" they've done, Campbell said.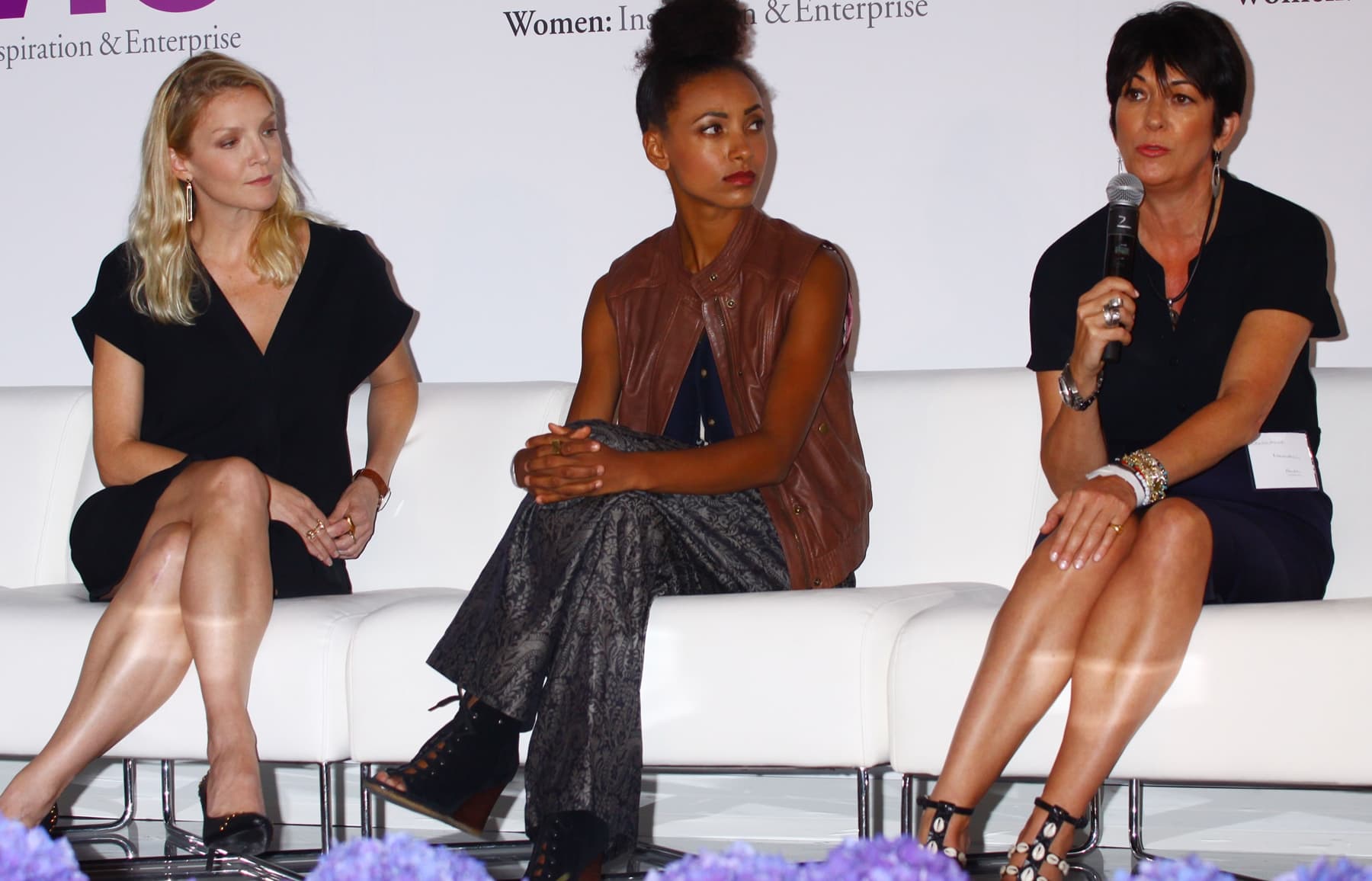 Kristy Caylor, Esperanza Spalding, and Ghislaine Maxwell attend day 1 of the 4th Annual WIE Symposium at Center 548 on September 20, 2013, in New York City
"The frightening conclusion here is that if the negative action of your neighbor, colleague, or even an associate can somehow make you guilty, too, simply by association, then we indeed live in very worrying times. This affects us all. It's wrong, it's unfair and it must be stopped."
Sex trafficking survivor Virginia Roberts Giuffre claims Naomi Campbell must have known what was going on.
"She was Maxwell's BFF," Giuffre tweeted along with a picture of her, Maxwell, and Campbell. "There is no way in hell that she didn't know what was happening in front of her own eyes. They were all aware of Epstein & Maxwell's op- didn't go at any length to hide it either. That's me @ 17- sad."
She was Maxwell's BFF- There is no way in hell that she didn't know what was happening in front of her own eyes. They we're all aware of Epstein & Maxwell's op- didn't go at any length to hide it either. That's me @ 17- sad. 🦋 pic.twitter.com/vrVcZmqBZ3

— Virginia Giuffre (@VRSVirginia) April 22, 2020
The English model, actress, singer, and author rocked her gladiator-inspired heels to the 6th Annual Essence Black Women in Hollywood luncheon.
Naomi Campbell wears a knee-length Alaïa dress to the Essence Black Women in Hollywood Luncheon
Accused of committing acts of violence numerous times, she paired the ultra-strappy heels with an all-white Alaïa dress, long straight locks, and intricate silver jewelry.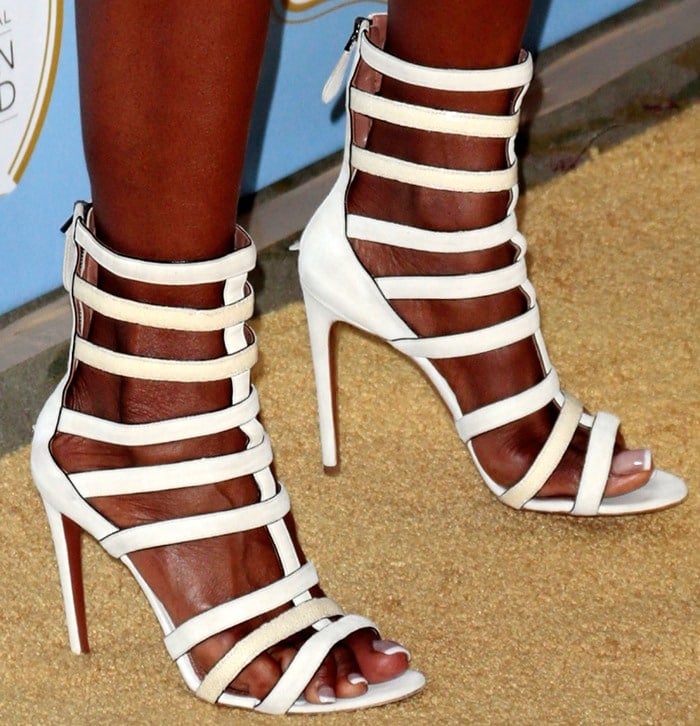 Naomi Campbell displays her feet in strappy white Alaïa sandals
We couldn't find her heels online yet (likely because they're from the newest collection), but we did find a similar pair of white Alaïa heels at Farfetch that we hope you'll like.
Alaïa White Azzedine Alaãa Bianco Cera Calf Leather, $1,010
Credit: Brian To / WENN / Michael Carpenter