Two days before 2013 ended, Ashlee Simpson was spotted doing some shopping in West Hollywood in Los Angeles.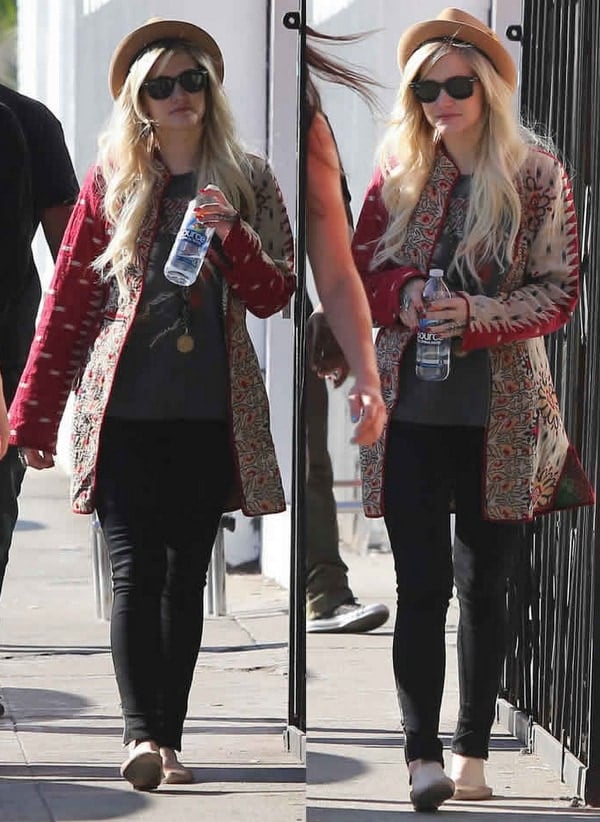 Ashlee Simpson out and about in West Hollywood, California, on December 29, 2013
The 29-year-old singer-songwriter and actress (who is only famous because of her better-known big sister, Jessica Simpson) toured the famous Melrose Avenue with her 25-year-old boyfriend, Evan Ross.
Ashlee Simpson with boyfriend Evan Ross in West Hollywood, California, on December 29, 2013
Although dressed in just a printed tee and black skinny jeans, the entertainer added some interesting pieces to her laid-back style to keep it interesting. A printed cardigan or topper added a pop of color to her outfit, a tan hat gave it an edge, and a number of long beaded necklaces provided an exotic flair. She finished her look with Ray-Ban sunglasses and a pair of scalloped-detailed ballerina flats from Chloé. Her style is characteristically boho-chic.
Ashlee Simpson's Chloé 'Lauren' ballerina flats
What do you think of her look? Interesting or too busy?
Ashley was wearing the 'Lauren' scalloped flats from Chloé. They provide a delightful twist to the usual and ordinary ballerina flats with their scalloped toplines. Not only are they comfortable, but they're also cute. So, if you're quite tired of the usual unimaginative ballerina flats out there, the 'Lauren' is definitely the way to go. This style is available in six colors at Nordstrom.
Chloé 'Lauren' Scalloped Ballerina Flats, $475 at Nordstrom
Credit: WENN