You can't help but get that warm feeling when looking at pictures of Reese Witherspoon and her daughter Ava Elizabeth Phillippe together.
This duo epitomizes that special mother-daughter relationship. Their genuine warmth, happiness, and care for each other come shining through and no more strongly than in Ava's recent tribute to her mom Reese on her 46th birthday.
Reese Witherspoon and her look-alike daughter Ava Phillippe arrive for the Premiere Of Illumination's "Sing 2" held at The Greek Theater on December 12, 2021, in Los Angeles, California (Credit: DFree / Shutterstock)
Ava Phillippe, 22 is the daughter of Oscar winner, Reese Witherspoon, and Ryan Phillippe and is the spitting image of her mother. Reese was 23 years old when her daughter Ava was born on September 9, 1999.
During an interview with InStyle, Reese said she loves being mistaken for her daughter as it makes her feel very young, and her daughter is apparently happy to go along with it.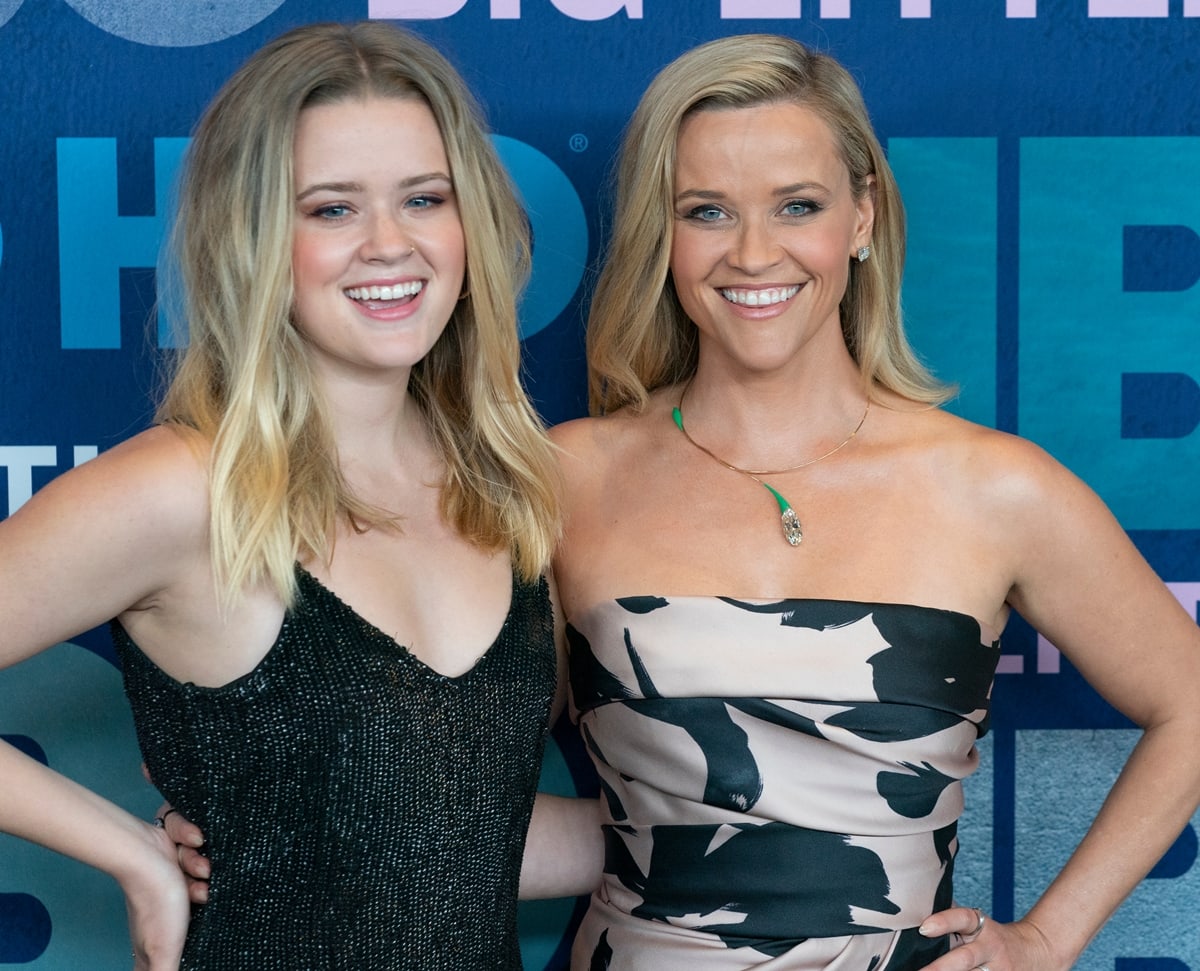 Reese Witherspoon loves being mistaken for her daughter Ava Phillippe because it makes me feel young (Credit: Lev Radin / Shutterstock)
She went on to say, "I'm sure it's not easy looking exactly like your mother. We talk to Zoë Kravitz a lot. Because she and her mother (Lisa Bonet) look exactly alike, so whenever Ava is frustrated, I go, 'Call Zoë, text Zoë, she knows what to talk about.' I mean, that's another mother-daughter combo that's like identical twins."
Reese's Bright Light
Ava took to Instagram on March the 22nd to wish her mother happy birthday in a message that we are sure touched Reese's heart.
Beneath a black and white photo of Reese holding flowers, looking anything but 46, she captioned, "With every year, her bright light shines even brighter, and I find even more reasons to love her and a greater appreciation for all that she does. Happy happy birthday to the brilliant, joyful, fiery, thoughtful, and gorgeous woman that I am lucky enough to call my mom."
View this post on Instagram
Reese Witherspoon is one of those people whose bubbly, warm, and caring personality brings joy to everyone who interacts with her.
She is loved by her family, friends, colleagues, and fans all around the world and this was no more evident than in the multitude of wishes she received on her special day.
Birthday Tributes Pour In
Jennifer Aniston shared her love for Reese in an Instagram slideshow with images and video clips of the two of them together in Friends and The Morning Show which she co-hosts with Reese.
Jennifer wrote, "It's somebody's birthday today. My little sister, co-anchor, partner in crime. I LOVE YOU, you sweet ray of sunshine. Let the love pour in! Happy BIRTHDAY @reesewitherspoon."
View this post on Instagram
Laura Dern, one of Reese's close friends and who co-starred with her in the hit TV show Big Little Lies, as well as portraying her mother in Wild joined the Instagram tributes writing, "It's International I Love Reese Witherspoon Day! Happy birthday to my amazing sister."
View this post on Instagram
A Wrinkle in Time co-star, Minda Kaling, posted a selfie of herself and Reese with a humorous caption, "Forget the startling difference in the relative size of our heads.
Instead, feast your eyes on the beauty + brains @reesewitherspoon on the right. Happy birthday Reese dawg, you're the best there is. So lucky to be continually inspired by my friend. Love you forever."
View this post on Instagram
Where the Crawdads Sing
And we are sure the icing on the birthday cake was the release of the Where the Crawdads Sing trailer, which Reese shared on her Instagram feed, writing "The gift of all gifts! Thrilled to share the official trailer for @crawdadsmovie, coming to theaters this July."
Reese first showcased the novel Where the Crawdads Sing by Delia Owens back in September 2018, making it a Reese's Book Club pick a mere month after it was released.
This film adaptation has been produced by Reese's company Hello Sunshine and if the trailer is anything to go by, this will be another one of Reese's many successes.
Jena Malone, Joanna Newsom, Maya Rudolph, Sasha Pieterse, Jordan Christian Hearn, Reese Witherspoon, Joaquin Phoenix, Katherine Waterston, and Keith Jardine at the premiere of Inherent Vice at the TCL Chinese Theatre in Hollywood on December 10, 2014 (Credit: WENN)
In December 2014, Reese Witherspoon looked stunning in pink at the premiere of the 2014 American period neo-noir crime film Inherent Vice at the TCL Chinese Theatre in Hollywood.
The crime-comedy-drama film is based on the novel of the same name by Thomas Pynchon that you can buy on Amazon.
Joaquin Phoenix plays Larry "Doc" Sportello and Reese Witherspoon plays Deputy District Attorney Penny Kimball in Inherent Vice (Credit: WENN)
The then 38-year-old The Man in the Moon actress and producer donned a tweed-jacquard sleeveless dress from Balenciaga paired with cream calf leather "Paris" pumps from Saint Laurent.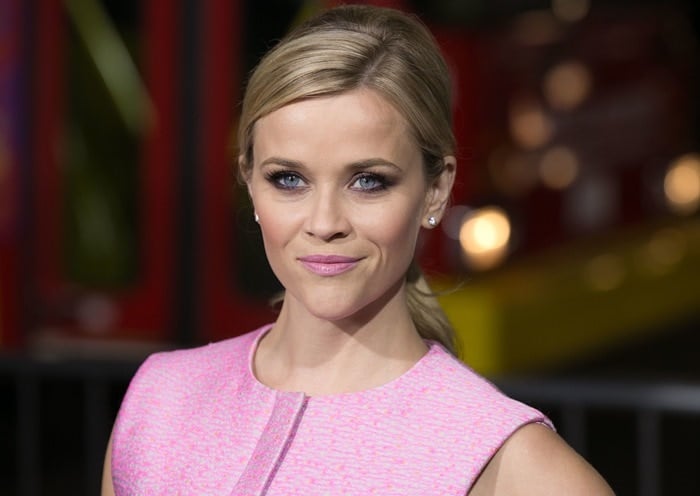 Reese Witherspoon in a tweed-jacquard sleeveless dress from Balenciaga (Credit: WENN)
How do you like Reese's sleeveless pink Balenciaga shift dress?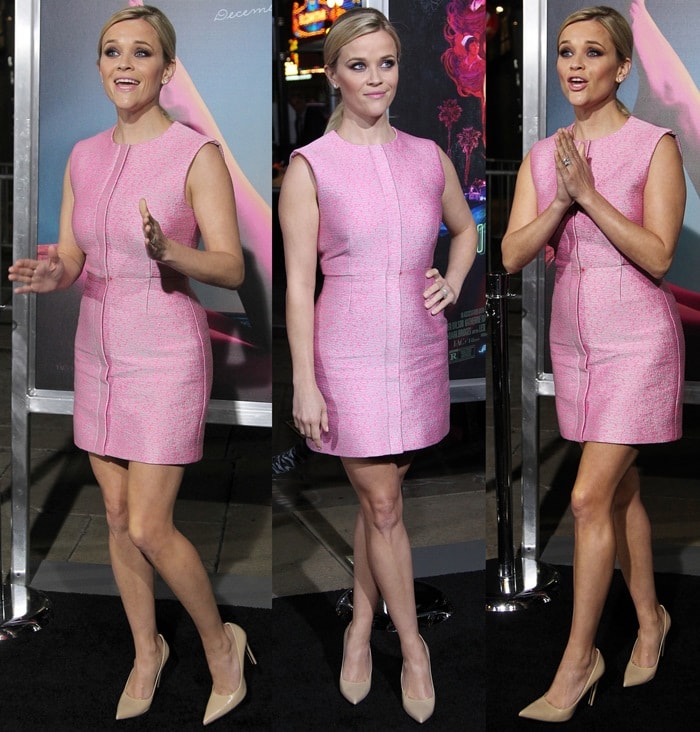 Reese Witherspoon flaunts her sexy legs in cream calf leather Paris pumps (Credit: Brian To / WENN / FayesVision)
Her Saint Laurent pumps can be purchased at Farfetch and feature pointed toes, open fronts, and high stiletto heels.
Cream Calf Leather Paris Pumps, $525