The single most important piece of gear every basketball player needs is a solid pair of basketball shoes to rock on the court. They impact your game by providing traction, comfort, and protection along with showcasing your style by creating custom made colors and designs.
Before you start searching for your perfect basketball shoe, you need to know what features you're looking for that will compliment your playing style.
Are you a point guard or a post player? Do you want a shoe that provides ample ankle protection? Or a shoe a little less restrictive? Is your game more finesse and crafty or slashing and attacking? Does your shoe need to have a bouncy and soft cushion? Or will a firm, responsive cushion be better for your game?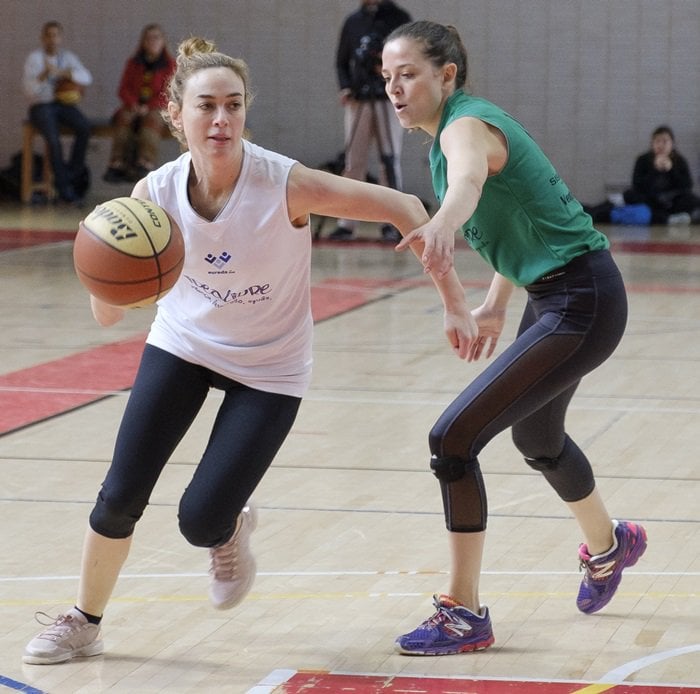 Actress Marta Hazas takes part in the Actresses vs. Ex-Players charitable women's basketball game at the Sports Facilities of the Canal de Madrid in Madrid on March 3, 2018
All of these points will be critical to finding the right basketball shoe. It can be an overwhelming and time-consuming process, but never fear, we are here to help. In this basketball shoe buying guide, we're going to prep you on what features you need to enhance your game and what specific styles you should consider as your go-to, game-time shoes.
By the time you're done with this guide, you should know what shoes are right for your game; and before you know it, you'll be on the court reaping the rewards of all your research and hard work.
Scouting Report: Basketball Shoe Buying Analysis
As every player knows, there's a lot to look at when it comes to finding basketball shoes. You can't simply base your decision off one thing; you have to find a shoe that is going to meet all of your needs – for your feet and your game.
What are your needs? That's what we are going to break down in this section. We're going to discuss your needs according to your player type and your needs according to shoe features.
Player Type
Before you make any decision on a shoe, it's beneficial to understand your playing style and capabilities. Do you shoot from long range or are you attacking the rim? Is your game more agility and speed or power and aggression? Once you figure out your playing style, you can then search for needed features more easily.
If you're a Finesse Player, you have the ball in your hands a lot. You have the ability to drive the lane, but usually, choose to take the jumper on the perimeter or find an open teammate for the assist. This type of player needs a comfortable shoe with quality cushioning and traction since you'll be running to the floor and stopping on a dime and a tight secure fit so you don't roll your ankle when you make cuts.
If you're a Slasher Player, you like to get to the rim. Your athletic ability makes you one of the best athletes on the court. As a Slasher, you need a shoe that does everything well, but most importantly is ankle support to keep you from injuries and traction that allows you to explode.
If you're a Power Player, you attack the basket in a straight line and muscle through your defender. You're the player the defense thinks twice about stepping in front of to take a charge. Power Players are thick, fast players who need ankle protection and support along with cushioning and traction in their basketball shoes.
If you're a Post Player, you're the tallest player on the court who rarely leaves the paint and racks up rebounds, blocks, and dunks. These players are going to be using their body to get in position at all times which means you'll need the most support a shoe can offer as well as protection to support the weight post players carry around.
Features
With your playing style in mind, it's time to go into more detail about common features you'll find in basketball shoes. Do you need maximum support in your shoes? What is traction? Are there different kinds of cushion systems? How should your basketball shoes fit and feel on your feet?
You already know your game, but when it comes to features, you have to know your feet.
Fit: Purchasing the right fit may seem like a no brainer but people actually get this wrong. Some people get shoes that are too small and end up feeling constricted and uncomfortable. Others get shoes that are too big which can lead to a rolled ankle or other injuries that could be avoided by getting the correct size. These reasons alone make getting the right shoe size essential to your game.
When you're trying on shoes and deciding on what size to buy, try these two pointers to make sure you get it right.
Broad Toe Box. Your toes need to have plenty of room to breathe in your shoes. If you get shoes that are too shallow then you may end up with blisters, ingrown, or bruised toenails because of the pressure on your toes. All of the above can be uncomfortable and make it hard to play up to your standards because of your injured feet.
Thumb Space Clearance. It's important that your toes are not rubbing the end of your basketball shoe. The best way to make sure this doesn't happen to you is to follow the Thumb Test which is to give yourself a thumb's worth of space between your toes and the end of your shoe. When you're trying on your shoe, stand up and check to where your toe ends then put your thumb on the shoe to see if it passes the Thumb Test.
Traction: Basketball is a game of stopping, slashing, cutting, and other rapid and sudden movements. It's crucial for a player to make these type of moves without the fear of sliding all over the court. If you've ever had a shoe with low-quality traction then you know how important it is to find the right shoe that allows you to stick to the court.
It's important to find shoes with traction that allows you to stick to the court
Shoe companies who specialize in basketball shoes have to great lengths in creating the best possible traction patterns. Each traction pattern tries to give basketball players the highest amount of grip possible in hopes to allow players to stop and change directions in an instant the entire time they're on the court.
Traction is so critical to a good basketball shoe that it can define its performance on the court. It's not a feature that visually stands out, but it greatly influences the way you can play your game. If the traction isn't gripping the court and you can't make any moves because you're sliding on the court then you may think about getting another pair of shoes or implementing some of these tactics to make your traction better and last longer
More than one pair of basketball shoes. If you have several pairs then you can rotate them with each other. Or you can designate a practice shoe verse a game shoe. Either way, you won't have one pair of shoes you solely rely on, which means you can prolong the traction life.
Purchase a stick pad or sprays. At most gyms, you'll see stick pads at the scorer's table to clean your shoes before you take the court. They clean the dust from the bottom of your shoes and give your shoes a little more stick.
Clean your shoes often. Every time you take the court, your shoes are collecting dust and this makes you more susceptible to slipping and sliding on the court. To fight this, try having a damp cloth at your bench so you can clean the bottom of your shoes at breaks during the game.
Cushion: Whether you're a starter or a substitute, a big post player or small guard, a young hooper verse an older hooper, cushioning is important for every type of player. When you're out on the court playing hard, you want to feel like you're feet are getting the cushion they need every time you make a move.
Cushioning is important for every type of basketball player
With so many different basketball player types, there come different cushioning systems. Cushioning isn't a one-type fit for all. There are shoes with cushion that make you feel like walking on a slab of concrete while others provide cushion that feels like a soft pillow.
It's about knowing what you need to feel comfortable in your shoes on the court and what allows you to play your best game. With so many shoe brands to consider, it's good to know what sort of cushioning system makes sense for you and find it in your basketball shoes.
Support: Basketball is a game of jumping and cutting which requires maximum support from your basketball shoe. This support is especially true for your ankles. Ankle injuries are one of the most frequent injuries in basketball. Because of this, selecting a basketball shoe that provides your foot with support is crucial.
For the best support, you should avoid lower cut basketball shoes. This decision will shrink your shoe options, but it is for the right reason. Instead, take a look at a higher cut basketball shoe. This type of style will keep your ankle from moving around while you're on the court which should increase ankle support and lower risk of injury. No one shoe can prevent an injury, but the additional support can reduce the amount of stress on your ankle.
If you can't find a comfortable high cut basketball shoe or prefer a lower cut shoe, make sure you bring any ankle braces (if you wear them) and try those on with the shoes to ensure it all fits comfortably together.
All basketball players want to avoid future ankle injuries, but if you're a basketball player with a history of weak ankles then move this category to the top of your priority list. Whether you are a rookie or a veteran, it's wise to consider your options when it comes to your health and durability. A long-lasting career starts with your feet and the support your basketball shoes provide while you're on the court.
Style: This is the least important feature for any basketball shoe, but unfortunately it's the first thing that catches our eyes about a shoe. One of the biggest things to remember when it comes to the style of a basketball shoe is just because you like the way it looks doesn't mean you will like the way it feels.
Always go for the other features first: fit, traction, comfort, and support. Then, when you have found the right basketball shoe, add your style to it. Blend your personality into your gear by customizing your shoes with different color schemes and designs. Rocking colorful, appealing, custom basketball shoes can help you stand out on the court and give you a boost in confidence every time you lace up your shoes.
Overall, don't get distracted by brands, signature models by your favorite players, and marketing ads. Stay focused on what you need in your shoe and be sure your final shoe decision is one you enjoy wearing.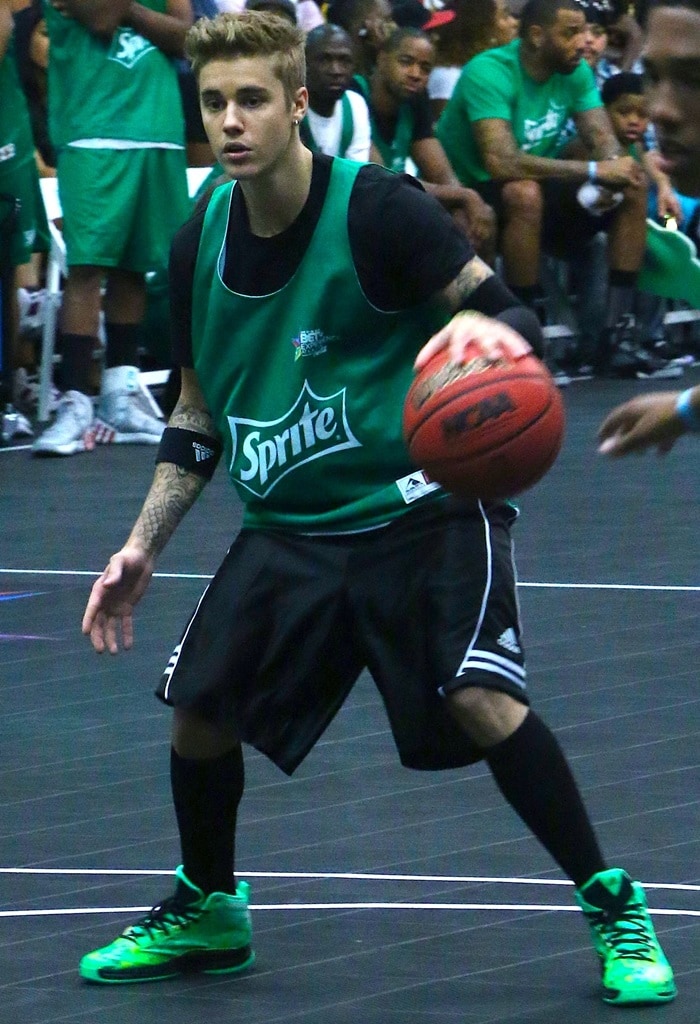 Singer Justin Bieber attends the Sprite Celebrity Basketball Game during the 2014 BET Experience At L.A. LIVE on June 28, 2014, in Los Angeles, California
The Top Basketball Shoes of 2019
With player types and features in mind, let us break down the Top Basketball Shoes currently on the shelves in every shoe store and on the feet of basketball players across the world.
1. Nike Lebron 16, $186.31-$594.99 at Amazon and Nike
Lebron and Nike outdid themselves with the Lebron 16. It's designed to be everything fit for a King. Whatever type of playing style or move you do on the court, this shoe is ready for you.
Fit
Go true to size with this shoe but expect a break in period. At first, the shoe may feel like it doesn't fit right but after wearing it a couple of times it starts to soften up.
Much like other Lebron shoes, the 16 has variable-width lacing which means there are extra holes to create a more custom fit. If you're having trouble with fit then consider a different lacing option that may help your foot feel more comfortable.
Traction
Lebron 16 gives you true gripping traction right out of the box. No wiping. No breaking in. Just pure traction from the get-go. It has a modified herringbone traction pattern that uses straight lines with a slight angle to give you the best grip.
At the same time, making sure the pattern is deep and spaced wide enough to push out the dirt. Regardless of a clean floor or one that has a little more dust, you should be getting solid traction on the court.
Cushion
The cushion in this shoe feels quick and smooth when you jump but still gives you impact protection for the landing. The combination of Max Air and Zoom Air helps absorb that impact then springs back with explosive energy.
As you can see on the shoe, the cushion is higher off the ground so you aren't going to have as much court feel with the Lebron 16. All of this to say, it isn't as bouncy as you would expect but it is way more versatile and flexible up and down the court.
Support
One thing a Lebron shoe never lacks. Lebron is a big-time athlete at 6'9" and 270 pounds and he needs shoes that will support him for 48 minutes. Nike used Battleknit 2.0 for Lebron 16 which combines agile flexibility with locked-down strength for aggressive and versatile play. Basically, everything a player like Lebron needs out of a shoe.
Overall
If you're an all-around player like Lebron then the Lebron 16 will feel great on your feet. Once you get it on, you're locked in and ready to run, jump, stop, and go – in any direction – and feel comfortable. It's ready to handle any game style you throw at it on the court.
2. Nike Kyrie 5 Basketball Shoes, $129.95-$363.00 at Amazon and Nike
On the court, Kyrie Irving is an unstoppable blur, zigging and zagging his way around the court. With his Kyrie 5, you have unrestricted mobility that is built for his unpredictability.
Fit
When it comes to the right fit, Kyrie 5 fits snug due to the Flytrap overlay cables locking your foot. Because of this, I would definitely try these shoes on in store before purchasing. If you have a wide foot, you may consider going up a half size.
Traction
The multi-directional traction pattern used on the Kyrie 5 is exceptional. It curves up the sides of the shoe to help maintain traction through your entire step while increasing your ability to roll through your stride.
It does take a few runs to get warmed up so if it's a bit slick your first time out – don't worry – because the traction is only going to get better. Even on dusty courts, the traction on Kyrie 5 holds up and only requires a few wipes to maintain grip.
Cushion
The Kyrie 5 used Nike's new cushion technology known as Air Zoom Turbo. This cushion follows the curved shape of the outside and gives you responsiveness from any angle as you make your moves on the court.
It still gives you the court feel you're used to with the Kyrie line, but now with a nice, subtle cushion under your foot. If you're looking for major bounce back over court feel then you're not going to find it in this shoe.
Support
This is one of the best support shoes on the market due to its lockdown feeling. The combination of the Flytrap overlay and the structure of the shoe makes your feet feel secure with your feet fully locked in at all times. Essentially, your heel has nowhere to go and the collar padding makes sure there's no slipping or sliding.
Overall
The Nike Kyrie 5 will appeal to those players looking for more court feel, a little bit of cushion, strong lockdown, and incredibly, aggressive traction. If those things sound attractive to you then it sounds like you have met your match.
3. Under Armour Curry 6 Basketball Shoes, $130 at Foot Locker and Finish Line
Under Armour and Steph Curry do it again with the Curry 6. After releasing the newest shoe in the Curry line, the future looks bright for Under Armour. Check out all the features Curry 6 offers!
Fit
Stick true to size with the Curry 6, but wide footers should try them on to make sure they get the right fit.
I've read some players experienced heel slippage, which may happen at first, but if you double sock it then you should be good to go. Definitely would not stay away from this shoe because of the slippage!
Traction
The traction pattern used on the Curry 6 doesn't look like it would hold on the court because it's flat, tight, and shallow, but surprisingly it held its own.
It doesn't use a herringbone traction pattern instead it has a circular pattern which offers superior multi-directional grip to make every Step Curry type move.
On a clean court, you're able to grip like glue. On a dusty court, you will have to wipe a lot more because dust collects quicker since the traction pattern is tightly spaced.
Cushion
For quick guards, it doesn't get much better than the HOVR cushion in the Curry 6. It's not fluffy like a pillow or overly firm but you can feel the protection while it keeps you close to the court to make your next crossover, step back combo move.
You might not be so sure when you first put on the shoe, but the cushion warms up the more you play and you'll soon feel a solid, reliable base under your foot even when you are cutting like crazy on the court.
Support
If you know Steph Curry as a player then you know he needs support in his shoe. All Curry models boast solid support and the Curry 6 is no exception.
The base of the shoe is wide and flat for stability when you're jumping and landing with your shot while a raised midsole gives you stability laterally when you're cutting to get open.
Overall
The Curry 6 is a well-rounded shoe that is simply fun to play in. It's hard for athletes to make shoes that have the ability to make you feel like you are in their shoes, but Curry makes it happen.
If you're looking for a combo of great traction, cushion, and support along with court feel then look no further than this shoe.
4. Adidas Dame 5 Basketball Shoes, $92.94-$185.00 at Amazon and Adidas
Damian Lillard gave us his 5th signature shoe earlier this year and like his previous models the Dame 5 brings the heat in everything you want (and need) out of a basketball shoe.
Fit
To get the right fit with this shoe, you should consider going down a half size. The materials are soft and comfortable so if you feel a little tightness it shouldn't be painful. Plus, the shoe is going to stretch with your foot as you wear it. If you have a wide foot, true to size should work for you.
Traction
The Dame 5 utilizes herringbone traction from heel to toe and it's the strongest pattern thus far. With deep grooves spaced further apart, it's hard for dust to collect on the bottom of this shoe which means you're going to get a solid grip on the court.
On clean courts, you'll have a strong grip to be able to change directions and accelerate without any slips. On a less desirable court, you will lose some grip, but a quick wipe will have you back to good.
Cushion
Bounce cushion is used in the Dame 5 and you feel it as soon as you put the shoe on your foot. Thick, bouncy, and responsive is how you could describe this cushion system and it stays that way no matter how long you're on the court.
This full-length cushion makes your transitions easy and comfortable. Whether you're sprinting, stopping, or cutting, the cushion in Dame 5 lets you play your game without thinking. Once you hit the floor, you can go right into your next move.
Support
Once you lace up this shoe, your foot isn't going anywhere which makes the support in this shoe top notch. The lacing system used on the Dame 5 ties the foot down and into the shoe for that lockdown feel you want out of a shoe.
The sole and midsole is wide and gives you the feeling of having fat feet when you look down, but the bounce and fit take that thought right out of your head.
Overall
Overall, Dame 5 is one of the best shoes out there and you won't regret making this your game-time shoe of choice.
With the right fit, you'll enjoy great traction, seriously bouncy and responsive cushioning, and support that lets you feel locked down on the court. What more could you ask for out of a shoe?
5. Under Armour HOVR Havoc Low Basketball Shoes, $55.99-$115.00 at UA
Under Armour created the HOVR Havoc Low as a non-signature basketball shoe to compete with its competitors and they delivered. Take a look at all the features this shoe has to offer as it makes a splash on our Top 10 List.
Fit
The HOVR Havoc Low fits true to size although there is a little snugness width-wise. Therefore, if you have a wider foot then you might go up a half size. The forefoot has a synthetic overlay which is nice when you're putting this shoe on because it allows the shoe to stretch and form around your foot. Another bonus is the additional lace system which can help create a 1:1 fit.
Traction
If there's one thing Under Armour gets right, it's traction. With the HOVR Havoc low, they used a herringbone pattern that gives maximum floor control and grip. Dust is no enemy for this shoe because the grooves are wide and deep giving dust no place to hide. Simply put: the traction impresses on all surfaces.
Cushion
The HOVR Havoc Low is UA's first basketball shoe with HOVR cushion system. It's the right combination of cushion and firmness. The beauty of this cushion is that it eliminates impact from every jump, cut, and landing you make while you're going full speed on the court. It may take some wears to get this cushioning broken in, but once you do then you'll notice the difference.
Support
This low cut shoe is one of the lowest cut shoes on the market which doesn't mean it's any less supportive than it's competition. Between HOVR Havoc Low's wide heel and firmer cushion your feet should feel supported and stable. With your feet contained and locked down, you'll happily be able to make all your cuts in any direction you want.
Overall
If you're a guard looking for a low-cut shoe with excellent traction, support, and cushioning then take a serious look at the HOVR Havoc. On top of that, it's budget-friendly and one of the most affordable shoes on this list since it's not a signature model.
6. Jordan Why Not Zer0.2 Basketball Shoes, $125 at Nike and Amazon
Just like Russell Westbrook, the Why Not Zer0.2 is a beast on the court. This is the first shoe specifically designed for Westbrook and it does not disappoint. Check out all it has to offer below!
Fit
Westbrook's shoe fits true to size and that's supposedly true for wide-foot hoopers as well. But to be safe, try these shoes on in the store to make sure you get the right fit. It isn't as tight as the Zer0.1 which is a big improvement, but it may take a couple of wears to break it in and get comfortable.
Traction
The traction pattern on the Zer0.2 is aggressive and gives you optimal grip when you're on the court. With the circular pattern, you can expect to stop on a dime and make your move without sliding all over the place.
The traction stills holds on dusty courts – you may have to wipe your shoes every now and then but overall you're going to experience the same grip.
Cushion
The Zer0.2 is a little on the bouncier side so if you're #1 priority in a shoe is cushioning then this shoe may be exactly what you need. The Zoom Air unit in the forefoot gives you the trifecta: lightweight, responsive cushioning, and impact protection.
The best way to describe this cushion is a winning combo of bouncy and hard.
Support
Westbrook is an explosive player on the court which means his game needs strong support and lockdown features. The Zer0.2 gives you both!
The overlay straps wrap around the foot at the forefoot, midfoot and rear to give you a secure feeling. Another plus is the heel padding makes sure there's no slipping.
Overall
This is one of the best all-around shoes without any outrageous weaknesses. They're light on your feet, comfortable, supportive, and give you traction to do what needs to be done on the court. What more could you want out of a shoe?
7. Adidas Harden Vol 3 Basketball Shoes, $93.46 – $269.95 at Adidas and Amazon
James Harden gave us his best shoe yet with the Harden Volume 3. It may not feel like it fits Harden's style, but it definitely fits his game with its strong features.
Fit
For Harden's shoe you can go true to size and find a near perfect fit. If you have a wider foot then definitely try these shoes on in store beforehand so you can get the right size. Alternatively, make sure you order with free return shipping.
The lacing system of the Harden Vol 3 benefits different types of feet because it allows you to adjust the fit. Want them to be snug? Lace them as tight as you want. Have a wider foot? Loosen the upper lace and that should work and still fit great.
Traction
No matter what direction you want to go on the court – side to side, front to back – the Harden Vol 3 has got you completely covered. With the herringbone pattern, you're going to be treated to exceptional grip, especially on clean courts.
If you're playing on a somewhat dusty court then you are going to catch yourself wiping your shoes more often but you still can feel the grip.
Cushion
The Harden Vol 3 finds a great balance of bouncy and firm with its Boost cushioning system. It's not too bouncy or too firm – it's just right. You get a smooth transition between your moves and have great impact protection the whole time.
When you come down after draining a jumper, you should feel no pain in your feet. To sum it up, this shoe gives you great court feel and protection.
Support
Despite the low-cut, your foot is going to feel stable and secure in the Harden Vol 3. Harden likes the low cut because he needs freedom to move because his game is completely unpredictable. But that doesn't take away from his feet being locked down and contained.
The forefoot is locked down by an overlay and webbing system and the wide base gives you support and stability. If your game is unpredictable like Harden's then you'll feel plenty of support with the Vol 3s on your feet.
Overall
The Harden Vol 3 is a great shoe across the board – for any position on the court. If you want a shoe that gives you the freedom to move without lacking in traction, cushioning, and support then you should seriously look at Vol 3.
8. Nike Hyperdunk X TB Basketball Shoes, $92.99 – $239.95 at Amazon and Nike
If your squad is looking for a team shoe that is made for every player and every position then you may have found exactly what you need in the Nike Hyperdunk. It doesn't boast a lot of tricks, but it performs.
Fit
True to size should be the right fit for almost every player unless they want a little more space. The Hyperdunk is marketed as a team shoe built for every position on the court and that starts with accommodating different feet. The lacing system is what makes this happen because you can either set it wide and allow your shoe to be loosened if you need more room or you can lace it up tight if you want a snug feel or have a more narrow foot. It's can give any foot what it needs – and that's hard to find in a basketball shoe.
Traction
This shoe uses a wavy multi-directional traction pattern which gives your feet excellent grip on the court. You won't be sliding all over the court with this shoe. Instead, you can expect solid stops regardless of what court you're hooping on.
The pattern is wide and pushes the dirt and dust out which means you aren't having to constantly wipe the bottom of your shoes. Talk about reliable; you can just focus on playing ball.
Cushion
If you want quick and bouncy then the Air Zoom Unit is going to do the job. This cushion doesn't give you aches or pains on the court or off. You can expect solid bounce and impact protection the entire time you're running up and down.
Whether you're a post player or guard, the cushion is for every position.
Support
The Hyperdunk delivers when it comes to your feet feeling supported during a game. With the lacing system being able to lace up the way that feels right then you can lock your ankles and heels into the shoe.
You'll be contained no matter what direction your game takes you and shouldn't feel any movement while you have the Hyperdunk on your feet.
Overall
If you want a dependable shoe for your whole squad to wear then take a serious look at Nike's Hyperdunk X TB. It's ready to grip on any court, give your feet the right amount of bounce in the cushion, and a lockdown fit for strong support. And it's going to do that from the point guard to the post player.
9 Nike PG3 Basketball Shoes, $110 at Nike
Paul George brings his third signature shoe to the shelves and it may be gone quick. It's a solid do-it-all shoe that is built for the Paul George type players who do everything well on the court.
Fit
The PG3 is known for its snug fit which can be hard for wide footers. For regular footers, true to size should work well. It may not feel great or the first couple of times you wear them because there's a break in period, but once they're broken in it should feel like a perfect fit.
Wide footers should consider going up a half size since this is already a snug shoe, but to be safe go try these on in stores before you commit to them.
Traction
It may take a couple of wears to fully break the traction in, but when you do that traction is tough to beat. With a traction pattern inspired by craters on the Moon, the PG3 traction stuck like glue on every court.
Whatever direction you want to go, this traction will let you get there smoothly and without any slippage. Even on dusty floors, you shouldn't be caught wiping your shoes very often.
The cups (or craters) are spaced far enough apart that it doesn't let the dust collect and there just isn't anywhere for the dust to stick.
Cushion
The Zoom unit in this shoe is one you can feel and it gives you a quick, immediate response. Like the traction, the cushion has to be broken in which means you might not feel the smoothness of the cushion until you've played a couple of times.
When the cushion is warmed up then you'll feel the bounce and comfort that makes you never want to take the PG3 off.
Support
There aren't any support features that stand out on the PG3; they simply do their jobs. The lockdown wings work well and make your feet feel secure and locked into the shoe.
You shouldn't feel any lateral movement when you're cutting to get open for a jump shot or making a hard stop to change direction against your defender. Between the fit and the wings, your foot should feel solid.
Overall
Despite the break-in process, the PG3 is a great shoe option. It can give you solid traction, cushion, and support. But the make or break is going to be the more snug fit which may not be for everybody.
Regardless, if you're on the fence about this shoe, but want to give it a go then make sure to wear it multiple times before you make up your mind.
10. Nike KD 11 Basketball Shoes, $128.49 – $282.02 at Amazon and Nike
Kevin Durant is arguably the best basketball player in the NBA, but does his current shoe deserve the same title? It definitely has a highlight reel, let's check out the features.
Fit
True to size is the best rule of thumb for the KD11, but if you're looking for a more snug fit then try a half size smaller. The lockdown in this shoe doesn't quite match its competition because of the Flyknit material which stretches and makes the shoe loose on your foot.
For a causal shoe, the stretchiness of the Flyknit works, but for a basketball shoe, it kind of misses the mark.
Traction
The KD 11 has a wavy tread pattern for multi-surface traction that gives a strong grip on clean courts, but if you find yourself on a dusty floor then be ready to give your shoes a wipe. Since the pattern has tightly spaced groove, dust can clog and stick real easily.
You'll have the typical stopping powers to make a move so there are no real complaints, but overall this traction system is lacking.
Cushion
Nike gave us a combination of toe-to-heel Nike React foam and Nike Zoom Air that is a focal point for the KD11. It delivers insanely responsive cushioning on the court so you'll feel a spring in your step. There is a break in period so you won't feel this happy with the cushioning right out of the box but after having time to warm up the cushion set-up is top notch for a winning combo.
Support
KD likes to wear his shoes loose and he gets that done in the KD11. But due to the stretchy materials and looser fit, the support in this shoe feels exposed. There's not a lot of containment or lockdown so can feel your foot moving around while you play.
Which for a player this feels dangerous when you're out on the court trying to make quick cuts to get open for a shot. For KD, this is exactly what he wanted in his shoe, but for other hoopers it doesn't quite feel stable.
Overall
If a looser fit shoe and containment aren't things that bother you on the court then you'll the KD11. But if it's something that will be a priority in your decision then you will not like this shoe.
Overall, it's a good basketball shoe that has strong traction and balanced cushioning but it doesn't excel all around like other shoes you could put on your feet.
Baron Davis hosts the UWish Presents: The Black Santa Celebrity Basketball Game at University High School on December 16, 2018 in Los Angeles, California
Conclusion
You should now be fully prepared for the basketball shoe shopping experience. The first two things to figure out are your playing style and must-have features in your basketball shoe.
Do you play like Steph Curry or a Lebron James? Do you need glue like traction? Do you need extra bounce in your cushion or do you prefer more court feel?
Look at the professional athletes who play the same position as you and see what they're wearing on their feet; especially the ones who don't have their own signature shoes. Take notes and then go research the shoe they trust on their feet.
Find out what that shoe has to offer feature wise, read reviews from other hoopers, and then get to the store and try them on yourself!
It could be the first pair you put on your feet or it could be the fourth pair – but with all this information, you will find the best basketball shoe for you.
Credit: Guillermo Proano / WENN / Oscar Gonzalez / Winston Burris