Sad news for fans of the adorable Bella Thorne and her "bub" Gregg Sulkin — the two are no more. The pair was arguably one of Hollywood's hottest young couples, but has decided to part ways. However, it's been said they still have the utmost love and respect for one another.
The 18-year-old American actress and singer was photographed arriving in something a little less than her usual airport outfit at the Los Angeles Airport from Canada. The photos were taken days before her breakup with Gregg.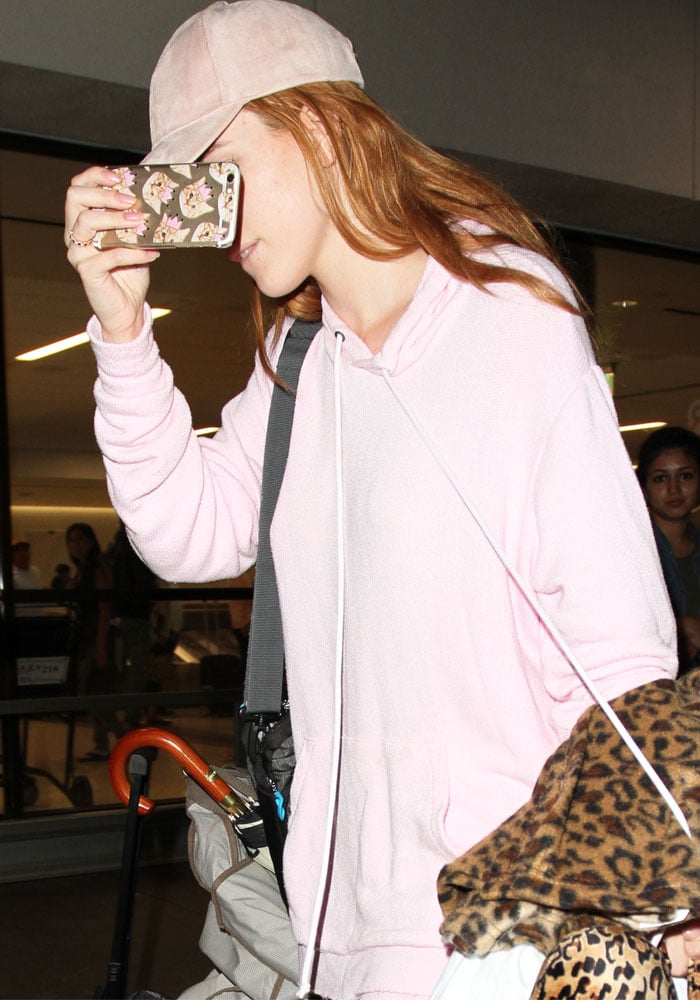 Bella Thorne arriving at Los Angeles International Airport in California on August 11, 2016
Bella wears an unusual studded pair of boots from Suecomma Bonnie
Bella was not her usual flouncy self who always gave the cameras a smile and a little chat. The actress went barefaced and kept her unruly hair underneath a suede cap. Bella also wore a matching two-piece pink tracksuit with an unusual studded boot choice by Suecomma Bonnie to finish the look.
A makeup-free Bella courses through the LAX in a pink tracksuit
Whille we can't really draw out anything concrete about her sullen demeanor and their impending breakup, we do have to notice that this wasn't Bella's usual airport fashion. We do know how crazy a celebrity's work schedule can get and sometimes, you just don't have the time and energy to put on a show for the cameras anymore.
RIP, Bella-Gregg shippers.
Bella's Suecomma Bonnie boot are not available online but you can check out one of their similarly studded slip-ons at  Yoox.
Suecomma Bonnie Boots (not available online)
Suecomma Bonnie Sandals, $133 (before: $318) at Yoox
Credit: WENN