Renee Zellweger took home her very first Best Actress Oscar trophy for portraying Judy Garland in the biopic Judy at the 92nd Annual Academy Awards on Sunday.
The 50-year-old actress had been expected to win at the Oscars after sweeping up all the honors this year, including the BAFTAs, Golden Globes, and the SAGs. She had some tough competition from Cynthia Erivo for Harriet, Scarlett Johansson for Marriage Story, Charlize Theron for Bombshell, and Saoirse Ronan for Little Women.
This marks her second Oscar win after she bagged the Best Supporting Actress trophy for Cold Mountain in 2004. She also received Academy Awards Best Actress nominations for Bridget Jones's Diary in 2002 and Chicago in 2003.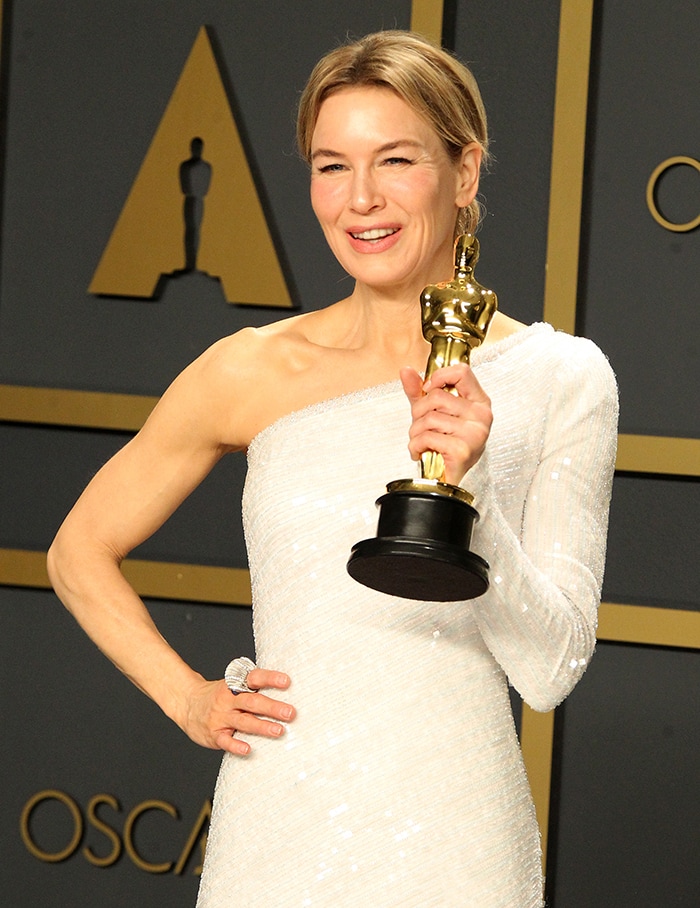 Renee Zellweger wins her first Oscar Best Actress trophy during the 2020 Academy Awards on February 9, 2020
It has been 16 years since Renee last graced the Academy Awards red carpet as a nominee. And for this year, the Best Actress winner did not disappoint.
Renee defined Hollywood glamour in a white Armani Prive floor-length gown that highlighted her svelte figure. The one-shoulder single-sleeved gown features clear sequin embellishments with blue and pink diagonal stripes.
Renee Zellweger is the epitome of classic elegance in Armani Prive gown
Stylist Petra Flannery kept Renee's look timeless and elegant with just a statement ring by David Webb. For her feet, she chose a pair of white Jimmy Choo pointed-toe pumps to complete her elegant all-white look.
Makeup artist Dana Michelle Hamel created Renee's signature soft makeup look using Pat McGrath. She applied pink blush, pink lipstick, and mascara to accentuate her eyes. Hairstylist Richard Marin gave her a simple but chic center-parted updo.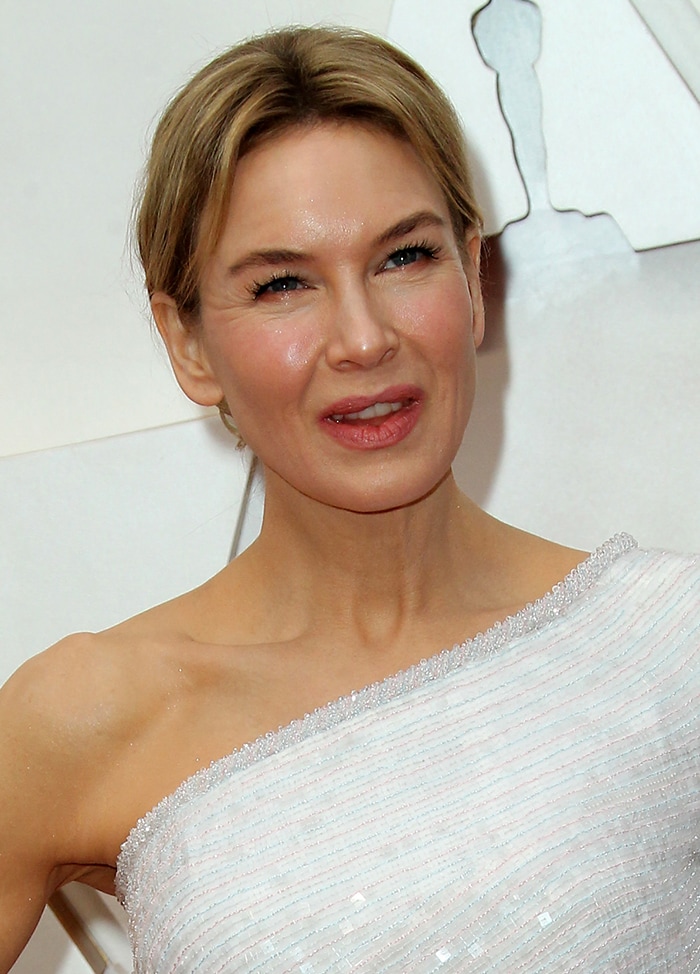 Renee Zellweger wears a chic center-parted updo and her signature soft pink makeup-look
In her acceptance speech, Renee thanked a list of people, including Judy director Rupert Gould and producer David Livingstone. She then told the audience how heroic figures unite people together.
"I have to say that this past year of conversations celebrating Judy Garland across genders and … I'm sorry, it's across generations and across cultures has been a really cool reminder that our heroes unite us. No, the best among us who inspire us to find the best in ourselves. They unite us. When we look to our heroes, we agree, and that matters."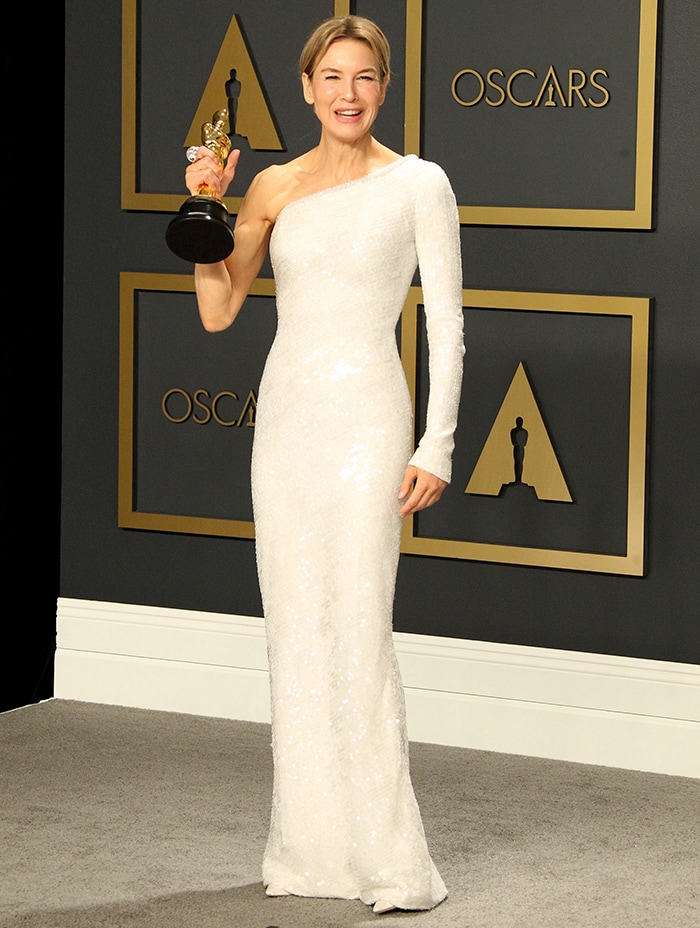 Renee Zellweger thanked everyday heroes and other famous figures in her acceptance speech
She then mentioned a list of famous figures, including astronaut Neil Armstrong and Sally Ride, tennis players Venus and Serena Williams, political activist Harriet Tubman, film director Martin Scorsese, entertainer Fred Rogers, and singers Bob Dylan and Selena. In addition, she also thanked our everyday heroes, including firefighters and first responders.
She also paid tribute to the late Judy Garland, saying: "Judy Garland did not receive this honor in her time. I am certain that this moment is an extension of the celebration of her legacy that began on our film set. It's also representative of the fact that her legacy of unique exceptionalism and inclusivity and generosity of spirit, it transcends any one artistic achievement." "Miss Garland, you are certainly among the heroes who unite and define us, and this is certainly for you," she continued.
After the show, Renee posed together with her co-winners, Best Actor Joaquin Phoenix and Best Supporting Actor Brad Pitt.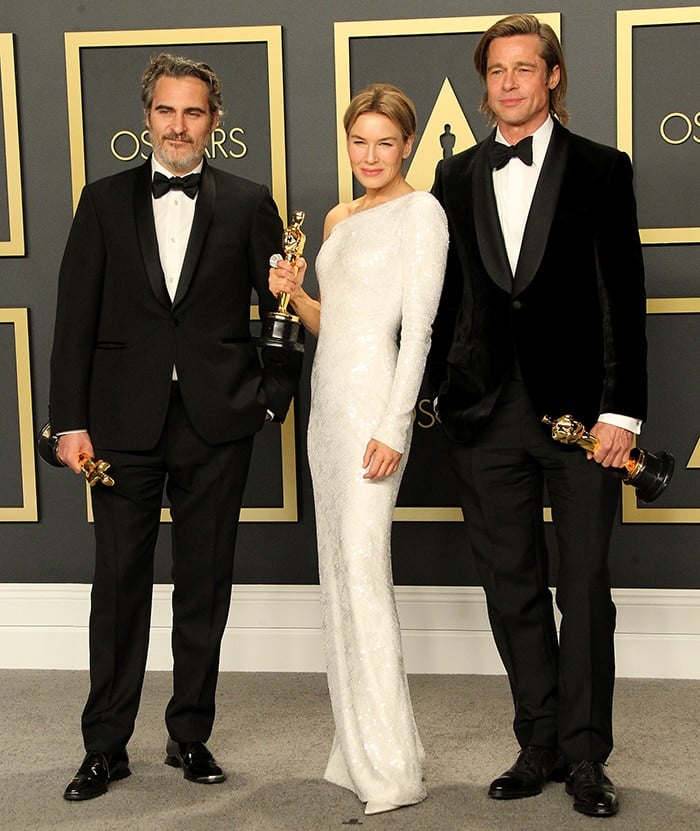 Academy Awards winners Joaquin Phoenix, Renee Zellweger, and Brad Pitt pose together with their Oscar trophies
Credit: Adriana M. Barraza / WENN