In February 2016, Bow Wow's ex-girlfriend Ciara joined model Chanel Iman and former Miss Universe Olivia Culpo at the 2016 Veuve Clicquot Carnival held at Museum Park in Miami.
Ciara wears her hair down at Veuve Clicquot's second annual Clicquot Carnival held on February 20, 2016, at Museum Park in Miami (Credit: JLN Photography / WENN)
10 years earlier, she ended her relationship with American rapper Bow Wow (formerly Lil' Bow Wow), whom she dated from 2004 to 2006.
They also collaborated on "Like You," a song from his fourth album Wanted that was released on July 12, 2005. They performed the song at the 2005 American Music Awards.
Ciara and Bow Wow meet in the elevator in the music video for Like You (Credit: YouTube)
Rumored to have cheated on Ciara with numerous women, Bow Wow revealed on an episode of Growing Up Hip Hop in 2018 that he was engaged to Ciara.
"You want commitment, most women want that. Those are things that I've tried in my life, I've tried twice," he recalled. "I was engaged to Ciara and I was engaged to Erica [Mena]."
Bow Wow and his girlfriend Ciara at the 2005 MTV Video Music Awards held at the AmericanAirlines Arena in Miami, Florida, on August 28, 2005 (Credit: PNP / WENN)
"You know I let things in the past that I know was wrong affect my engagement. That's what was eating me alive," he added about his earlier relationships.
"Other than that, me and Erica would still be together. We would have never broken up. I didn't know how to handle it. And I let it crumble. I let something get away that really shouldn't even got away."
Bow Wow added additional details about their breakup in an interview with VladTv. "I was in a serious relationship early on in my career, at the hottest time where I'm the hottest thing," he said.
"Once again, those influences … all those women want you, and my OGs is telling me this."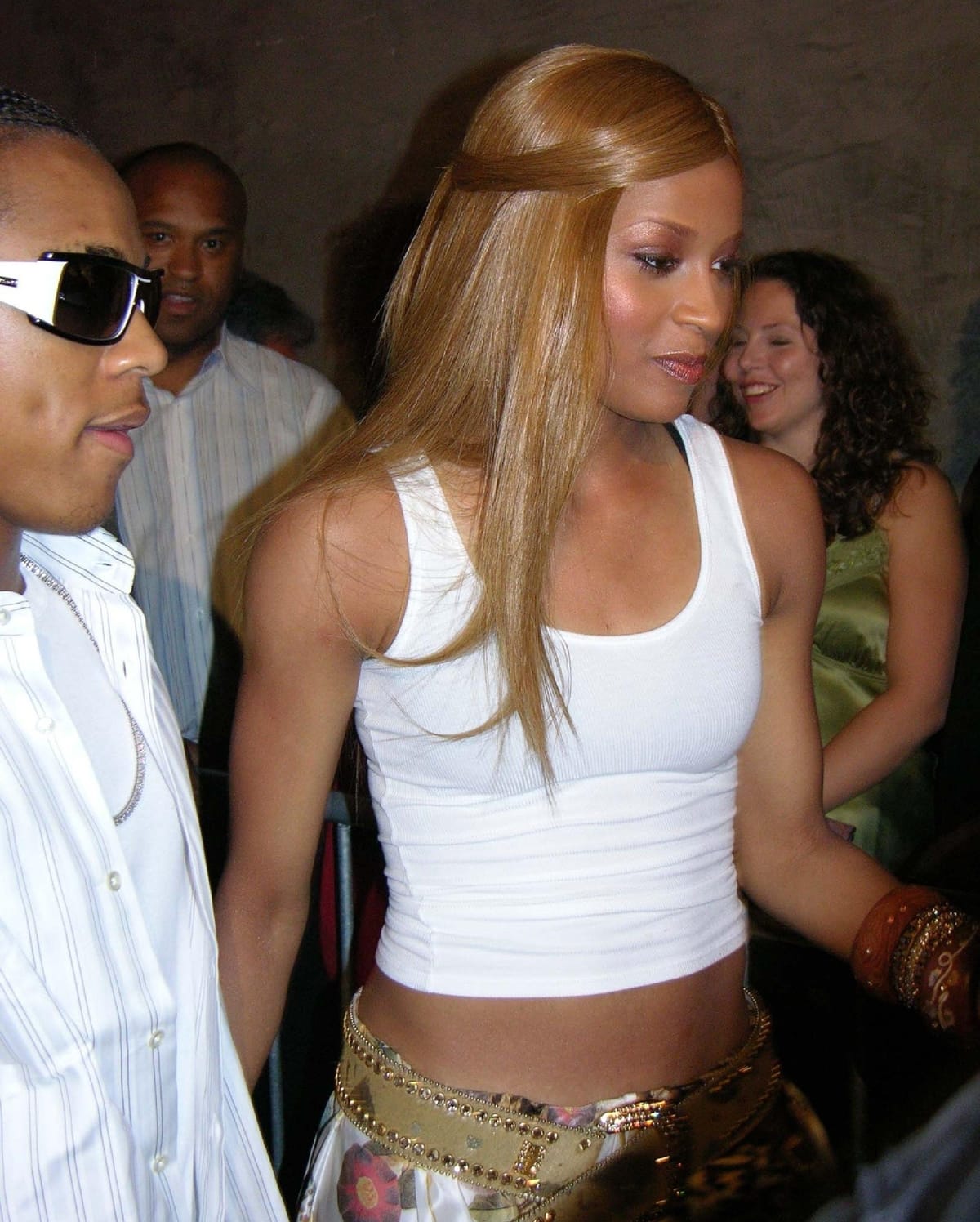 Bow Wow has claimed he was engaged to Ciara before they broke up in 2006 (Credit: Dimitri Halkidis / WENN)
"They're telling me I'm not living. They're telling me I'm not experiencing the things I need to experience. 'Sit your a** down when you're older.' And I was acting like grandpa at 17 and 19 and then I just started listening like, 'Man, they're right' and started being in the streets, clubbing a lot, not wanting to come home, and you know how that goes," he continued.
"I just got sucked into the game and I had to understand with myself like, damn now is the time that I need to be alone out here and living my life and we just went our separate ways," he added.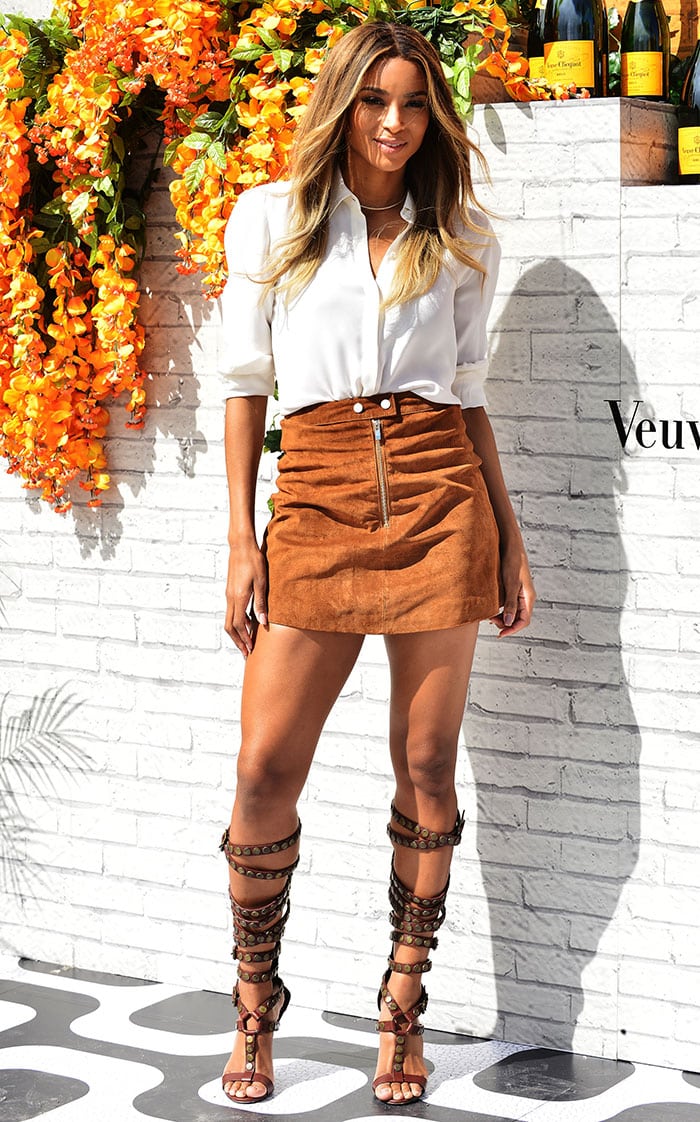 Ciara wears a Miss Selfridge skirt and a Theory button-down to a Veuve Clicquot event (Credit: JLN Photography / WENN)
Unlike Chanel and Olivia, who both took the clean and girly all-white route, the singer opted to bring her signature edgy style to the event.
The then 30-year-old singer wore a Miss Selfridge brown suede mini skirt paired with a loose-fitting white Theory button-down shirt, putting on a leggy display.
Ciara shows off her legs in a brown suede mini skirt (Credit: JLN Photography / WENN)
She kept her accessories to a bare minimum — wearing only a Forever 21 necklace — and drew further attention to her toned legs with a pair of gladiator sandals.
Ciara wears a leather-and-suede look to Veuve Clicquot's Clicquot Carnival in Miami (Credit: JLN Photography / WENN)
The "I Bet" singer wore her long hair in loose waves and completed her look with neutral makeup that highlighted her facial features.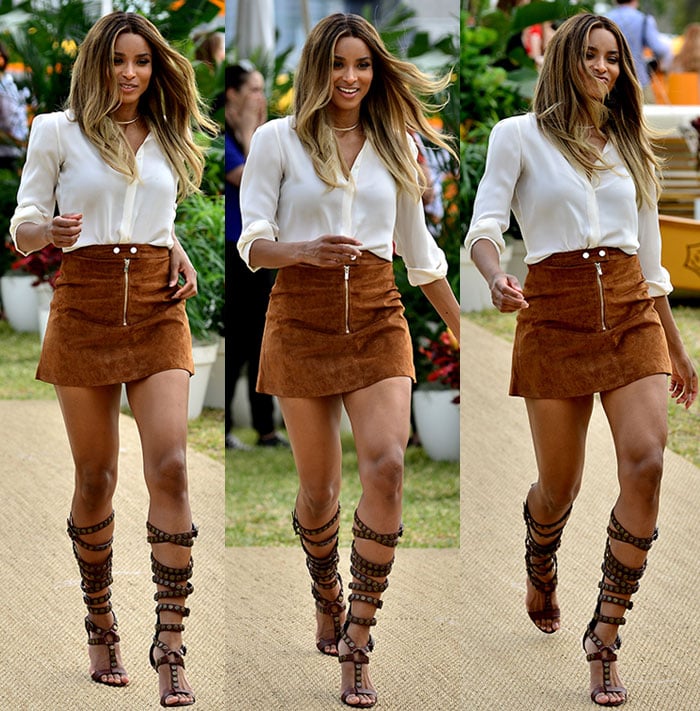 Ciara wears her hair down and shows off her legs in Miami (Credit: JLN Photography / WENN)
Her strappy gladiator sandals are by Giuseppe Zanotti. These brown leather shoes feature studded straps, buckles, back-zip fastenings, and about 4.5-inch heels.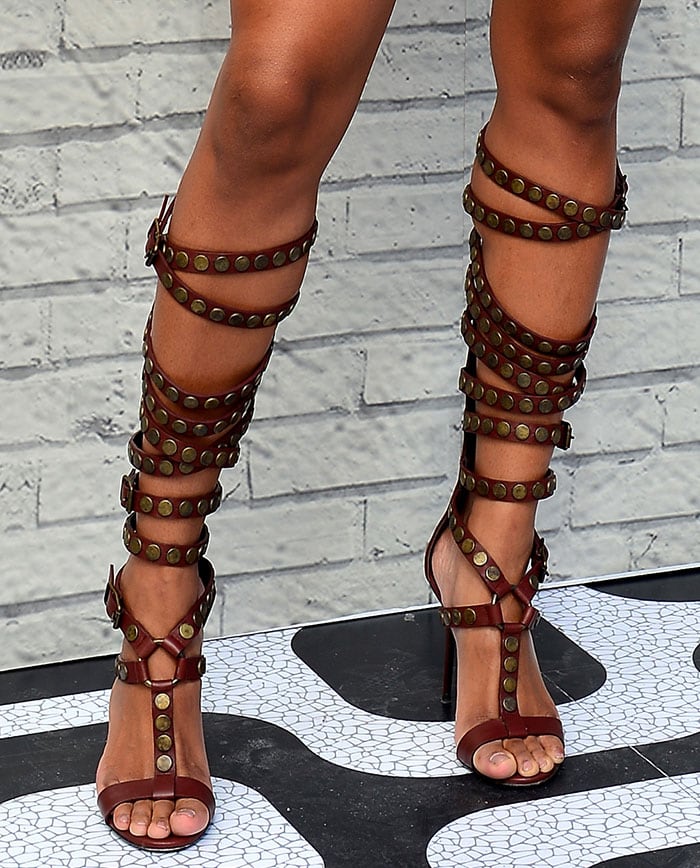 Ciara's feet in leather Giuseppe Zanotti gladiator sandals (Credit: JLN Photography / WENN)
Unfortunately, these sandals are already sold out.
Ciara's feet in studded Giuseppe Zanotti gladiator sandals (Credit: JLN Photography / WENN)