Aperlaï Shoes, Boots, Heels, and Sandals for Women
Please subscribe to
our newsletter
to receive updates from Your Next Shoes. This post may contain affiliate links. Please see our
disclosure
for more details.
Aperlaï Paris is a French luxury shoe brand founded by Alessandra Lanvin in 2009 while she was expecting her son. She is married to Hubert Lanvin, the grandson of Jeanne-Marie Lanvin, a French haute couture fashion designer who founded the Lanvin fashion house and the beauty and perfume company Lanvin Parfums.
Shoe styles from the popular brand are part of the permanent collections at the Museum at the Fashion Institute of Technology and Brooklyn Museum of New York since 2012.
Jeanne-Marie Lanvin, who is half Italian and half Turkish, named her shoe brand after a small, ancient town near her ancestral home in Turkey.
Celebrities Wearing Aperlaï Paris Shoes
Nina Dobrev looked adorable at 'The Vampire Diaries' presentation during The Paley Center for Media's PaleyFest 2014. We usually see…
Caitlin Fitzgerald joined Bella Thorne, Dita Von Teese, Michelle Dockery, and Anna Kendrick for LoveGold's Celebration of Gold and Glamour…
Willow Shields was a burst of sunshine at the London premiere of her upcoming film, 'Catching Fire', which is the…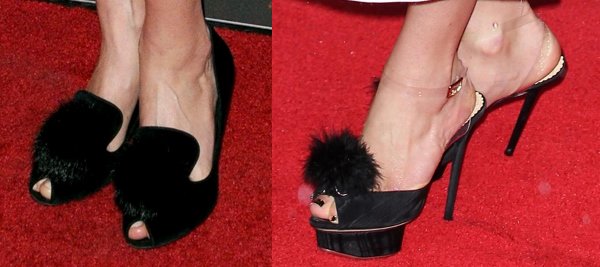 A trend has emerged this week, and it's a controversial one: shoes with pompoms. Both Lake Bell and Ophelia Lovibond…
Serena Williams rocked a leather dress for her appearance on the Late Show with David Letterman on August 21. The…
With her new film, 'Anna Karenina', to promote, Keira Knightley stopped by for an interview on 'Good Morning America' at…
Naomi Watts caused quite a stir when she showed up for a photocall at the 37th Deauville American Film Festival….
The 2011 Met Ball gala is one of the most anticipated, most fashion-centric events but like most formals, all the…