Bebe Shoes, Boots, Heels, Pumps and Sandals for Women
Please subscribe to
our newsletter
to receive updates from Your Next Shoes. This post may contain affiliate links. Please see our
disclosure
for more details.
The bebe (pronounced "Bee-Bee") brand evokes a mindset—an attitude, not an age. It's a true original, always defining fashion's next stride forward. Designed for the confident, sexy, modern woman, bebe is a global label that embodies a sensual, sophisticated lifestyle. You can buy bebe boots, sandals, and heels for women at Amazon and bebe.
The name of the brand derives from the soliloquy from Shakespeare's play Hamlet in which the eponymous Prince ponders: "To be or not to be…". Current Chairman and Founder Manny Mashouf came up with the name after a conversation at a party he attended in San Francisco in the late 1970s, shortly before the Iranian immigrant established the brand.
Recognizing a demographic that was neither junior nor bridge, Manny opened the first bebe store in San Francisco in 1976. 41 years later, the brand announced that it would close all stores and become an online-only retailer.
Best bebe Shoes at Amazon and bebe
During separate interviews with talk show host Ellen DeGeneres, Keanu Reeves and Sandra Bullock revealed why they never started dating…
While 'Hi-Heel Sneakers' is also a blues song that was written and recorded by Tommy Tucker in 1963, wedge sneakers…
We're pretty confident you'll fall in love with these quilted open-toe "Farren" booties from Bebe that you can purchase at…
Last month we featured eight cheap shoes from Bebe. This time around, we want to check out what's new from…
Are you a fan of Bebe shoes? The following styles have already been discounted on the Bebe website, but for…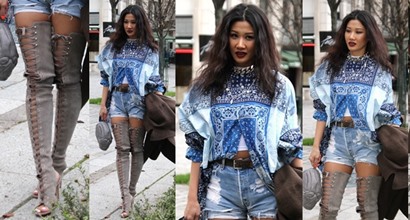 We came across these pictures of Yoon Ambush outside the Louis Vuitton show that was held yesterday in Paris (during…
While best known for its clothing line, Bebe also carries a wide range of accessories and shoes. Their official homepage…
'The Smurfs 2' is scheduled to hit theaters on Wednesday, July 31. Prior to its release, stars gathered on the…
Winter is fast approaching, but Keira Knightley opted for a spring daisy fresh look at the 'Anna Karenina' premiere in…