Charlize Theron is among the three faces of Breitling's new Chronomat collection.
Last year, the Swiss luxury watchmaker unveiled its first-ever Chronomat for women. This includes a new line of Chronomat 36 and 32 dedicated to "women of purpose, action, and style."
View this post on Instagram
Along with the announcement of the new women's collection, Breitling also introduced its Spotlight Squad members: Oscar winner Charlize Theron, Chinese actress and philanthropist Yao Chen, and ballet dancer Misty Copeland, who became the first African American female principal ballerina for the American Ballet Theatre.
These people have "mastered the art of not only shining in the spotlight but also shining their light on others and inspiring change in the world."
They are "at the top of their game and have shattered the stereotypes clinging to their gender and respective fields."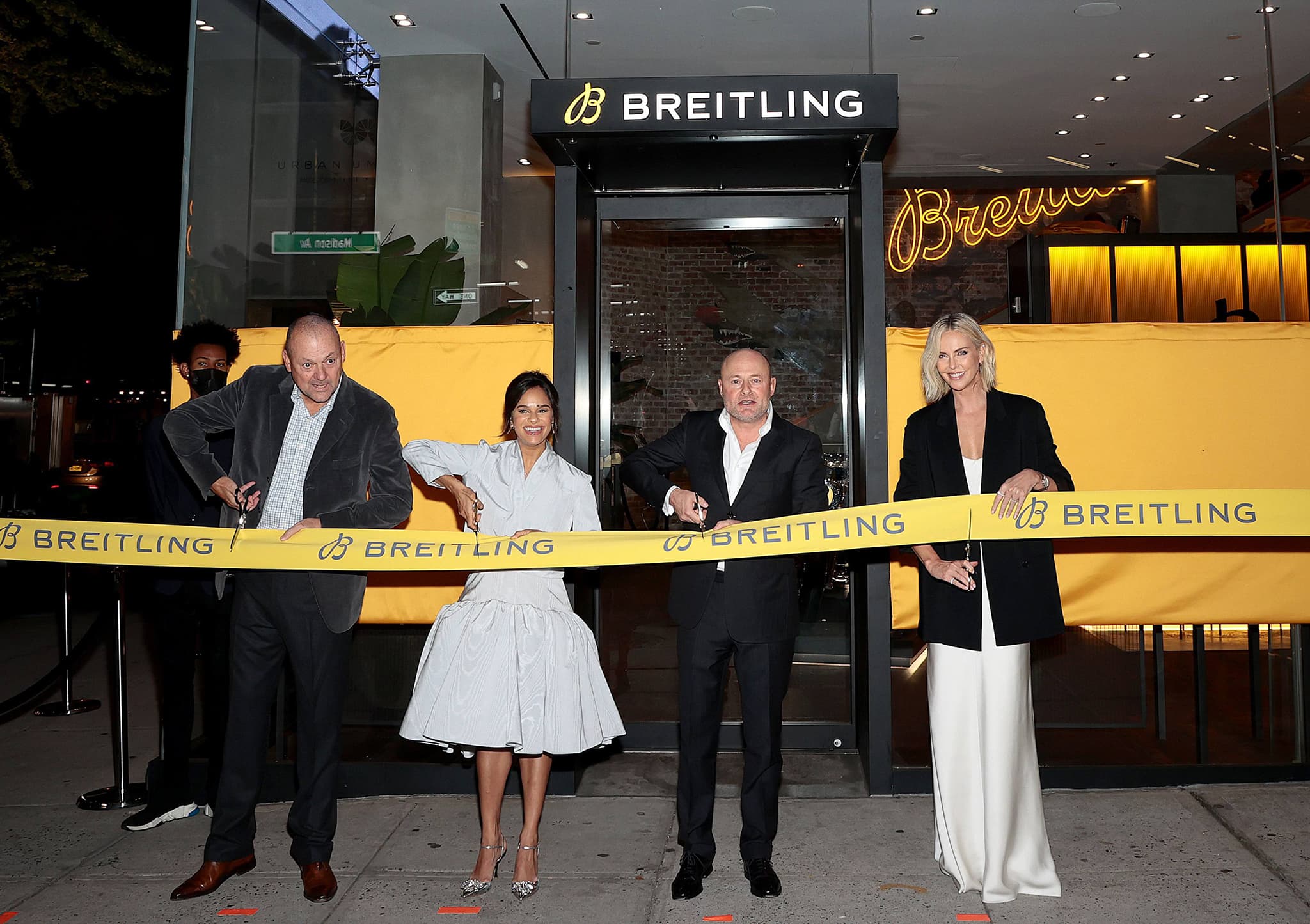 USA President for Breitling Thierry Prissert, Misty Copeland, CEO for Breitling Georges Kern, and Charlize Theron attend the Breitling Madison Avenue Grand Opening on November 18, 2021, on 575 Madison Ave in New York City (Credit: Mega / WENN)
Just recently, Charlize lent her star power for the reopening of Breitling's New York flagship store located at 575 Madison Avenue.
Breitling opened its first flagship boutique in New York City in 2011 but moved to Madison Avenue in 2016.
The redesigned store now spans two levels and features 90 feet of wrap-around sidewalk frontage and a 4,300-square-foot space that houses the latest Breitling watches.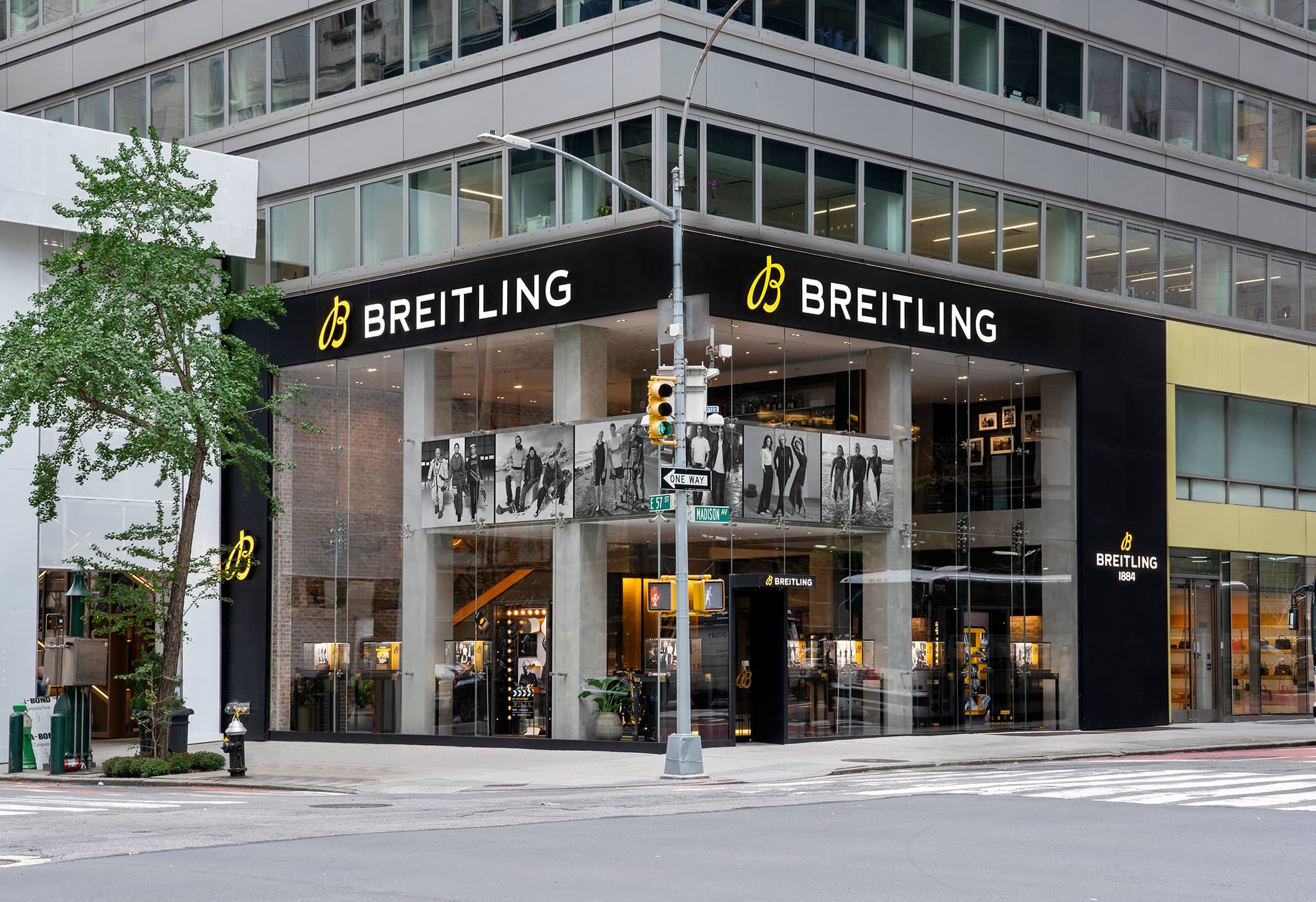 The redesigned Breitling New York flagship store features two floors, 90 feet of wrap-around sidewalk frontage, and a 4,300-square-foot space (Credit: Mega / WENN)
The store's new design takes inspiration from the industrial-loft aesthetic that's already seen in Breitling's other top global retail locations.
The Swiss luxury watchmaker's three "universes" of air, sea, and land are reflected in the decor, with elements inspired by aircraft, surfboards, and vintage motorcycles.
The location is also the world's first branch of Breitling Equipment, which is the brand's new travel-and-lifestyle accessories collection.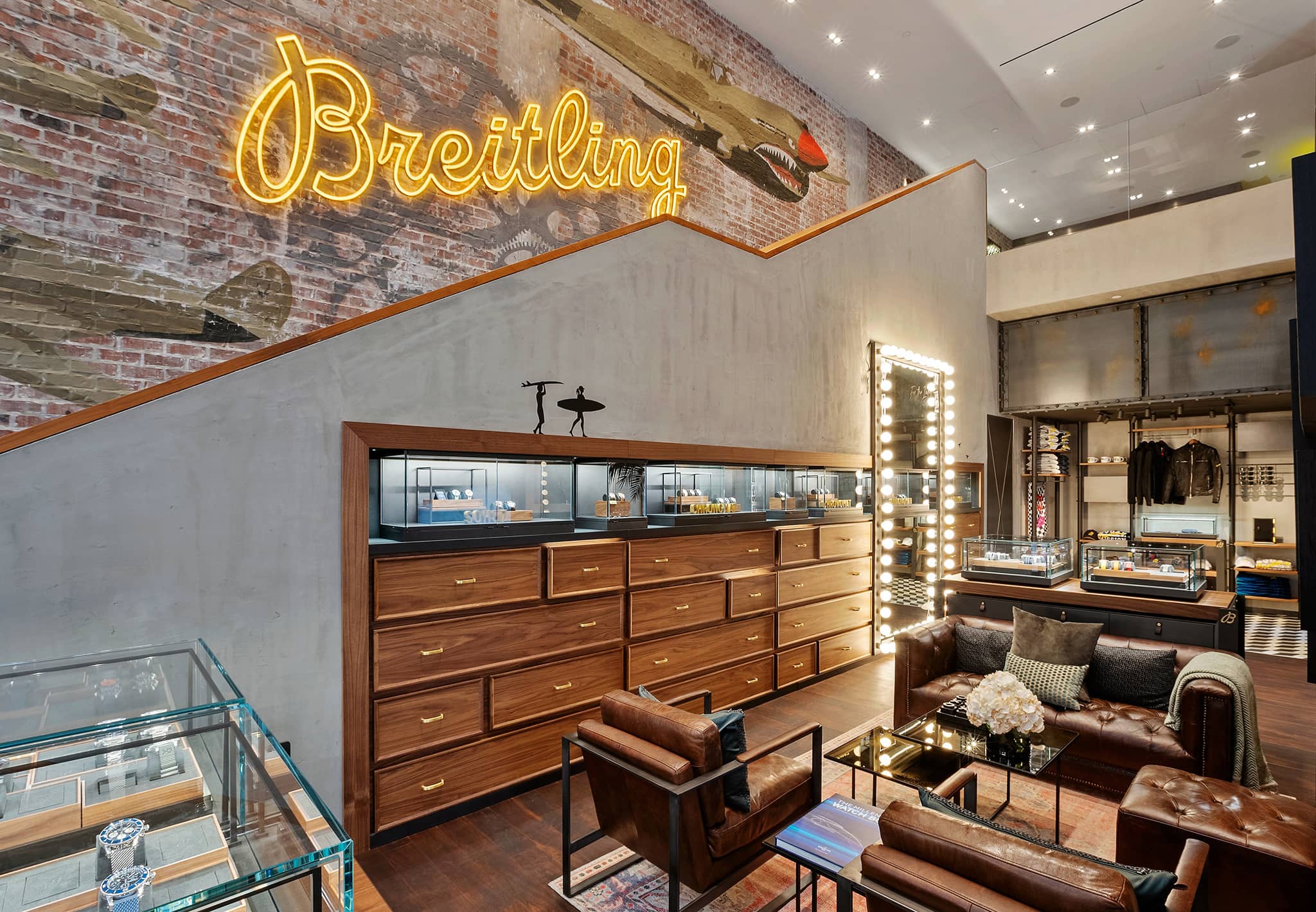 The Madison Avenue store redesign is based on the distinctive industrial-loft aesthetic that is already a defining part of Breitling's top global retail locations (Credit: Mega / WENN)
Known for her minimalist approach to red-carpet dressing, Charlize opted for an elegant white satin dress for the ribbon-cutting ceremony.
The classic frock has a floor-length hem and a plunging neckline that offered a glimpse of her décolletage.
She contrasted the pristine white number with a sleek oversized double-breasted black blazer, which she left unbuttoned and with sleeves rolled up for a hint of a laid-back vibe.
Charlize Theron looks elegant in a white satin floor-length dress with a black blazer (Credit: Mega / WENN)
The Monster star styled her blonde locks in a wavy bob with one side tucked behind her ear, showcasing her multiple stud earrings and tiny hoop earrings.
In addition, she accessorized with minimalist diamond rings and, of course, a silver Breitling watch.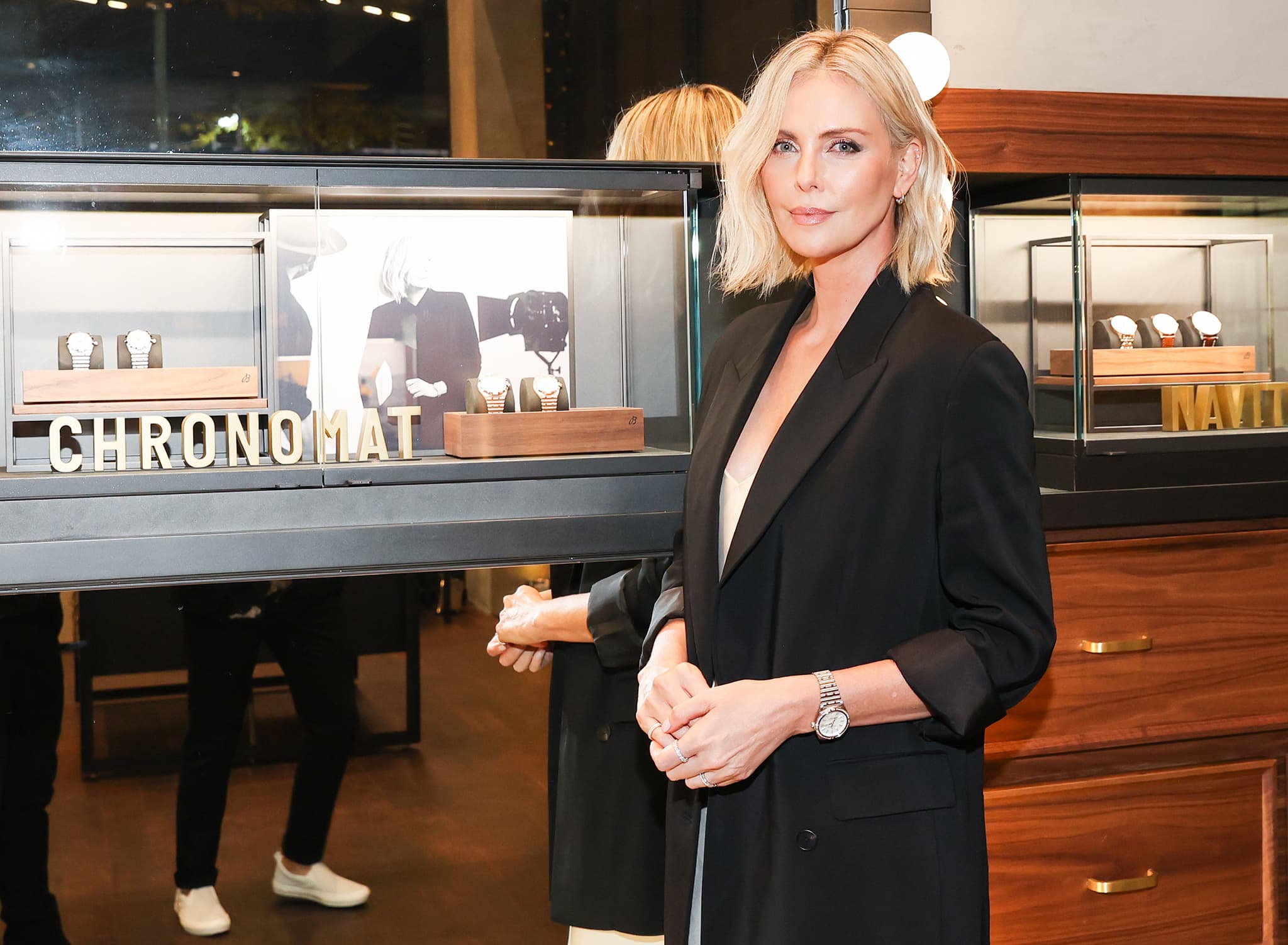 Charlize Theron styles her blonde bob in waves and wears shimmering eye-makeup and nude lip gloss (Credit: Mega / WENN)
Wearing shimmering eyeshadow with mascara and nude lip gloss, Charlize rounded out her ensemble with Saint Laurent "Niki" boots.
Creating a streamlined look, these ankle boots are made from smooth lambskin leather and feature sharp pointed toes, a fold-over top, a silver-tone logo plaque, and about 3-inch cone heels.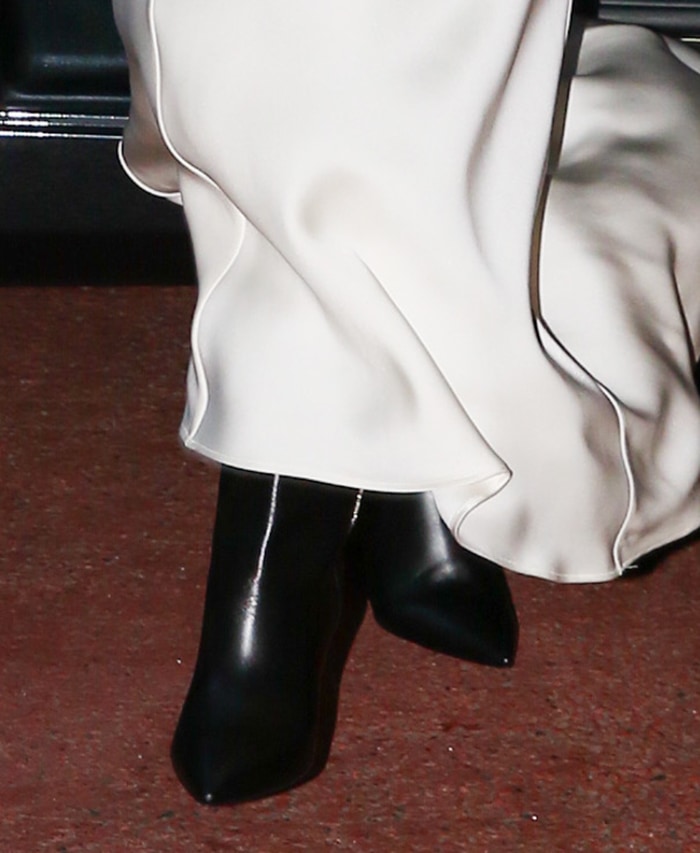 Charlize Theron pairs her white satin dress with black Saint Laurent Niki ankle boots (Credit: Mega / WENN)
Saint Laurent 'Niki' Ankle Boots, $1,095 at Farfetch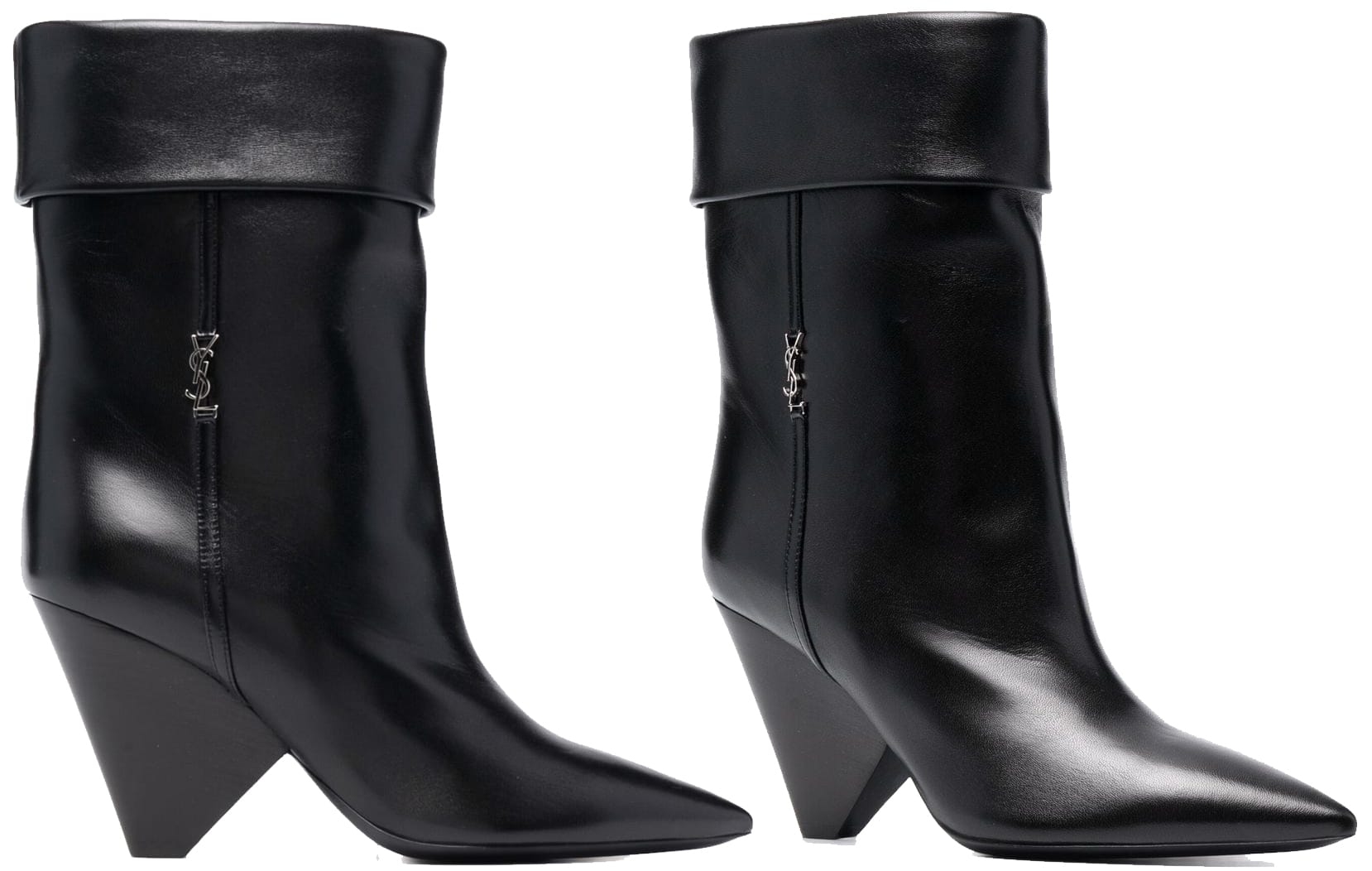 The Saint Laurent Niki boots are defined by the cuffed leg opening and chunky cone heels
Joining Charlize at the event was her fellow Spotlight Squad member Misty Copeland, who looked pretty in a frost gray moiré sculpted back jacket and a matching volant skirt from Bach Mai.
She elevated her 5'2" height with metallic silver pointed-toe pumps, decorated with Bouquet Strass buckle from Roger Vivier.
Ballerina Misty Copeland poses with Charlize Theron in a white Bach Mai skirt suit and Roger Vivier silver pumps (Credit: Mega / WENN)