The late '90s and early '00s saw the biggest boom in teen movies since the Brat Pack. High school angst ruled the big screen with blockbuster films like "She's All That," "Ten Things I Hate About You," and "Mean Girls."
Among the highest-earning films of the genre were sports-themed films, including "Varsity Blues" and "Remember the Titans." The sports movies of the time were focused on football-playing adolescent boys, with the exception of one cult classic – "Bring It On."
Eliza Dushku and Kristen Dunst star as cheerleaders in the unexpected box-office hit Bring It On (Credit: Universal Pictures)
Among the movies focused on teenage love interests or Friday night football games, Bring It On stood out as a tribute to the athleticism of cheerleading and a cast of strong women who knew how to stand up for themselves.
While ultimately following a conventional and somewhat predictable storyline, the film successfully incorporated serious issues like racial and economic inequality.
While critics are still divided on the cinematic merits of the movie, one thing that is not up for debate is the film's effects on the careers of its stars.
1. Kirsten Dunst as Torrance Shipman
As the leading actress of Bring It On, Kirsten Dunst has been an A-list actor for most of her life.
She managed to do what many people have failed at – she seamlessly transitioned from a child actress to a serious artist as an adult who has acted in a variety of genres and has found success as a writer and director.
Kirsten Dunst as Torrance Shipman in the 2000 American teen cheerleading comedy film Bring It On (Credit: Universal Pictures)
Kirsten Dunst got her breakthrough role at just ten years of age in the 1994 film adaptation of Anne Rice's "Interview with the Vampire" opposite Tom Cruise and Brad Pitt.
The same year, she joined the star-studded cast of "Little Women" as Amy, the youngest of the March sisters. She would follow these roles with a supporting role in the 1995 American fantasy adventure film "Jumanji" as well as a recurring role in the hit TV show ER.
At the age of 17, it was Dunst's role as Torrance Shipman in "Bring It On" that sparked her entrance into being taken seriously as an actor in her adult years.
In his review of the movie, A.O. Scott of the New York Times said of Dunst, "…it is Ms. Dunst who carries the movie and unifies its disparate elements. She's a terrific comic actress, largely because of her great expressive range, and the nimbleness with which she can shift from anxiety to aggression to genuine hurt."
Kirsten Dunst and Jesse Plemons at the 2021 LACMA Art + Film Gala presented by Gucci on November 6, 2021, at the Los Angeles County Museum of Art in Los Angeles (Credit: Avalon / WENN)
Her starring role in "Bring It On" allowed her to display seriousness as an actor even in the midst of the sassy slang the movie is famous for.
Following her role in "Bring It On," Dunst would go on to more serious grown-up roles, following her "Bring It On" success with a supporting role in 2002's "Spider-Man" as love interest Mary Jane Watson.
She would follow this the next year with roles in "Levity" as well as "Mona Lisa Smile," and would then take a role in the mind-bending "Eternal Sunshine of the Spotless Mind" in 2004.
Her career has continued to rise, as 2010 saw her debut as a screenwriter and director. She has since taken many roles in independent films, further exploring her range as an actor.
2. Gabrielle Union as Isis
The other lead role in the movie went to Gabrielle Union, a star in her own right at the time.
In the years leading up to her role as Isis in "Bring It On" she had various roles in late 90's TV shows, including "Star Trek: Deep Space Nine," "Sister, Sister," "Smart Guy," "7th Heaven," and "Friends."
She also had a supporting role in the hit films, "She's All That," and "10 Things I Hate About You."
Gabrielle Union's breakthrough role was in the 2000 teen film Bring It On (Credit: Universal Pictures)
In 2000, at the age of 27, Union had a role in "Love & Basketball" before the release of "Bring It On," which would catapult Union into a household name.
Her success in "Bring It On" would lead to her landing a recurring role in the CBS television drama "City of Angels" as Dr. Courtney Ellis and starring in a string of highly successful films, including "Deliver Us from Eva," "Cradle 2 the Grave," "Bad Boys II," and 2012's "Think Like a Man."
Gabrielle Union flaunts her legs in a yellow trench coat and ankle-strap heels for a taping of 'Jimmy Kimmel Live' on September 28, 2021, in Los Angeles, California (Credit: Guillermo Proano / WENN)
Outside of her success as an actress, in 2011, Gabrielle Union was invited by then-President Barack Obama to work with the National Advisory Committee for Violence Against Women. She also participated in Obama's 2012 re-election campaign.
In 2017, Union published a memoir entitled "We're Going to Need More Wine," and in 2021, she published a follow-up book, "You Got Anything Stronger?: Stories." You can check them out on Amazon.
3. Eliza Dushku as Missy Pantone
At 20 years of age, Eliza Dushku joined the cast of "Bring It On" as outsider gymnast Missy Pantone.
Leading up to this role, she had held various minor roles in TV shows throughout the '90s, but it was her 1998 casting in the hit series, "Buffy the Vampire Slayer" that would begin her rise to fame.
Eliza Dushku as Missy Pantone in the hit cheerleader comedy Bring It On (Credit: Universal Pictures)
In the midst of her work on Buffy, she was cast in "Bring It On," further solidifying her rightful place in Hollywood.
Following her success in "Bring It On," Dushku would land roles in 2001 films, "Jay and Silent Bob Strike Back" and "Soul Survivors."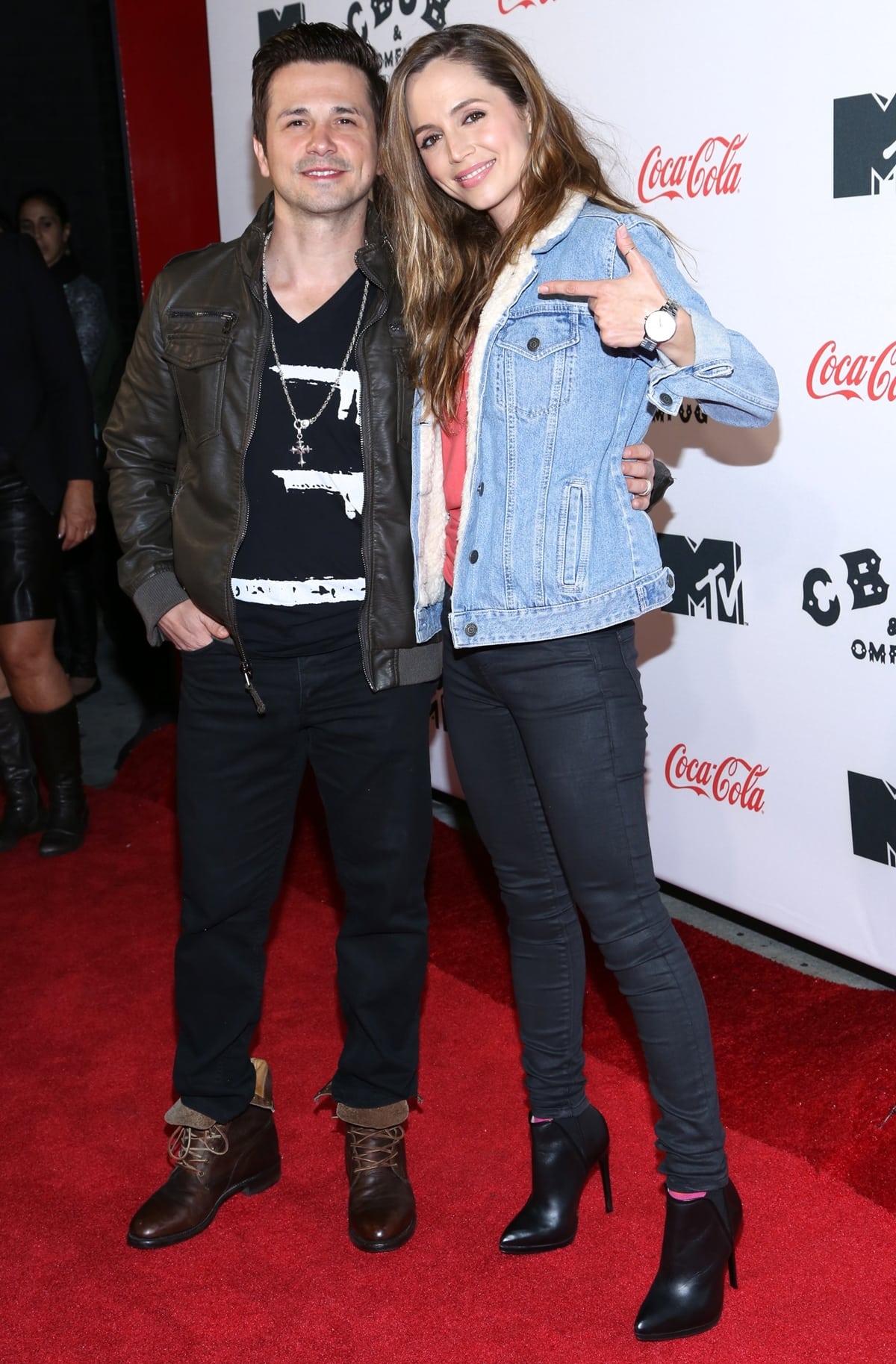 Actor Freddy Rodriguez and actress Eliza Dushku attend CBGB US Premiere Opening Night CBGB Music and Film Festival 2013 at Landmark Sunshine Cinema on October 8, 2013, in New York (Credit: Andres Otero / WENN)
Over the next decade, Dushku would continue to appear in various TV shows including "Angel," "King of the Hill," and "That 70's Show." She also landed the main role in 2003's "Tru Calling" as well as Joss Whedon's 2009-2010 show, "Dollhouse."
4. Jesse Bradford as Cliff Pantone
Prior to his role as Missy Pantone's brother (and Torrance Shipman's love interest) Cliff Pantone in "Bring It On," Jesse Bradford made a name for himself after being cast in Baz Luhrmann's 1996 hit film "Romeo and Juliet" as Balthasar Montague.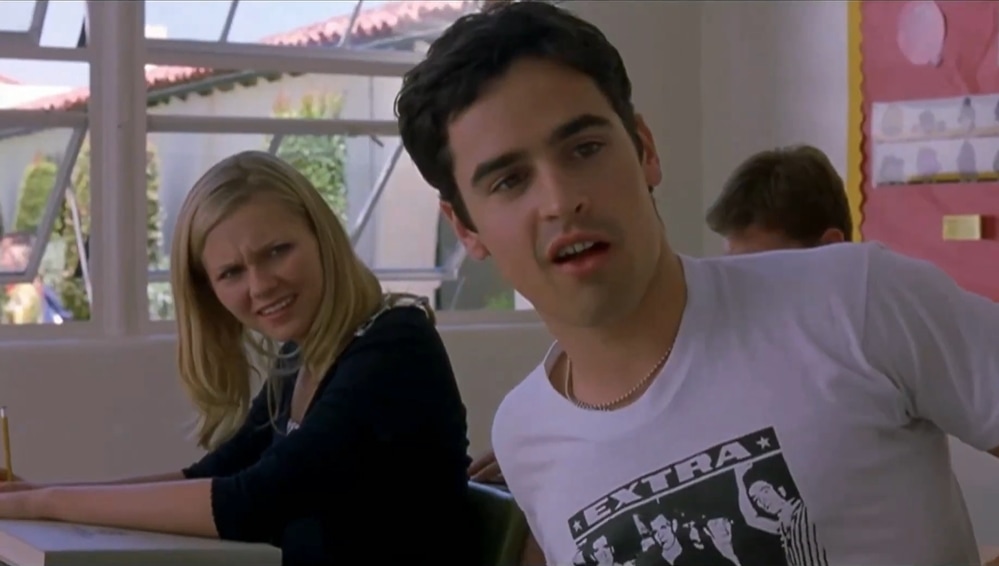 Jesse Bradford played Kirsten Dunst's teen love interest Cliff Pantone in Bring It On (Credit: Universal Pictures)
After this, at the age of 21, his role in "Bring It On" would cause him to be noticed again as an actor, leading to various other roles. He went on to star in 2002's "Clockstoppers" as well as "Swimfan" which came out that same year.
Jesse Bradford and his wife Andrea Watrouse at the opening night of the 14th HollyShorts Film Festival at TCL Chinese Theatre on August 9, 2018, in Hollywood, California (Credit: WENN)
He's gone on to appear in roles in shows including "The West Wing" and "Outlaw" and films, "Flags of our Fathers" and "I Hope They Serve Beer in Hell."
In March 2016, Kirsten Dunst arrived at the Hollywood ABC Studios for an appearance on "Jimmy Kimmel Live!"
Kirsten Dunst clips her hair back as she arrives at the Los Angeles ABC Studios for "Jimmy Kimmel Live!" on March 15, 2016 (Credit: Michael Wright / WENN)
The then-33-year-old actress promoted her new movie, "Midnight Special," and revealed that she wrote a goodbye letter to her character from Fargo.
"After I'm done with the role sometimes I write a little note to myself to sign out, like, 'Okay, stop acting like Peggy cause otherwise you might kill somebody'," she said.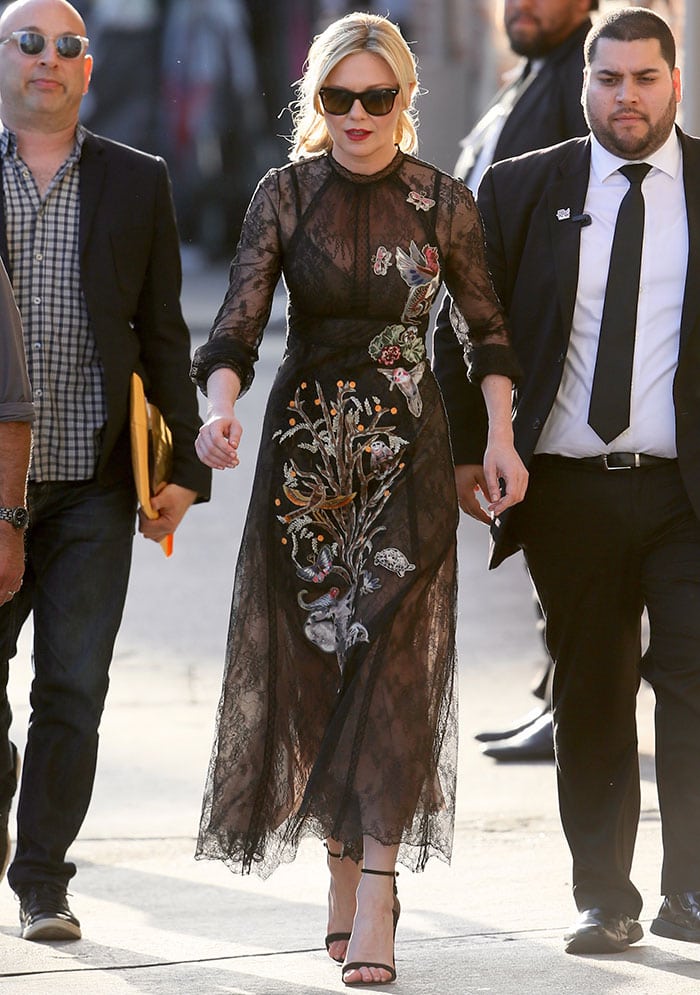 Kirsten Dunst wears a black lace Valentino dress to an appearance on "Jimmy Kimmel Live!" (Credit: Michael Wright / WENN)
The "Spider-Man" star looked red carpet-ready as she elegantly sashayed down the pavement in a black lace dress from Valentino's Resort 2016 collection.
She showed just a glimpse of flesh in the dramatic ankle-length frock, which featured long sleeves and animal embroidery.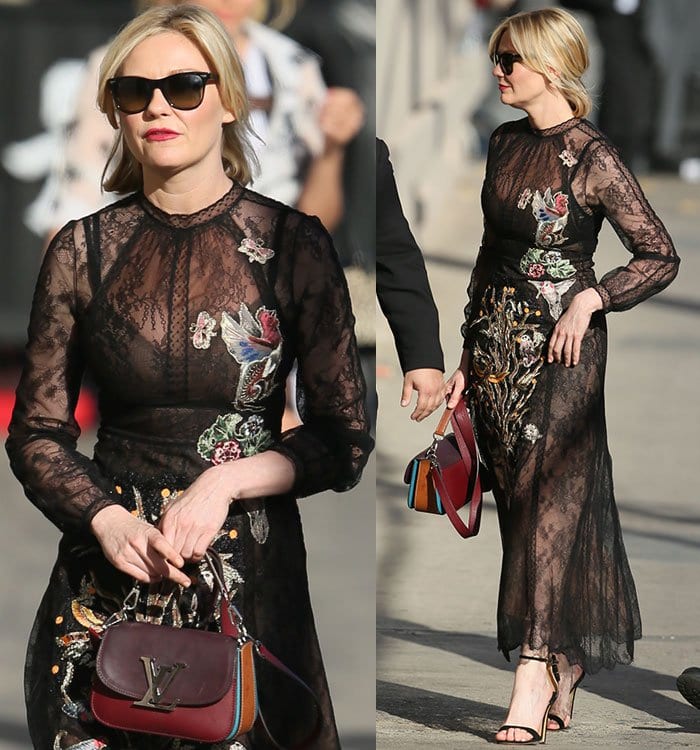 Kirsten Dunst carries a Louis Vuitton Vivienne bag as she arrives at ABC Studios (Credit: Michael Wright / WENN)
Kirsten skipped the jewelry, toted a Louis Vuitton "Vivienne" bag, and showed off her feet in a pair of heels from the popular women's shoe brand Salvatore Ferragamo.
To complete the look, Kirsten wore her short blonde locks in a half-up, half-down style, hid her eyes behind a pair of black sunnies, and wore a slick of bright red lipstick.
Kirsten Dunst wears a Valentino dress and Salvatore Ferragamo's "Angie" sandals (Credit: Michael Wright / WENN)
Kirsten added a few inches to her height with the Salvatore Ferragamo "Angie" sandals, which are designed in collaboration with Edgardo Osorio as part of the Spring/Summer 2016 collection.
These ankle-strap sandals feature polished bows at the back.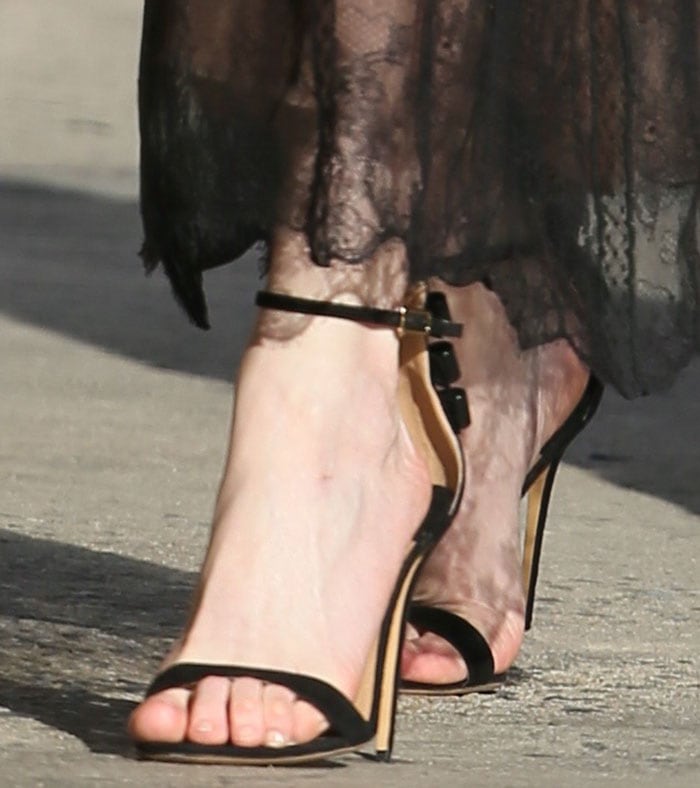 Kirsten Duns's feet in Salvatore Ferragamo sandals (Credit: Michael Wright / WENN)
You can order these Salvatore Ferragamo heels in different versions at Farfetch and Nordstrom.
Salvatore Ferragamo "Angie" Bow-Back Sandals, $795 – $875