Several celebrities have gone all out for this year's Halloween celebration after the COVID-19 pandemic halted last year's festivity.
On Saturday night, a slew of stars flocked to the 24,000 square-foot Bel-Air Estates in Los Angeles to attend the CarnEvil Halloween Party, hosted by LA's nightlife impresario Darren Dzienciol and supermodel Alessandra Ambrosio.
The star-studded carnival-themed event was presented by Decada tequila and featured live performances by Doja Cat, Bia, and Tyga. There were also live carnival performers, carnival games, and circus animal statues.
Guests were treated to some carnival concessions, including candy apples and cotton candy, a retro-style Butter Bun burger diner pop-up, and cocktail bars.
While many set pulses racing in their sexy Halloween costumes, others channeled their favorite characters and pop-culture icons. From sexy to spooky, here are some of the most interesting celebrity Halloween costumes spotted at the lavish party.
1. Alessandra Ambrosio as a Crystal Queen
As the party host, Alessandra Ambrosio made sure all eyes were on her as she left little to the imagination in a white high-cut leotard that has crystal embellishments and a navel-grazing plunging neckline, designed by For The Stars Fashion House.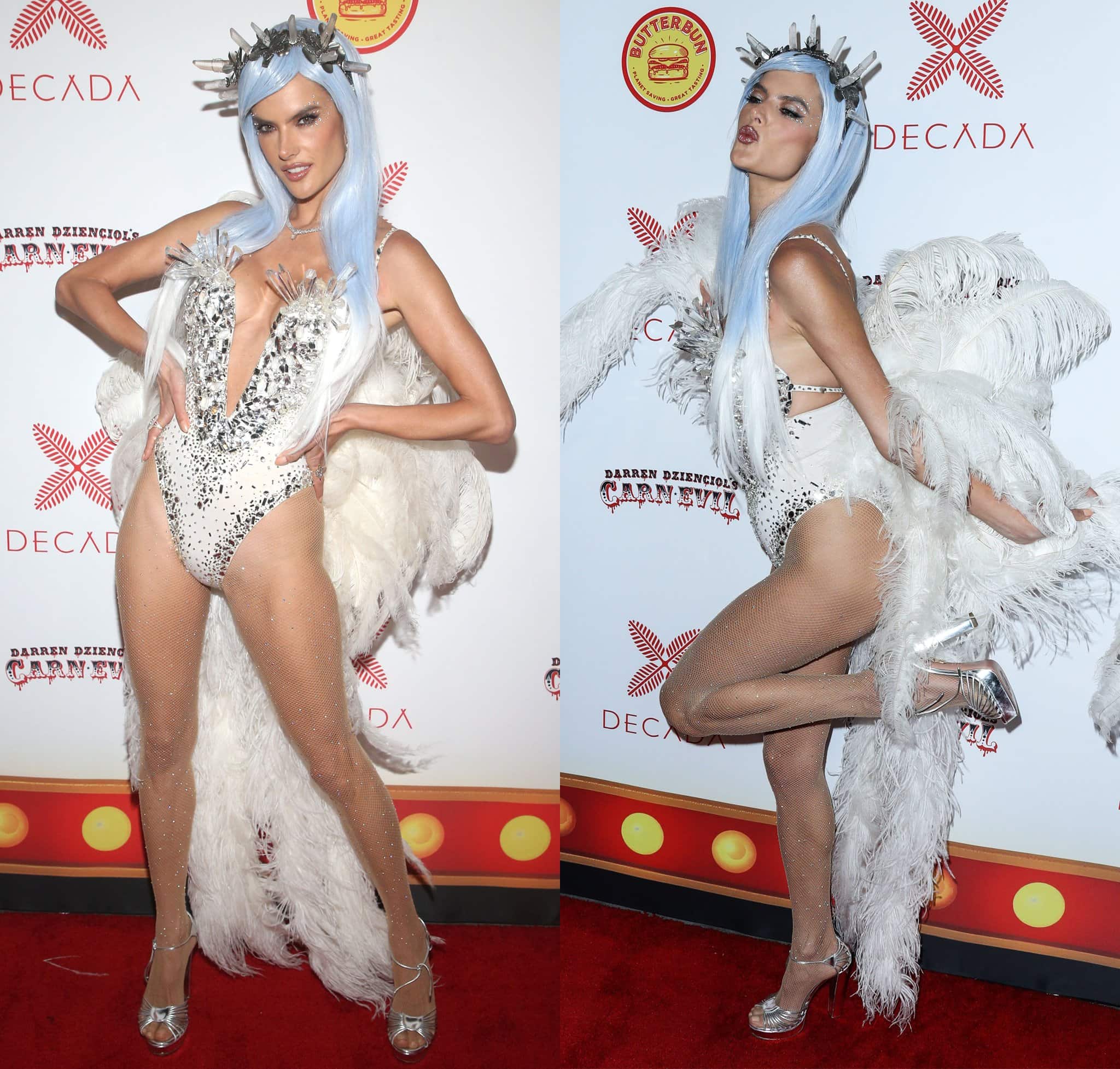 Alessandra Ambrosio showcases her model figure in her crystal queen costume (Credit: Mega / Avalon / WENN)
She also sported huge furry white wings and teamed the icy cool look with shimmering fishnets and Aquazzura "Josephine" metallic silver platform sandals.
Staying true to her crystal queen character, the former Victoria's Secret Angel wore a long pale blue wig styled with a medieval-like spiky crystal headpiece. She also accessorized with a diamond necklace and several rings.
As for her makeup, Alessandra glammed up with winged eyeliner and shimmering crystals around her eyes.
2. Doja Cat as Miss Sara Bellum from The Powerpuff Girls
Rapper-singer Doja Cat transformed into Powerpuff Girls' Miss Sara Bellum, the loyal secretary, top aid, and brains behind the Mayor of Townsville.
The Say So hitmaker channeled the character in a custom Garo Sparo outfit, flaunting her boobs in a red skirt suit and highlighting her tiny waist with a chunky black belt.
Doja Cat highlights her tiny waist in her Miss Sara Bellum outfit (Credit: Mega / WENN)
Paying attention to detail, Doja Cat accessorized with a black choker necklace and wore Miss Bellum's voluminous curly ginger wig and signature red lipstick.
She then added a plush of the Mayor as a boutonnière and finished off her look with towering black platform pumps from Pleaser Shoes.
3. Victoria Justice as a Seductive Skeleton
Giving the classic skeleton costume a modern, seductive twist, Victoria Justice arrived at the party in a cleavage-baring mesh corset top and a black leather A-line miniskirt.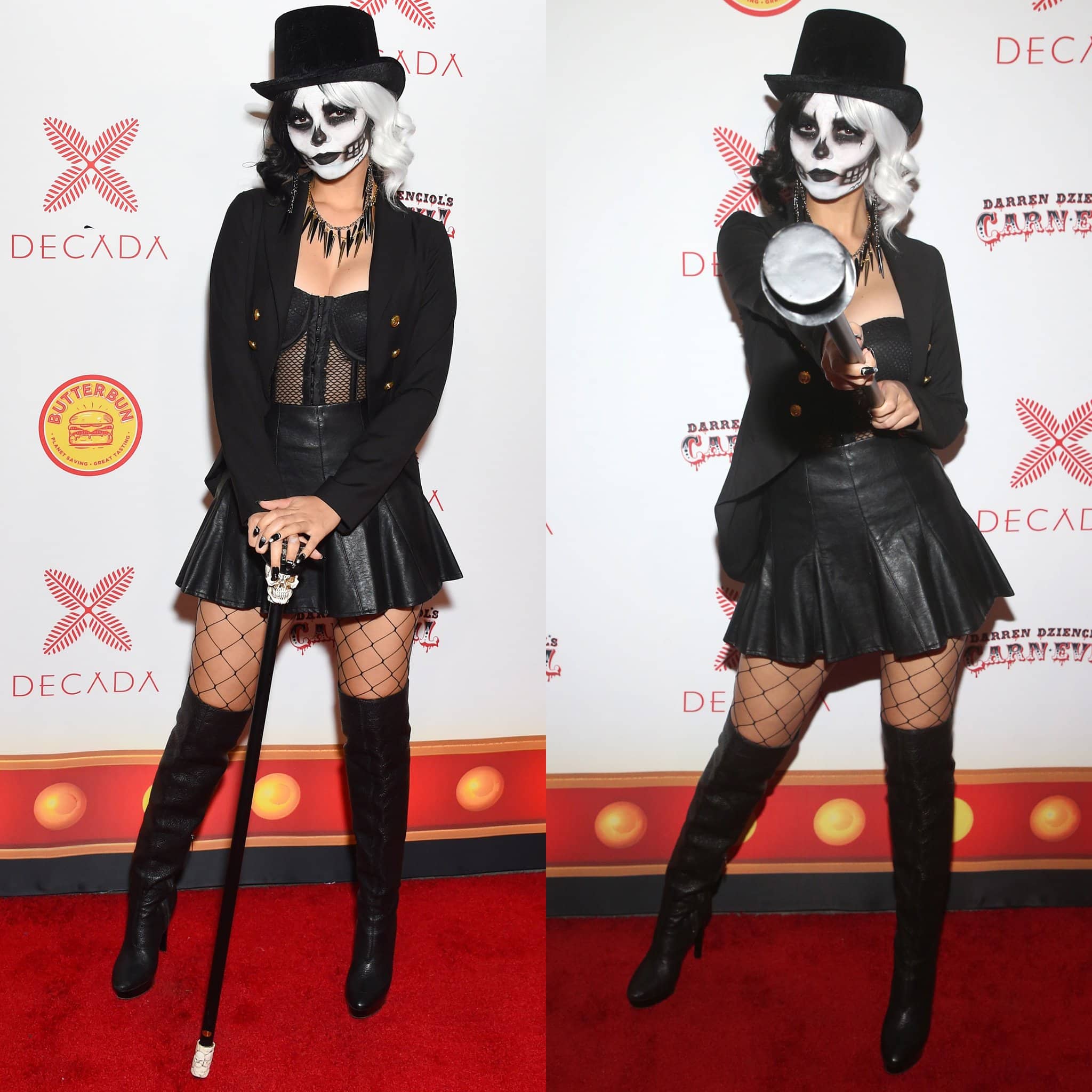 Victoria Justice gets seductive in her modern skeleton costume (Credit: Mega / WENN)
She covered up with a gold-buttoned cropped blazer and added black fishnets and a pair of Burberry thigh-high leather boots, creating a sultry vibe.
To keep the spooky vibe going, the Victorious star accessorized with a spiky necklace, chain earrings, and a skull cane. She also wore a black top hat and a half-black, half-white Cruella de Vil-like wig.
The winning part? Her skeletal makeup, done by Jacob Vega.
4. Lexi Jayde as Christina Aguilera
Emerging singer-songwriter Lexi Jayde paid homage to '90s pop princess Christina Aguilera as she recreated one of her most iconic looks.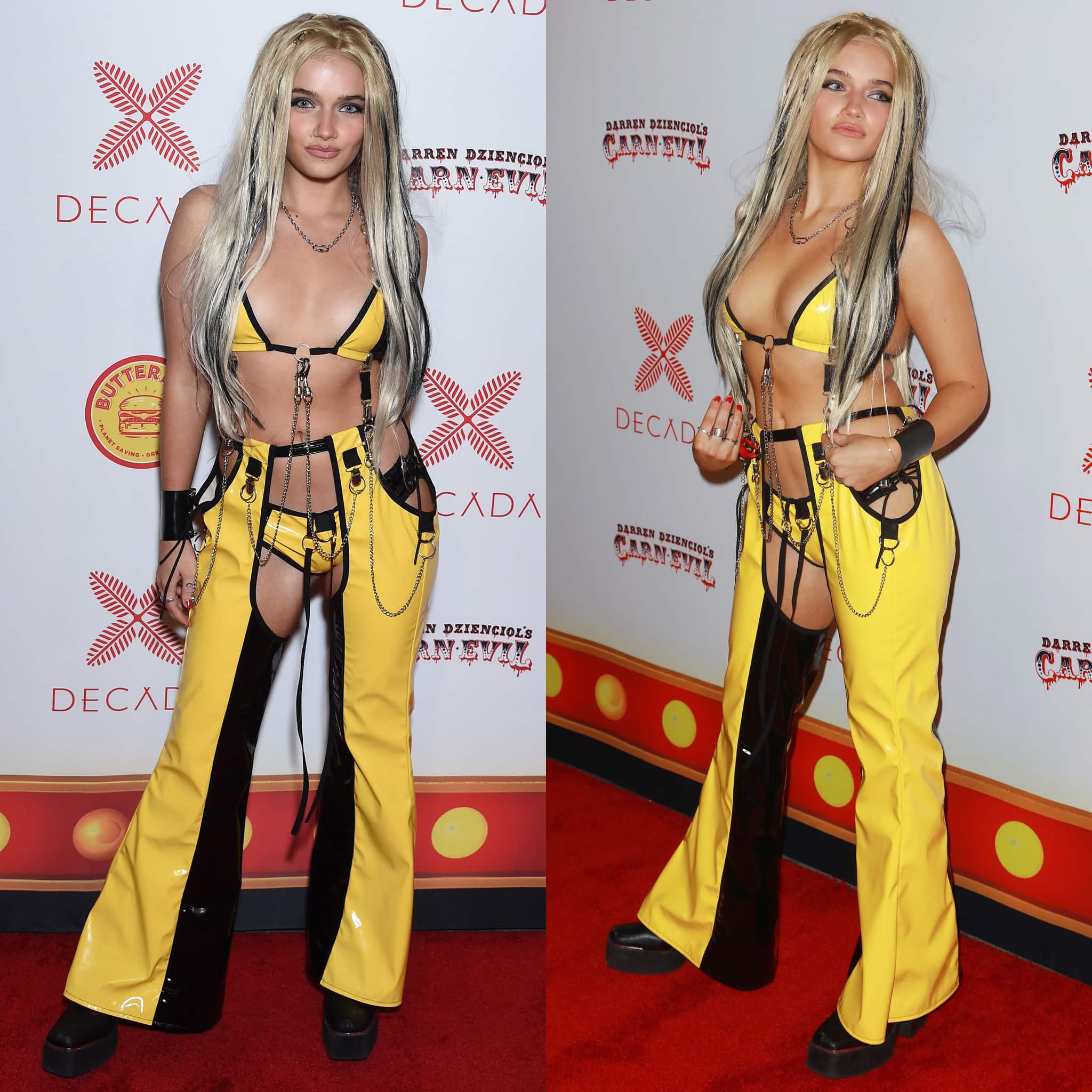 Lexi Jayde honors Christina Aguilera in revealing yellow-and-black bikini top and chaps (Credit: Mega / WENN)
She opted for the yellow-and-black string bikini top and chaps that the Genie in a Bottle singer wore at her Dirrty performance on MTV's TRL Presents: Christina Aguilera Stripped in NYC 2002 special.
Lexi also copied Christina's hair and makeup, sporting extra-long blonde hair with black streaks, complete with blue contact lens, eyeliner, and nude lipstick.
5. Helen Owen as Buzz Lightyear
Forget the brawny Buzz Lightyear. British-American bikini model Helen Owen graced the party in a suggestive Halloween costume inspired by the toy Space Ranger superhero.
Helen Owen transforms into a sexy Buzz Lightyear (Credit: Mega / Avalon / WENN)
She showcased her figure in an $85 Fashion Nova bikini set that features Buzz Lightyear's green, white, and purple colors. She also wore fingerless gloves, a matching backpack, and space sunglasses on top of her head.
To amp up the space cadet vibe of the look, Helen styled her tresses in a double bun hairstyle and completed the costume with white thigh-high boots.
6. Josie Canseco as Riddler
Logan Paul's ex Josie Canseco channeled DC Comics supervillain The Riddler. She highlighted her figure in a skintight green jumpsuit that's decorated with question mark prints all over.
It has a zip front fastening, which she partially left open to reveal her black bra and cleavage.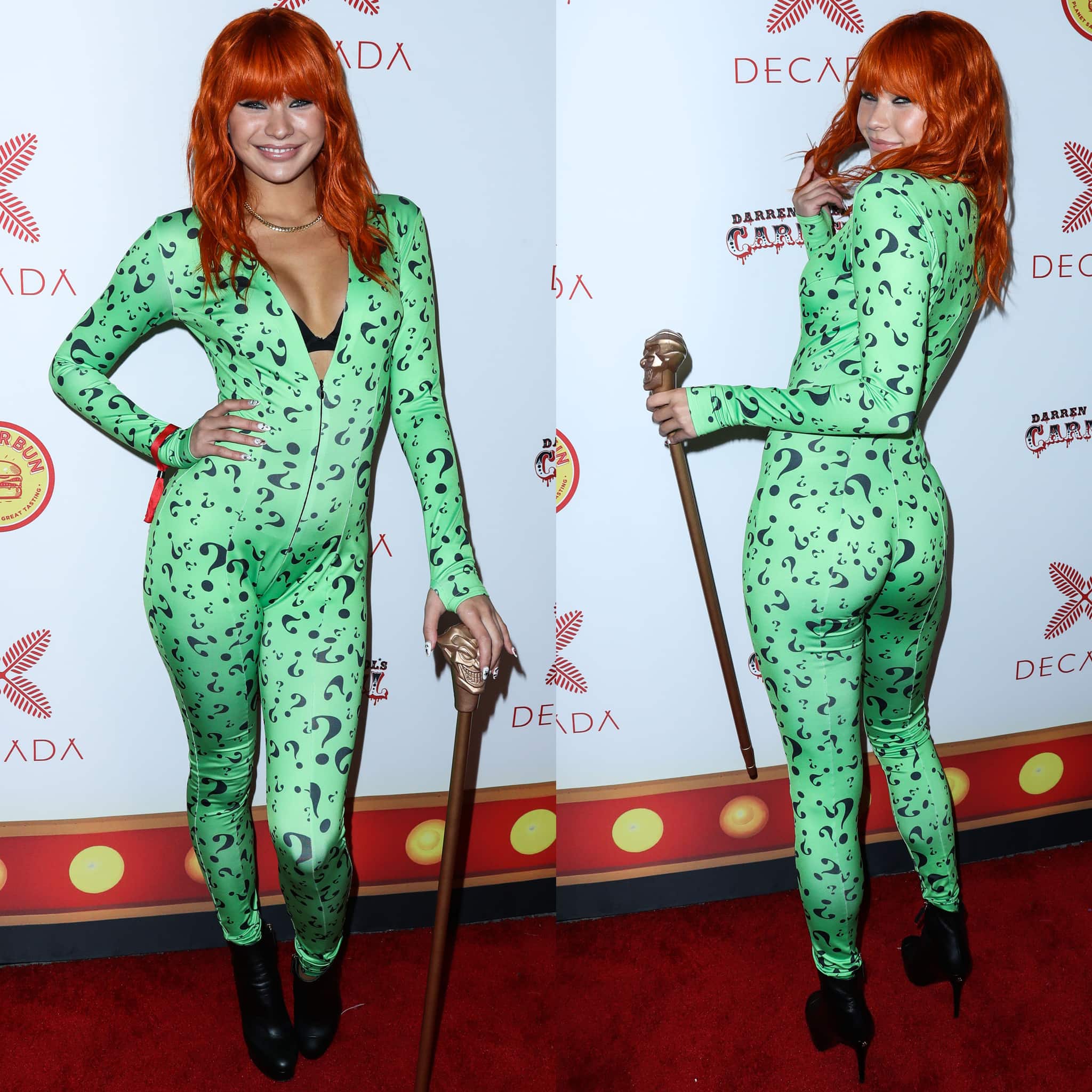 Josie Canseco flaunts boobs in a form-fitting Riddler jumpsuit (Credit: Avalon / WENN)
While she didn't wear Riddler's green eye mask, Josie sported a red-orange wig and accentuated her eyes with eyeliner. She also carried a cane and completed her look with black heeled boots.
7. Sailor Lee Brinkley-Cook Goes Burlesque
Christie Brinkley's look-alike daughter opted for a Burlesque-inspired look, parading her bronzed legs in a black floral lace lingerie dress with a tasseled hem.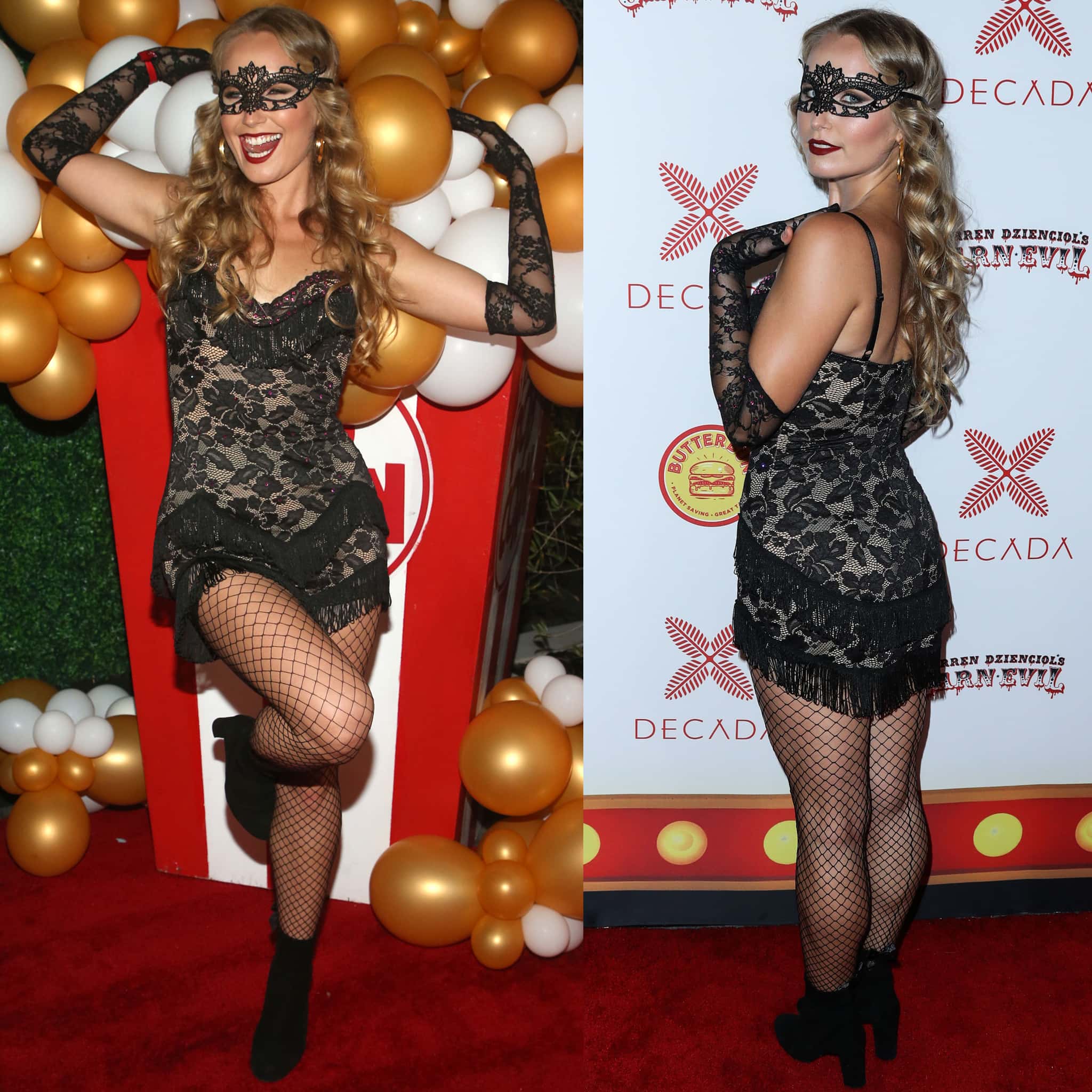 Sailor Lee Brinkley-Cook opts for Burlesque-inspired lacy outfit (Credit: Mega / Avalon / WENN)
She added matching opera gloves and slipped her shapely pins into a pair of fishnet tights and black suede ankle boots.
Continuing with the sultriness of her look, Sailor Lee wore a black lace eye mask and a swipe of bold red lip color.
8. Larsa Pippen as a Victoria's Secret Angel
Proving age is just a number, Larsa Pippen, 47, left very little to the imagination in two-piece black lingerie that put her assets on full display. Not only did she flaunt her ample cleavage, but she also had her bum in full view.
Larsa Pippen dresses up as a Victoria's Secret Angel in racy black lingerie (Credit: Mega / WENN)
NBA superstar Scottie Pippen's ex-wife paired her sexy outfit with thigh-high boots and wrapped a racy suspender belt around her waist.
The mom-of-four let her long tresses fall loose around her shoulders and finished off her look with shiny black angel wings.
9. Meagan Good as a Sexy Cowgirl
Showing a sultry take on cowgirl costume, Think Like a Man actress Meagan Good flashed the flesh in a custom creation by Michael Ngo.
Meagan Good shows off her boobs in a sexy cowgirl costume (Credit: Mega / WENN)
She put her curves on show in black leather hotpants and a studded black bra that both feature rhinestone fringes.
Sparkling fringes also trim her black cowboy hat and thigh-high boots. She then covered up with a black leather coat and accessorized with a buckled crystal choker.
Giving the look some added drama, Meagan wore bold red lipstick and bottom wing eyeliner.
10. Tyga as Barnabas Collins
Just a few weeks after turning himself in to police following domestic violence accusations by his ex-girlfriend Camaryn Swanson, Tyga showed up at the Halloween party looking barely recognizable.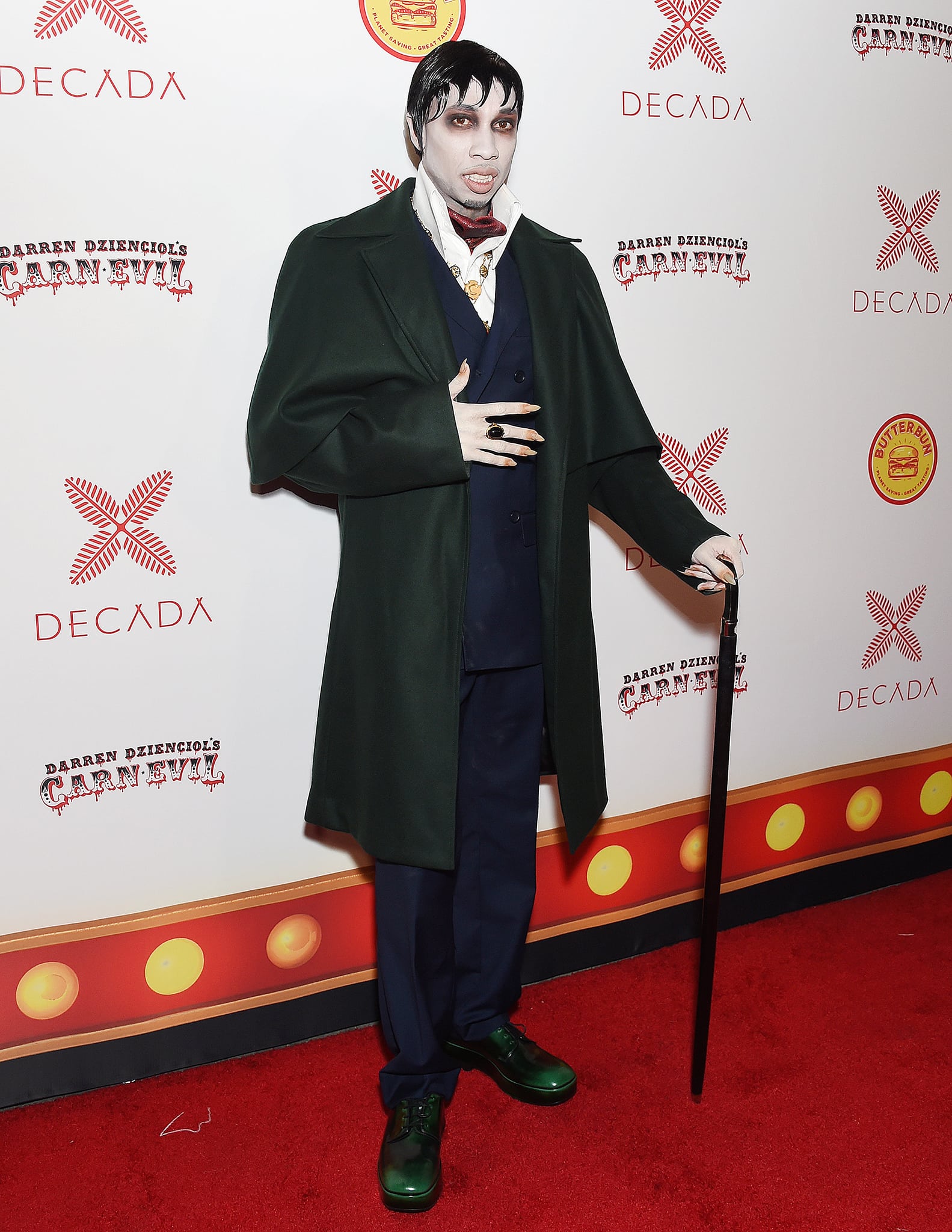 Tyga shows up as Dark Shadows' Barnabas Collins (Credit: Mega / WENN)
Kylie Jenner's ex painted his face white with dark smokey eye-makeup as he dressed up as Barnabas Collins from the ABC '60s gothic soap opera Dark Shadows. He wore the fictional character's signature bangs and perfected his look with long pointy nails.
As for his outfit, Tyga wore a trench coat over a navy suit, a white collared shirt, and a red scarf. He paired the look with green shoes and held a black cane while posing on the red carpet.
11. Jamie Foxx as Gizmo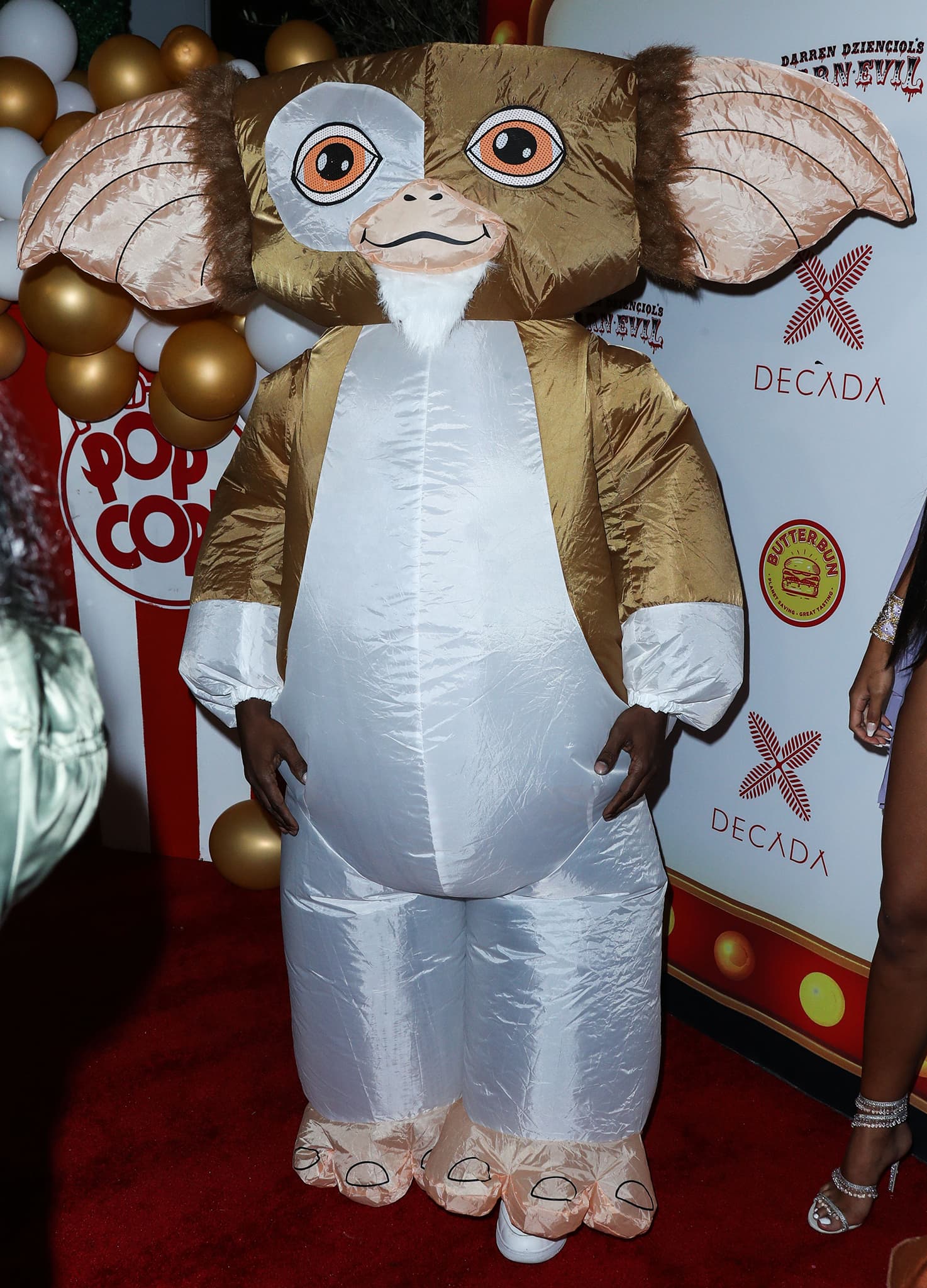 Jamie Foxx in an inflatable Gizmo Halloween costume (Credit: Avalon / WENN)
Oscar-winner Jamie Foxx disguised as drunk Gizmo. He wore an inflatable Gizmo costume, a character from the 1984 classic film, Gremlins.
12. Murda Beatz as Michael Myers
Record producer Murda Beatz channeled Michael Myers, a fictional character from the Halloween series of slasher films.
Murda Beatz wearing Michael Myers' emotionless mask (Credit: Avalon / WENN)
He put on Michael's blank and emotionless mask and wore a navy jumpsuit styled with several crystal-embellished necklaces. He also brought a bloody sword prop to complete his killer costume.