Introduced by Christian Dior in the late 1940s, pencil skirts became vastly popular particularly as office wear or as a part of a suit.
Today, the pencil skirt is still a favorite in the corporate setting for its clean, tailored lines, adding a necessary formality that is required of corporate wear.
With more interest in fashion fanning out as a form of self-expression, barriers are continuously being torn down as new and unconventional ways of dressing up come to the surface.
We feature six fashion bloggers who were able to take the pencil skirt and turn it into lovely casual pieces.
1. Luna in Woven Pencil Skirt
For a non-traditional pencil skirt look, go for emphasized woven skirts instead of regular woven fabric ones. Funk up a geometrical weave pattern by pairing it with a fun and colorful tribal top.
Finish off with chunky wooden accessories and shoes. Her blog, LuluTrésors, is unfortunately no longer available online.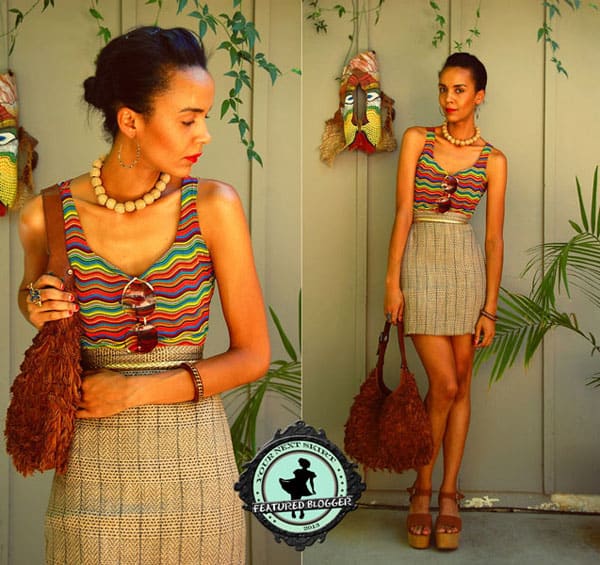 Luna styled her woven pencil skirt with a geometrical weave pattern and chunky wedges
Copy her look:
Forever 21 Tribal Print Tie-Front Top, $11.80 / Very South Woven Skirt, £29.00
2. Prisca in Lace-on-Lace Outfit
Play around with your pencil skirt look by going for a texture-overload such as lace-on-lace ensemble. Choose a collared lace top for an instant hard versus soft contrast.
Go for a skirt in pastel or neutral color to maintain the softness of the outfit. Her blog, Mochacchinoland, is unfortunately no longer available online.
Prisca styled her casual pencil skirt with a collared lace top
Copy her outfit: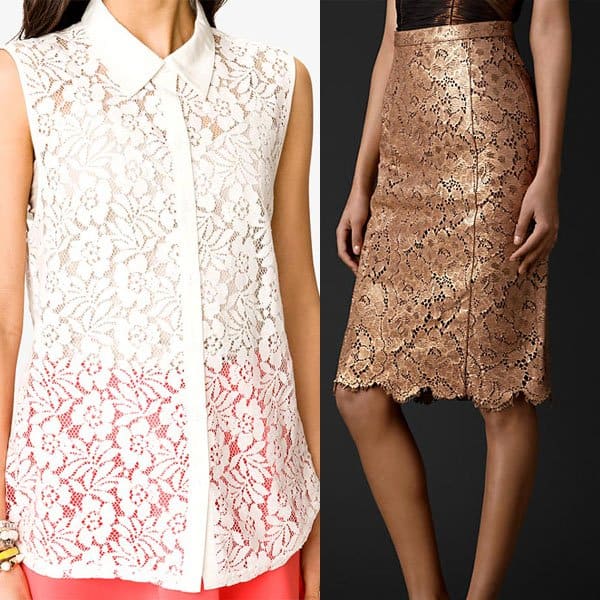 Forever 21 Sleeveless Lace Shirt, $12.80 / Burberry Laser-Cut Leather Pencil Skirt, $3,595.00
3. Zoe in Lace Pencil Skirt
Sport the ultimate rocker-chic look by pairing a graphic rock band tee with a lace pencil skirt.
Like Zoe of Zoe Paige, wear your hair in an updo with fringes to add to the edginess of the ensemble. Finish with a pair of oxfords.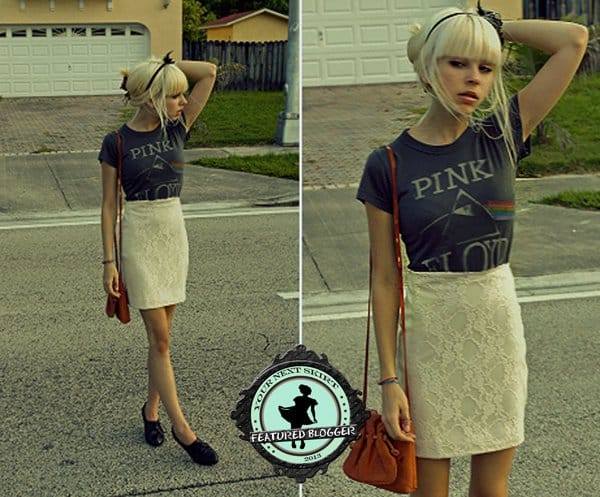 Zoe paired a graphic rock band tee with a lace pencil skirt
Copy her look:
Pink Floyd Dark Side of the Moon Amplified T-Shirt, £23.99 / Burberry Lace Skirt, $850.00
4. Jessica in Floral Skirt and Top
If you can overload on texture, then you can definitely overload on prints. Pull off a print-on-print look by choosing floral patterns that are contrasting in size but complementing in colors.
Like Jessica of Tuula Vintage, pull the whole look together by choosing a common hue that is present in both pieces.
Jessica pulls off a print-on-print look
Copy her look: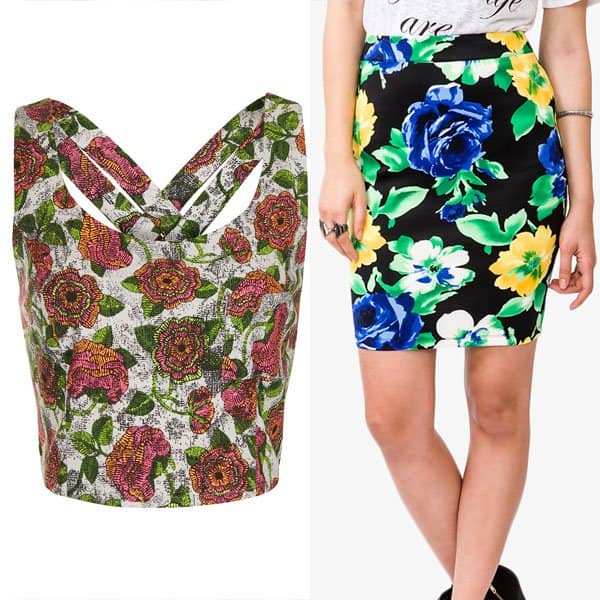 Topshop Floral Print Suntop, $52.00 / Forever 21 Floral Print Pencil Skirt, $13.80
5. Anastasia in Nude Pumps and Pencil Skirt
The quickest way to change the entire mood of a pencil skirt ensemble is to replace tailored outerwear with a casual one, such as a slouchy cropped leather jacket.
Like Anastasia of Brown Platform, finish the look off with nude pumps and bag so as not to take attention away from the leather-pencil skirt combination.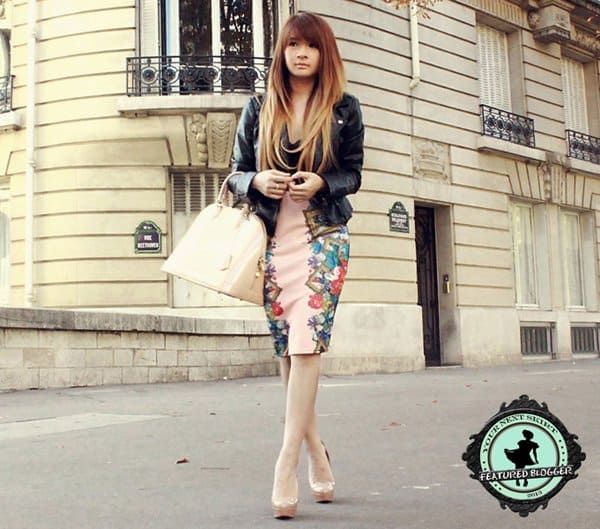 Anastasia flashes her legs in a pretty pencil skirt and sexy nude pumps
Copy her look: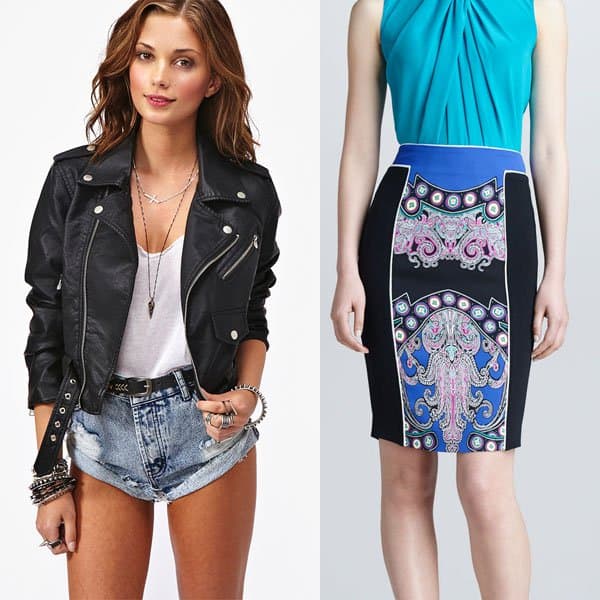 Nasty Gal Moto Zip Crop Jacket, $88.00 / Etro Colorblock Printed Pencil Skirt, $925.00
6. Jessica in Star-Printed Pencil Skirt
Channel your inner child by going for fun prints such as this star-printed pencil skirt. Balance the look with a lace-trimmed camisole to inject a bit of sophistication and femininity.
Take inspiration from Jessica of Hapa Time and Cap the look off with pointed-toe shoes and a suede bag.
Jessica's star-printed pencil skirt with a sexy lace-trimmed camisole
Copy her look: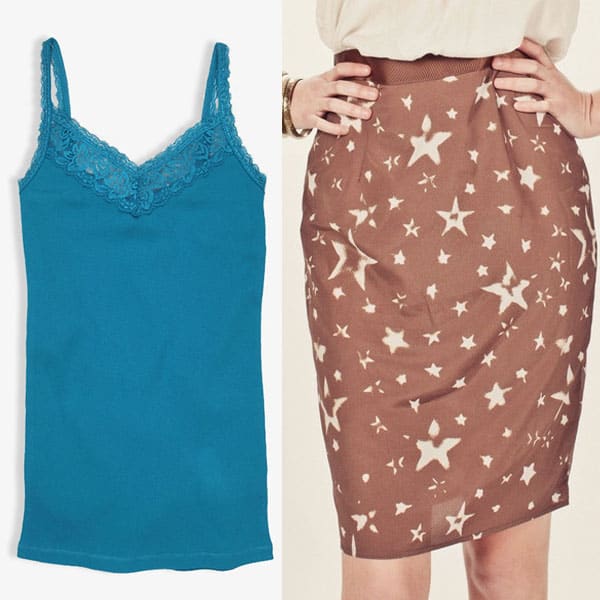 Forever 21 Lace Trim Ribbed Tank, $4.90 / Minted Republic Star Spangled Pencil Skirt – Brown, $30.00