Carmen Electra's Net Worth, Ethnicity, Height, Feet and Shoes
Please subscribe to
our newsletter
to receive updates from Your Next Shoes. This post may contain affiliate links. Please see our
disclosure
for more details.
Scroll down to see pictures of Carmen Electra showing off her nude feet and bare legs in sexy high heels, sandals, and shoes.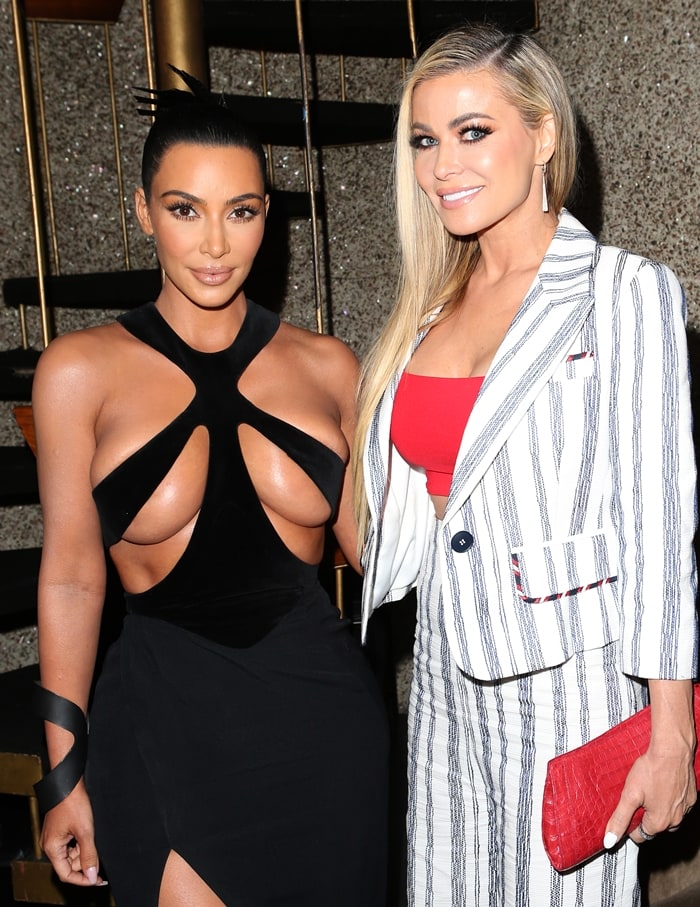 Kim Kardashian and Tara Leigh Patrick, known professionally as Carmen Electra, at the 2019 Hollywood Beauty Awards at the Avalon Hollywood in Los Angeles on February 17, 2019 (Credit: FayesVision / WENN)
Best known for her role on Baywatch and relationships with Dennis Rodman and Dave Navarro, she is an American glamor model, actress, television personality, singer, and dancer with a net worth of $8 million.
She has seen a lot of success throughout her career and has recently sought out another form of income.
Carmen Electra's Background
Carmen Electra's name isn't actually Carmen Electra, if you can believe it!
The famous media personality was born Tara Leigh Patrick on April 20, 1972, in Sharonville, Ohio. She was involved in the arts from a young age and started her professional career in 1990.
Carmen Electra and Dennis Rodman met at a Los Angeles nightclub and were married for a little over a week in 1998 after "an all-night bender" (Credit: Albert Ferreira / Startraksphoto)
She has been married two times, to NBA superstar Dennis Rodman from 1998 until 1999 and to musician Dave Navarro from 2003 until 2007. She has no children.
Meeting at a nightclub in Los Angeles, Rodman filed for an annulment just nine days after their Las Vegas wedding in 1998. They were officially divorced a few months later.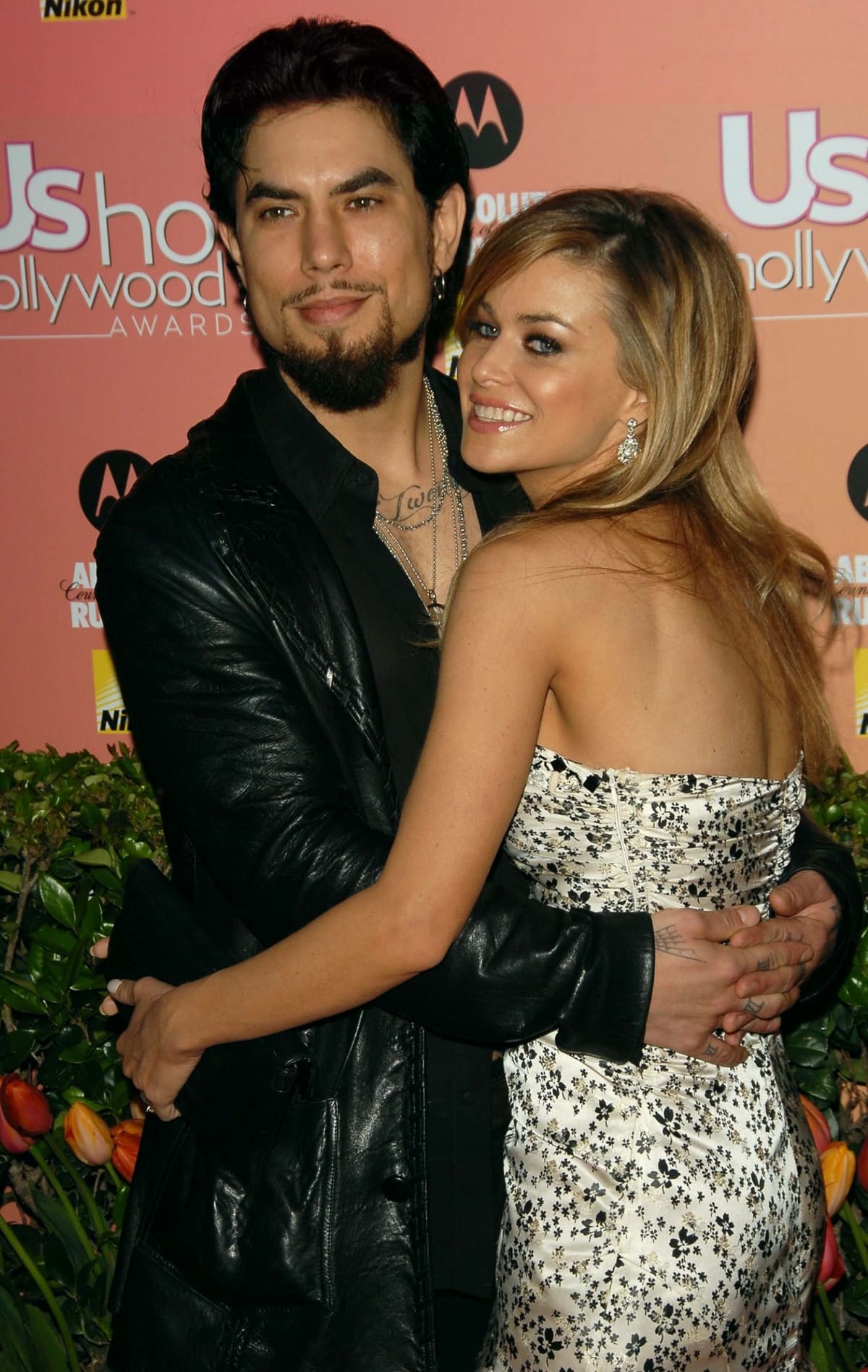 Dave Navarro and Carmen Electra met on a blind date arranged by a friend, married in 2004, and divorced in 2007 (Credit: Devan / INFGoff)
Is Carmen Electra Short?
Yes, she's shorter than the average American woman. While she has claimed in interviews to be taller, her real height is believed to be around 5ft 2 ½ (158.8 cm).
"So I'm standing on the bed and we're eye-to-eye, because he's [Dennis Rodman] 6ft 8in and I'm 5ft 4in," she said about her ex-husband Dennis Rodman, who is actually 6ft 6 ½ (199.4 cm).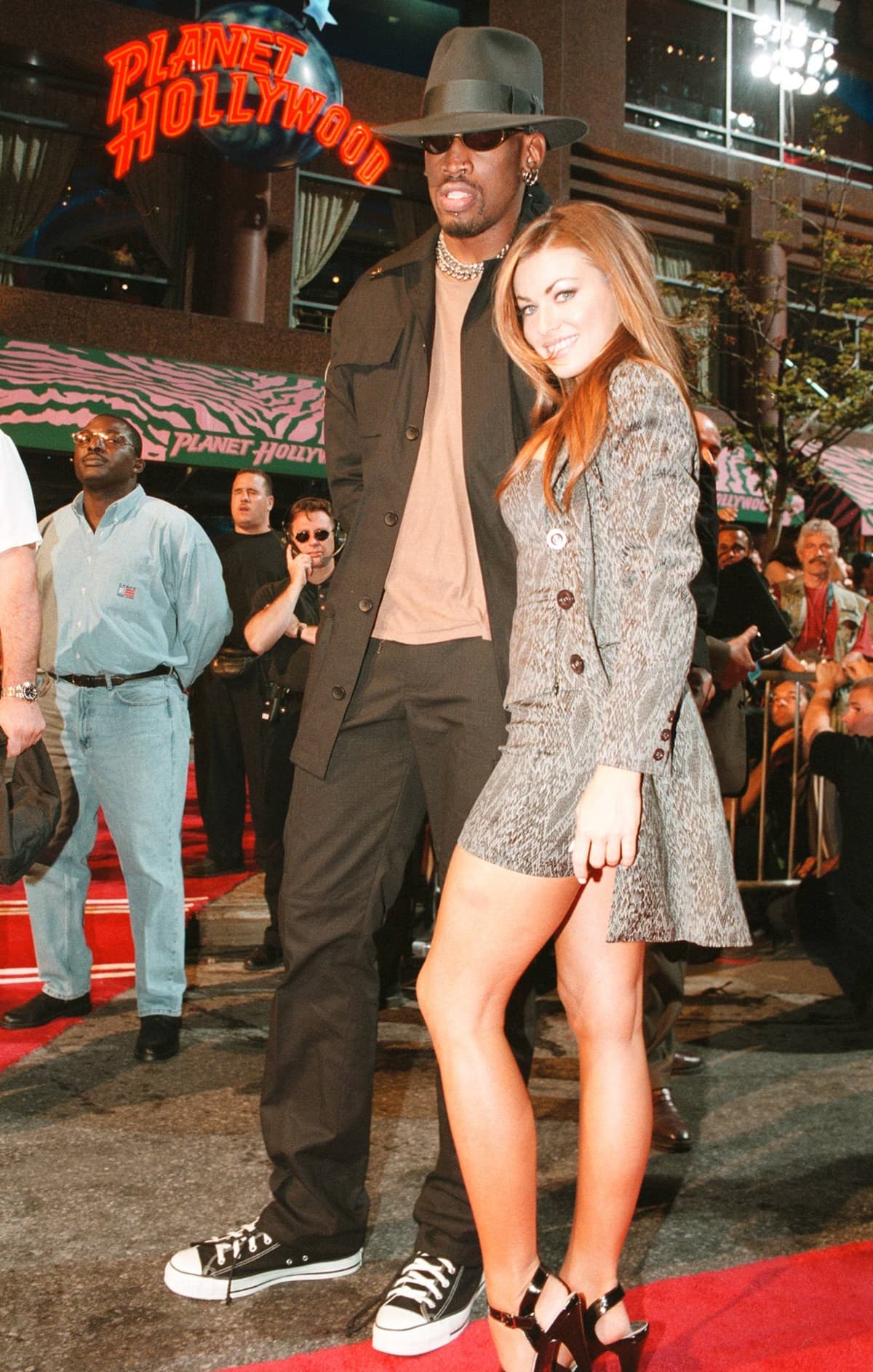 Even when wearing high heels, Carmen Electra looked tiny next to Dennis Rodman on the red carpet (Credit: Startraksphoto)
"I always thought I was 5'4″ and I just found out I'm 5'2 1/2″! I was so bummed," Electra admitted in another interview.
For some reason, her fans believe she's much taller, and she discussed this common misconception in an interview with Pride Source.
"I'm so tiny and so short. People always think I'm 6 feet tall. I've literally been at the airport and listened to a conversation between two people."
"One person saying, 'It's her.' The other person saying, 'No, that's not her. She's too short.' So it's funny. I'm 5-foot-2-and-a-half. That's what I am, and I love it. And I get to wear extra high heels if I want to be taller!"
A Stroke of Luck
In 1991, Tara Leigh Patrick was introduced to Prince, a famous singer and songwriter who was responsible for helping her career take off.
She signed a record deal with Paisley Park Records and became Carmen Electra, officially. Prince, who was approximately 15 years older, and Electra dated for a short period of time in the early 90s.
How did Carmen Electra get her name?
"I auditioned for an all-girl group that he was putting together, and he ended up signing me to his label Paisley Park," Carmen said on The Yo Show about meeting Prince.
"After I danced for him, he said, 'You look like Electra. That should be your name.'"
"You're not a Tara. You're not Tara. You're Carmen," he added. Carmen met Prince in 1991 when she was 18 years old, and he was 33.
"At first, I thought it sounded kinda like a superhero type of name, which actually it is," she added. "So I was hesitant, but it just sorta grew on me, and that's it. I'm Electra now."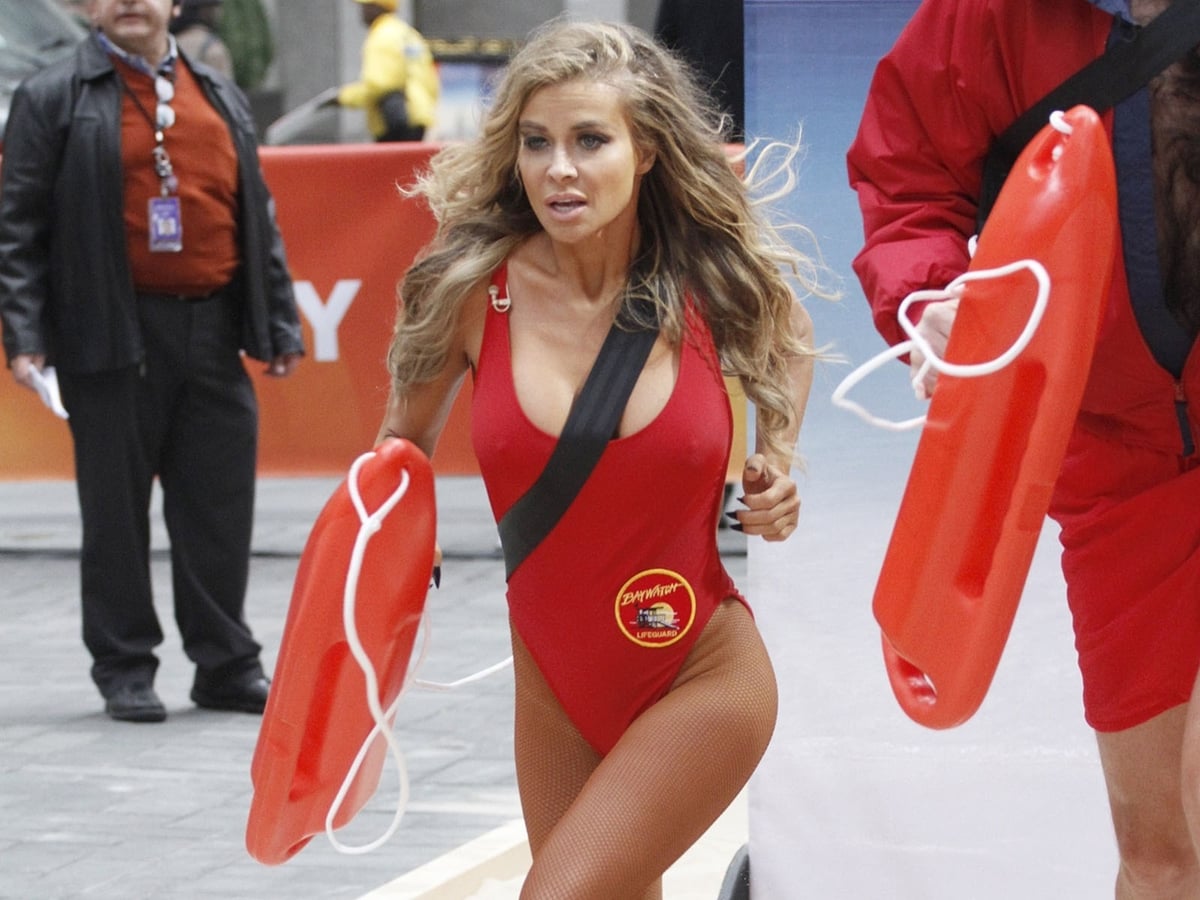 Carmen Electra starred as Lani McKenzie in two seasons of the American action drama television series Baywatch (Credit: NBC)
After this, Electra continued to work on many projects. She was featured in Playboy magazine, starred as Lani McKenzie in Baywatch, and thus became an infamous sex icon for America.
Dennis Rodman's ex-wife has been seen in a lot of parody movies, such as Scary Movie, Meet the Spartans, and Epic Movie.
She wrote a book in 2007 called How to Be Sexy (available on Amazon) and was even a guest judge on So You Think You Can Dance and Britain's Got Talent.
Carmen Electra's popular book "How to Be Sexy" explains that sexiness starts with confidence, personality, and a willingness to laugh at yourself (Credit: Carvalho / Startraksphoto)
Carmen Electra has been an adamant supporter of charities like Head to Hollywood, which supports brain tumor survivors, HollyRod Foundation, which helps individuals suffering from debilitating conditions get the assistance that they need, and Elevate hope, which aids in taking care of abused and abandoned children. Her mother died of brain cancer in August 1998.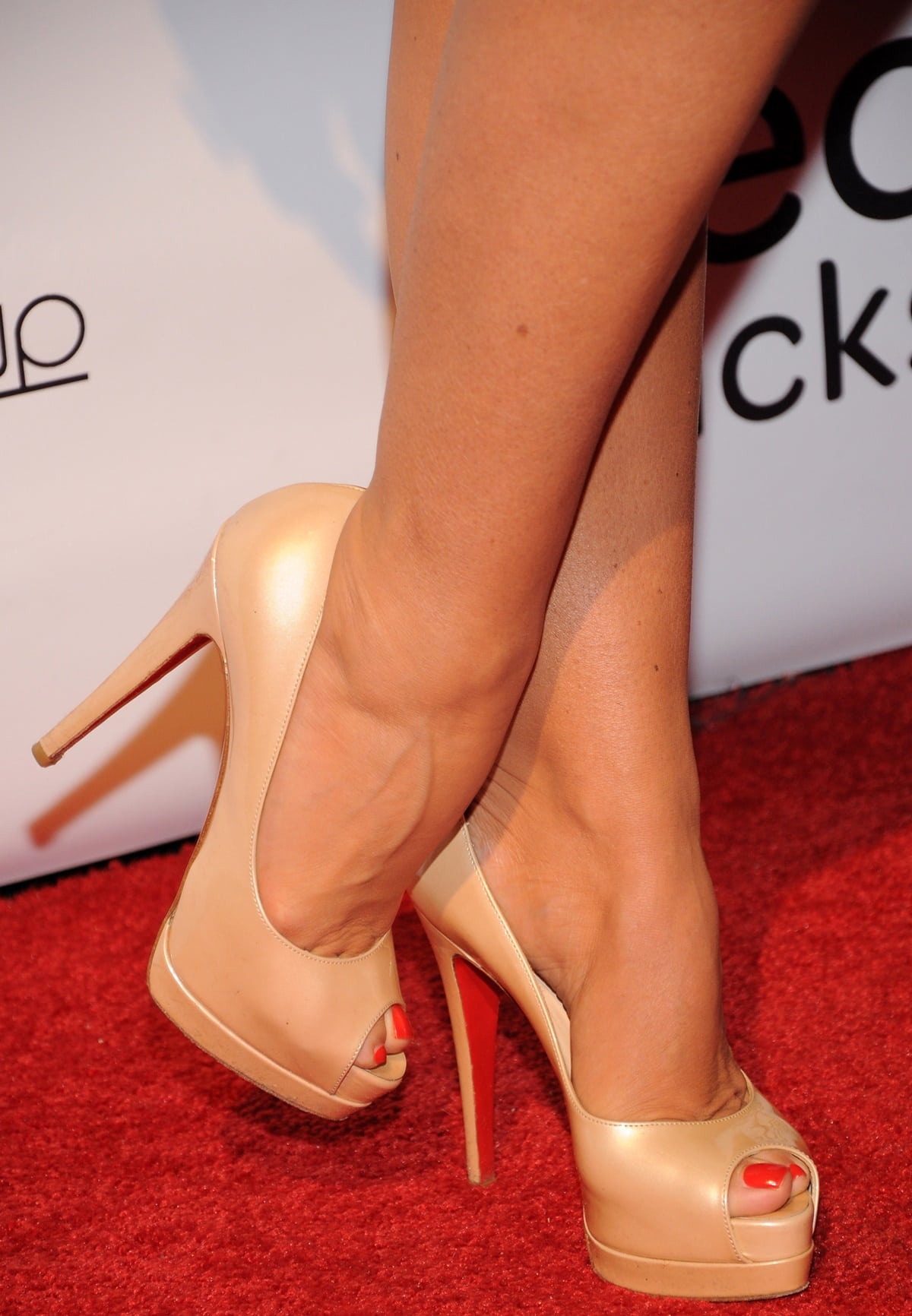 Actress Carmen Electra displays her feet and legs in peep-toe Christian Louboutin heels at the third annual eBay Motors RPM XI event at the Pure Nightclub at Caesars Palace on November 1, 2011, in Las Vegas, Nevada (Credit: INFevents)
Though she has made a career off of her looks, Electra has given back and proved that she is a lot more than a pretty face.
A New Adventure for Carmen Electra
In May 2022, Carmen Electra set out on a new exploit. The actress told the world that she joined OnlyFans, an online subscription platform that allows users to purchase content.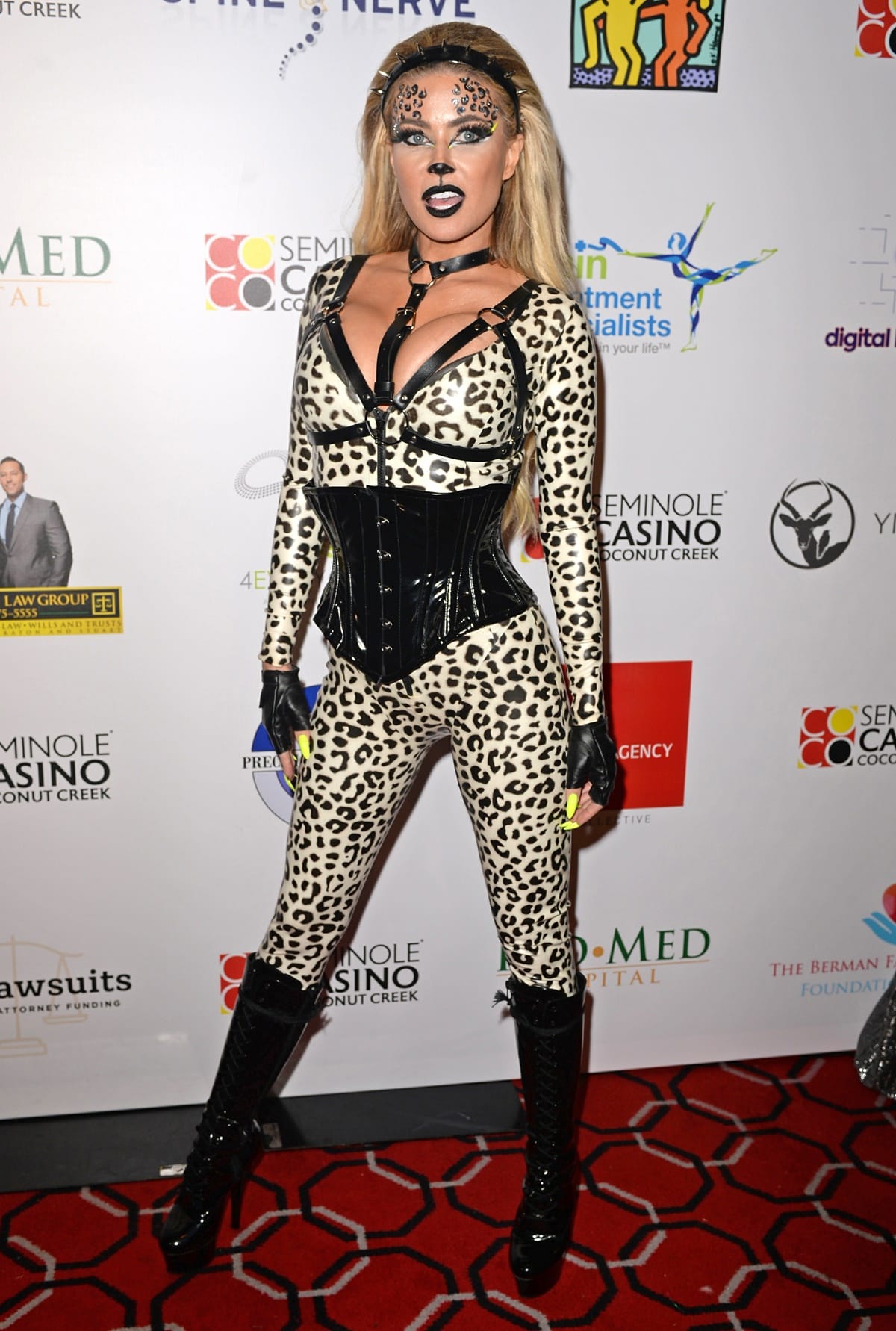 Carmen Electra in a feline-inspired catsuit and black boots at the Fright Nights Halloween costume party at The Seminole Coconut Creek Casino in Coconut Creek, Florida, on October 17, 2019 (Credit: INSTARimages)
She told People, "People are going to do what they want to do anyway with your photos, you might as well be in control of them and follow what you feel like doing inside."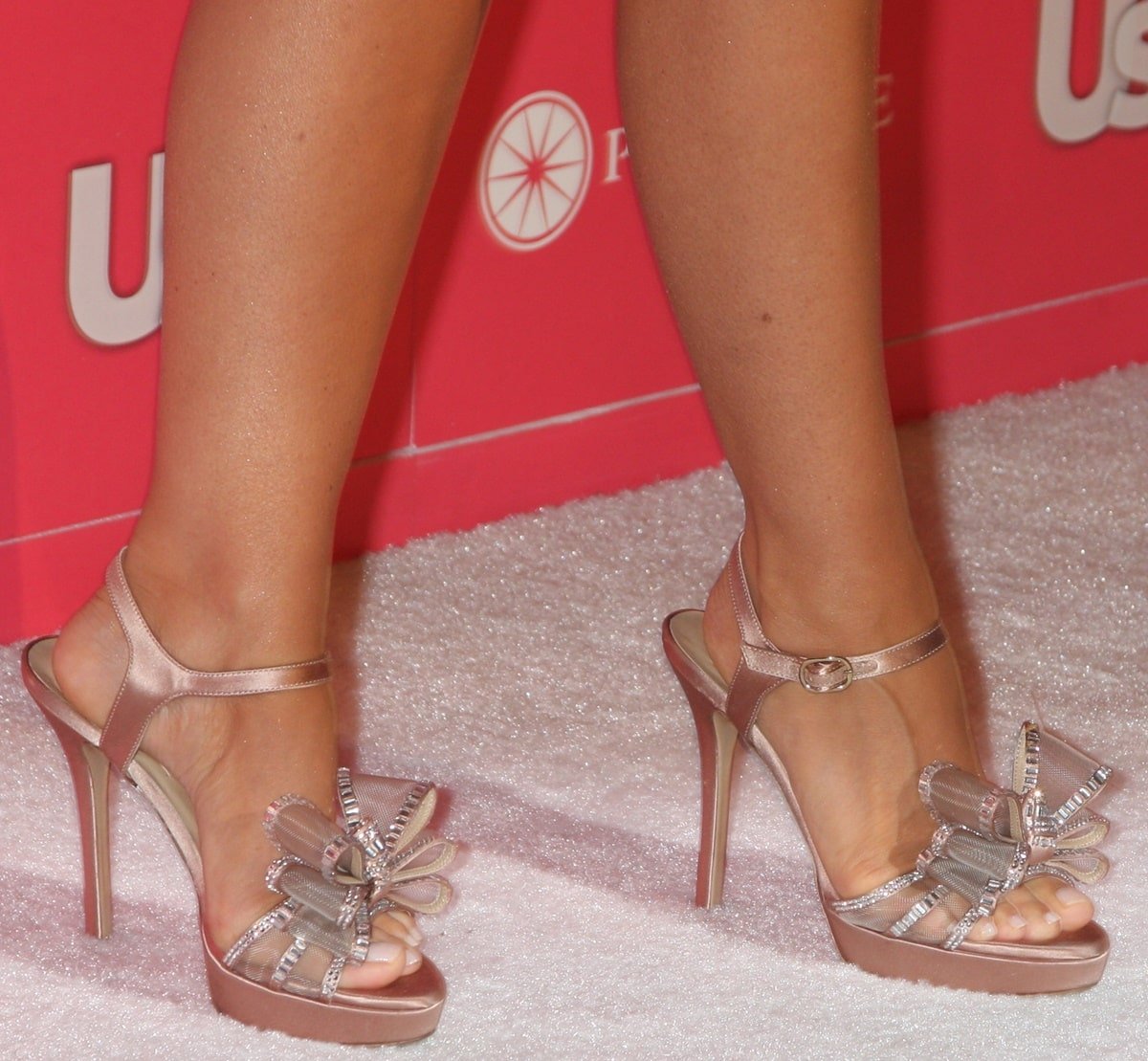 Actress Carmen Electra shows off her feet in Valentino bow sandals at Us Weekly's 2011 Hot Hollywood Party at Eden on April 26, 2011, in Hollywood, California (Credit: Joe Seer / Shutterstock)
Electra posted the announcement on her Instagram account, claiming to be "baring it all" on the platform, and has stated in interviews that her decision came from a place of wanting to be her own boss and to create an empowering environment for herself.
Carmen Electra's Net Worth
With so many projects under her belt, it's no surprise to hear that Carmen Electra has a high net worth.
As of 2022, her net worth is believed to be around $8 million.
Carmen Electra Facts
How rich is Carmen Electra?
Yes, she is an American glamor model, actress, television personality, singer, and dancer with an estimated net worth of $8 million.
Full Name:
Tara Leigh Patrick
How old is Carmen Electra?
She was born on April 20, 1972, in Sharonville, a city largely in Hamilton county in the U.S. state of Ohio.

Carmen Electra turned 50 on April 20, 2022.
Dating/Husband:
Dave Navarro (m. 2003–2007), Dennis Rodman (m. 1998–1999)
How many kids Carmen Electra have?
She's been married two times, however, she does not have any children.
What size shoe does Carmen Electra wear?
6 (US) / 36 (EU)
How tall is Carman Electra?
5ft 2 ½ (158.8 cm)
Nationality:
American
Source of Wealth:
Modeling, Television, Film
Ethnicity/Race:
English, German, Irish, and Dutch
Why did Carmen Electra change her name?
In 1991, American singer-songwriter, musician, and record producer Prince saw the then aspiring artist dance and suggested a name change.
Carmen Electra's Hot Feet & Sexy Legs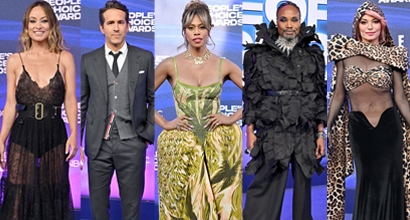 The fans have spoken, and the winners at this year's People's Choice Awards were honored during Tuesday's ceremony at The…
As one of Britain's most famous television personalities, everyone has heard of the name Simon Cowell. However, his fiancée, Lauren…
Carmen Electra is so much more than just the Baywatch babe in the red one-piece that many of us grew…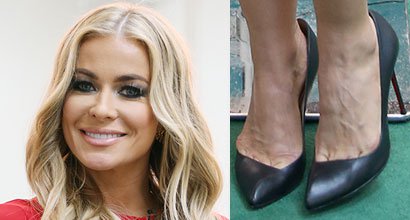 Carmen Electra looked flirty in red as she stepped out in Hollywood on Tuesday for an appearance on "The Lowdown…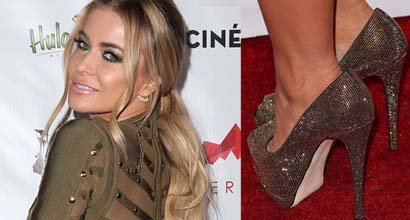 Carmen Electra is commonly known as the "Baywatch" babe who was briefly married to NBA star Dennis Rodman. But, like…
Carmen Electra made a striking appearance in West Hollywood as she headed to RivaBella to have dinner with friends. She…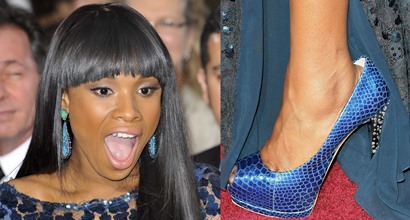 All of Hollywood's hottest celebs were out showing off their finest last night at the 2013 Oscars. We spotted our…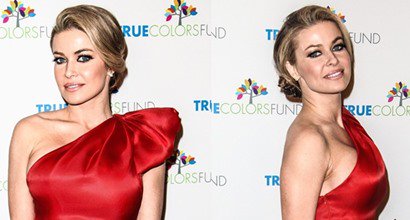 Carmen Electra showed off her pretty feet at the "Cyndi Lauper and Friends: Home for the Holidays" concert in the…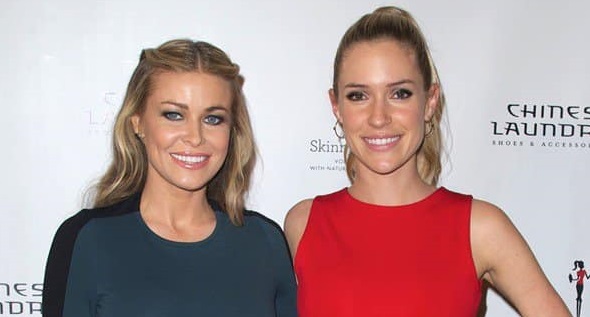 Chinese Laundry had a shoe launch party early this week, an event to showcase Kristin Cavallari's Chinese Laundry Collection, which…
Carmen Electra hosted a St. Patrick's Day party at the Chateau Nightclub and Gardens inside the Paris Hotel & Casino…
Our Christian Louboutin fix for the day comes courtesy of 'Meteorita', a newly arrived CL style for Spring/Summer 2012: Christian…