Ginnifer Goodwin's Sexy Feet, Hot Nude Legs and Net Worth
Please subscribe to
our newsletter
to receive updates from Your Next Shoes. This post may contain affiliate links. Please see our
disclosure
for more details.
Scroll down to see pictures of Ginnifer Goodwin showing off her nude feet and bare legs in sexy high heels, boots, sandals, pumps, and hot shoes.
Ginnifer Goodwin in a red dress at the premiere of Why Women Kill held at the Wallis Annenberg Center for the Performing Arts on August 7, 2019, in Beverly Hills, California (Credit: DFree / Shutterstock)
Best known for playing Margene Heffman in the drama series Big Love (2006–2011), Snow White/Mary Margaret Blanchard in the fantasy series Once Upon a Time (2011–2018), and Judy Hopps in the Disney animated film Zootopia, she has a net worth of $8 million.
Ginnifer Goodwin and Josh Dallas met in 2011 on the set of Once Upon a Time, married in 2014, and share two sons (Credit: Kathy Hutchins / Shutterstock)
Ginnifer Goodwin Facts
Is Ginnifer Goodwin rich?
Yes, she is an American actress wit a net worth of $8 million.
Full Name:
Jennifer Michelle "Ginnifer" Goodwin
Born:
May 22, 1978, in Memphis, a city on the Mississippi River in southwest Tennessee
Husband:
She married her Once Upon a Time co-star Josh Dallas on April 12, 2014 in California.
Kids:
They have two sons, Oliver Finlay Dallas born in May 2014 and Hugo Wilson Dallas born in June 2016.
Weight:
60 kg (132 pounds)
Shoe Size:
7 US (37 EU)
Height:
168 cm (5 ft 6)
Nationality:
American
Source of Wealth:
Film and Television
Ethnicity/Race:
English, Welsh, distant German, and Ashkenazi Jewish
Why did Ginnifer Goodwin change the spelling of her name?
Born Jennifer Michelle Goodwin, she changed the spelling of her name from "Jennifer" to "Ginnifer" to distinguish her name and because people would constantly pronounce it incorrectly.

Many southern people pronounce Jennifer as Ginnifer or Jen as Gin.
Are Jennifer Morrison and Ginnifer Goodwin friends?
Yes, "Once Upon a Time" stars Jennifer Morrison and Ginner Goodwin are still close friends.
Ginnifer Goodwin Quotes
Costume designers don't care about trends. They appreciate, above so many other qualities, that tailoring is everything, which is a mantra for the way I dress. Ladies: The most important thing in clothing is to find a good, inexpensive tailor, because clothes at the stores are made for bodies that are anomalies.

I know now that there are men out there who are, for me, the whole package, who are supportive of my successes because they know I will be just as supportive of theirs. I'm less tolerant of foolishness now; I know that it's important I not tie myself up with the wrong person, because then I will miss the right person coming along.

There's nothing I want less than a piece of cheese or a burger. I have nightmares I'm being force-fed these things. I have no interest in converting anyone. It's purely how I want to live my life. I don't judge anyone.
I can safely say that other than macaroni and cheese, there's no processed food in my life. There's no inorganic food in my life these days. There's no junk food. There's not a lot of sugar. There's no soy. I mean, really everything that's going into my body is pretty pure.

It's like, if you can't focus on a movie for 90 minutes without looking at your phone, then don't go to the movies! You've got some issues, so you should probably stay home and work on those issues, and not distract everyone with lights, and sounds, oh my gosh, the tapping on the screens, it makes me crazy!

Unfortunately, as obsessed as I am with all of those Grimm's slash Disney princesses, I do think women have evolved socially in so many ways.

Oh my gosh, I'd give so much advice to a younger version of myself. I would say it really does get better as you get older. The things that mean so much, the things that seem like, you know, it's going to cause the end of the world, are all things that I've already forgotten.
I've never had body issues, I've never had an eating disorder. I've never had to go on a diet and that's because of Weight Watchers.

With the counseling of my family doctor, my mother ended up turning to Weight Watchers and their children's program. I went to weekly meetings, got counseling and would exercise with my peers who were my size. It was the first time I saw a proper children's portion size, and it wasn't two burgers, it was one.

I see girls who haven't had a carbohydrate in three years. The second you go back to eating right, you're going to put that weight on. You eat one piece of bread and you are screwed, lady!

I don't know why anyone would want to ask an actor for dating advice. We are not the poster children for healthy relationships.
I'm a better person in a relationship, and I'm a happier person. I need to come home at the end of the day and have it not be about me and my freaking hair and makeup and character motivations anymore. And I think my work is more inspired when home is safe and sound and solid, because what I do for a living is so bananas and so insecure.

When I'm doing a film, I love getting together after work with my costars. But we get back to L.A. and I'm like, 'I don't want to go to a club with you, dude. I mean, I think you're rad, and if you want to come play Scrabble with me, that's amazing.'

I made some friends at Listerine and they taught me a little bit about oral care. That half of adults suffer from oral disease, that the number one chronic disease among children is oral disease, that we're only taking care of 25% of our mouths when brushing alone and there are more germs in your mouth than there are people on the planet.
A lot of times, I think that what I do for a living has no integrity. 'Once Upon A Time' has changed that to a certain extent because the reaction we get from children out in the world is so fulfilling, I cannot even articulate it. There's nothing like being greeted as Snow White by a hyperventilating child versus Ginnifer Goodwin.

Sometimes I make very selfish choices; like I did 'Once Upon A Time' for my inner 8-year-old and my hypothetical future child. I've done some movies because I would regret them if I didn't, but other projects I've done because they've scared me or if I felt I needed to do a big romantic comedy to help me professionally.

I'm so an all-or-nothing person in dating, always. I'm big on not wasting time. And so, yeah, if something's not working, it's time to not hold people back.

I have very curly hair and I straighten it every day – it takes maybe two minutes. I can't imagine anyone having a bigger challenge than I do in the kinkiness that is my crazy 'fro.'
I understand why society, especially American society, is gravitating toward fairy tales, given our economy. We've been exploring the world of witches and wizards for years. We've been exploring the world of vampires for years. Clearly the public – I mean, I feel like all of this was ushered in by 'Harry Potter' – in my own fannish beliefs.

I will end up with someone in the arts. I am positive. I eat, breathe and sleep acting. And I'll end up with someone who is happy staying at home and having me cook supper. But I also really need to be intellectually challenged and stimulated. I want someone bookish, and someone who is passionate.

I would point out that I'm an actress for a reason! If I were popular in high school, I would have considered another career because I wouldn't have been alone in my room, making up other characters for myself. I definitely had growing pains. The popular kids didn't want anything to do with the girl who was starting the drama club.

I started reading and learned that we don't need any of it – meat, dairy products. We get everything we need without those things – except maybe B12, but there's this whole controversy that maybe we're only getting B12 because the animals are being fed B12 supplements.
Oh, my, yes. I was raised in this Southern culture where if a guy was sarcastic, that just meant he didn't know how to show his love – but secretly he cared! I completely bought that. The men I chased and the things I put up with – it was criminal.

After spending time with the rescued turkeys at Farm Sanctuary's shelter and seeing how similar they are to my furry companion animals at home, I knew I needed to do everything in my power to protect these friendly and curious birds from the daily pain and suffering they endure on factory farms.

After spending time with the rescued turkeys at Farm Sanctuary's shelter and seeing how similar they are to my furry companion animals at home, I knew I needed to do everything in my power to protect these friendly and curious birds from the daily pain and suffering they endure on factory farms.

I am much more open to plural marriage than I was before, and I now support it in certain situations. I do believe it is right for some people. But our example in America today is gross abuse – I can't support it in fundamentalist compounds.
My day-to-day wardrobe, I do mix it up. I'll wear something from Target along with something by YSL. It's about finding the right items that make you happy.

The costumes are insane on 'Once Upon a Time.' It did influence my taking the job, the fact that not only would I be horseback riding and sword fighting and traipsing through the woods but I would be doing all those things in insane, medieval garb.
Ginnifer Goodwin's Bare Legs and Naked Feet
Ginnifer Goodwin looked stunning in a dress from Lee Khoon Hooi, the Malaysian designer behind fashion brand Khoon Hooi, while…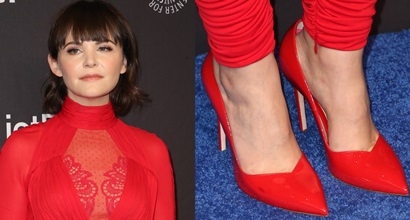 While we love her red pumps, we can't say we feel the same about the red lace panel jumpsuit that…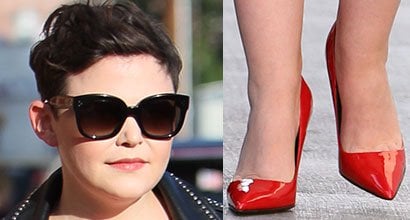 Ginnifer Goodwin was positively glowing as she made her way to the ABC studios for an appearance on "Jimmy Kimmel Live!"…
I love Ginnifer Goodwin's fashion sense. I love how she can switch from cute and retro to a more sophisticated…
Two gorgeous actresses attended the same event in Los Angeles last night. Ginnifer Goodwin wore a pair of strappy two-tone…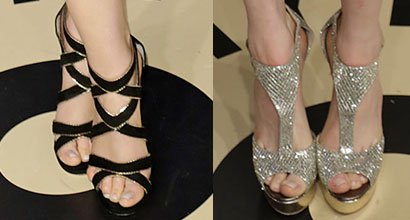 On Monday, we feature the hottest heels from this year's Oscars. Shortly thereafter, we discovered even more amazing celeb shoe…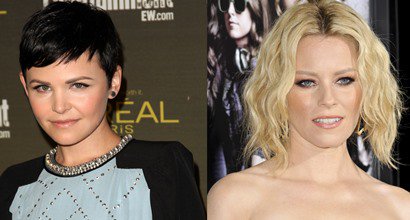 It's about time for another "who wore it best!" This time, we're featuring both Elizabeth Banks and Ginnifer Goodwin in…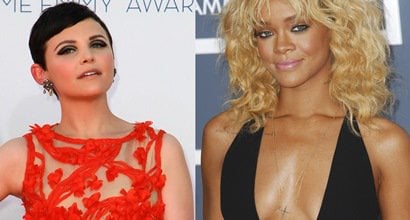 Ginnifer Goodwin was recently spotted at the Emmy Awards in 'Bis Un Bout' pumps from Christian Louboutin paired with a…
Ginnifer Goodwin sure likes it edgy. The American actress stunned at the MET Gala last week, in a bright green…
The 2011 Met Ball gala is one of the most anticipated, most fashion-centric events but like most formals, all the…