Helen Mirren: Height, Net Worth, High Heels and Iconic Roles
Please subscribe to
our newsletter
to receive updates from Your Next Shoes. This post may contain affiliate links. Please see our
disclosure
for more details.
Scroll down to see pictures of Helen Mirren showing off her feet and legs in designer high heels, boots, sandals, pumps, and shoes.
How tall is Helen Mirren?
Helen Mirren is reportedly 5 feet 4 inches tall (162.6 cm). This places her at approximately the average height of an English woman.
In an interview, Helen Mirren mentioned that she occasionally purchases significantly high-heeled shoes. She humorously remarked, "Since I'm only five foot four inches tall, when I wear those little babies, I feel like I'm around five foot 10."
Helen Mirren and her great-nephew Grandson Basil attend the Los Angeles Premiere Of Warner Bros.' "Shazam! Fury Of The Gods" held at Regency Village Theatre on March 14, 2023, in Los Angeles, California (Credit: Kathy Hutchins / Shutterstock)
Dame Helen Mirren, born Helen Lydia Mironoff on July 26, 1945, is a highly acclaimed English actress. With a net worth of $100 million, she has achieved significant success in film and stage performances.
Mirren is known for her portrayal of Queen Elizabeth II in various productions, including the film "The Queen," for which she won an Academy Award and a British Academy Film Award.
She has received numerous accolades throughout her career, including the American and British Triple Crowns of Acting.
Dame Helen Mirren in a bright pink cloak over a black dress, Lucy Liu in a glamorous yellow gown with a thigh-high split, and Rachel Zegler in a black semi-sheer dress at the "Shazam! Fury of the Gods" UK Special Screening at Cineworld Leicester Square on March 7, 2023, in London, England (Credit: Fred Duval / Shutterstock)
Mirren began her acting journey with the National Youth Theatre in 1965, where her performance as Cleopatra in "Antony and Cleopatra" led to her joining the Royal Shakespeare Company.
In 1975, she made her West End stage debut. Her notable film roles include "The Madness of King George," "Gosford Park," and "The Last Station," earning her Academy Award nominations.
Mirren's portrayal of DCI Jane Tennison in the TV series "Prime Suspect" garnered her three consecutive British Academy Television Awards and two Primetime Emmy Awards.
Dame Helen Mirren has amassed a remarkable net worth of $100 million, which includes her combined wealth with her husband, director/producer Taylor Hackford (Credit: Fred Duval / Shutterstock)
Throughout her career, Mirren has portrayed both Queen Elizabeth I and Queen Elizabeth II, making her the only actor to have played both regnant Elizabeths on screen.
She has also appeared in a range of films, including dramas, comedies, and action movies such as "Red" and the "Fast & Furious" franchise.
Helen Mirren was approximately 23 years old when she took on the role of Cora Ryan in the 1969 romantic comedy-drama film Age of Consent (Credit: Columbia Pictures)
Mirren was honored with a DBE (Dame) in 2003 for her contributions to drama and has received numerous other awards, including the BAFTA Fellowship for lifetime achievement and the Screen Actors Guild Life Achievement Award.
In 2013, she received a star on the Hollywood Walk of Fame.
Fascinating Facts about the Accomplished Helen Mirren
What is the net worth of Helen Mirren?
Dame Helen Mirren, the esteemed English actress, boasts an impressive net worth of $100 million, which includes her husband, director/producer Taylor Hackford's net worth
Full Name:
Dame Helen Lydia Mirren, DBE
Born:
July 26, 1945, in Chiswick, London, United Kingdom
Dating:
After living with actor Liam Neeson during the early 1980s, she started dating American director Taylor Hackford in 1986 and married him on December 31, 1997.
Does Helen Mirren have children of her own?
No, Helen Mirren does not have any children of her own. She has spoken openly about her decision not to have children, has expressed that she is content with her choice, and says she has "no maternal instinct whatsoever".

However, Helen Mirren has embraced her role as a stepmother to her husband Taylor Hackford's children from a previous relationship.
Weight:
123 pounds (56 kg)
Shoe Size:
9 (US)
Height:
Helen Mirren, the renowned English actress, stands at a height of 5ft 4 (162.6 cm).
Is Helen Mirren a British citizen?
Helen Mirren holds dual citizenship in both the United Kingdom and the United States.
Source of Wealth:
Professional Actress
Is Helen Mirren half Russian?
Yes, she is. Helen Mirren's ethnicity can be described as a beautiful blend of cultural backgrounds.

She is the daughter of Kathleen Alexandrina Eva Matilda (Rogers) and Vasiliy Petrovich Mironov, who later adopted the name Basil Mironoff. Helen's father hailed from a Russian heritage, adding a touch of Slavic ancestry to her roots.

On the other hand, her mother, Kathleen, was English, representing the rich traditions and history of England.
Does Helen Mirren live with her husband?
Yes, she does. Helen Mirren and her esteemed director husband, Taylor Hackford, have made Los Angeles their cherished home for over three decades.

Nestled in the scenic and storied Hollywood Hills, their residence boasts a truly remarkable mansion. With its grandeur and elegance, the house features a remarkable eight bedrooms and an astounding 11 bathrooms.
How did Helen Mirren and Taylor Hackford meet?
Helen Mirren and Taylor Hackford met in 1986 while working on the film "White Nights." At the time, Hackford was the director of the film, and Mirren was cast in one of the leading roles.
Vanessa Kirby and Dame Helen Mirren attend the "Fast & Furious: Hobbs & Shaw" Special Screening at The Curzon Mayfair on July 23, 2019, in London, England (Credit: Fred Duval / Shutterstock)
Captivating Wisdom from Helen Mirren: Timeless Quotes to Inspire and Empower
"I don't believe that if you do good, good things will happen. Everything is completely accidental and random. Sometimes bad things happen to very good people and sometimes good things happen to bad people. But at least if you try to do good things, then you're spending your time doing something worthwhile." – Helen Mirren
"The great marriages are partnerships. It can't be a great marriage without being a partnership." – Helen Mirren
"You can't control how other people see you or think of you. But you have to be comfortable with that." – Helen Mirren
"The trick in life is learning how to deal with it." – Helen Mirren
"I still suffer terribly from stage fright. I get sick with fear. Not every night, but at the beginning and on occasion – not necessarily when I'm expecting it. You just have to cope with it – take it on the chin and work through it, trying to use the adrenaline to perform." – Helen Mirren
"I remember thinking, when I was in my early 30s, that this is the best age to be, and I still believe your 30s are a wonderful time." – Helen Mirren
"Wherever I am in the world, if I get free time when I'm filming I always hire a car, take to the road, drive for miles and explore." – Helen Mirren
"Parkinson's is a slow but inevitable process. It's hard living with it on a daily basis. The difficulty facing people with it is that they never quite know 'Can I or can't I do this today?'" – Helen Mirren
"There's a scary moment when you realize you're no longer the youngest person in the room. Especially if you've been a successful young person. That's followed, of course, by the realization that you're actually the oldest person in the room." – Helen Mirren
"I think we all have a dream of what it would be like not to work and grow heirloom tomatoes, and I do have that dream. It would be lovely. I do love gardening and all of that, but I do love my work." – Helen Mirren
Helen Mirren and Taylor Hackford met in 1985 while working on the film "White Nights" and got married on December 31, 1997, in Scotland (Credit: Kathy Hutchins / Shutterstock)
"There's nothing sexy about doing a nude scene. It's rather uncomfortable. I like dressing up rather than dressing down." – Helen Mirren
"Humor in a relationship is so important. Many women will say that. Some say, 'If they can make you laugh, it's the sexiest thing on earth.'" – Helen Mirren
"Flesh sells. People don't want to see pictures of churches. They want to see naked bodies." – Helen Mirren
"I always love working with young actors, because there's always something to learn. It's always exciting to see the next generation and how they approach things and what's great about them and what's not so great about them." – Helen Mirren
"Everyone wants to be a movie star or a model, to be in the papers, but few realize just what hard work it is, getting up early, and so on." – Helen Mirren
"It's great to be queen!" – Helen Mirren
"I'd describe myself as a Christian who doesn't believe in God." – Helen Mirren
"Gardening is learning, learning, learning. That's the fun of them. You're always learning." – Helen Mirren
"Sometimes nudity is sexy. Sometimes it's not. Sometimes being clothed is more sexy than being nude." – Helen Mirren
"I'll tell you what scares me is plastic. Plastic bags and plastic bottles and these things. Why does my water have to be in a bloody plastic bottle? The landfill and the ocean. And I don't know, I'm just terrified with the proliferation of plastic." – Helen Mirren
"I can't help being Christian because I was brought up in Britain, and the morality of Christianity is part of the fabric of this country." – Helen Mirren
"I believe in meditation – it's a good tool to center yourself, but unfortunately, I'm too lazy to do it. It's very hard work, and I prefer to watch 'Nothing To Declare' on TV!" – Helen Mirren
"When women get great roles in life, they start to get great roles in films and TV. Look at Janet Reno, Madeleine Albright, and Mrs. Thatcher. Because those images are coming at us in life, they are reflected in acting." – Helen Mirren
"I'm not a republican anymore. Not so voraciously anyway – I'm not in favor of the concept of monarchy, but I do see the good in it if there's a good person in the role." – Helen Mirren
"I'd like to see a much more open Monarchy, myself. I used to think they were completely useless and we should get rid of them. I don't necessarily feel that way anymore. I'm still ambivalent, I still loathe the British class system, and the Royal family are the apex of the British class system." – Helen Mirren
"I drink just as much tea when I'm in Los Angeles as I do when I'm in London. I take my tea bags with me wherever I go." – Helen Mirren
"We're all idiots when we're young. We don't think we are, but we are. So we should be." – Helen Mirren
"I love men that love women. Morgan Freeman, who I worked with on 'RED,' was very flattering to me. But he is flattering to all women. He is a woman-charmer." – Helen Mirren
"It's so hard when you're young to look at older people and understand that they have been where you are. It's the weirdest thing. You just can't get your head around that, can you? You can't get your head around the fact that someone who is 60 was once 16, if you're 16. But the fact is they have been, and they remember it." – Helen Mirren
"I think it's always hard for people to get their head around the fact that populist, commercial films can also actually be great works of art." – Helen Mirren
"There's no good way to waste your time. Wasting time is just wasting time." – Helen Mirren
"At the time of the Silver Jubilee, I was a grumpy anti-monarchist. I didn't celebrate and was appalled by the celebrations. In my idiocy, I missed out! I feel completely differently now compared with that time." – Helen Mirren
"Girls go out together to see a chick flick or something. I loathe, I hate, chick flicks." – Helen Mirren
"The whole thing of clothes is insane. You can spend a dollar on a jacket in a thrift store. And you can spend a thousand dollars on a jacket in a shop. And if you saw those two jackets walking down the street, you probably wouldn't know which was which." – Helen Mirren
"I have never in my life found myself in a situation where I've stopped work and said, 'Thank God it's Friday.' But weekends are special even if your schedule is all over the place. Something tells you the weekend has arrived and you can indulge yourself a bit." – Helen Mirren
"You write your life story by the choices you make. You never know if they have been a mistake. Those moments of decision are so difficult." – Helen Mirren
"Actors are rogues and vagabonds. Or they ought to be." – Helen Mirren
"I am quite spiritual. I believed in the fairies when I was a child. I still do sort of believe in the fairies. And the leprechauns. But I don't believe in God." – Helen Mirren
"When you're 16, 30 seems ancient. When you're 30, 45 seems ancient. When you're 45, 60 seems ancient. When you're 60, nothing seems ancient." – Helen Mirren
"I don't think it's good to try and change anyone. The trick and the mystery – of relationships and life in general – is to learn to live with the bits you don't like." – Helen Mirren
"There is that awful moment when you realize that you're falling in love. That should be the most joyful moment, and actually it's not. It's always a moment that's full of fear because you know, as night follows day, the joy is going to rapidly be followed by some pain or other. All the angst of a relationship." – Helen Mirren
"I have no maternal instinct whatsoever. Motherhood holds no interest for me." – Helen Mirren
"I'm not a communist, of course. But I do think that everything is down to economics. Capitalism doesn't change." – Helen Mirren
"What's great in the modern world is that it's becoming easier and easier for people to create without having access to large sums of money. They need access to certain technologies, but the cost is far less than it used to be." – Helen Mirren
"The whole 'R' rating depends on a strange sort of fantasy land where all adults are responsible people, and children only ever go to the cinema with their parents." – Helen Mirren
"American actors who voice animated movies are so brilliant at it because by the nature of American speak, it's full of energy and full of commitment. And as a British actor, we have to kind of learn that." – Helen Mirren
"I think a lot of my work has been a weird attempt to liberate myself, but it's not altogether successful." – Helen Mirren
"Patience can be a good thing – but not necessarily. Sometimes it's not so bad to be impatient. I'm a little bit too polite." – Helen Mirren
"When you're young and beautiful, you're paranoid and miserable." – Helen Mirren
"I think of myself as being a bit of a wimp deep down – a bourgeois wimp – and I'm fighting that. I think all Brits are, maybe." – Helen Mirren
"My dad's Russian. My mother's English. I would say my bottom half is Russian." – Helen Mirren
"I've been working every year since I started acting, and I got many awards before I won the Oscar for 'The Queen.'" – Helen Mirren
"There isn't a King Lear for women, or a Henry V, or a Richard III. You reach a level where you can handle that stuff technically and mentally, and it's not there." – Helen Mirren
"I've always been battling against my sense of dignity and refinement. I was embarrassed by any bodily functions when I was younger. I could never even blow my nose." – Helen Mirren
"When I came into the acting profession, it was quite hierarchical. You didn't sit at the same table as the leading actor. Sir Laurence Olivier, Sir John Gielgud… these were very, very intimidating and powerful people." – Helen Mirren
"All you have to do is to look like crap on film and everyone thinks you're a brilliant actress. Actually, all you've done is look like crap." – Helen Mirren
"I don't throw a lot of parties. I find throwing parties a bit intimidating." – Helen Mirren
"I'm not strong-willed, actually. I'm a complete pushover. I love to be told what to do." – Helen Mirren
"I still have a Gypsy sense of adventure. I don't think I have slept in the same bed for more than three or four months my whole life. I am always planting vegetables that I never get to eat and flowers that I never see flower. I have always moved around the world." – Helen Mirren
"Where you grew up becomes a big part of who you are for the rest of your life. You can't run away from that. Well, sometimes the running away from it is what makes you who you are." – Helen Mirren
Helen Mirren's Favorite Heels and Outfits
In the making of The Debt, a 2010 remake of the 2007 Israeli thriller film Ha-Hov, Jessica Chastain dedicated four…
Helen Mirren appeared strikingly at the 2023 Cannes Film Festival in Cannes, France, on May 16. Despite her busy schedule,…
Superheroes are back with a bang! Shazam! Fury of the Gods, the latest adaptation of DC Comics, is finally hitting…
You might know Elie Saab, but you're guaranteed to recognize his whimsical couture gowns. The Lebanese designer began his career…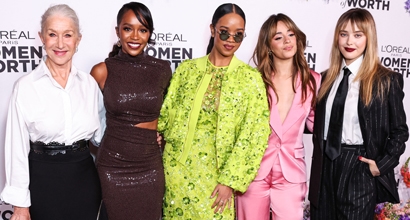 L'Oreal Paris is once again celebrating extraordinary women who are making a difference in their communities. On Thursday, the beauty…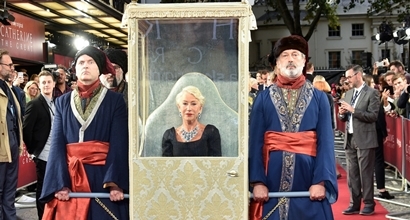 Dame Helen Mirren was carried in on a cart for the premiere of her new HBO series on Wednesday night…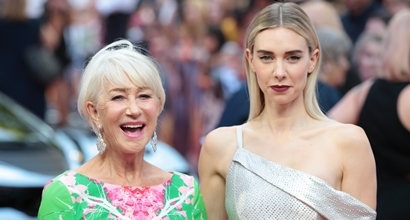 Helen Mirren joined her co-star Vanessa Kirby at the special premiere screening of the anticipated film Fast & Furious: Hobbs…
Helen Mirren is one dame who knows how to age gracefully. The actress has attended numerous red carpet events throughout…
Helen Mirren channeled her inner royal as she arrived at the premiere of her latest movie, Trumbo, held during the…
Helen Mirren may be pushing seventy (she's turning 68 this month), but she can definitely still work a pair of…