Madonna's Sexy Feet and Nude Legs in Hot High Heels
See pictures of Madonna showing off her nude feet and bare legs in sexy high heels, boots, sandals, pumps, and hot shoes.
Madonna may be a legend in her own right, but even legends have idols. The pop icon turned into a…
When a designer brand like Miu Miu makes you a custom pair of shoes, you'll probably want to wear them…
Madonna did not leave much to the imagination in her sheer ensemble at the 2016 Met Gala held at the…
Madonna bundled up to attend her Mert & Marcus House of Love Party on Thursday evening in London with Rita…
Let's get one thing straight: it was Madonna's cape and not her shoes that caused her to fall off a…
We've already taken a look at the outfits worn by Gwen Stefani, Paris Hilton, Ciara, Rihanna, Miley Cyrus, Nicki Minaj,…
Madonna showed off some major cleavage while walking the red carpet at the 2015 Grammy Awards held at the Staples…
It has been another busy week for Miley Cyrus. On Wednesday, her MTV Unplugged concert aired. It ended with Madonna…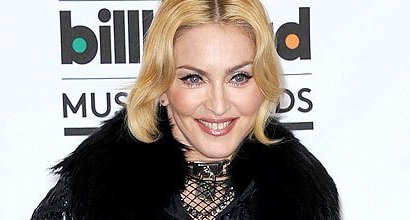 We absolutely loved Madonna's no-pants look at the 2013 Met Gala. She was the embodiment of punk in her studded…
Much like the Oscars, the Met Gala is a well-celebrated occasion flocked by the most famous and the most fashionable….
We got a sneak peek at Madonna's Truth or Dare shoe collection early this year and now, we can view its…
Aldo has now ventured into the footwear licensing agreement territory and couldn't have picked a better celebrity to partner with!…
At first glance, the shoes worn by Madonna's daughter, Lourdes Leon, at the Vanity Fair Oscar party at Sunset Tower…