Tracee Ellis Ross's Kids, Sexy Feet and Hot Legs in High Heels
Please subscribe to
our newsletter
to receive updates from Your Next Shoes. This post may contain affiliate links. Please see our
disclosure
for more details.
Scroll down to see the best outfits and shoes worn by Tracee Ellis Ross, an American actress, model, comedian, and television host. She wears shoe size 8.5 (US).
Tracee Ellis Ross wears a Christopher John Rogers eggplant velvet dress at the 51st NAACP Image Awards at the Pasadena Civic Auditorium on February 22, 2020, in Pasadena, California (Credit: Instar / WENN)
Tracee Ellis Ross was born on October 29, 1972, in Los Angeles, California, and has a net worth of $16 million.
Tracee Ellis Ross in a gold Zuhair Murad gown the 2020 Vanity Fair Oscar Party Celebrating the 92nd Annual Academy Awards hosted by Radhika Jones at Wallis Annenberg Center for the Performing Arts on February 9, 2020, in Beverly Hills, California (Credit: Avalon / WENN)
Does Tracee Ellis Ross have a child?
The daughter of actress and Motown recording artist Diana Ross and Robert Ellis, she is single and does not have kids.
"It's really interesting to be a woman and to get to 45 and not be married and not have kids," she said while delivering a speech at Glamour's 2017 of the Year Summit.
(L-R) Rhonda Ross Kendrick, Callaway Lane, Chudney Ross, Evan Ross, Jagger Snow Ross, Diana Ross, host Tracee Ellis Ross, Raif-Henok Emmanuel Kendrick, Indigo Naess, Ross Naess, and Bronx Wentz pose in the press room during the 2017 American Music Awards at Microsoft Theater on November 19, 2017, in Los Angeles, California (Credit: WENN)
"Especially when you have just pushed out your fifth kid on TV. You start hearing crazy sh-t like: 'Oh, you just haven't found the right guy yet,' 'What are you going to DO?' 'Oh, you poor thing,' 'Why is someone like you still single?' 'Have you ever thought of having kids?' 'Why don't you just have a kid on your own.' It's never-ending and not helpful."
Tracee Ellis Ross shows off her size 8.5 (US) feet in Jimmy Choo heels (Credit: Nicky Nelson / WENN)
"And then someone tells me about their friend who adopted a child at 52 and how 'it's never too late for your life to have meaning,' and my worth gets diminished as I am reminded that I have 'failed' on the marriage and carriage counts," Ross added. "Me! This bold, liberated, independent woman."
"So here I am sorting out what MY LIFE looks like when it's fully mine," the Black-ish star continued.
"It takes a certain bravery to do that. It means risking being misunderstood, perceived as alone and broken, having no one to focus on, fall into or hide behind, having to be my own support, and having to stretch and find family love and connection outside of the traditional places. But, I want to do it. I want to be the Brave Me, the real me, the one whose life is my own."
Tracee Ellis Ross Facts
| What is Tracee Ellis Ross's net worth? | She has a net worth of $16 million. |
| --- | --- |
| Full Name: | Tracee Joy Silberstein |
| Born: | October 29, 1972, in Los Angeles, CA |
| Who is Tracee Ellis Ross's husband? | Tracee Ellis Ross has never been married. In 2020, she was reportedly dating 'Black-ish' creator Kenya Barris. |
| Kids: | None |
| Weight: | 103 lbs / 47 kg |
| Feet/Shoe Size: | 8.5 (US) |
| Height: | 5′ 7″ (170 cm) |
| Nationality: | American |
| Source of Wealth: | Music, film, and television |
| Ethnicity/Race: | Ashkenazi Jewish and African-American |
Tracee Ellis Ross's Sexy Feet and Hot Legs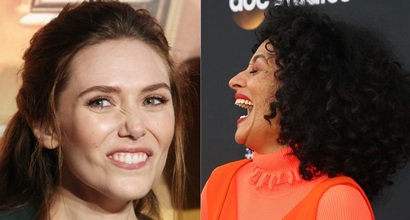 Tracee Ellis Ross is loved for many reasons, including her comedic role as Rainbow Jackson in the hit television series, "Black-ish."…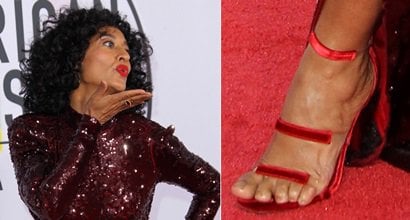 Tracee Ellis Ross looked glamorous on the red carpet while posing for photos at the 2017 American Music Awards held…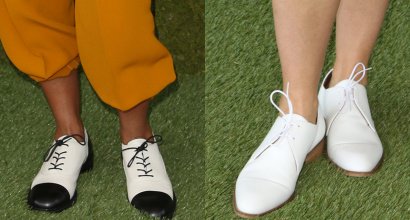 Who says stylish shoes have to come with pinching toe boxes and uncomfortable heels? Sometimes, the perfect pair of flat…
Emmy nominee Tracee Ellis Ross definitely knows how to make a show-stopping entrance. After turning heads at Variety and Women…
Variety and Women in Film held the 69th annual Pre-Emmy Awards party this past weekend, and we were treated to…
Tracee Ellis Ross may have won numerous awards for her on-camera work as a comedian, but off-camera, the actress has…
Tracee Ellis Ross literally — and figuratively — sparkled at the 74th Annual Golden Globe Awards last Sunday. The "Black-ish"…
The 2016 BET Awards ceremony was full of all sorts of emotion and the three-and-a-half-hour extravaganza definitely did not disappoint….