Losing weight can be a tough process filled with (literal) ups and downs. After quarantine, you may find yourself staring at a few extra pounds that weren't there before.
But pandemic or not, struggling with body weight is one of the only things that celebrities face, just like the rest of us.
If you're looking for some inspiration, or are simply curious, here's a list of the most amazing celebrity weight loss transformations.
1. Adele
Adele has always been known for her incredibly powerful voice and moving lyrics—her appearance has never been central to her fame.
Nonetheless, in recent years, fans noticed that she had lost a significant amount of weight.
Adele lost over 100 pounds by lifting weights and doing circuit training (Credit: s_bukley / Cubankite / Shutterstock)
In late 2021, more details were revealed about her over 100-pound weight loss.
Lifting weights and circuit training make up the bulk of her exercise regime, and Adele is also rumored to follow the Sirtfood diet.
2. Rebel Wilson
Since 2020, Rebel Wilson has lost over 60 pounds through her new diet and exercise routine.
Rebel Wilson lost around 60 pounds to reach her goal weight and is now focusing on "maintenance" (Credit: Tinseltown / Shutterstock / Ian West / PA Images / INSTARimages)
Beyond these routines, though, she has also publicly stated that while she is happy with her body, she is still all about embracing balance and living a healthy life physically and mentally.
3. Khloe Kardashian
When the Kardashian family entered the spotlight in the early 2000s, Khloe Kardashian was often ridiculed by the press and the public alike for the fact that she was larger than her sisters, Kim and Kourtney.
She has since proven all her haters wrong.
Khloe Kardashian has shed dozens of pounds through gym sessions and a high-protein diet (Credit: Kathy Hutchins / Shutterstock / BauerGriffin / INSTARimages)
The Revenge Body mogul has lost dozens of pounds over the years through regular grueling gym sessions (often documented on her social media platforms) and a high-protein diet.
4. Melissa McCarthy
Melissa McCarthy has reportedly lost over 75 pounds in recent years.
However, unlike some other celebrities who follow strict diets and workout plans to do so, her weight-loss journey was all about balance and freedom.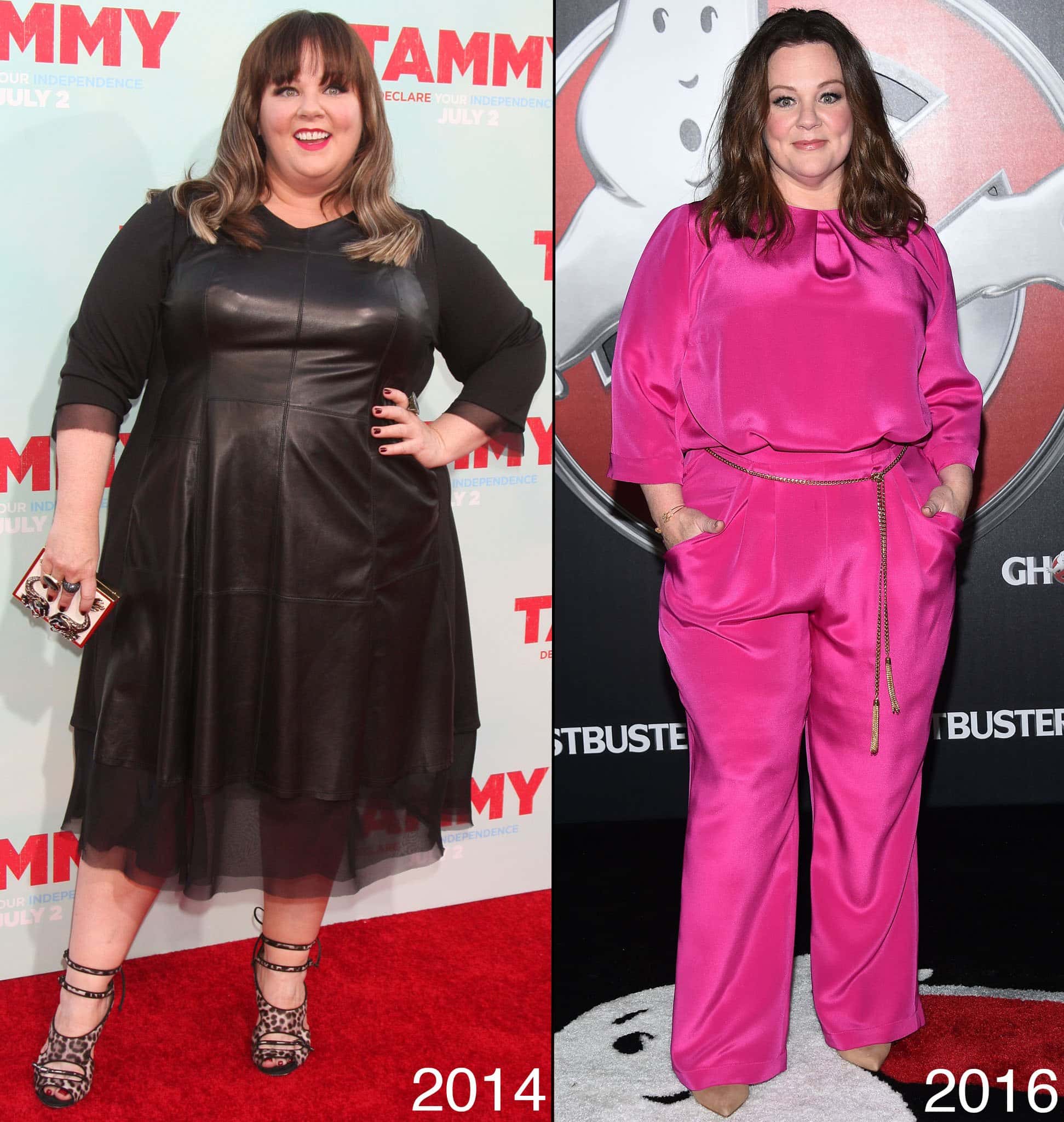 Letting go of worries about losing weight helped Melissa McCarthy actually lose weight (Credit: Kathy Hutchins / DFree / Shutterstock)
McCarthy has stated that letting go of her stress and anxiety about food was the very thing that helped her lose the weight that was making her stressed in the first place!
5. Jacob Batalon
Jacob Batalon, the beloved Marvel star and best friend of Tom Holland's Spiderman, has lost 112 pounds since 2020.
He did so by working on his overall health, including establishing a proper exercise and diet regime and improving his relationship with food. Since then, he has lost weight and found mental clarity and joy.
Jacob Batalon focused on his overall health in 2020, resulting in a 112-pound weight loss (Credit: lev radin / Shutterstock / @lifeisaloha / Instagram)
6. Simon Cowell
America's beloved and sassiest TV show host Simon Cowell lost over 60 pounds since his son Eric was born.
He cited his son as a contributing reason for his 60-pound weight loss, as he wanted to ensure that he could keep up with his active child.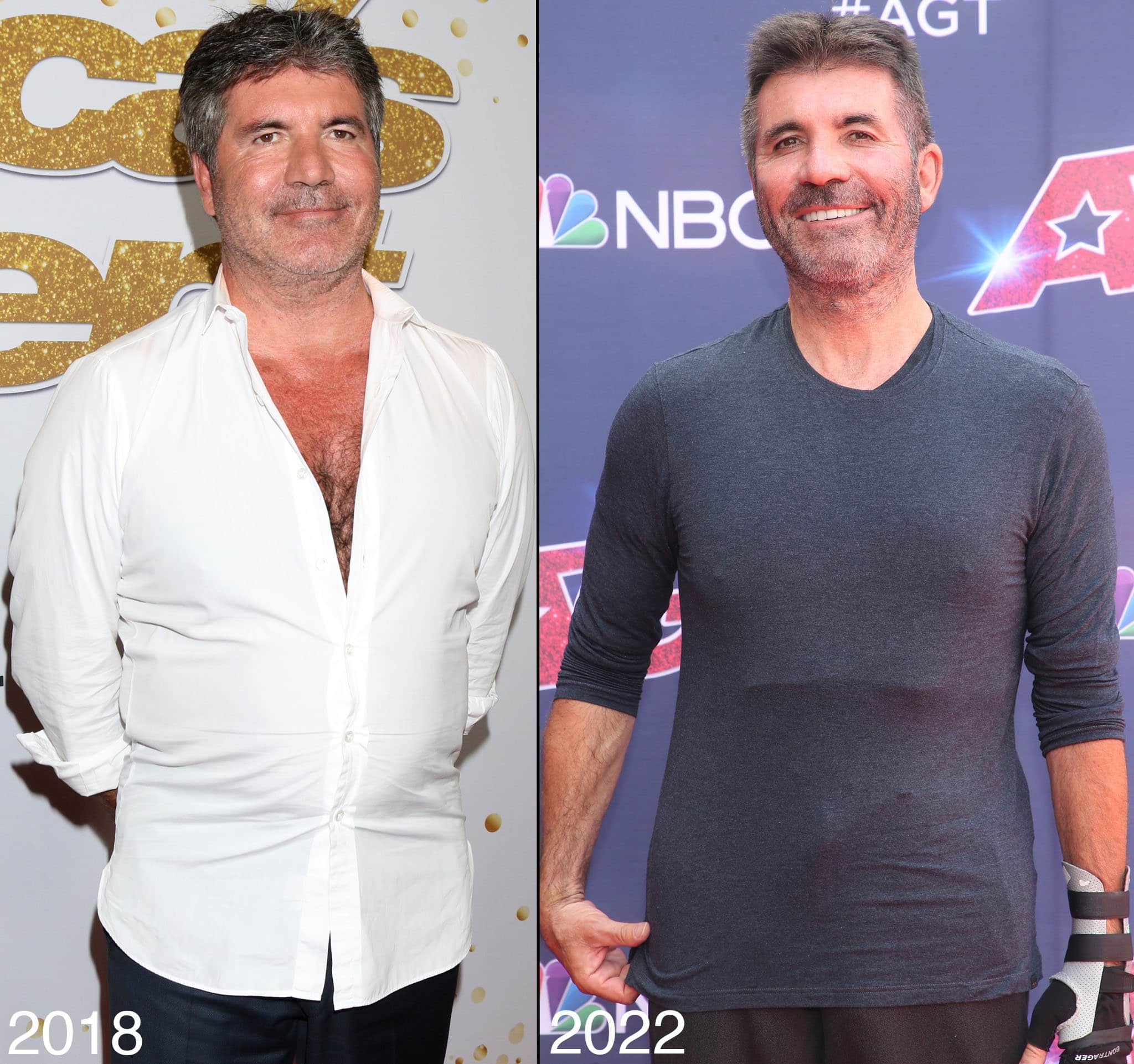 Simon Cowell cut out red meat, dairy, sugar, and gluten from his diet and lost over 60 pounds (Credit: Kathy Hutchins / Shutterstock / Fayes Vision / Startraksphoto)
A vegan diet and a generally active lifestyle are the main changes he made to reach his goal.
"I'm not a big eater," he told The Sun in an interview. "I don't enjoy it that much. I'd rather have a beer than eat, any day of the week."
"Sometimes when we are going out for dinner because I know I'm going to hate the food, I have baked beans on toast before I go, then eat nothing."
7. Jonah Hill
For a few years, Jonah Hill became somewhat notorious for both gaining and losing weight rapidly. From approximately 2011 to 2017, his weight fluctuated greatly over short periods of time.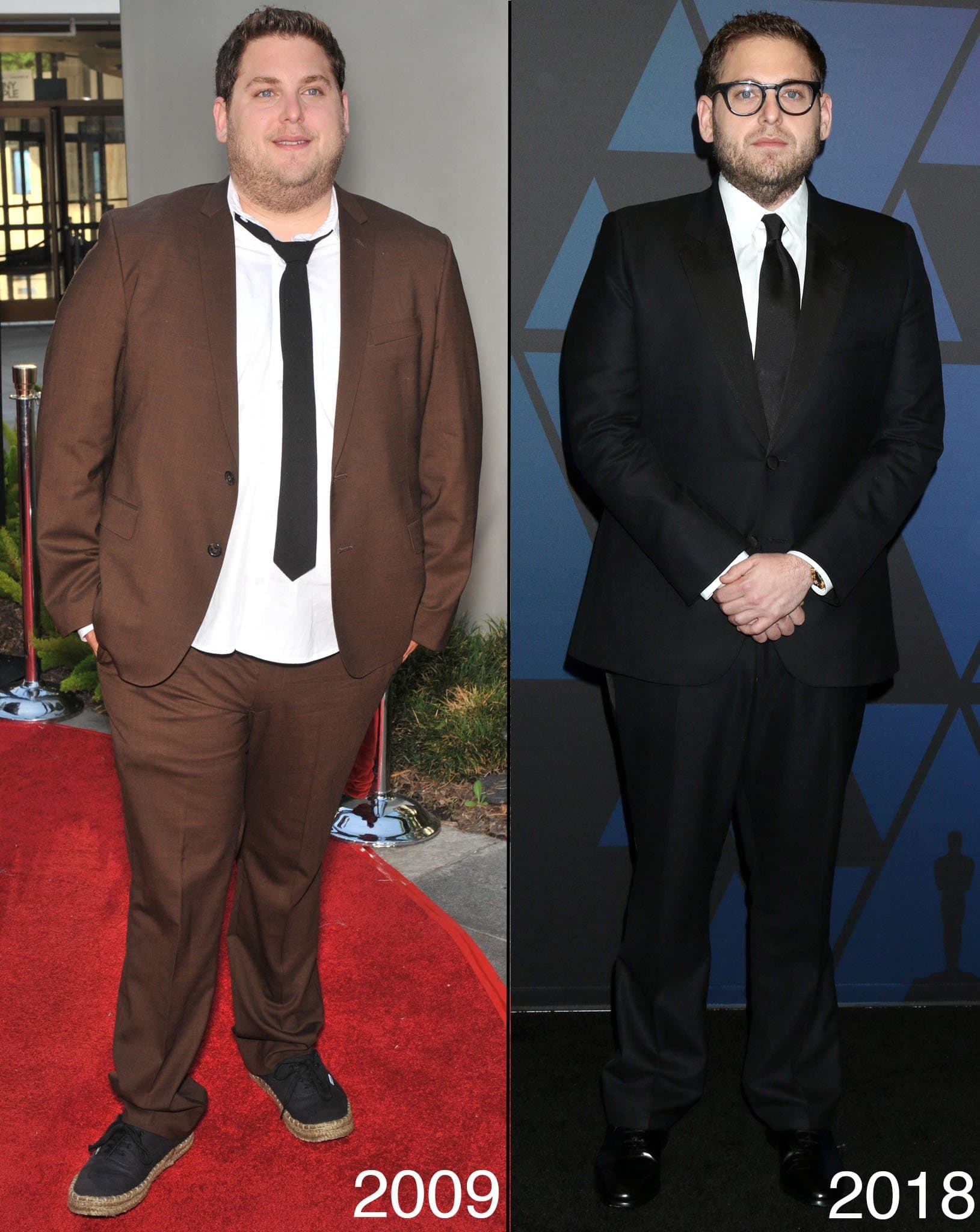 Jonah Hill started his weight loss journey in 2011 and resumed in 2017 after gaining 40 pounds for his role in the 2015 movie War Dogs (Credit: Jaguar PS / Kathy Hutchins / Shutterstock)
Looking back, he cited yo-yo-dieting as the source, which is a very common factor of fluctuating weight in celebrities and regular people alike.
However, in more recent years, it seems that Jonah Hill has gained a better relationship with food and has maintained a healthy weight.
8. Mama June Shannon
One of the most drastic weight transformations on this list, Mama June Shannon, mother of 'Toddlers & Tiaras' star Honey Boo Boo, lost 300 pounds thanks to gastric sleeve surgery.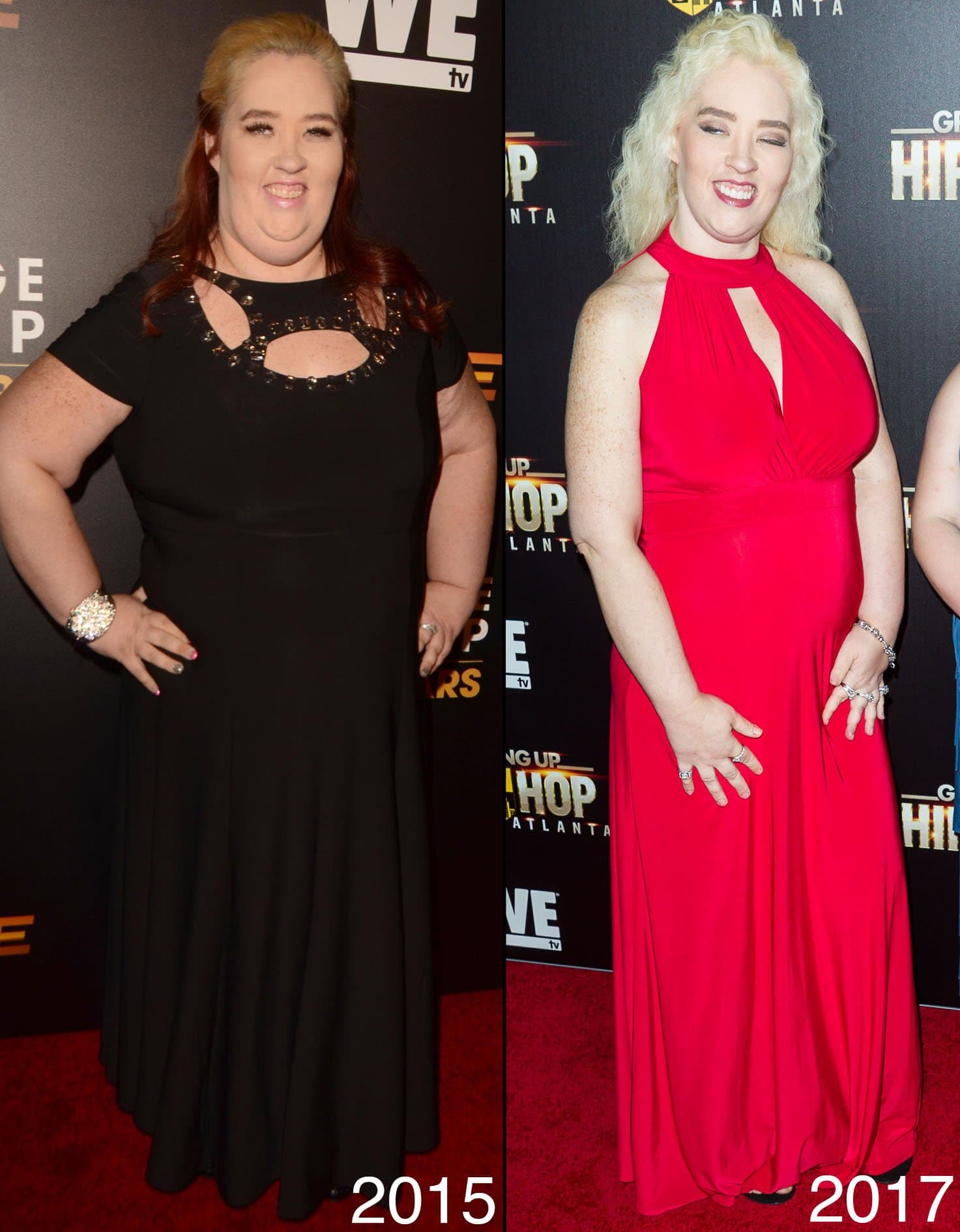 Mama June Shannon once weighed 460 pounds but lost 300 following a gastric sleeve surgery in 2016 and later a tummy tuck (Credit: Kathy Hutchins / Jamie Lamor Thompson / Shutterstock)
To maintain her new physique, she now follows a regular workout plan with a trainer two to three times per week.
9. Jimmy Kimmel
TV show host Jimmy Kimmel became concerned about his weight after one of his guests, the famed Dr. Oz, stated that he was worried about him in 2010.
Taking the word of the renowned doctor to heart, Jimmy Kimmel began a diet of two protein shakes and a small dinner every day for eight weeks before moving on to a 2,000 calorie-per-day diet that allowed him to lose 25 pounds as quickly and safely as possible.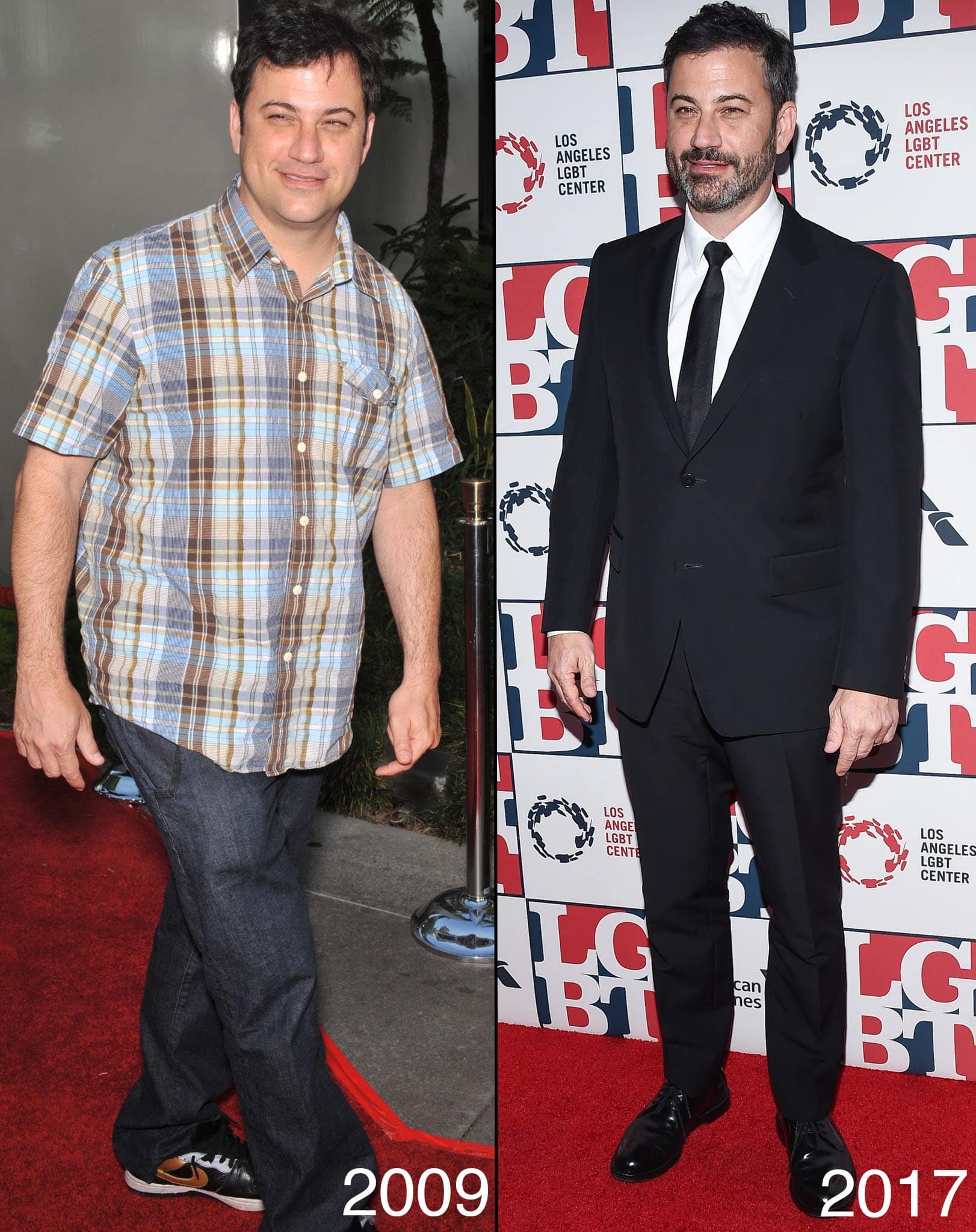 Jimmy Kimmel has been following the 5:2 diet, which is a type of intermittent fasting (Credit: Jaguar PS / DFree / Shutterstock)
As of 2015, he is reported to follow a less-strict diet most days but uses intermittent fasting two days per week (eating only 500 calories) to maintain his weight loss.
10. Chris Pratt
Much like Jonah Hill, Chris Pratt has both gained and lost weight for his acting roles.
After deliberately gaining weight to play Andy Dwyer on Parks and Recreation, Pratt lost 60 pounds in six months when he was hired to be the main character for Guardians of the Galaxy.
Chris Pratt lost 60 pounds in six months when he was hired to be the main character for Guardians of the Galaxy in 2015 (Credit: Tinseltown / DFree / Shutterstock)
To get into action-star shape, he cut out beer, upped his calorie intake to 4,000 calories a day, and drank tons of water to flush his system.
He also did a variety of exercises, including P90X, running, swimming and boxing, and worked with a trainer six days a week to enhance his physique.
11. Shonda Rhimes
The well-known and well-loved Shonda Rhimes has lost over 150 pounds throughout her years in the spotlight.
In 2017, she opened up about her weight-loss journey. She stated that her goal in losing weight through a combination of diet and exercise was not to fit into any sort of aesthetic ideal but for her health.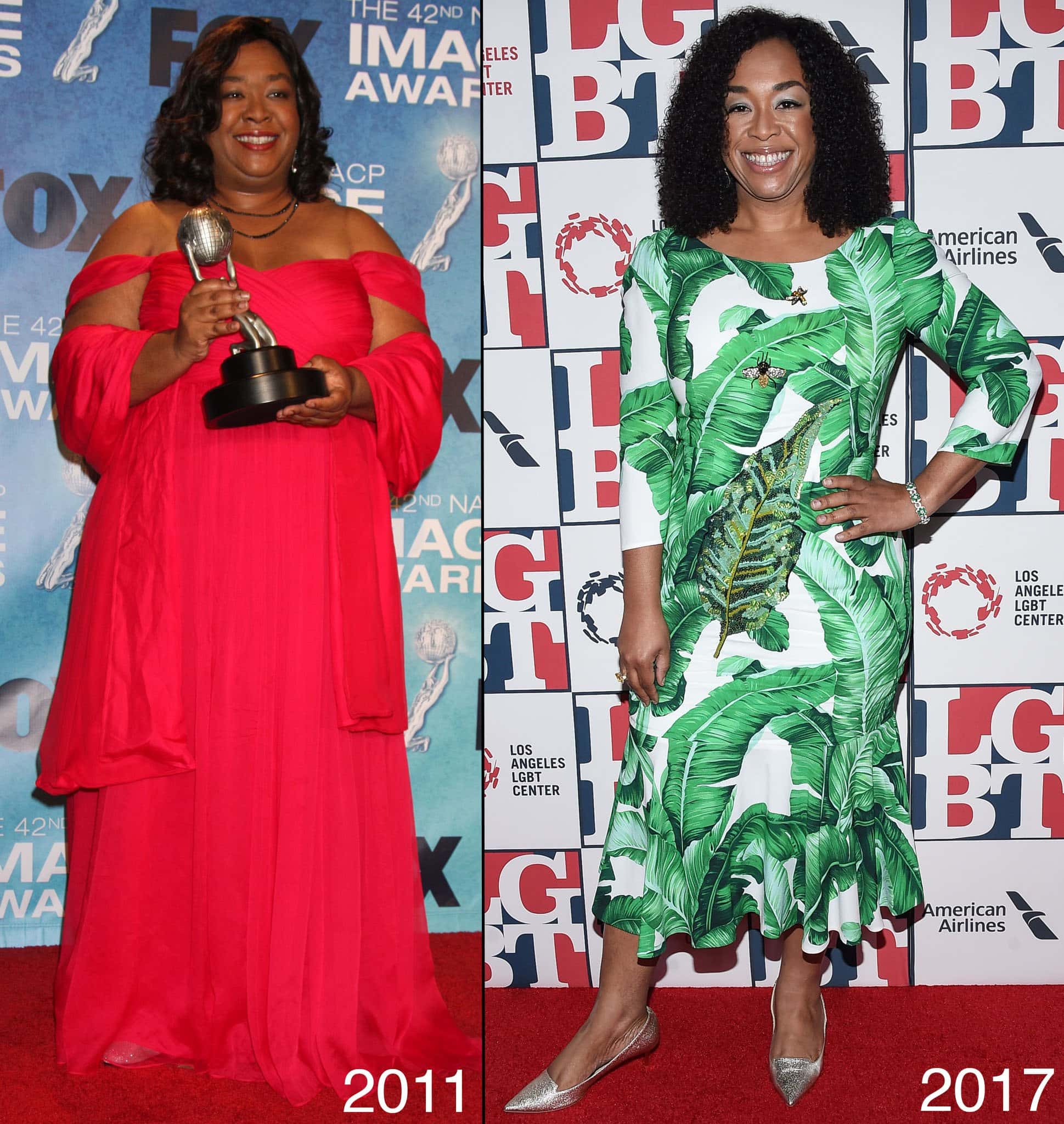 Shonda Rimes dropped 150 pounds by making healthy lifestyle changes and adopting a keto diet (Credit: Kathy Hutchins / DFree / Shutterstock)
While the journey itself wasn't always enjoyable, she wanted to be healthy and strong and listen to her body, which she could tell was not happy at her heavier weight. Cheers to both her happiness and health.
12. Drew Barrymore
Drew Barrymore has proudly spoken about her weight loss journey and fully credits her trainer, Marnie Alton.
Barrymore has publicly stated that Alton is both her teacher, trainer, and friend, who has encouraged her to truly push herself.
Drew Barrymore credits her trainer Marnie Alton for her 20-pound weight loss (Credit: a katz / Shutterstock / JOHN EDDY / INSTARimages)
With Alton's help, Drew Barrymore has lost over 20 pounds. Like many of her other fellow actors, she did it for an acting role- particularly her role on the Santa Clarita Diet.
13. Jessica Simpson
After the birth of her third baby, Birdie, Jessica Simpson lost approximately 100 pounds.
She utilized the help of celebrity trainer Harley Pasternak to do so. Pasternak helped Simpson slowly ease into physical activity to avoid burning out.
With the help of celebrity trainer Harley Pasternak, Jessica Simpson lost 100 pounds following the birth of her third child in 2019 (Credit: DFree / Shutterstock / @jessicasimpson / Instagram)
She started with just 6,000 steps daily, which was easy to reach as an active mother, and over time built up to an impressive 14,000 steps per day to really help her shed the weight.
14. Christina Aguilera
Back in 2013, Christina Aguilera lost almost 50 pounds. She even took time off from her gig on The Voice to really focus on her physical health.
The Voice coach cited having the extra personal time as an excellent way to heal both her physical and mental well-being.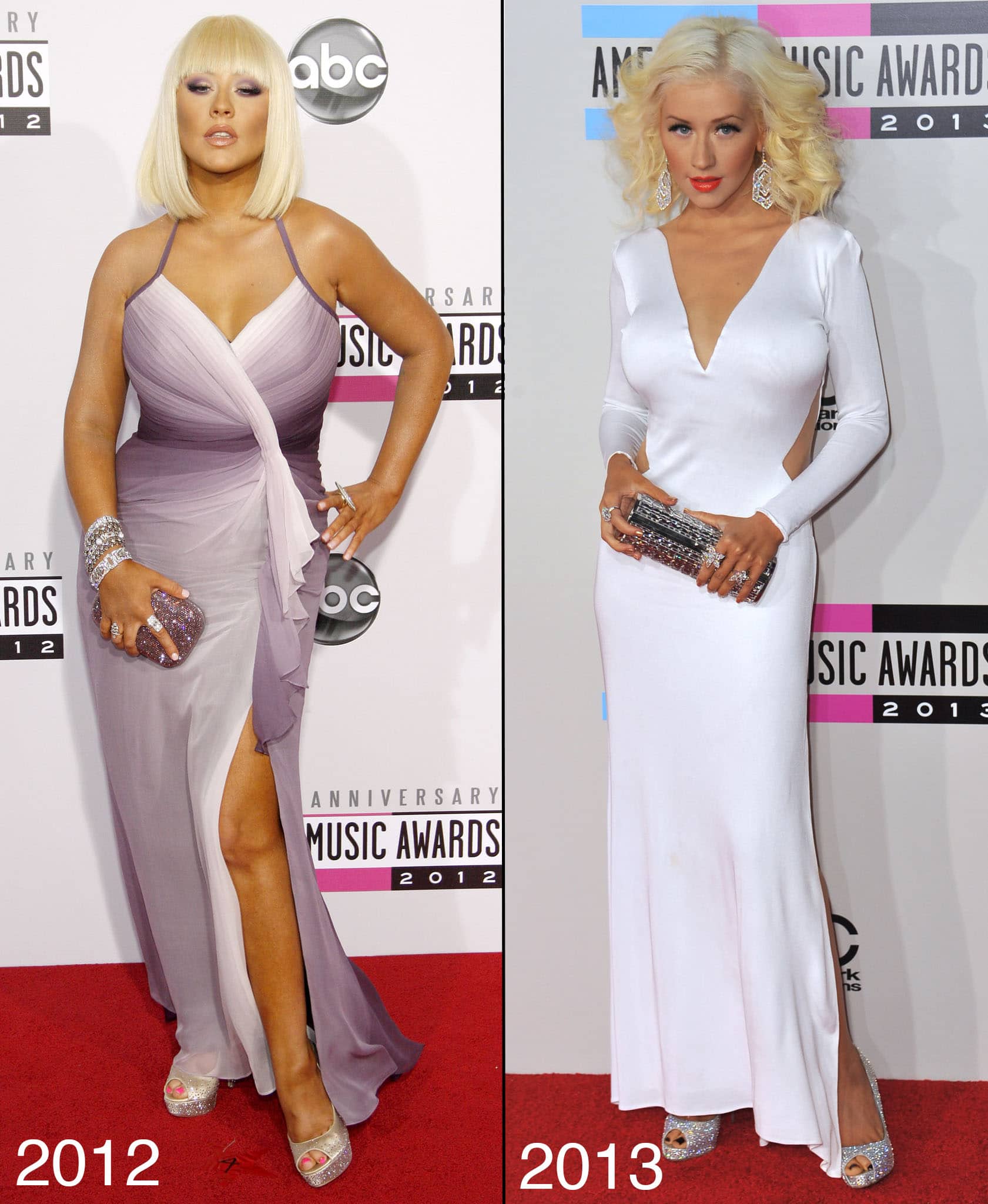 In 2013, Christina Aguilera lost 50 pounds by doing yoga and having a low-calorie diet (Credit: Tinseltown / Jaguar PS / Shutterstock)
Trying new foods, exploring new types of exercise, and embracing spiritual practices such as reiki all contributed to Aguilera's weight loss.
Sources have reported that she did not follow a strict diet or workout plan but rather focused on reconnecting with her body and mind, and the weight loss naturally followed.
15. Tiffany Haddish
Throughout 2020, Tiffany Haddish worked hard and ultimately lost 40 pounds.
On her 40th birthday, she was not happy with her weight. That same day, she decided to quit smoking and start taking the gym seriously.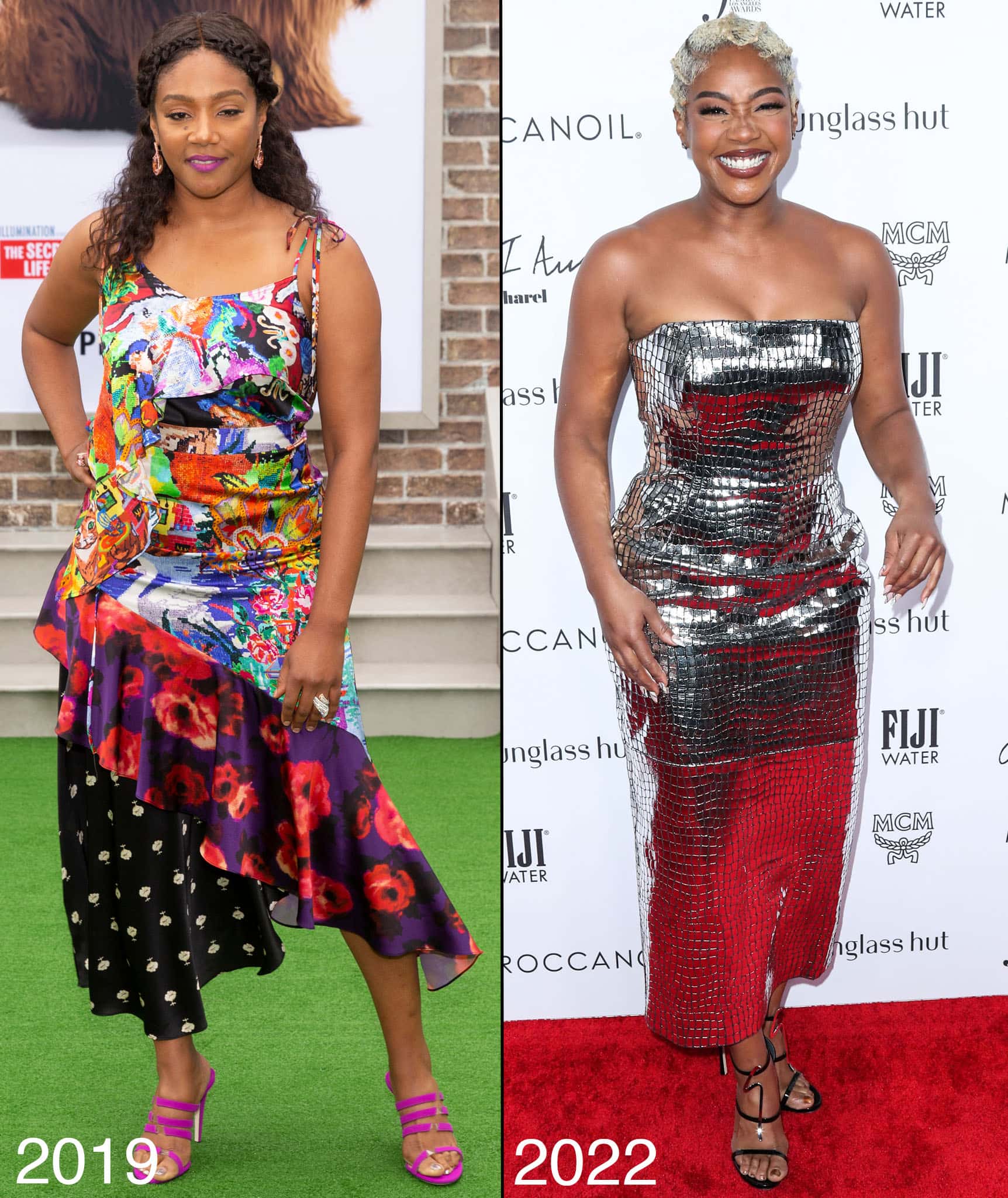 Tiffany Haddish lost 40 pounds during quarantine in 2020 and she has since begun taking her diet and nutrition more seriously (Credit: lev radin / Shutterstock / Xavier Collin / Image Press Agency / ABACA / INSTARimages)
She subsequently joined a 30-day fitness program and started taking her diet and nutrition more seriously, which helped her lose 10 more pounds.
In her workout, she mainly focuses on plyometrics, cardio, and strength training and makes sure to eat lots of protein and veggies.
16. Janet Jackson
When Janet Jackson announced a tour at 54 years old, she knew she would have to prepare her body for the grueling hours and level of exercise required.
Her trainer, Paula Sybliss, helped Jackson prepare for the tour life just six short weeks after she gave birth to her daughter Eissa.
Through weight training with Sybliss and the immense cardio from dancing on a stage every night, Janet Jackson successfully lost 70 pounds by the end of her tour.
Janet Jackson lost 70 pounds through weight training and immense cardio from dancing (Credit: Featureflash Photo Agency / Jamie Lamor Thompson / Shutterstock)
17. Kate Maloney
The Vanderpump Rules actress displayed her 20-pound weight loss during the show's season 8 reunion in May 2020.
A month earlier, Kate told fans that she felt good after slimming down her figure and working with an efficient nutritionist.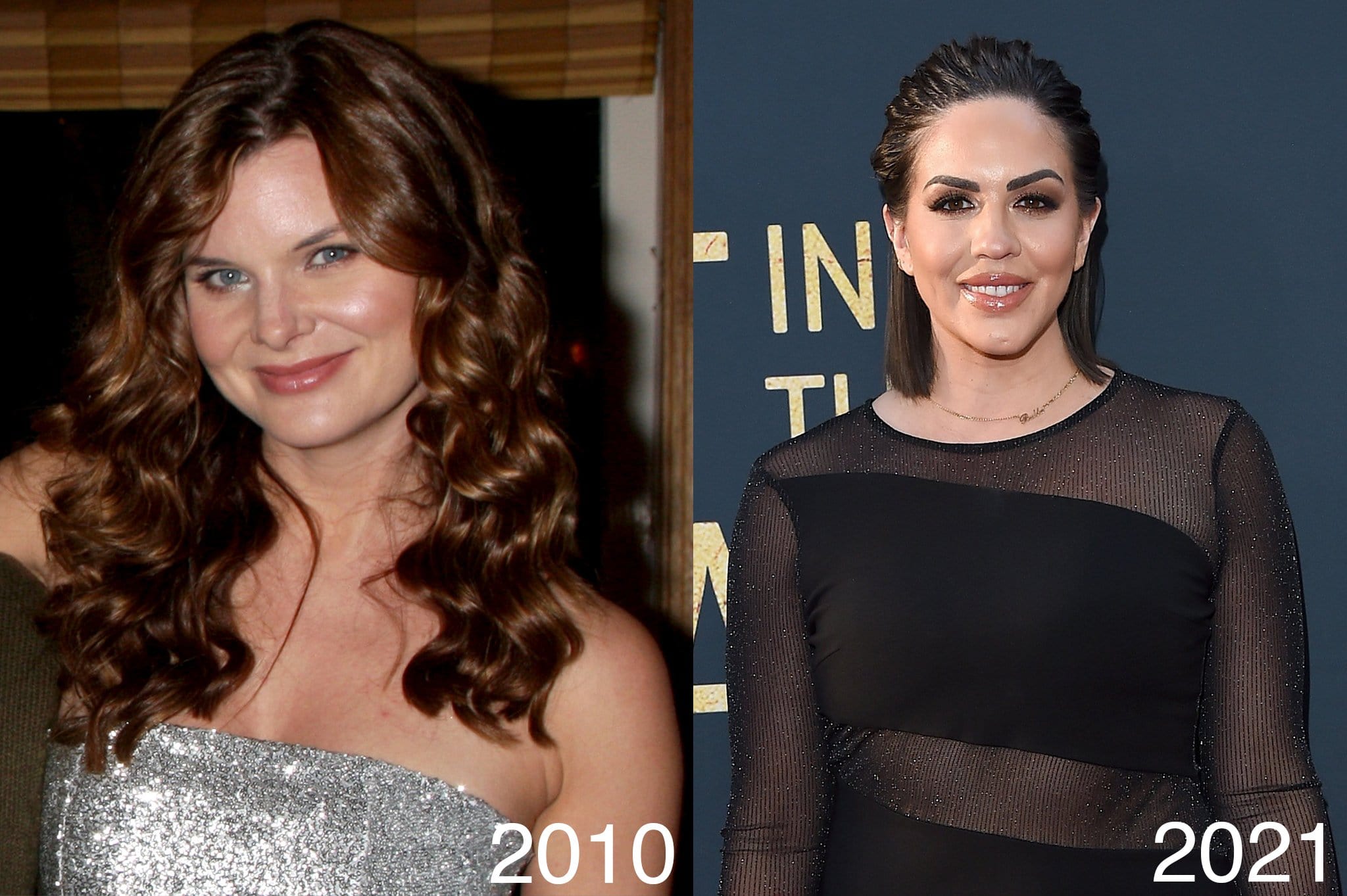 Kate Maloney lost 20 pounds by following a nutrition-based low-sugar diet (Credit: Kathy Hutchins / Shutterstock / MEGA / WENN)
18. Action Bronson
American rapper Action Bronson has also taken the plunge in a weight loss journey, losing over a whopping 125 pounds in just six months.
Action Bronson shed over 127 pounds in nine months after getting serious about his health amid the coronavirus pandemic (Credit: WENNCHELLA / WENN / @bambambaklava / Instagram)
Speaking of his incredible transformation, the rapper commented that his influence to change his lifestyle followed the birth of his son in 2019.
Wanting to be around his family the best he could, Bronson hit the gym earlier and modified his whole diet.
19. Ed Sheeran
Following the birth of his baby daughter, singer Ed Sheeran decided to prioritize his health and lifestyle.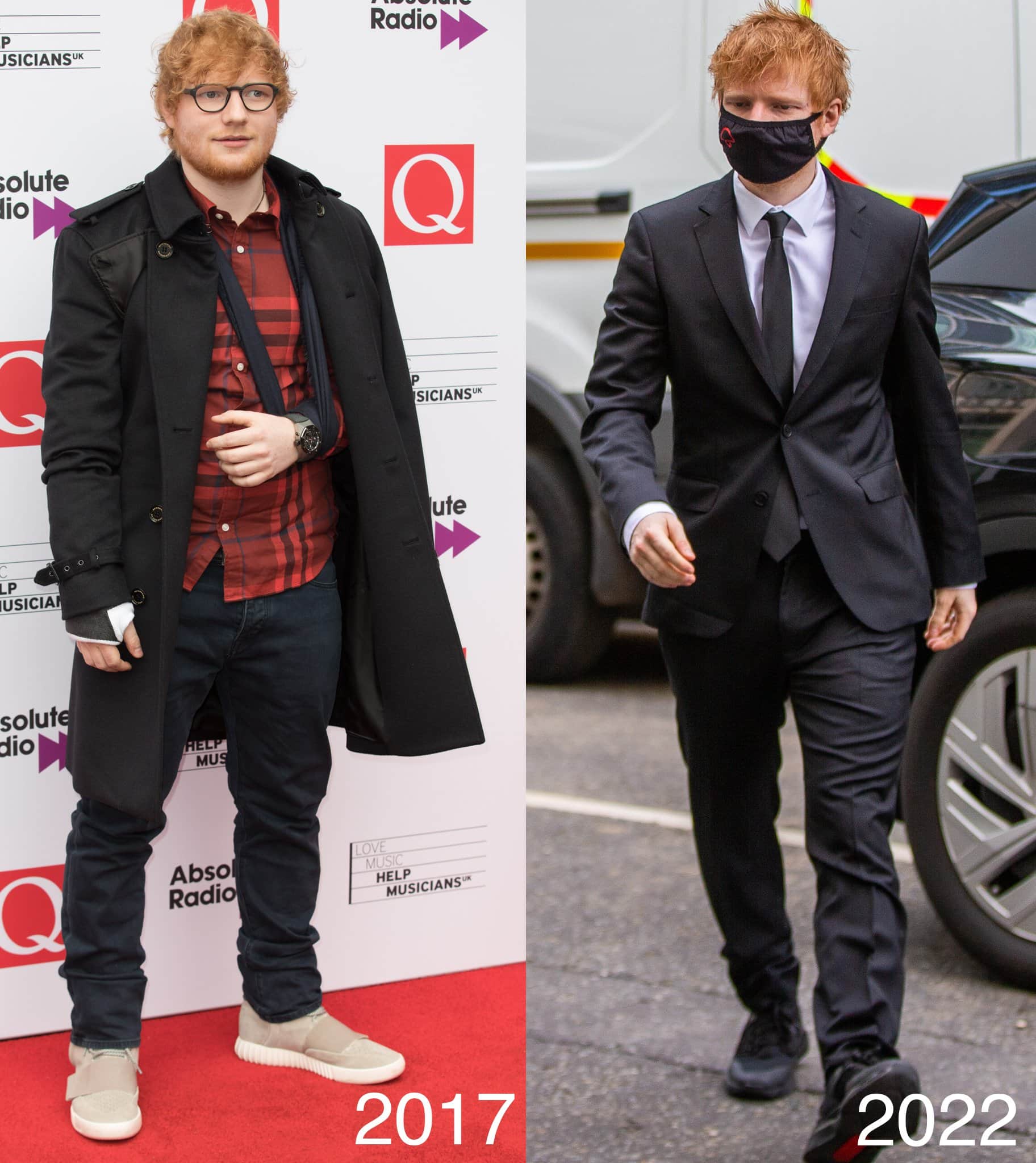 Ed Sheeran started prioritizing his health following the birth of his daughter in 2020 (Credit: Phil Lewis / Mega / WENN)
After living off fried food and alcohol during his latest tour, his weight hit 15 stones. This star worked to shed five stones by cutting a few unhealthy things from his diet and putting his family first!
20. Jenna Jameson
Towards the end of 2018, American model Jenna Jameson announced on social media that she'd managed to shed a whopping 80 pounds in just six months.
Jenna Jameson dropped 80 pounds in six months after following a high-protein, low-carb keto diet (Credit: WENN / @jennacantlose / Instagram)
By following a low-carb, high-protein keto diet along with intermittent fasting, Jameson was able to achieve this, proudly displaying her transformation to her Instagram followers.
21. Ross Mathews
In November 2020, television host Ross Mathews unveiled his impressive weight loss in November 2020, managing to lose 50 pounds from early June.
Ross Mathews lost 50 pounds after changing his diet and lifestyle (Credit: lev radin / Ga Fullner / Shutterstock)
After his mother's death, Mathews decided to retake control of his health, achieving a 70-pound loss from the host's all-time largest weight.
22. Missy Elliott
American rapper Missy Elliott looks almost unrecognizable after her weight loss transformation.
Losing 30 pounds by exercising and eating healthily, Elliott proudly displayed her new body on social media in May 2018.
Missy Elliott credited dramatic weight loss from cutting out bread and soda (Credit: WENN / @missymisdemeanorelliott / Instagram)
After four months, the 'Work It' rapper had only drunk water, cut out soda and juices, and cut out bread altogether. With glowing skin and enhanced energy, Elliott has never felt better!
23. Adrienne Bailon
Former Cheetah Girls star Adrienne Bailon flaunted her slimmed-down figure in a bikini after unveiling a 20-pound weight loss.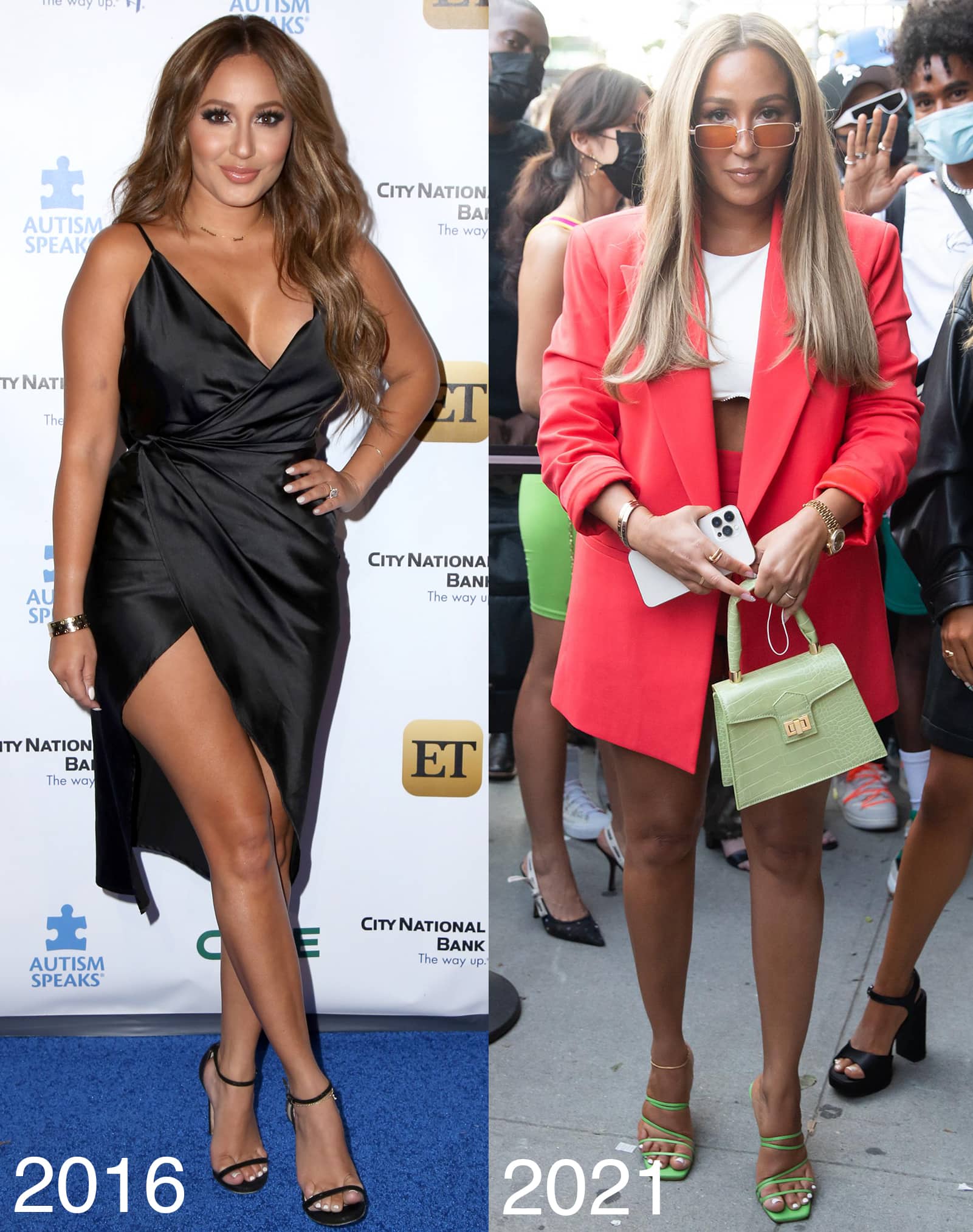 Adrienne Bailon lost 20 pounds by choosing to eat plant-based and working out (Credit: Kathy Hutchins / Shutterstock / Janet Mayer / Startraksphoto)
This actress, delving into her mid-30s, celebrated this glorious transformation by working out and sticking to a plant-based diet.
Staying dedicated to this health and wellness journey even helped Bailon through the mentally challenging Coronavirus pandemic of 2020.
24. Randy Jackson
Deciding to make a lifestyle change, Randy Jackson lost more than a whopping 100 pounds after his type 2 diabetes diagnosis in 2003.
Randy Jackson has maintained a 100-pound weight loss since his gastric bypass surgery in 2003 (Credit: Nikki Nelson / WENN / DFree / Shutterstock)
After suffering from emotional eating, this Name That Tune star decided to go through gastric bypass surgery and made critical changes to keep the weight off his body.
25. Chrissy Metz
Chrissy Metz went on a journey to start taking her lifestyle more seriously and responsibly, going on a 2000-calorie diet to lose 100 pounds in just five months.
Metz started avoiding unhealthy foods and walked for 20 minutes per day. As well as impacting her physical health, these approaches also had a positive effect on her mental health.
Chrissy Metz eats no more than 2,000 calories per day and works out five days a week (Credit: FayesVision / Mega / WENN)
Overall, it seems that (sadly) there is no hidden secret to weight loss—at least, not that celebrities have revealed to the public.
While the methods vary, even among those with access to more resources and personal trainers than most people, all weight loss comes as a result of some form of a caloric deficit.
Whether this is achieved through a diet, exercise, or both is entirely up to each person's preferences and capabilities. Even if you don't have a world-famous acting role to prepare for, if these celebrities can do it, so can you.