Charlize Theron and Brad Pitt reignited dating rumors for the nth time as they were spotted getting cozy at the 2020 SAG Awards on Sunday.
The two first sparked romance rumors last year after working together in an advertisement for Breitling watches. Charlize, however, revealed that she's single during an appearance on The Ellen DeGeneres Show in February 2019.
Brad and Charlize crossed paths once again at the ceremony, where they were both nominated for awards.
Brad Pitt took home the Outstanding Performance by a Male Actor in a Supporting Role for his movie, Once Upon a Time in Hollywood, and gave a shout out to Margot Robbie's feet, Margaret Qualley's feet, and Dakota Fanning's feet.
Brad Pitt wins Outstanding Performance by a Male Actor in a Supporting Role at the 26th Annual SAG Awards in Los Angeles on January 19, 2020
Charlize, on the other hand, was up for Outstanding Performance by a Female Actor in a Leading Role for Bombshell but lost to Renee Zellweger for Judy.
Surprisingly, the 44-year-old actress wasn't wearing Dior. She instead wore a custom two-piece look from Givenchy Haute Couture collection.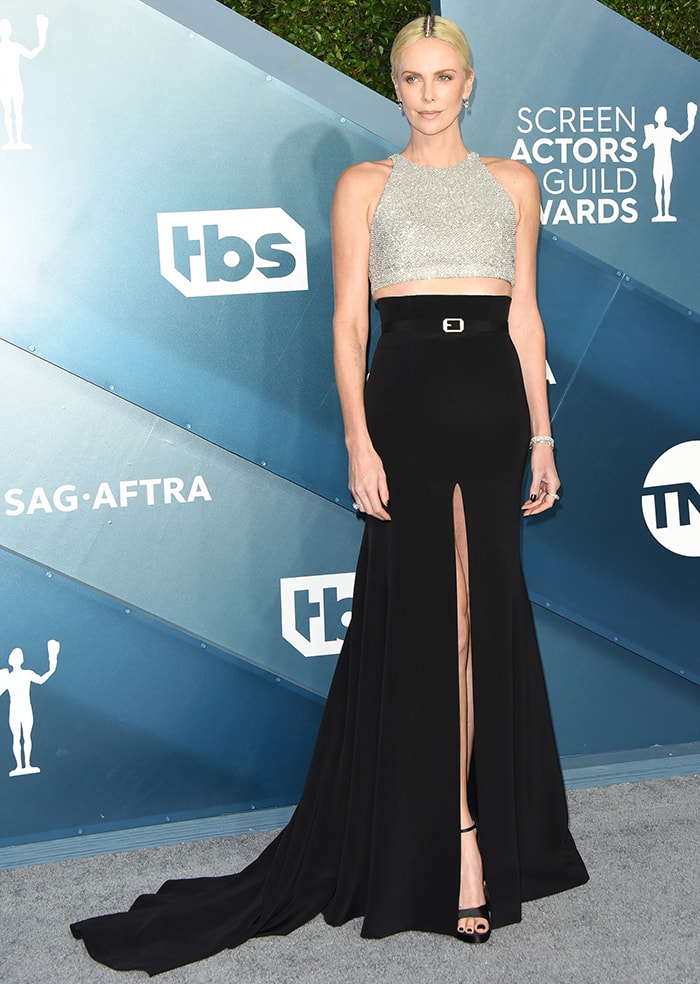 Charlize Theron nominated for Outstanding Performance by a Female Actor in a Leading Role at the 2020 SAG Awards
Her outfit included a crystal-embellished sleeveless crop top, which allowed her to flaunt her toned arms and show a glimpse of her midriff. She also flashed some leg in a black high-waisted floor-sweeping skirt that features a center slit and a belted waist.
Charlize Theron showcases her midriff, arms, and legs in a custom Givenchy ensemble
Exuding modern glamour, hairstylist Adir Abergel styled her blonde pixie sleek and parted in the middle. He attached a $15,500 Tiffany & Co. Victoria Line diamond bracelet down the center part to somehow cover Charlize's grown-in roots.
Makeup artist Kate Lee created a barely-there makeup look for the actress. She applied nude eyeshadow, mascara, nude lipstick, and complementary blush. Celebrity manicurist Tom Bachik painted her nails black to match her ensemble.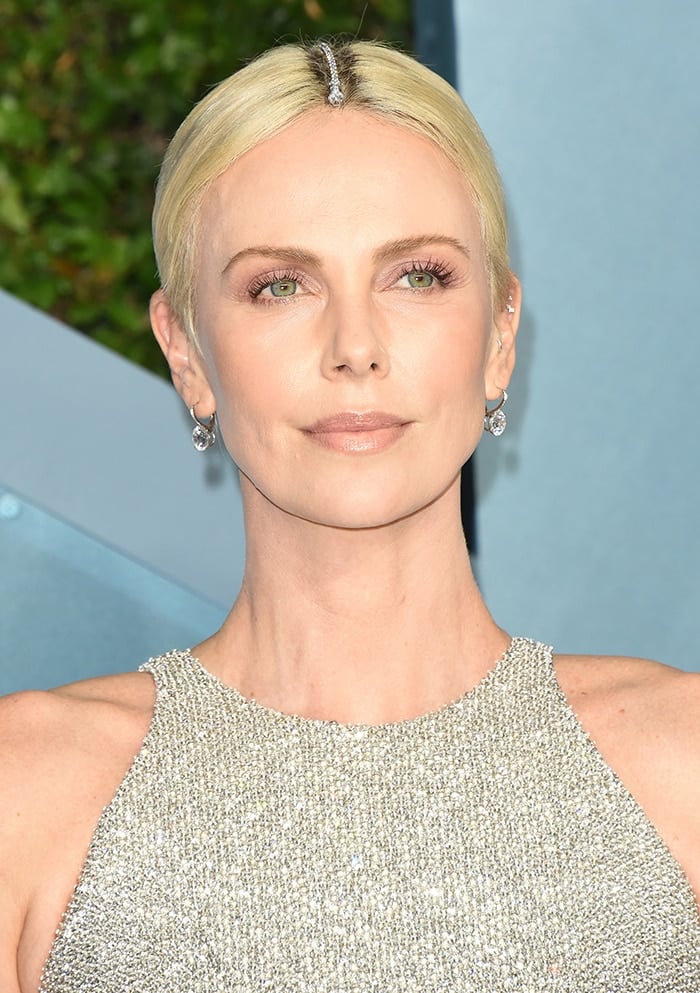 Charlize Theron wears Tiffany & Co. bracelet as a hair accessory to cover her roots
To add extra sparkle to the look, Charlize accessorized with a selection of diamond jewelry. She wore a pair of diamond hoops, Maria Tash ear studs, bracelets, and a selection of rings, handpicked by stylist Leslie Fremar.
A pair of black satin platform sandals, which flaunted her foot tattoo, rounded out Charlize's look.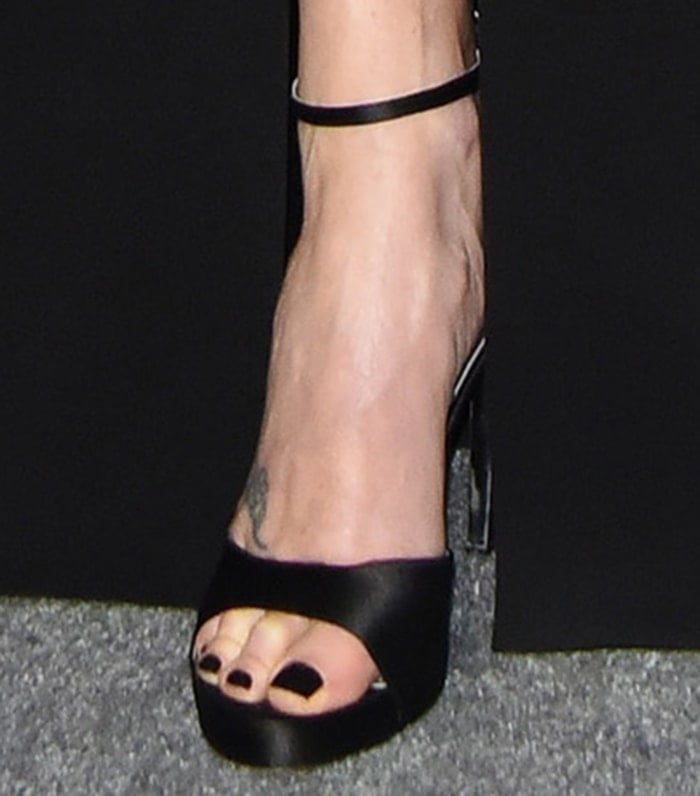 Charlize Theron shows off her foot tattoo in black heels
How did Charlize Theron and Brad Pitt Meet?
Charlize and Brad met in 2018 while filming an ad campaign for Breitling, a Swiss luxury watchmaker.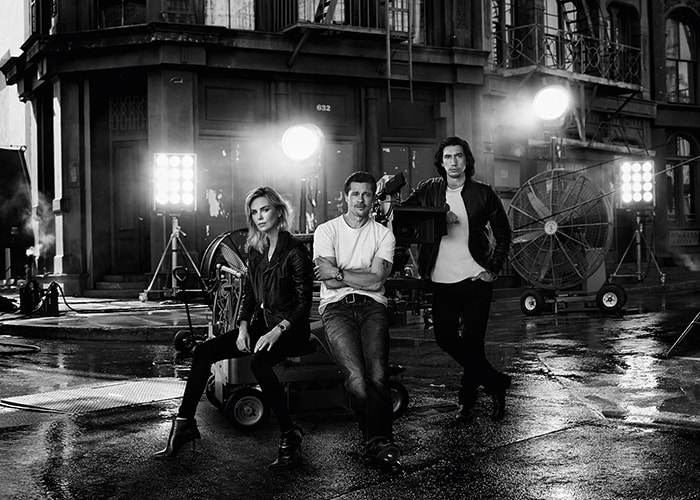 Charlize Theron, Brad Pitt and Adam Driver for Breitling Cinema Squad
In January 2019, an insider exclusively told In Touch: "Brad and Charlize got along very well during their shoot for Breitling watch campaign early last year, there was definitely more of a connection between them than ever before. There's always been sparks, but neither of them acted on them."
He added that the two started to gain "some momentum" while working on the advertisement. "But Brad was dealing with Angie and the messy breakup, so again, nothing was pursued," the source continued.
There were also reports that the two met through Charlize's ex, Sean Penn.
Brad and Charlize's alleged romance
Charlize and Brad's relationship reportedly began around Christmas of 2018. A source told The Sun: "They have been casually seeing each other for nearly a month now. They've been friends for some time—ironically through Sean—but things have developed."
Brad Pitt at the UK Premiere of Once Upon a Time… in Hollywood in London on July 30, 2019
On January 12, 2019, the rumored couple reportedly dated after attending separate movie screenings. Brad went to watch his executive produced film If Beale Street Could Talk at a private house in Hollywood Hills, while Charlize was a special guest at the screening of Roma in LA's Chateau Marmont.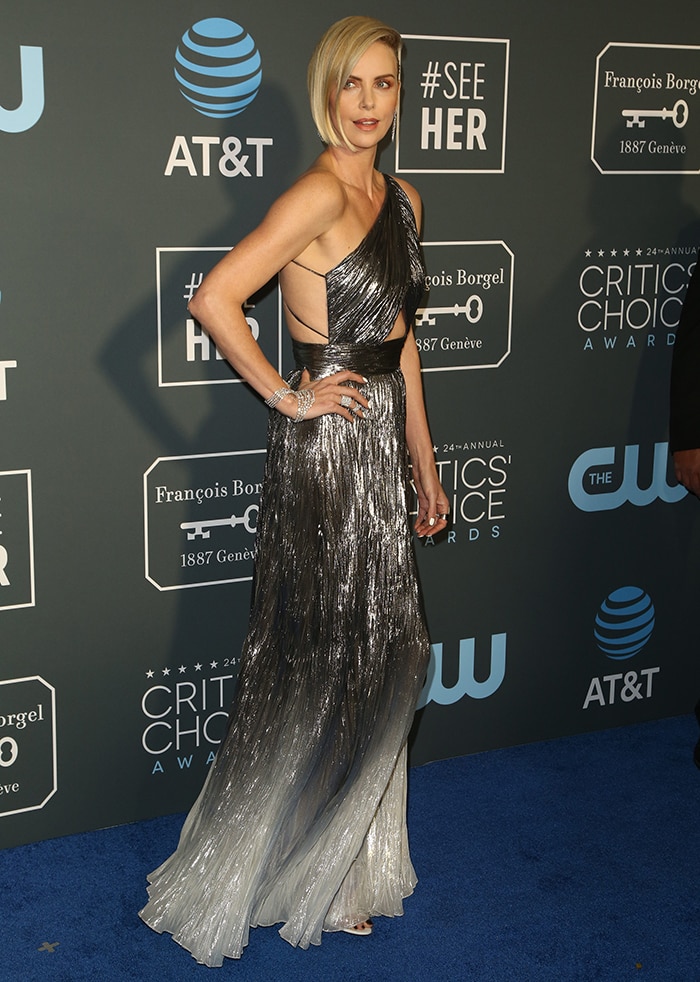 Charlize Theron at the 24th Annual Critic's Choice Awards a day after her alleged meet up with Brad Pitt
The insider told The Sun that after the screening, Brad met up with Charlize at Chateau Marmont. "Brad came over to Chateau Marmont afterward, changed his outfit and joined Charlize in a corner of the bar. She was on a vodka cocktail, while he stuck to mineral water."
"Brad seemed in a really good place. They both looked really happy. They were ridiculously touchy-feely and his arm was around her back. At one point he winked at her," the source added.
Brad and Charlize are just friends
In another report, People and Entertainment Tonight said that the two are not romantically involved and are just friends.
An insider told Entertainment Tonight: "They enjoy each other's company and connect on many levels. Brad and Charlize have a lot of mutual friends and share their love of acting, but neither of them is ready for a serious relationship right now."
"They are both very single at the moment so it's no surprise people are talking romance. They truly would make a Hollywood power couple, but at this point, they're friends," the source added.
The insider also mentioned that Brad "isn't looking for an actress as a lifetime partner. He tried that route already, and while he loved both Jen [Aniston] and Angelina [Jolie] very much, and he grew tremendously as a person with both women, he is ready for something different."
The source continued: "He is all about his career and his children. He is working on several projects and spends every moment he can with his kids."
Angelina Jolie with her children Shiloh Pitt Jolie, Maddox Pitt Jolie, Vivienne Marcheline Pitt Jolie, Pax Thien Pitt Jolie, Zahara Marley Pitt Jolie, Knox Leon Pitt Jolie, visit the Louvre in Paris, France, on January 30, 2018
Another source told People: "They have not been out together recently, and were never dating. Reports of them being involved romantically are false."
Charlize denies dating speculations
In an appearance on The Ellen DeGeneres Show in October 2019, Charlize once again denied rumors that she dated Brad.

She's on the show to promote Bombshell together with co-stars Margot Robbie and Nicole Kidman.
When Nicole said she did not date Brad, Charlize said: "But I apparently did. I had an entire relationship that I didn't even know about."
Credit: Mario Mitsis / Brian To / Adriana M. Barraza / Nicky Nelson / WENN