African actress Charlize Theron is considered one of the most beautiful women on earth. Her beauty and talent have secured her a fruitful career in television and movies, allowing her to speak out about causes she cares about and build a luxurious life.
Her life seems flawless and what every person would dream of achieving, sans one aspect- her love life.
Early Dating History
Despite never getting married, Theron isn't one to dive into short-term relationships. Even in her younger days, she had more long-lasting relationships, rather than short-term flings. In fact, she hasn't spent much time single and seems to be a serial monogamous.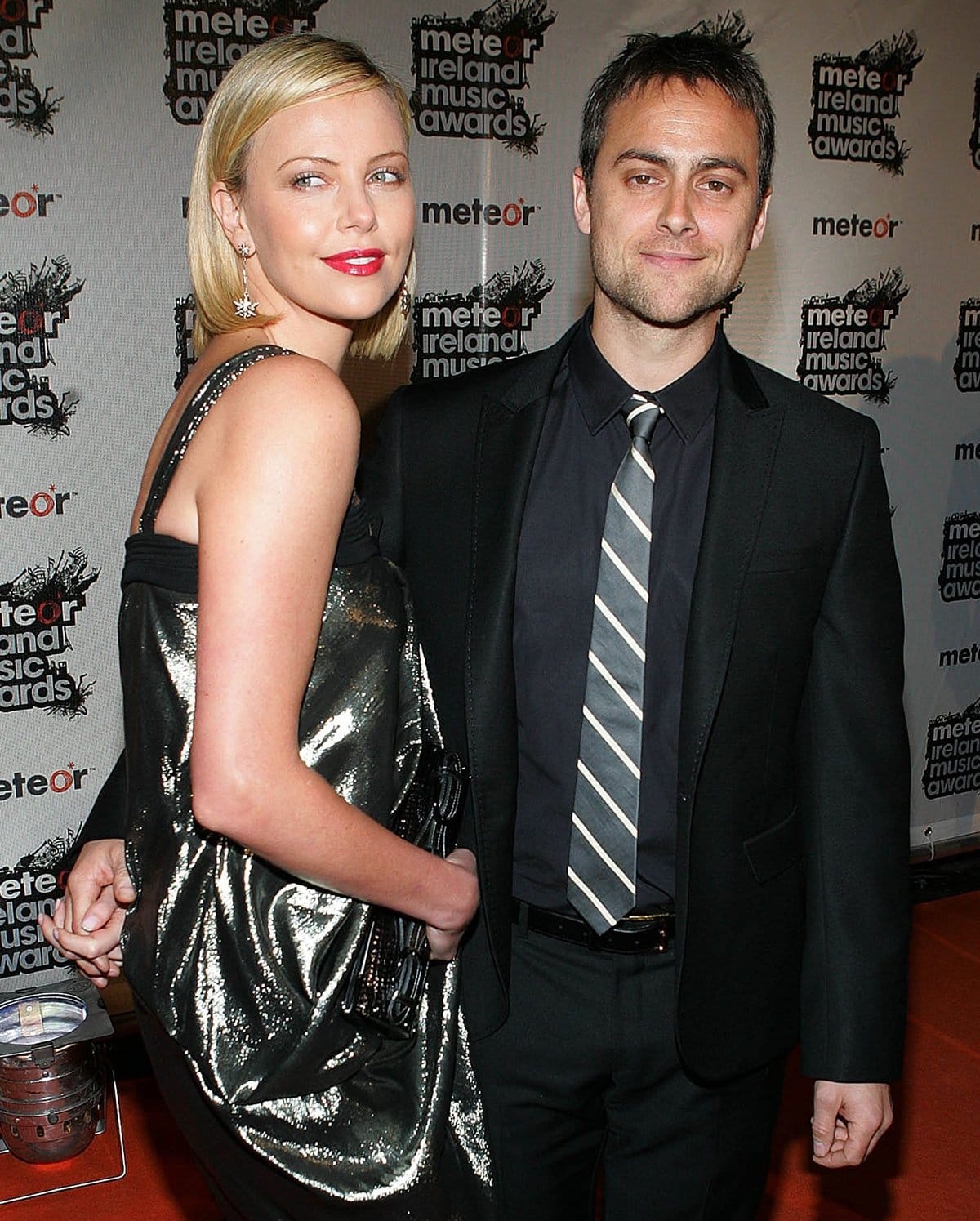 Charlize Theron and Stuart Townsend met on the set of the 2002 crime thriller film Trapped (Credit: Brian McEvoy / WENN)
Her first relationship in the public eye was with fellow actor Craig Bierko. Theron dated Bierko from 1995 to 1997.
After their breakup, Theron wasted no time entering a new relationship with singer Stephan Jenkins from 1998 to 2001.
Theron's Longest Relationship
Theron's early relationships are overshadowed by those that occurred more recently. Her longest relationship began soon after her breakup with Jenkins in October 2001. A month or two later, Theron entered into a relationship with another actor, Stuart Townsend.
They met when starring in the 2002 crime thriller film Trapped, in which she portrayed Karen Jennings and he played Dr. Will Jennings.
Charlize Theron is three years younger and one inch shorter than Stuart Townsend (Credit: FayesVision / WENN)
"We sat beside each other and I honestly really didn't take that much notice, maybe because we were working," he said in a 2004 interview with Irish America about their first read-through.
"All I remember is Charlize had a dog with her and I remember thinking, "Oh, there's the mad lady with the dog!'"
"She just looked like a million dollars," Townsend added. "I went, 'Whoa! Who is this girl?"
"When she glams up it's ridiculous," he concluded. "She can look so hot. She's a goddess, man, a total goddess. That night we had so much fun. I was just smitten after that."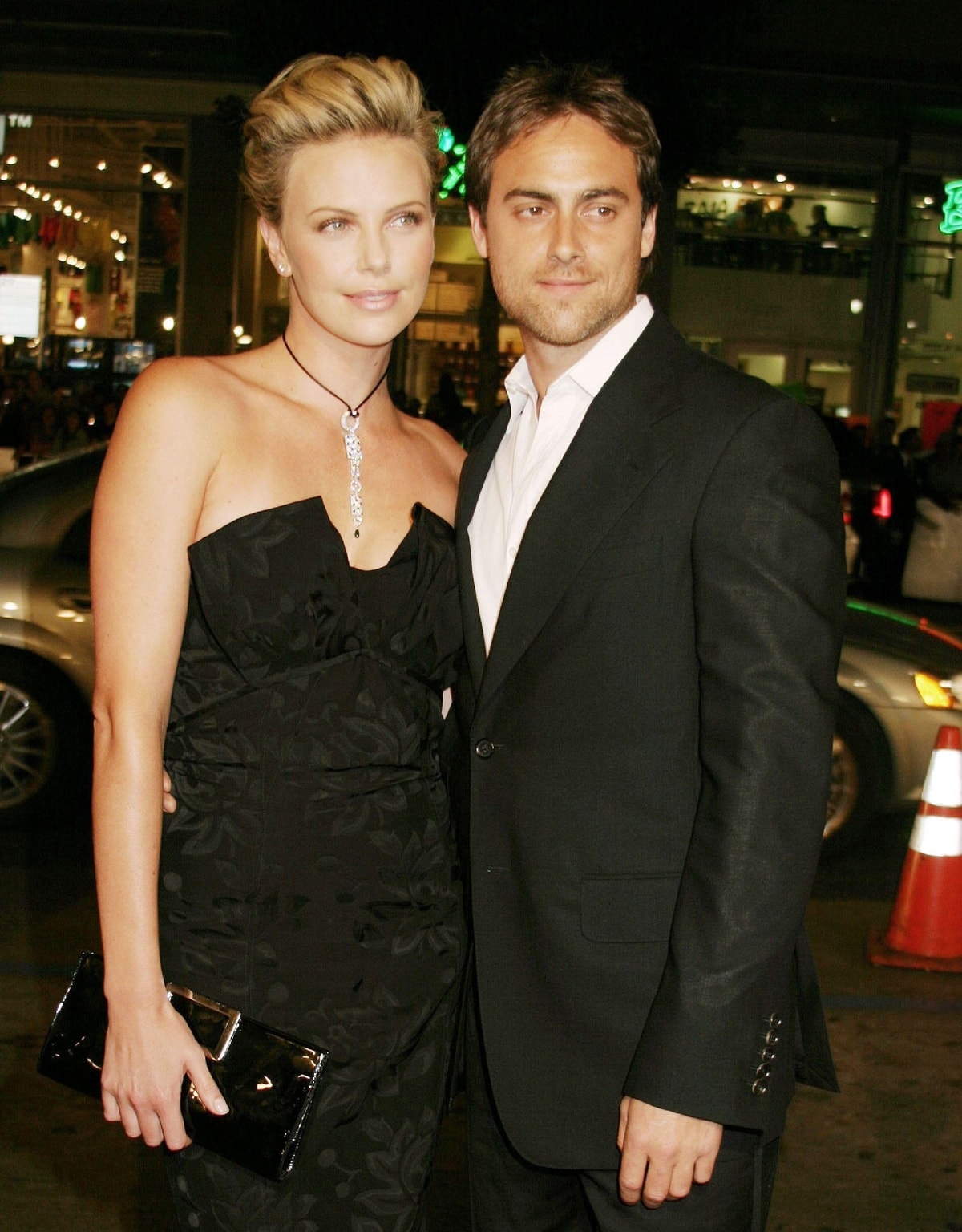 Charlize Theron and Stuart Townsend dated from 2002 until 2010 and split after a trip to Mexico (Credit: Colin Hansford / WENN)
"He had all the criteria for somebody who wasn't going to be anything serious," Theron told Marie Claire in October 2005.
"He lived over there [in England]; I lived over here. So we were very honest with each other: 'I think you're hot, I think you're nice, I think you're smart. We can go on dates. What do you think?' And then, things happened."
Their relationship was not only long but fruitful. Theron once said that dating Townsend was like winning the lottery and that she didn't "think (she) could have imagined a love like that." Still, the two never got married.
However, it seems this was a mutual decision between the two. The two weren't married by law but operated like husband and wife.
Townsend had said that "I don't need a certificate or the state or the church to say otherwise. So no, there's no big official story on a wedding, but we are married." Theron agreed with Townsend in an interview post-breakup that her "heart was married" to Townsend.
Unfortunately, the two went their separate ways in 2010, but the breakup seemed to be mutual and the best decision for the two.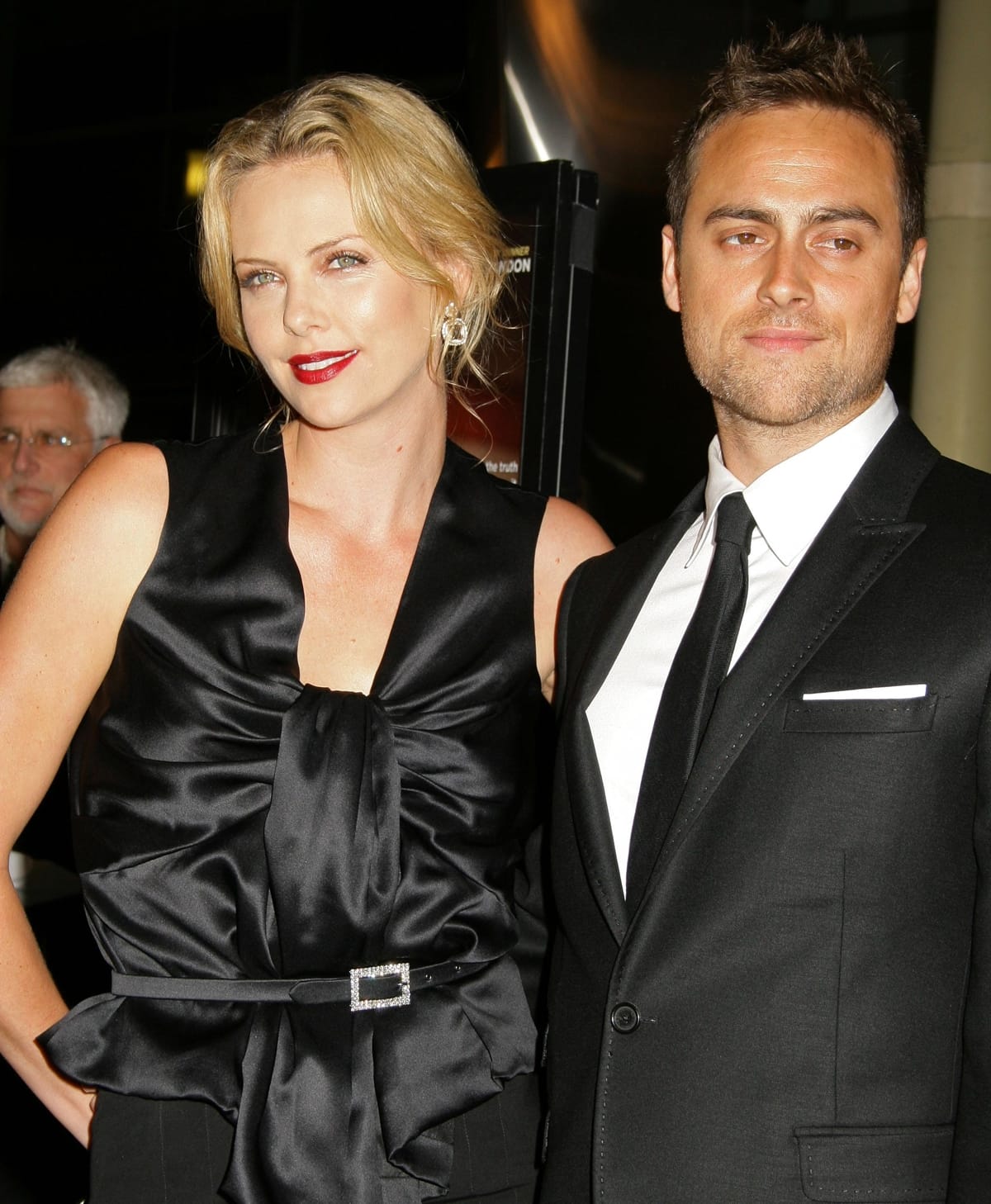 Charlize Theron and Stuart Townsend lived like husband and wife for several years (Credit: Adriana M. Barraza / WENN)
After his split from Theron, Stuart Townsend met Agatha Araya in Costa Rica and ended up getting married. They have two children, Ezra Townsend and Desmond Townsend.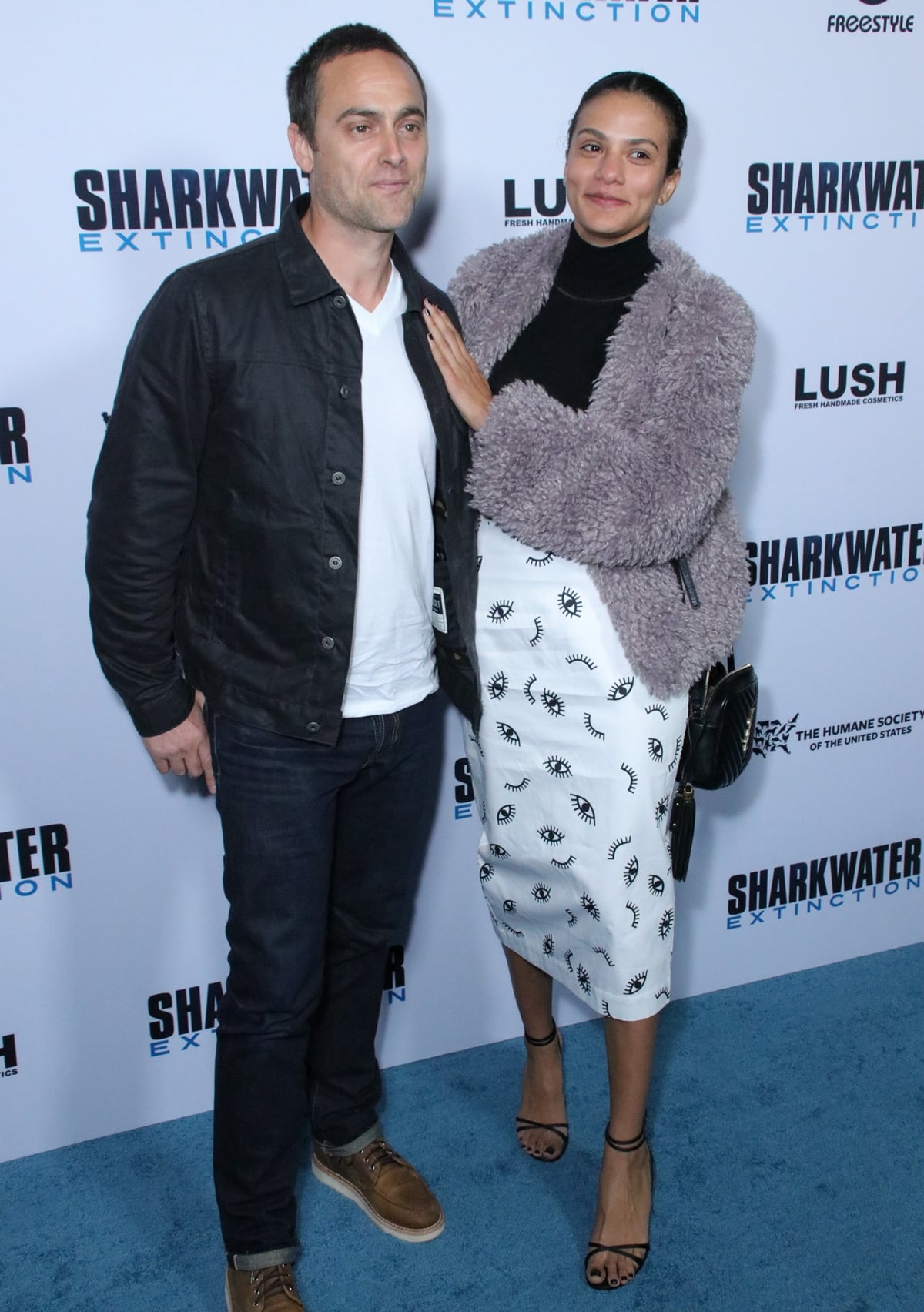 Stuart Townsend with his wife Agatha Araya at a screening of Freestyle Releasing's "Sharkwater Extinction" at the ArcLight Hollywood on January 31, 2019, in Hollywood, California (Credit: WENN)
In September 2019, he was allegedly "arrested for domestic violence" after "getting physical with his wife" at their home in Santa Monica. According to TMZ, he was booked for domestic violence and faced two misdemeanor counts.
Theron's Stint with Sean Penn
After Theron's breakup with Townsend, she began a family. She adopted her daughter, Jackson, in 2012, shortly before entering a relationship with much shorter actor Sean Penn. The two started dating in December 2013.
The two seemed to have a strong relationship, with Penn's daughter, Dylan, agreeing that the two worked well together. Dylan said, "They're both extremely strong personalities, and they're very intelligent, so conversation lasts between them."
Charlize Theron and Sean Penn started dating in late 2013 and split in the summer of 2015 (Credit: WENN)
Lively conversation can sustain a relationship but also possibly break it down. Penn and Theron split within just two years of dating in June 2015.
Theron's Stance
After Theron's breakup with Madonna's ex-husband Penn, she adopted another daughter, August, in 2015. Since her breakup, Theron has not been in a new relationship.
She's emphasized that her role as a mother is fulfilling, and she does not feel lonely. Her life is great without a significant other in the picture.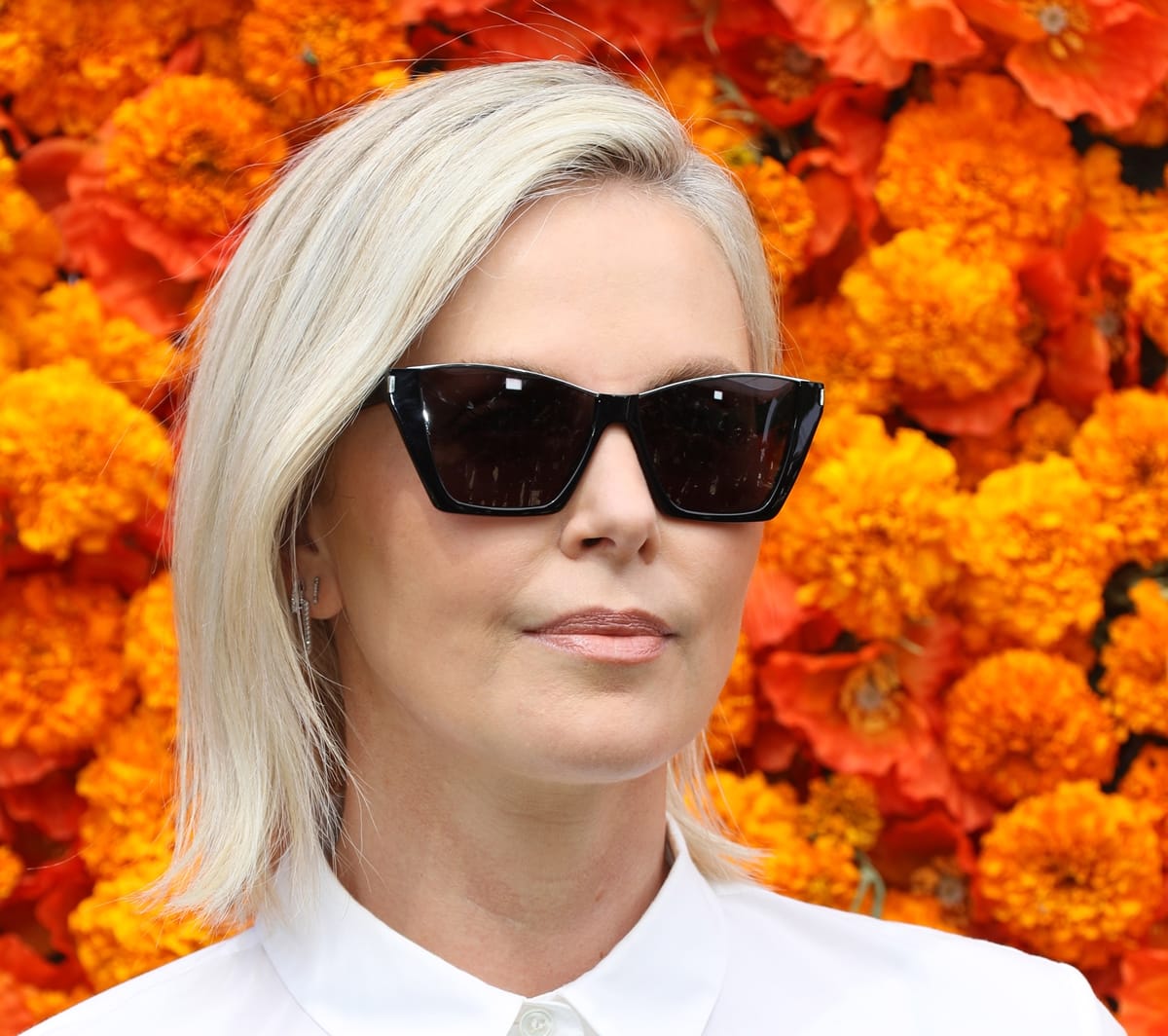 Charlize Theron is happy being single and doesn't feel the need to date anyone (Credit: MEGA / WENN)
It seems that Theron isn't against entering a new relationship, but for the sake of her and her family's happiness, they'll have to be pretty amazing to match up with her lifestyle.
In March 2016, Charlize Theron proved that age is just a number as she put on a leggy display at a photocall for the 2016 American fantasy action-adventure film The Huntsman: Winter's War at Park Hyatt Hamburg located on the famous Mönckebergstrasse in Hamburg's city center in Germany.
Charlize Theron wears her blonde hair in a wavy bob at the premiere of "The Huntsman: Winter's War" on March 30, 2016, in Hamburg, Germany (Credit: Schultz-Coulon / WENN)
She was joined on the red carpet by director Cedric Nicolas-Troyan as well as her co-stars Emily Blunt and Chris Hemsworth to help promote the movie.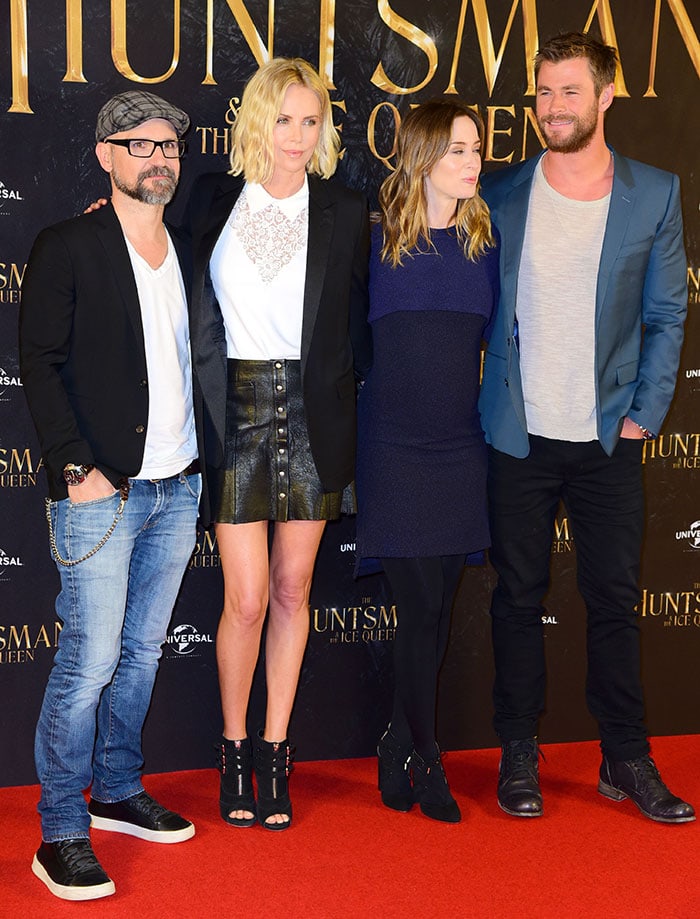 Cedric Nicolas-Troyan, Charlize Theron, Emily Blunt, and Chris Hemsworth pose on the red carpet (Credit: Schultz-Coulon / WENN)
The then 40-year-old actress stole the spotlight in an edgy monochrome ensemble that flaunted her enviably lean legs.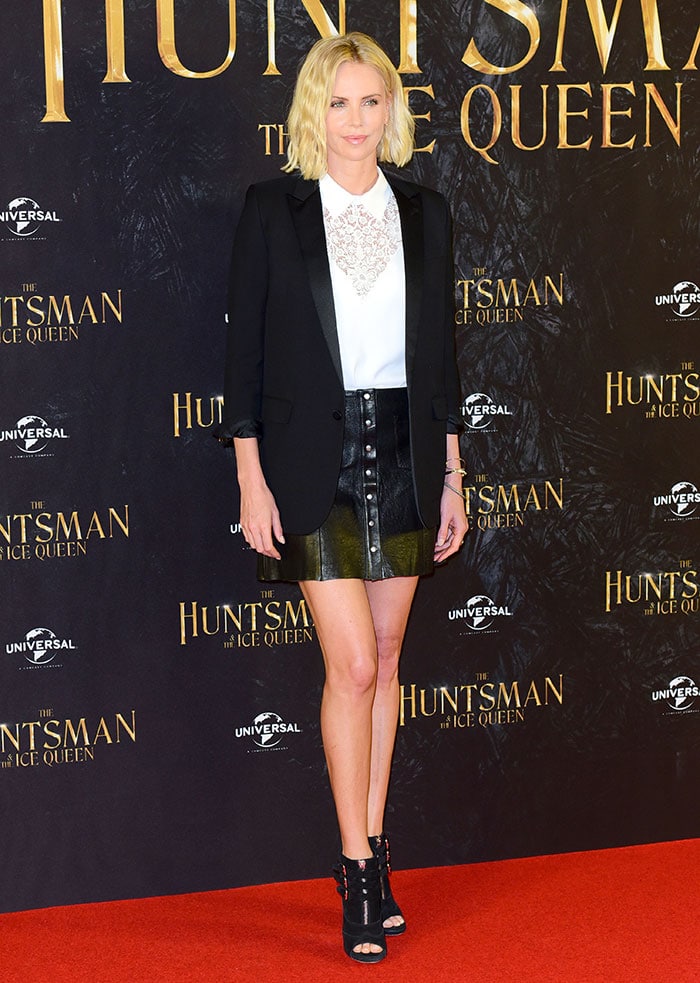 Charlize Theron shows off her legs in a black leather Reformation mini skirt (Credit: Schultz-Coulon / WENN)
She wore a thigh-skimming A-line black leather mini skirt and a white lace-paneled, collared blouse by English fashion designer Stella McCartney.
Charlize styled the look with a Saint Laurent tuxedo blazer, a few bracelets, and earrings from Los Angeles-born jewelry designer Anita Ko.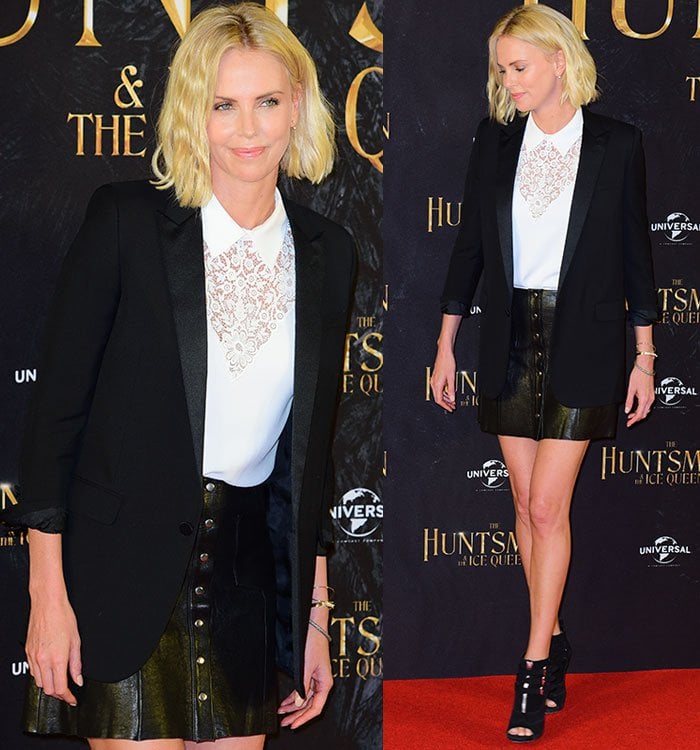 Charlize Theron wears a Stella McCartney top, Saint Laurent blazer, and Reformation skirt on the red carpet (Credit: Schultz-Coulon / WENN)
Beauty-wise, the "Mad Max: Fury Road" star wore her short bob in tousled waves and sported pink lipstick.
Charlize Theron's feet in black Tabitha Simmons booties (Credit: Schultz-Coulon / WENN)
She drew further attention to her legs with a pair of Tabitha Simmons booties that featured silver-toned zipped fronts, triple buckle-fastening straps, peep toes, and about four-inch heels.
Charlize Theron's feet in peep-toe Tabitha Simmons booties (Credit: Schultz-Coulon / WENN)
These Tabitha Simmons booties are no longer available, but you can find a similar style at Farfetch.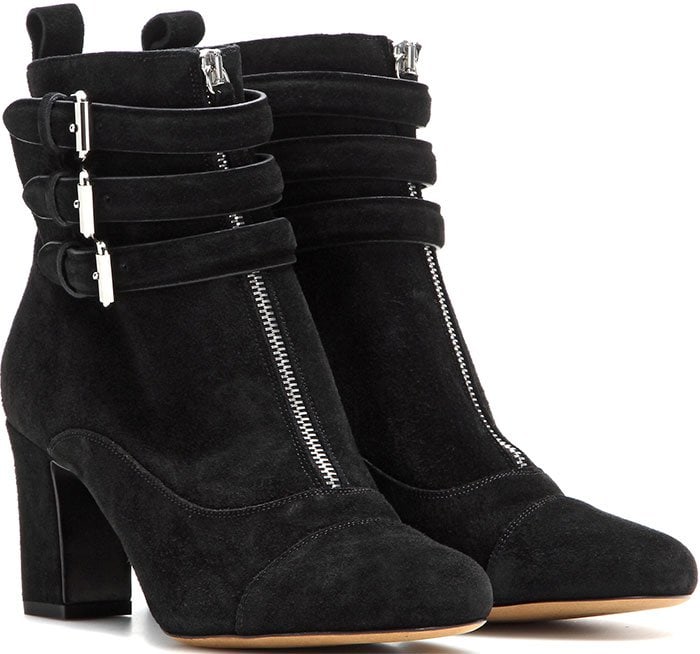 Black Tabitha Simmons "Nash" Suede Booties, $995