While Sigourney Weaver is the current reigning Queen of Sci-Fi, Chloë Grace Moretz looks ready to pick up the baton. She has so far starred in the 2021 American post-apocalyptic science fiction thriller film Mother/Android, the 2013 American supernatural horror film Carrie, and the 2016 American science fiction action film The 5th Wave.
Chloë Grace Moretz also stars in one of the leading roles in Amazon's upcoming series adaption, The Peripheral. The series, which had its world premiere at the Ace Hotel in Los Angeles, is based on the book of the same name by author William Gibson.
William Gibson is a legend in the science fiction world who is credited with coining the term "cyberspace." The American-Canadian fiction writer is a pioneer in the cyberpunk genre, which gave birth to iconic films like The Matrix.
Chloë Grace Moretz, in a Dolce & Gabbana dress, picked up the award for Best Horror Actress for her work in the romantic horror film Let Me In at the Scream Awards 2011 held at Universal Studios on October 15, 2011, in Universal City, California (Credit: Kathy Hutchins / Shutterstock)
Zach Baron, writing for GQ, describes the novel as "basically a noirish murder mystery wearing a cyberpunk leather jacket." The Peripheral follows the current trend for limited series book adoptions on Amazon.
What Is The Peripheral About?
The series centers around Moretz's character, Flynne Fisher, who grows up in small-town America. According to the release, The Peripheral is set in two alternate time frames where technology has subtly altered society and the illegal drug trade is rife.
In the novel, Flynne's brother, Burton (Jack Reynor), is a veteran of the United States Marine Corp's Haptic recon, an elite force.
William Gibson, who also wrote The Peripheral, helped solidify cyberpunk as a genre with his popular 1984 science fiction novel Neuromancer (Credit: Dgneer / Shutterstock)
He suffers brain damage from failed cybernetic implants and is hired for security detail in cyberspace. But Flynne takes his place as a security guard in the virtual world, where she is confronted with the future.
The future comes calling for smart and ambitious Flynne when she observes that the game world is eerily familiar to London, except it is empty and futuristic. The points of view in the series will switch between Flynne and Wilf, a publicist in futuristic London played by Gary Carr.
Filming Began In May 2021
The series was greenlit in 2019, and filming began in May 2021 in London and moved to North Carolina in September.
The series will debut on Amazon Prime Video on October 21, 2022. Greg Plageman serves as executive producer and co-showrunner with Scott B. Smith, the show's creator.
Chloë Grace Moretz will portray Flynne Fisher in Amazon's American science fiction streaming television series The Peripheral (Credit: Kathy Hutchins / Shutterstock)
The series is produced by Amazon Studios and Warner Bros Television in association with Kilter Films. Jonathan Nolan and Lisa Joy, under Kilter Films, are co-producing the show.
The pair are the creators of Westworld, the wildly popular futuristic sci-fi series that stars Evan Rachel Wood and Thandiwe Newton.
Vincenzo Natali, who has directed movies like Splice, Cube, and a handful of Westworld and Hannibal episodes, is directing The Peripheral's pilot episode.
Sci-fi Movies Moretz Has Starred In
The Peripheral won't be the first science fiction thriller that Moretz has starred in. She also appeared in the 2021 American post-apocalyptic science fiction thriller Mother/Android.
The film is set in the near future and centers around Moretz's character, Georgia Olsen, who is days away from giving birth to her first child with her boyfriend, Sam Hoth (Algee Smith).
Chloë Grace Moretz as Georgia Olsen in the 2021 American post-apocalyptic science fiction thriller film Mother/Android (Credit: Miramax)
The story follows the couple's escape from their country, which has been caught in a shocking war with artificial intelligence. The soon-to-be parents must venture through a stronghold of the android uprising to reach safety before the birth of their child.
Kim Kardashian's archenemy has also starred in several other sci-fi movies, including The 5th Wave and Carrie.
She is voicing shapeshifter Nimona in the upcoming computer-animated science fantasy adventure comedy film Nimona that is scheduled for release in 2023 on Netflix.
Chloe Grace Moretz center parts her hair as she leaves The Bowery Hotel in Soho, New York, for an appearance on "The Late Show with Stephen Colbert" on May 10, 2016 (Credit: WENN)
In May 2016, Chloe Grace Moretz went for vintage and girly as she stepped out of The Bowery Hotel in New York City.
The then-19-year-old actress looked cute in a pink and red Gucci Spring 2016 ensemble, which included a long, high-waisted skirt with floral embroidery and a pink lace-trimmed silk chiffon blouse with long bell sleeves and red bow detail around the neck.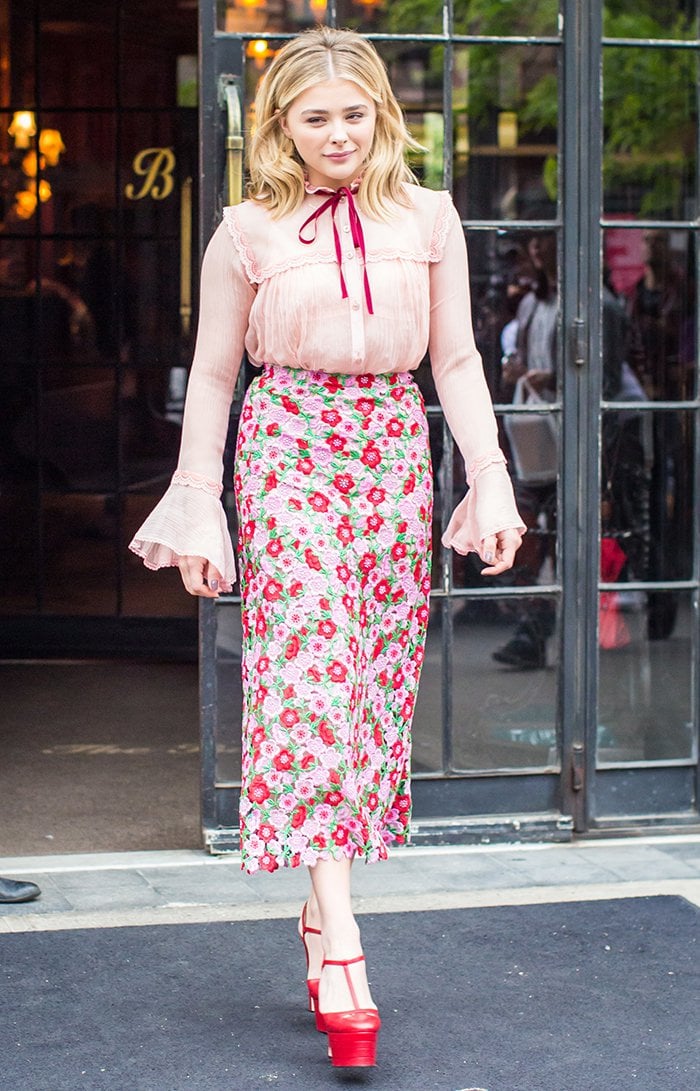 Chloe Grace Moretz wears a pink-and-red floral ensemble from Gucci while out in New York City (Credit: WENN)
It definitely was not her best look, but we love the youthful and girly approach. We rarely see her wearing this type of outfit.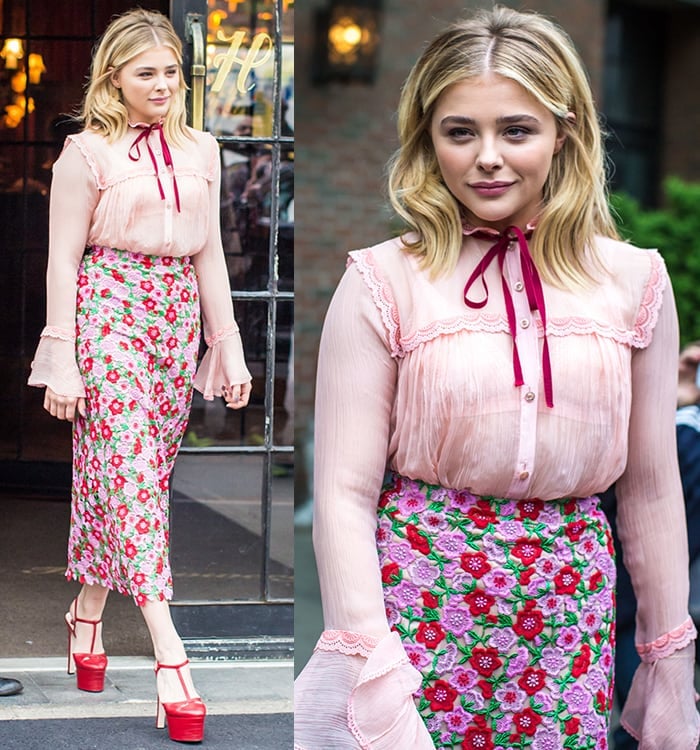 Chloe Grace Moretz goes girly and vintage in a floral ruffled Gucci look (Credit: WENN)
Chloe was on her way to an appearance on "The Late Show with Stephen Colbert," where she promoted the 2016 American comedy film Neighbors 2: Sorority Rising.
While on the show, she also talked about being a feminist and what her ideal scandal would be.
The Diary of a Wimpy Kid star teetered in a towering pair of red pumps and kept her jewelry to a bare minimum to allow her dress to stand out.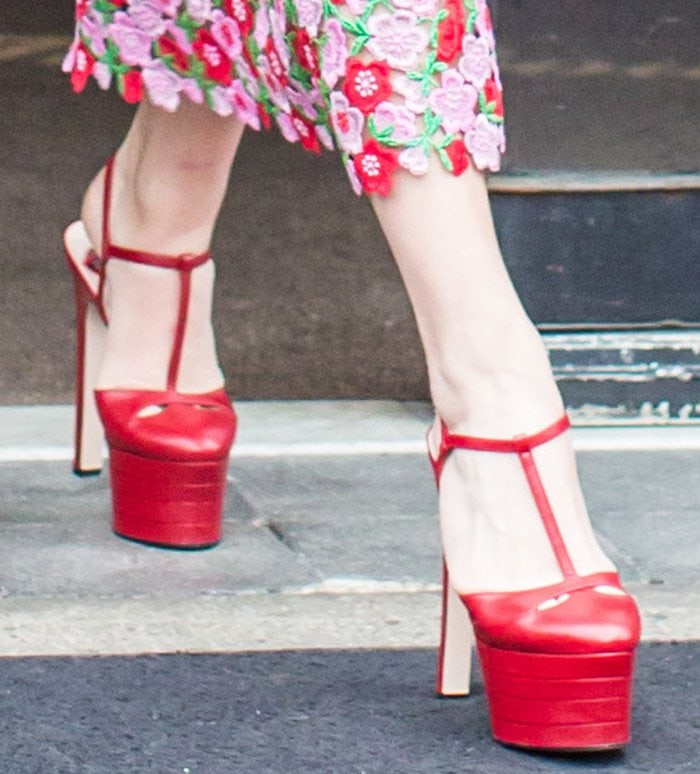 Chloe Grace Moretz's feet in dramatic red Gucci platform pumps (Credit: WENN)
She wore her shoulder-length blonde locks in loose waves and sported soft makeup with pink lipstick. The Big Momma's House 2 actress managed to keep her balance in a pair of sky-high "Angel" heels from Gucci's Spring 2016 collection.
These red leather pumps feature almond cap toes, t-straps, adjustable ankle straps, 2.5-inch stacked platforms, and about six-inch heels.
You can get these pumps in different versions at Net-A-Porter, Farfetch, and Nordstrom.
Gucci Angel Platform Pumps, $990-$1,100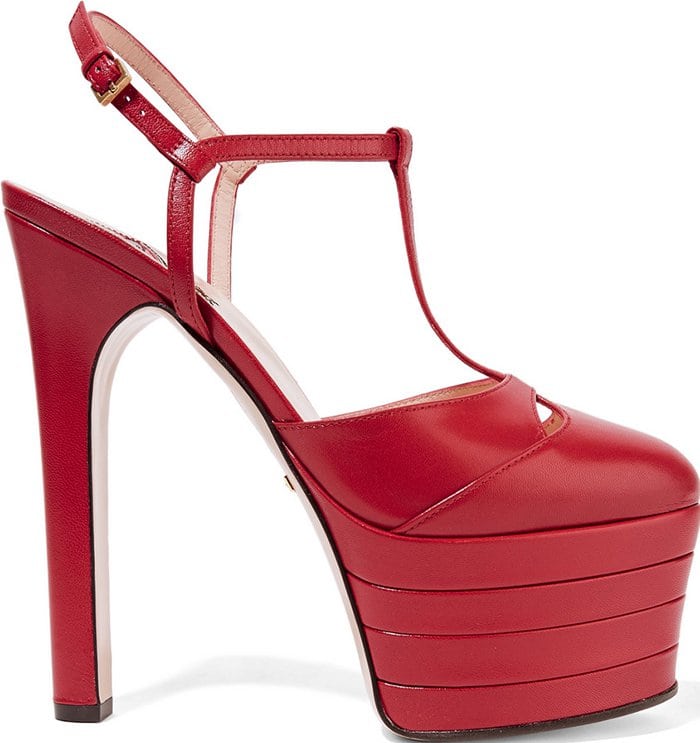 Red leather Gucci Angel platform pumps with round toes, covered heels, and buckle closure at ankles