Plenty of people look forwards to the Oscars each year, though I guarantee one moment from the 94th Academy Awards ceremony has been viewed a far greater number of times, by a far greater number of people than any other moment.
We're referring, of course, to the Chris Rock – Will Smith controversy. What exactly happened and what are people's thoughts a month down the line?
What happened at the Oscars?
In case you somehow managed to miss it, at the 2022 Oscars, as Chris Rock was presenting the award for the Best Original Documentary, he made a joke about Jada Pinkett Smith's hair, as he said, "Jada, can't wait for G.I. Jane 2".
Jada Pinkett Smith got even more attention than she'd hoped for at the 2022 Oscars (Credit: Abby Grant / Cover Images / INSTARimages)
Following the comment, Will Smith, husband to Jada Pinkett Smith, could be seen laughing at the joke, before quickly changing his demeanor having caught a glimpse of his wife's not best impressed reaction.
He proceeded to walk up onto the stage, punch Chris Rock, and then returned to his seat, shouting obscenities.
Despite the interruption, Rock managed to continue his speech, did not respond with violence, but remained professional and swiftly moved on.
Many people have questioned how the prestige and reputation of the Oscars may have forever altered had he responded in a different manner.
Chris Rock in jeans and white sneakers is seen listening to music on April 26, 2022, in New York City (Credit: Roger Wong / InstarImages)
Since the event, plenty of people have been offering their two cents, some defending Smith and some horrified by his actions.
A look behind the joke
Rock's joke compared Jada Pinkett Smith to G.I. Jane, a reference to the 1997 Demi Moore film, which follows the story of the first woman to go through special operations training.
Throughout the film, the woman gains the nickname G.I. Jane due to her buzz cut, a nickname referencing the G.I. Joe military toy.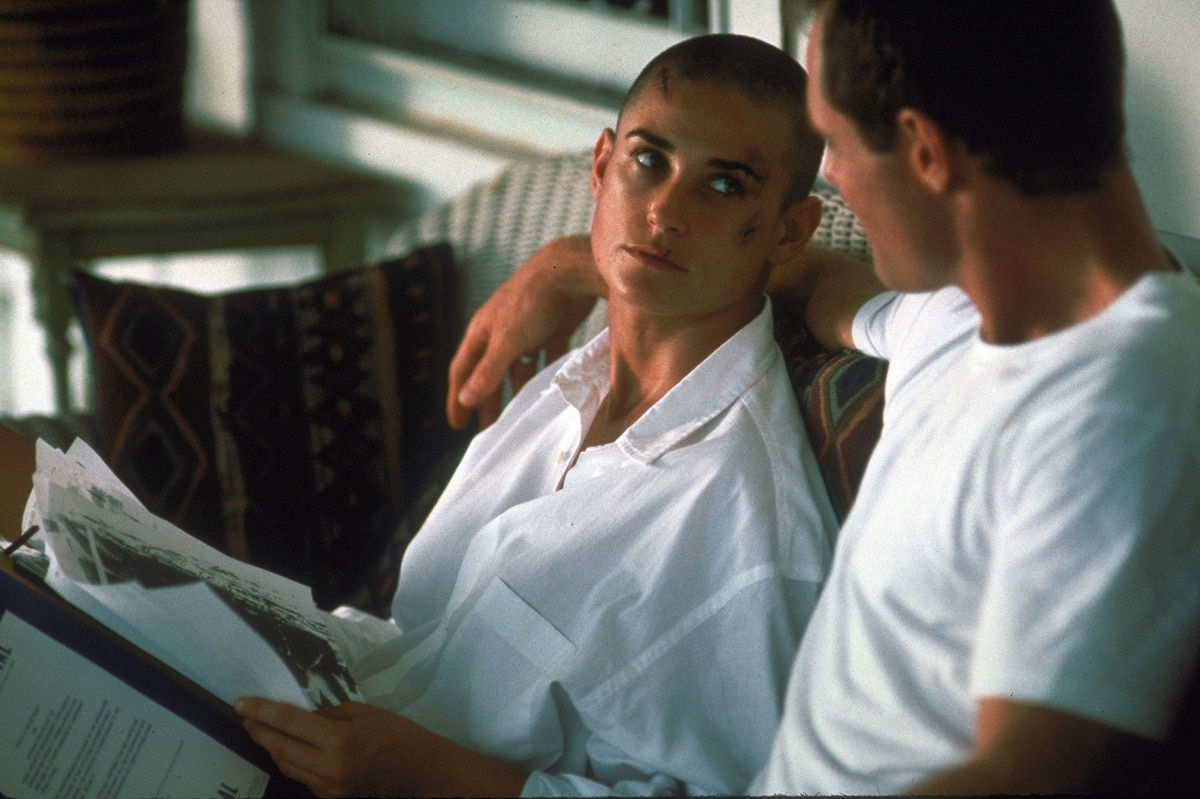 Demi Moore as Lieutenant Jordan O'Neil in the 1997 American war drama film G.I. Jane (Credit: Buena Vista Pictures)
Will Smith's wife, Jada, suffers from alopecia, an illness that affects the hair follicles and can result in loss of hair.
The actress has been open in discussing her struggles with the autoimmune disease online, sharing comments about how "It's not easy to talk about".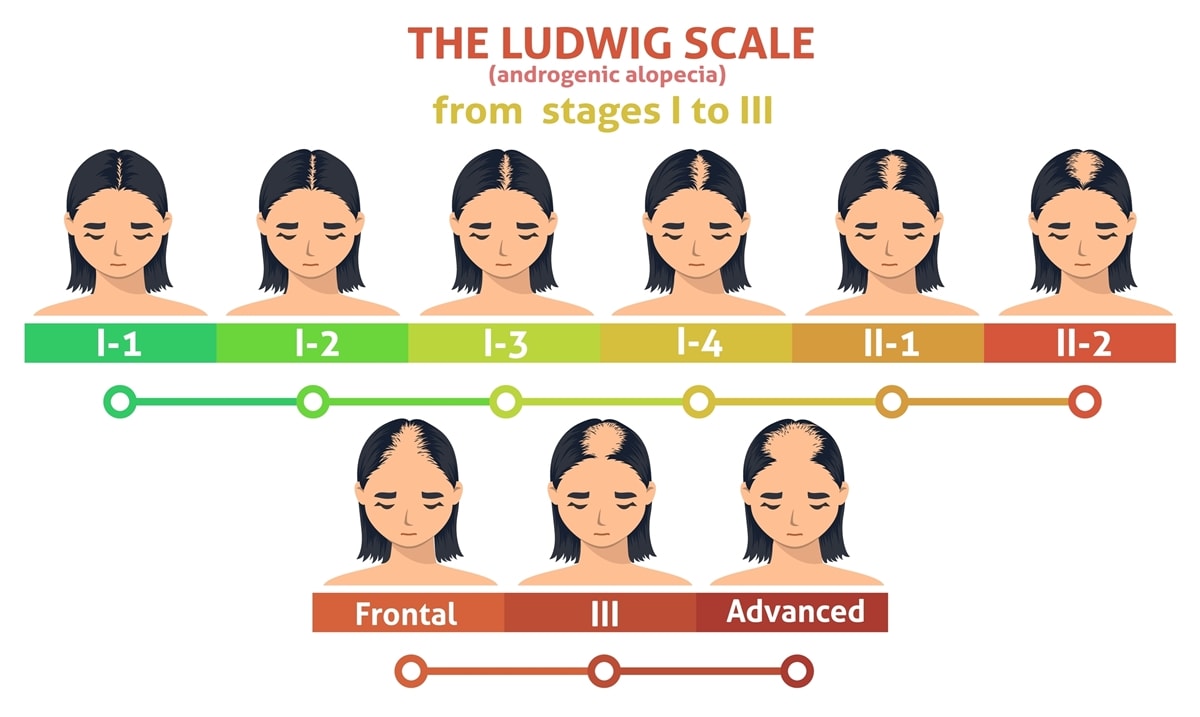 The Ludwig scale is a method of classifying female pattern baldness, also known as androgenic alopecia (Credit: Siberian Art / Shutterstock)
The nature of the joke has led some to brand it insensitive towards Jada, though most continue to criticize Will Smith, in part due to his initial laughter upon hearing the comment.
What has Chris Rocks mom got to say about this?
Now it isn't just the public giving their opinion on the events of that night, with Chris Rock's mother, motivational speaker Rosalie Rock, addressing the incident.
Rose, Chris Rock's mother, explained that she, like many of us, first thought that it was a staged segment until the harsh language followed the hit. She commented, "When he slapped Chris, he slapped all of us. He really slapped me".
Chris Rock's mom Rosalie says Will Smith "slapped all of us" when he punched her son at the Oscars (Credit: Tony DiMaio / Startraksphoto)
She spoke about her pride in how her son handled the conflict, refusing to feed into the drama and let the situation escalate, though did express her regret that no one truly heard nor listened to the speech her son gave.
Regarding the consequences of the event, Smith has been banned from attending any future academy events for a decade.
Smith also gave an apology on social media, posting an apologetic Instagram caption. But what does Chris Rock's mom think of this apology?
Chris Rock was joined by his mother Rosalie and his girlfriend Megalyn Echikunwoke 2016 Vanity Fair Oscar Party (Credit: Joe Seer / Shutterstock)
Rose WIS' Billie Jean Shaw, "I mean his people wrote up a piece saying, 'I apologize to Chris Rock' but you see something like that is personal, you reach out".
It's true that the apology that has been given shows Smith taking accountability, though the world of social media doesn't present a great deal of sincerity.
All in all, the 94th Oscars Academy Awards will certainly be one that is remembered, though perhaps not for the right reasons.
Jada Pinkett Smith with slicked back hair to show off her Borgioni black diamond stud earrings at the 2017 BET Awards held at the Microsoft Theater in Los Angeles on June 25, 2017 (Credit: WENN)
Everybody knows that Jada Pinkett-Smith can stand her ground. While the world tried to take down her marriage with Will Smith, we imagined Jada sipping her coffee while laughing at the headlines.
Jada Pinkett Smith sparkled and flaunted her legs in an Alexandre Vauthier dress (Credit: Nicky Nelson / FayesVision / WENN)
So in June 2017, we weren't surprised to see this fierce woman completely rock it when she opted to wear office-suitable pumps to a red carpet event.
Jada made waves on the red carpet as she arrived looking oh-so-fabulous for the 2017 BET Awards in Los Angeles.
No fear: Jada Pinkett Smith went for the classic office pump — the Christian Louboutin "Pigalle Follies" — on the red carpet (Credit: WENN)
As always, Jada knew her strengths and weaknesses well by highlighting her assets in an Alexandre Vauthier dress.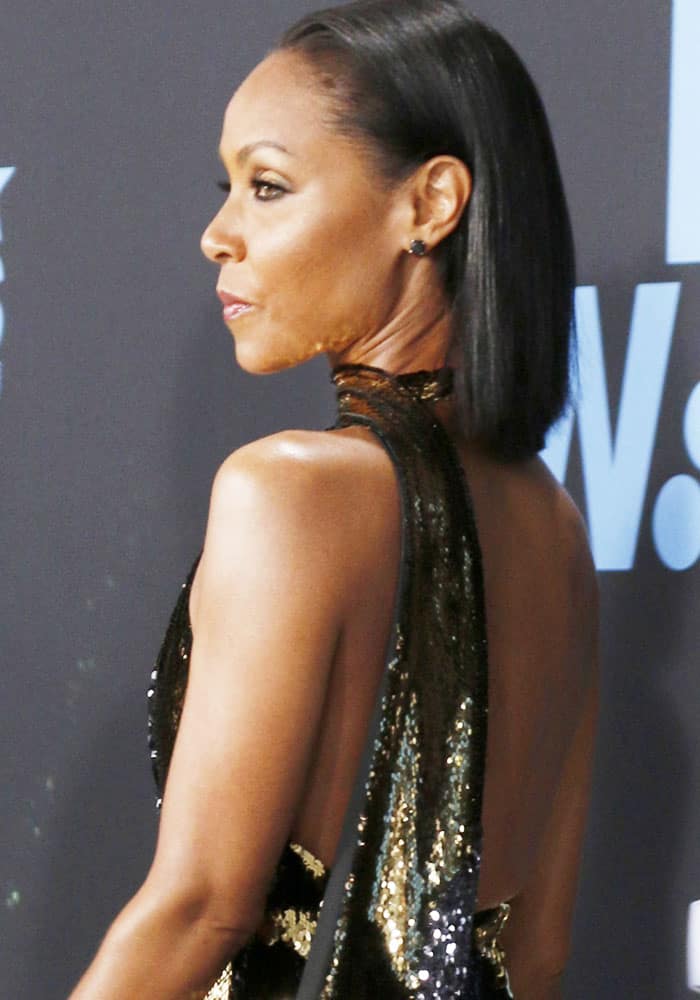 Jada Pinkett Smith shows off her bare back in the sparkly couture number (Credit: WENN)
The dress had more than enough sparkle to bring out Jada's inner glamazon. The thigh-high slit and the plunging neckline brought out the strong personality that we all know her for.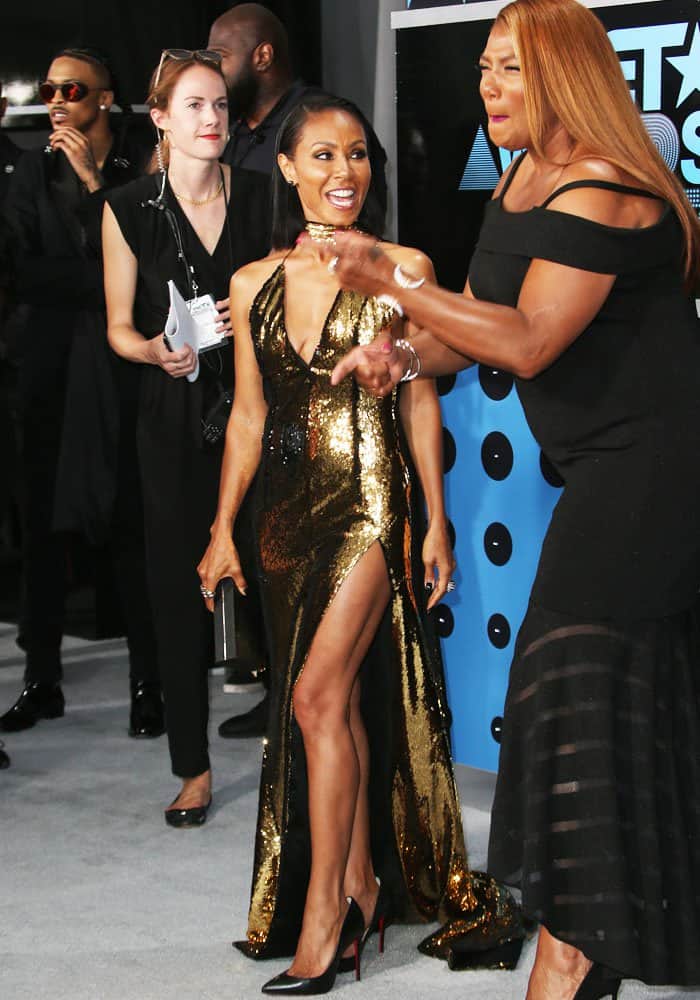 Jada Pinkett Smith has some red carpet laughs with Queen Latifah (Credit: WENN)
The then 45-year-old American actress, dancer, singer-songwriter, and businesswoman finished her sparkling bronzed look with a muted pair of Christian Louboutin "Pigalle Follies" pumps.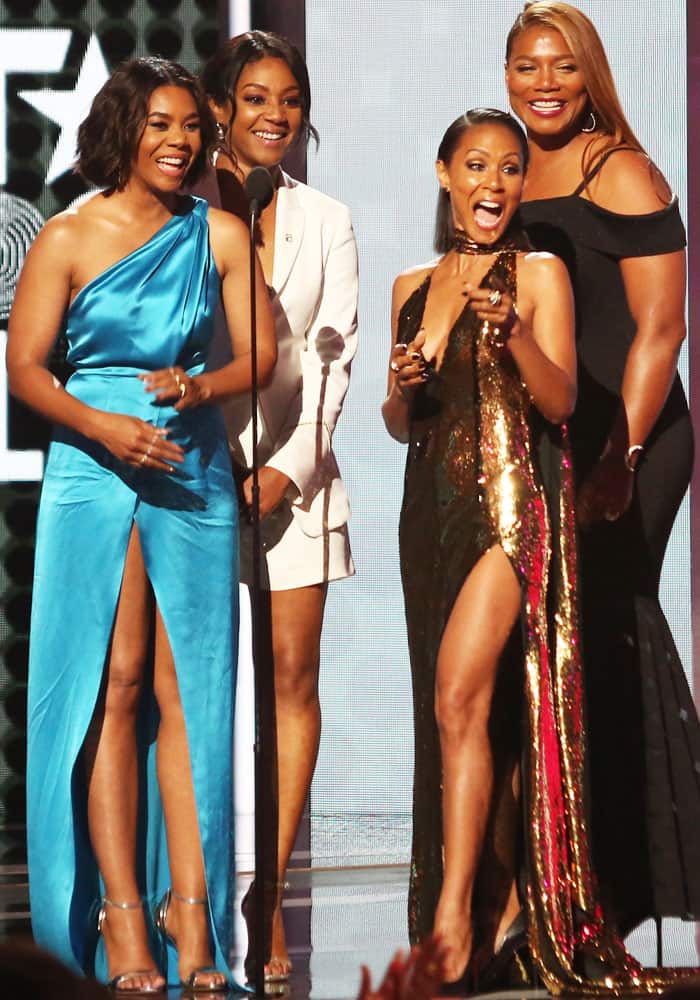 Jada Pinkett Smith is joined onstage by her "Girls Trip" co-stars Regina Hall, Tiffany Haddish, and Queen Latifah (Credit: WENN)
We don't particularly love the combination, but there's something about Jada's confidence that's keeping us from tearing the look apart.
The actress was joined on stage by her "Girls Trip" co-stars, Queen Latifah, Regina Hall, and Tiffany Haddish.
On Twitter, Jada dished out that they "had so much fun making this movie." Only time will tell if it will have as much fun at the box office list, as well.
You can shop for Jada's Christian Louboutin pumps in various renditions at Net-A-Porter, Nordstrom, Ssense, Saks Fifth Avenue, and Mytheresa.
Christian Louboutin "Pigalle Follies" Pumps, $675 – $825