While many shops in Los Angeles have shut down due to coronavirus fears, Charlize Theron went out with her two adopted girls, Jackson, eight, and August, three, on Friday to do some grocery shopping.
The 44-year-old multi-Oscar nominee wore a stretch down jacket from The North Face that you can buy for $114.45 at Zappos, black Nike sneakers, a North Face trucker hat, and matching leggings.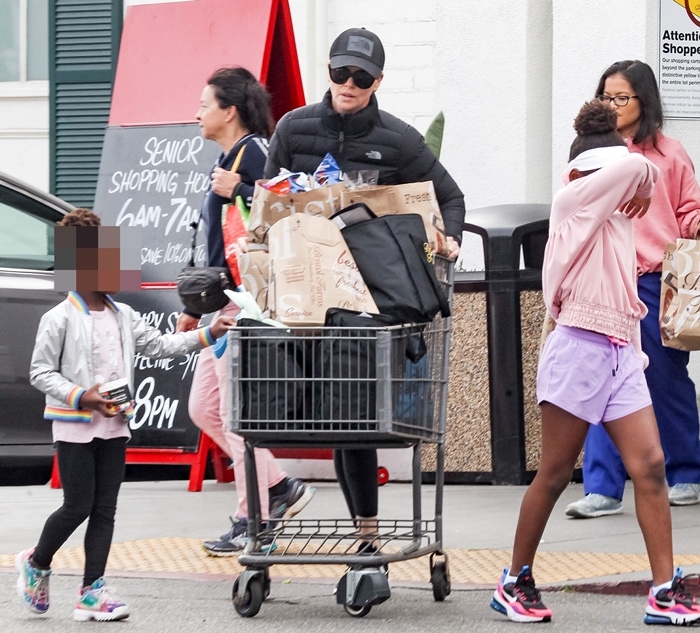 Charlize Theron is seen grocery shopping at Bristol Farms with her black African girls Jackson and August on March 20, 2020, in Los Angeles, California
In April last year, the Bombshell star opened up about raising two adopted black African girls while appearing on an episode of U.K. talk show The Graham Norton Show.
"I have taught them a little Afrikaans, but it's a language filled with very conflicted history," she shared about her mother tongue, a West Germanic language spoken in her home country, Namibia and, to a lesser extent, Botswana and Zimbabwe. Born and raised in South Africa during Apartheid, her dad was shot and killed by her own mother in 1991.
"I am raising two beautiful proud black African girls and I want them to find themselves and not necessarily push my ancestry on them," she revealed, adding that she has "taught them two very sweet Afrikaans songs about politeness."
Charlize Theron wears a black stretch down jacket from The North Face
She is the mother of August Theron, who was adopted in July 2015, and Jackson, who was adopted in March 2012. The wealthy Academy Award-winning actress claims her child Jackson, was born a male but confessed to her in 2015 that she was actually a girl.
"Yes, I thought she was a boy, too," the Atomic Blonde star admitted to The Daily Mail.
"Until she looked at me when she was three years old and said, 'I am not a boy!'
"So there you go. I have two beautiful daughters who, just like any parent, I want to protect and I want to see thrive.
"They were born who they are and exactly where in the world both of them get to find themselves as they grow up, and who they want to be, is not for me to decide."
"My job as a parent is to celebrate them and to love them and to make sure that they have everything they need in order to be what they want to be, and I will do everything in my power for my kids to have that right and to be protected within that."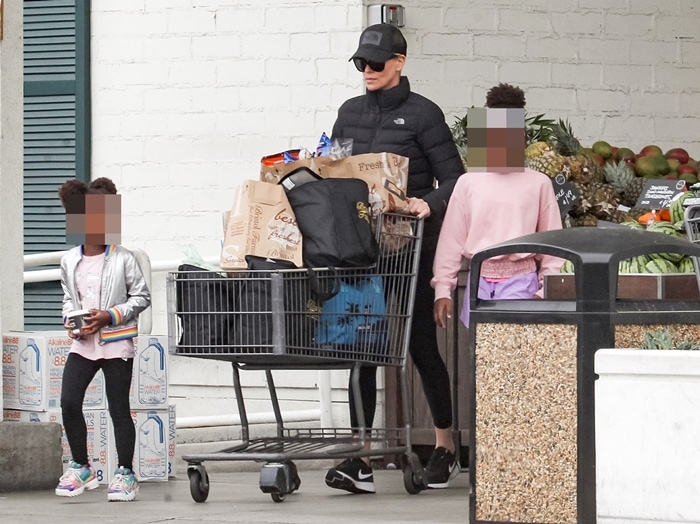 Charlize Theron is "raising two proud black African girls," though one of them was born as a boy
Credit: Instar / WENN