We may be lacking in the curvy department but it doesn't mean we can't wear denim tops and look sexy like Kim Kardashian.
The new mom once again garnered the allure of the press when she was spotted in Saint Germain during Paris Fashion week wearing a button-down denim shirt with her best assets on display.
But don't trash your denim tops in frustration just yet. We found 3 easy ways to wear your denim top, using basic pieces from your own wardrobe. And we promise you'll look just as fabulous as the ShoeDazzle founder.
1. Light Denim Top + Grey Cardi = Preppy Dream
If your denim top features a light-colored wash, pair it up with a light-colored cardigan like grey or pastels to gain a preppy look. Lace-up ankle boots make it very utilitarian while silver bangle balances it out with simple daintiness.
Top: AG Adriano Goldschmied Lightweight Denim Shirt, $168, Jacket: AG Adriano Goldschmied Zip-Front Jacket, $185, Pants: R13 Boy Skinny Jeans, $325, Shoes: Rag & Bone Miles Lace Up Booties, $550, Bracelet: Pamela Love Aeternum Cuff Bracelet, $207
2. Tough Denim Top + Pointy Toe Bootie = Chic Cowgirl
If you have one of those very dark denim tops with bronze or antique-finish buttons, wearing it with skinny jeans and a sleek, pointy-toed bootie will immediately modernize your look.
You can wear it closed or open over a plain white tee. A long, silver necklace with a nice distinguishable pendant will finish it off perfectly.
Top: Current/Elliott The Perfect Shirt, $198, Pants: Current/Elliot The Slouchy Stiletto Jeans, $218, Shirt: Daftbird Deep V Neck Tee, $55, Boots: Belle by Sigerson Morrison Kyeran Short Western Booties, 350, Necklace: Vanessa Mooney Down The Road, $66
3. Solid Blue Denim Top + Scarf = Casual Hipster
If you happen to have the same solid blue denim top like Kim K's then, by all means, avoid doing a copycat (save the pink overcoat for another day) and instead go for a tasseled infinity scarf for a fashionable everyday look. Tasseled booties with chunky heels are also a nice touch.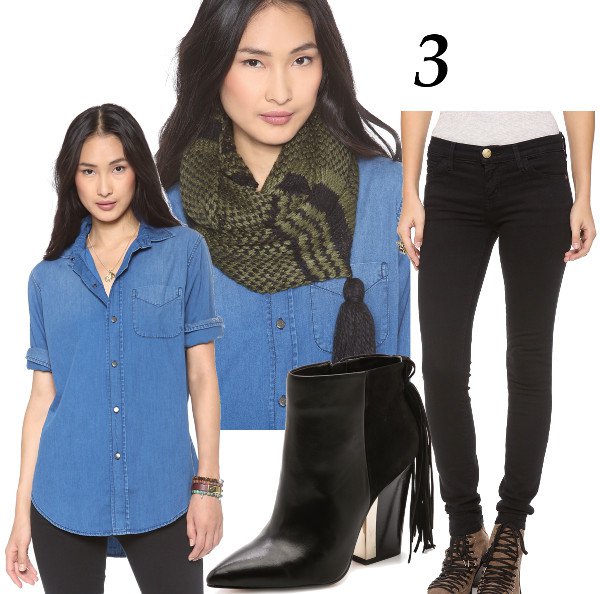 Top: Current/Elliott The Prep School Shirt, $198, Scarf: Paulo Bianco Striped Tassel Scarf, $85, Pants: Current/Elliott The Ankle Skinny Twill Pants, $178, Shoes: Sam Edelman Mariel Heel Fringe Booties, $225