Denise Richards made a radiant appearance at the 30th Anniversary of Race to Erase MS Gala in Los Angeles, accompanied by her husband, Aaron Phypers.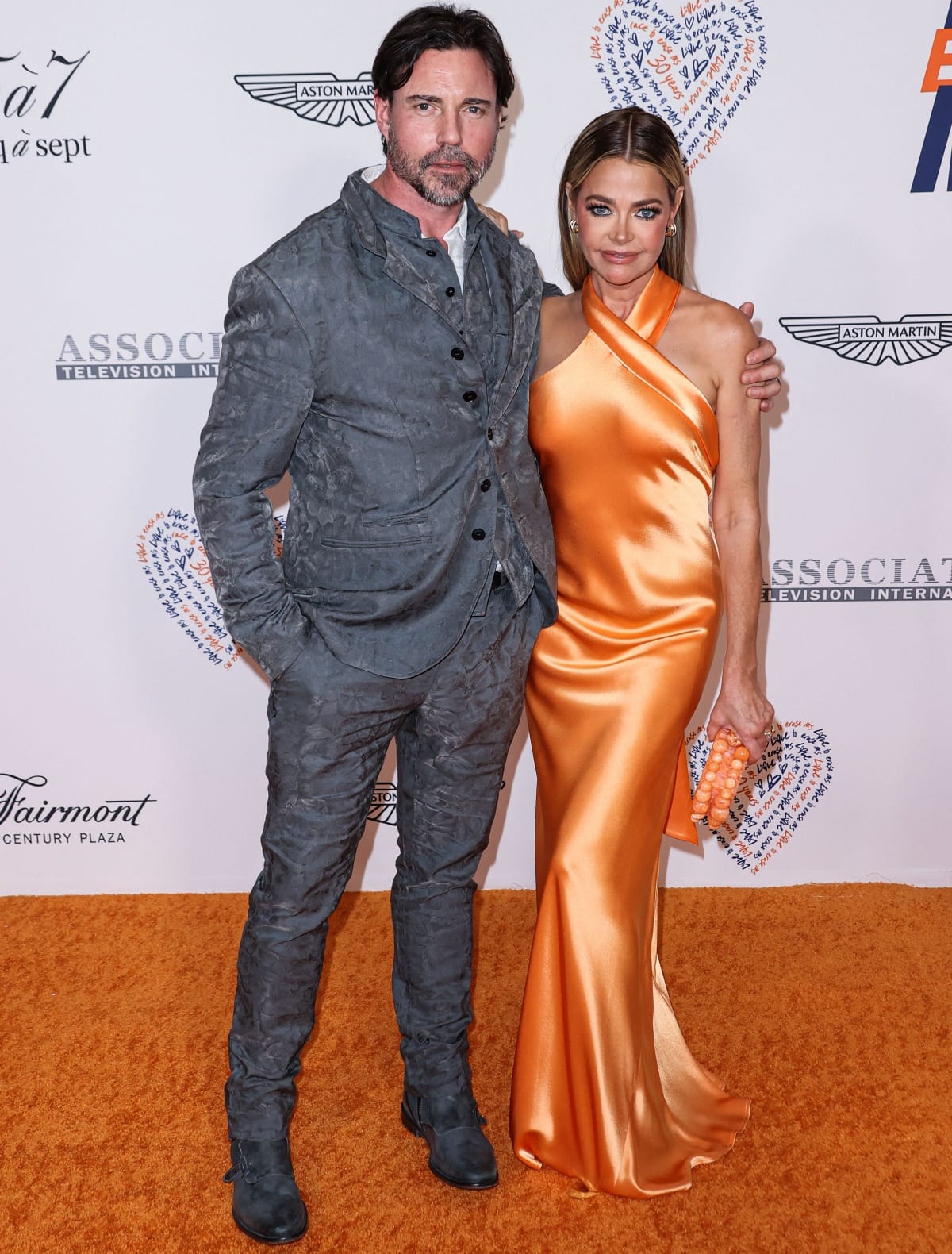 Aaron Phypers and Denise Richards attend the 30th Annual Race to Erase MS Gala held at the Fairmont Century Plaza in Los Angeles, California on June 2, 2023 (Credit: Abaca Press / INSTARimages)
The 52-year-old star's vibrant and youthful aura was accentuated by her attire – a stunning sleeveless bright orange silk gown, symbolizing the color associated with MS awareness.
Her Galvan Pandora satin gown effortlessly showcased Denise's toned frame, with its halter-style neckline adorned with a graceful bow that cascaded down her back.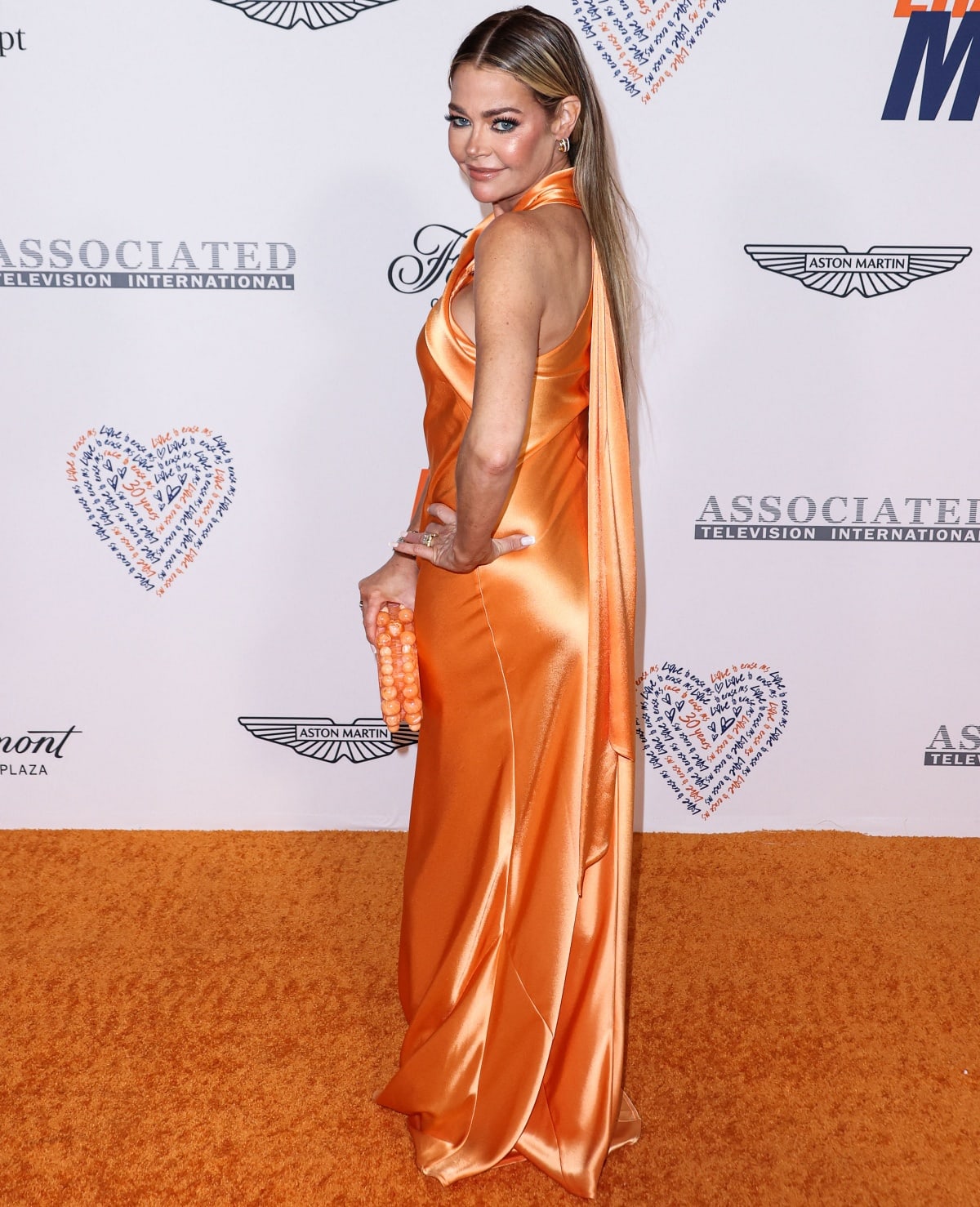 Denise Richards brightened up the event in a Galvan Pandora orange satin gown with a bow detail on the back (Credit: Abaca Press / INSTARimages)
The gown's sleek flowing skirt elegantly swept the floor as she graced the orange carpet, exuding an air of sophistication.
To complement her monochrome look, Denise carried a vibrant orange Cult Gaia Eos clutch with a bubbly textural finish crafted from mesmerizing crystal material.
Her ensemble was further elevated by a dazzling array of gold and diamond-encrusted jewelry, including sparkling hoop earrings and a bangle bracelet.
Denise's luscious locks cascaded down the middle, flowing straight down her back, gracefully framing her face. Her makeup featured a youthful peach-toned glow, adding to her natural radiance.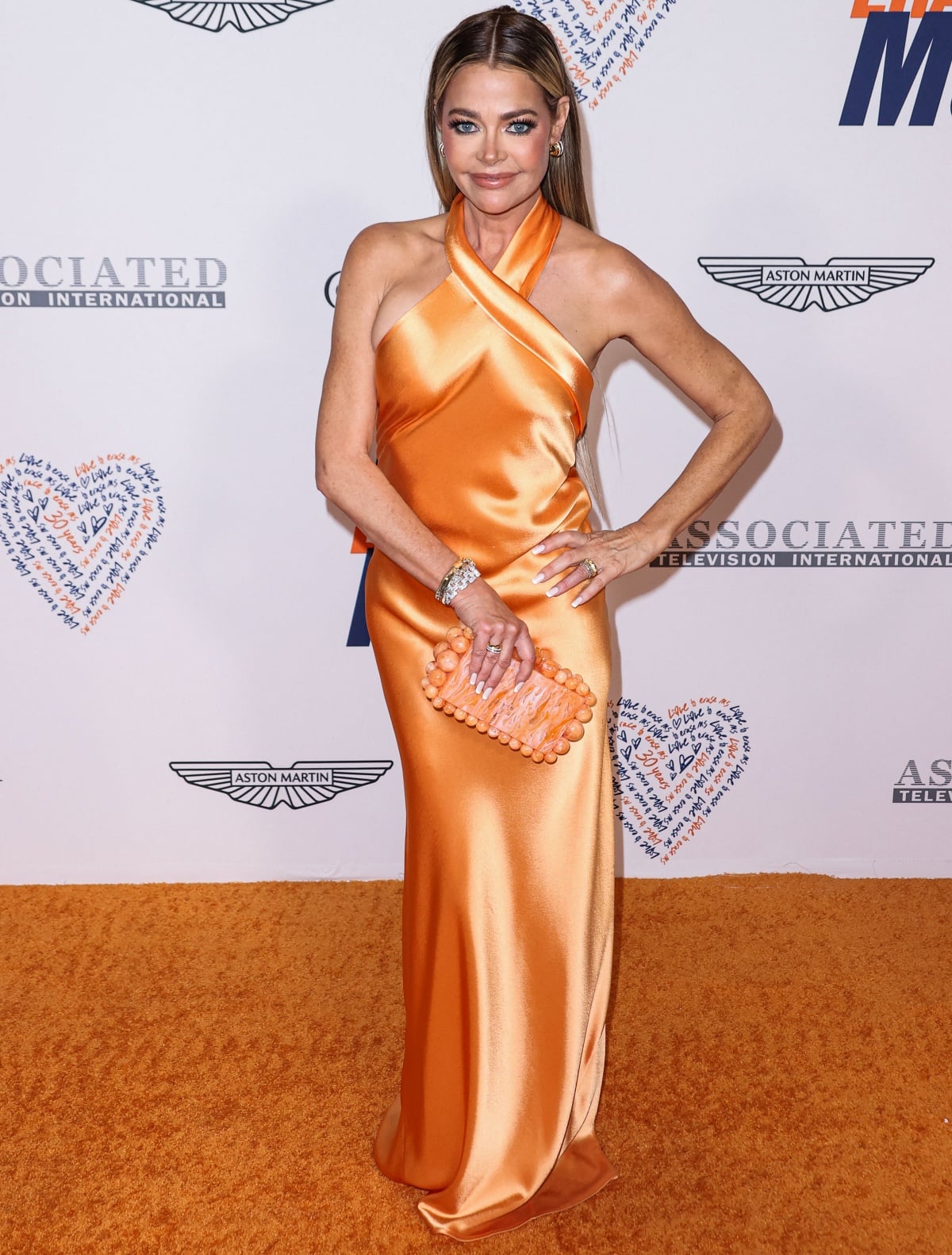 Denise Richards carrying a matching orange Cult Gaia Eos clutch to complement her outfit (Credit: Abaca Press / INSTARimages)
While her footwear remained hidden beneath the gown's sweeping hem, it's safe to assume that Denise opted for chic high-heel sandals to complete her elegant ensemble.
Meanwhile, her 50-year-old husband, Aaron Phypers, whom she married in 2018, looked dapper in a patterned grey suit paired with a crisp white shirt and boots, perfectly complementing Denise's vibrant appearance.
The Real Housewives of Beverly Hills star's stunning beauty did not go unnoticed, as her makeup artist Juliana Deneau shared a photo on Instagram with the caption: "Absolutely no filter. No touchups. Nothing. Denise Richards, you are so damn stunning."
View this post on Instagram
Meanwhile, Denise took to her Instagram account, sharing a picture of herself in the mesmerizing Galvan gown. Her caption expressed her glamorous sentiment, thanking her makeup artist, Juliana Deneau, and hairstylist, Laura Rugetti, for their exceptional work.
She also thanked her loving husband for being right by her side throughout the evening.
Beyond her remarkable appearance at the gala, Denise has much to celebrate. She has embarked on a new journey in the entertainment industry since she departed from The Real Housewives of Beverly Hills in 2020.
She is now part of a thrilling action drama series called Paper Empire, and she recently celebrated the series premiere at Cannes alongside her co-stars.
During the event, Denise showcased her impeccable fashion sense once again.
She captivated onlookers in a breathtaking black gown by Italian fashion designer Emilio Pucci featuring a daring thigh-high slit connected with chains through gold grommets, adding edginess to her ensemble.
View this post on Instagram
To maintain the spotlight on the mesmerizing dress, Denise opted for a minimalistic approach to her overall fashion ensemble.
She elegantly styled her long blonde locks in sleek, straight tresses, effortlessly sweeping her front hair back. She embraced her signature style for her makeup, choosing a timeless combination of dark eyeliner and subtle nude lipstick.
Joining Denise at the Cannes event was her loving husband, Aaron Phypers.
She took to Instagram to express her gratitude for the enchanting evening, exclaiming, "So blessed for such a beautiful evening celebrating the premiere of #PaperEmpire on the water in Cannes," and credited her glam team for their outstanding work.