Diagnosed with obsessive-compulsive disorder as a child, Lena Dunham continued to take a low dose of Klonopin (clonazepam) until 2018. It is a drug prescribed by doctors to treat seizures and panic attacks.
Did Lena Dunham have a hysterectomy?
Yes, she underwent a hysterectomy in 2018 to treat crippling pain from endometriosis.
According to Mayo Clinic, it is "an often painful disorder in which tissue similar to the tissue that normally lines the inside of your uterus — the endometrium — grows outside your uterus."
Persistent endometriosis and intolerable pain led Lena Dunham to have a hysterectomy
In an essay published in Vogue in February 2018, she detailed her decision to have the uterus-removing surgery after a decade-long battle with endometriosis.
"But I know something else, too, and I know it as intensely as I know I want a baby: that something is wrong with my uterus. I can feel it, deeply specific yet unverified, despite so many tests and so much medical dialogue. I just sense that the uterus I have been given is defective," Lena wrote in her essay about wanting to have children.
Does Lena Dunham have Ehlers Danlos?
Yes, she revealed on Instagram in November 2019 that she has Ehlers-Danlos syndrome, a rare chronic disease that affects the skin, joints, and blood vessel walls. The popular entertainer shared details about her illness after she was photographed using a cane to help her to her ride.
Lena Dunham took to Instagram to tell the world she's dealing with Ehlers-Danlos syndrome
"I could choose to be embarrassed by these paparazzi pics- I mean, that's probably the point of someone publishing them in the first place- but I'm really not. I could lie and say it was an early Halloween look (Don't you get it? I'm going as a con woman leaving a Florida Keys jail after being acquitted of murdering her husband, and now she's trying to get disability license plates.)," Lena wrote on her Instagram account.
She continued, "But the truth is just: This is what life is like when I'm struggling most with chronic illness. An Ehler-Danlos syndrome flare means that I need support from more than just my friends… so thank you, sweet cane! For years, I resisted doing anything that would make my physical situation easier, insisting that a cane would "make things weird." But it's so much less weird to actually be able to participate than to stay in bed all day. And yes, you'd better believe I'm wearing my nightgown. I was walking four feet to the car to go to the doctor and I wanted to be full cozy. I mean, didn't Bieber wear hotel slippers for like five years? Yeah, so I can wear my glamour nighty for two hours. And then an hour later, I'm in a meeting look tackling the job I love. That's the two-fold life of a woman with chronic illness; we still rock our dreams and goals and passions (and fashions) and we live many lives in one day. Tell me about your day!"
In December 2015, Lena Dunham kicked off the Women in Entertainment Breakfast hosted by The Hollywood Reporter at Milk Studios in West Hollywood.
"Some girls who grew up in the '90s dreamt of a luxury cruise with N'Sync, but my fantasy has always been a room full of Hollywood power bitches enjoying breakfast foods," she said as she took to the podium.
Lena Dunham shows off her trademark short hair at the 24th annual Women in Entertainment Breakfast hosted by The Hollywood Reporter at Milk Studios in Los Angeles on December 9, 2015
The then 29-year-old actress, who made THR's Power 100 list for the second consecutive year, showcased her usual playful and unique style for the event.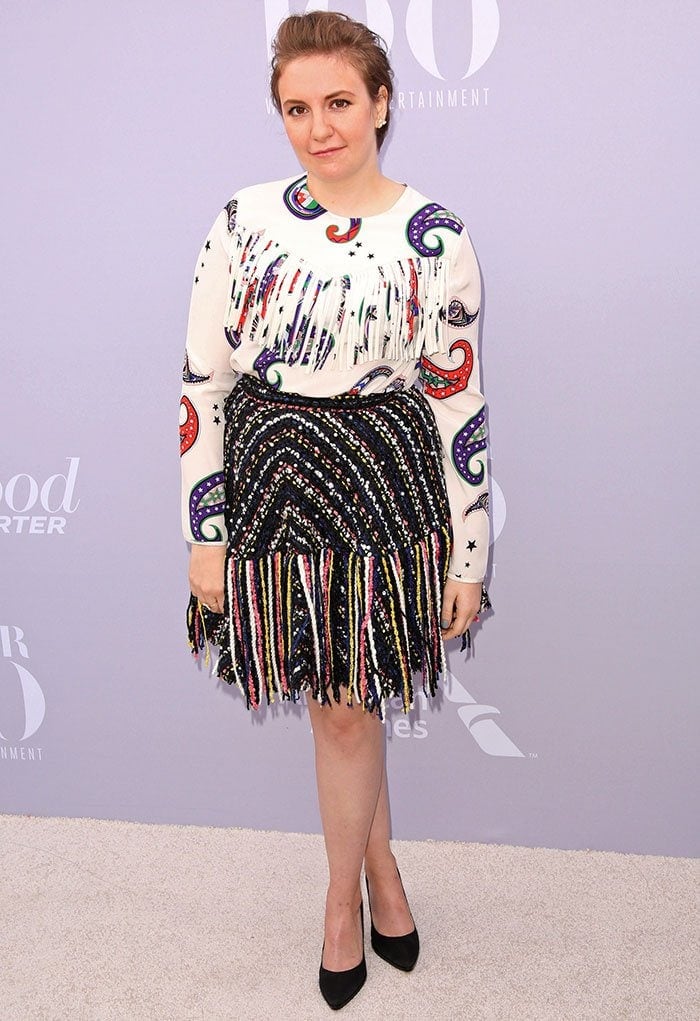 Lena Dunham wears a paisley-printed blouse and a fringe A-line skirt
She teamed a paisley-printed blouse with tassel detailing with a knitted fringe A-line skirt, both from Italian brand MSGM. The eclectic mix might not appeal to many, but the quirkiness works for her and her personality.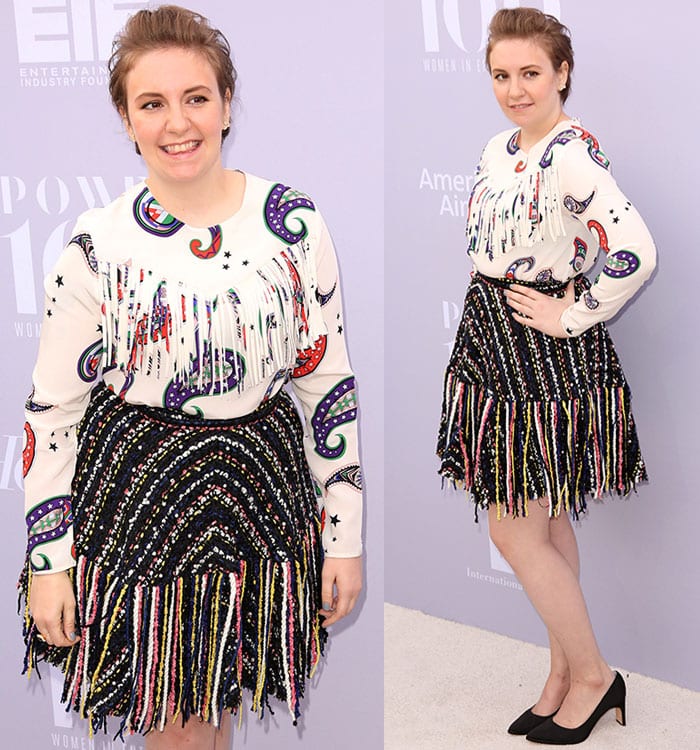 Lena Dunham shows off her quirky sense of style at the Women in Entertainment Breakfast
Lena kept her accessories to a minimum — with only a ring and a pair of Irene Neuwirth earrings — in order to let the outfit do the talking. Lena added a bit of edge to the look by sweeping her hair back and wearing shimmering eye shadow and nude lipstick.
Lena wears a colorful outfit at the Women in Entertainment Breakfast
Many were disappointed by her choice of shoes, but we actually find them perfect since her outfit was already so busy.
She picked Matt Bernson's "Royale" pumps, which feature three-inch heels and pointed toes.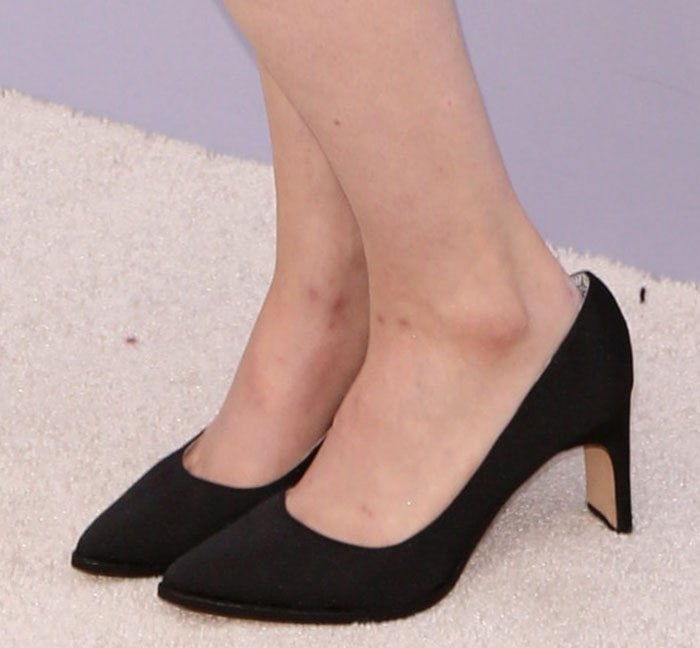 Lena Dunham's feet in Matt Bernson shoes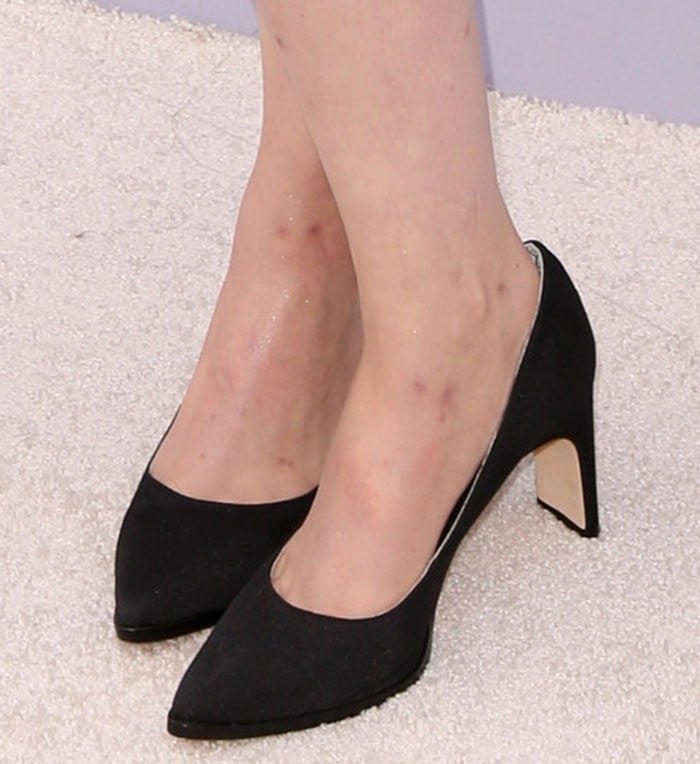 Lena Dunham's feet in "Royale" heels
You can get these Matt Bernson pumps in different color versions at Amazon.
Matt Bernson Royale Pumps, $114.50 – $229.00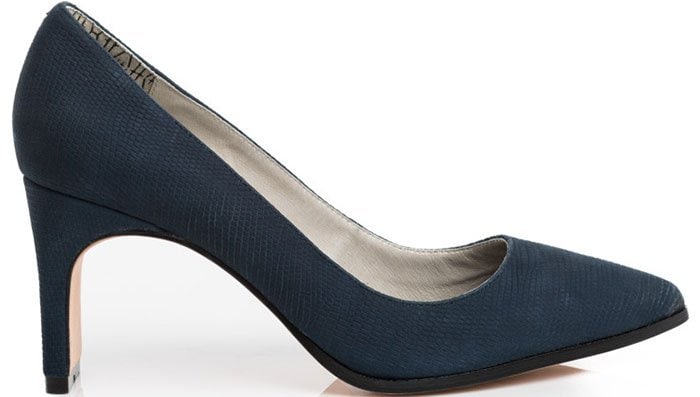 Credit: Brian To / WENN / Instar