Gabrielle Union is lending her voice to Strange World, a computer-animated sci-fi action-adventure film by Walt Disney that was released in time for the holiday weekend.
The Disney Animation feature chronicles the legendary family of explorers, the Clades. Union is voicing Meridian Clade, an accomplished pilot and the matriarch of the family. She's the wife of Searcher Clade (voiced by Jake Gyllenhaal) and the mom of Ethan (voiced by Jaboukie Young-White).
Strange World is Disney's latest computer-animated sci-fi action-adventure film (Credit: Walt Disney Studios
Motion Pictures)
On Thursday, the cast of Strange World gathered at the Cineworld in Leicester Square to attend the London premiere of their new animated movie.
All eyes were on the 10 Things I Hate About You actress, who showed up in a black-and-white dress with a unique braided updo.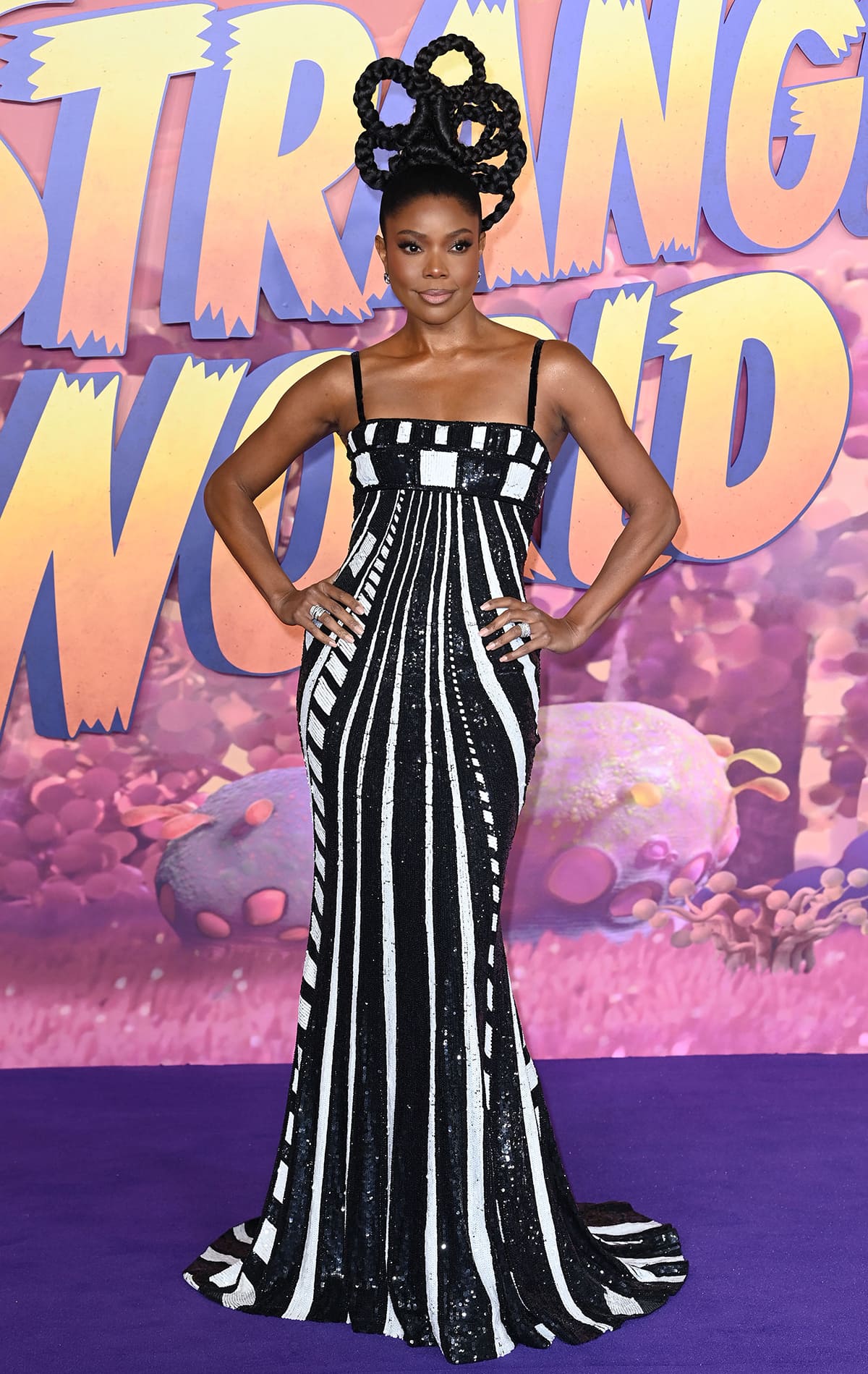 Gabrielle Union at the London premiere of Strange World held at the Cineworld in Leicester Square on November 17, 2022 (Credit: Doug Peters / PA Images / INSTARimages / Cover Images)
Union looked sensational in the archival sparkling gown from Elie Saab's 2008 collection. Held up by spaghetti straps, the body-skimming dress featured striped sequins, a square neckline, a ruffled hem, and a short train that trailed behind her as she walked down the purple carpet.
Putting emphasis on her look, the Bring It On star kept her accessories simple with just a pair of blue diamond studs and a couple of chunky diamond bands curated by stylist Thomas Christos.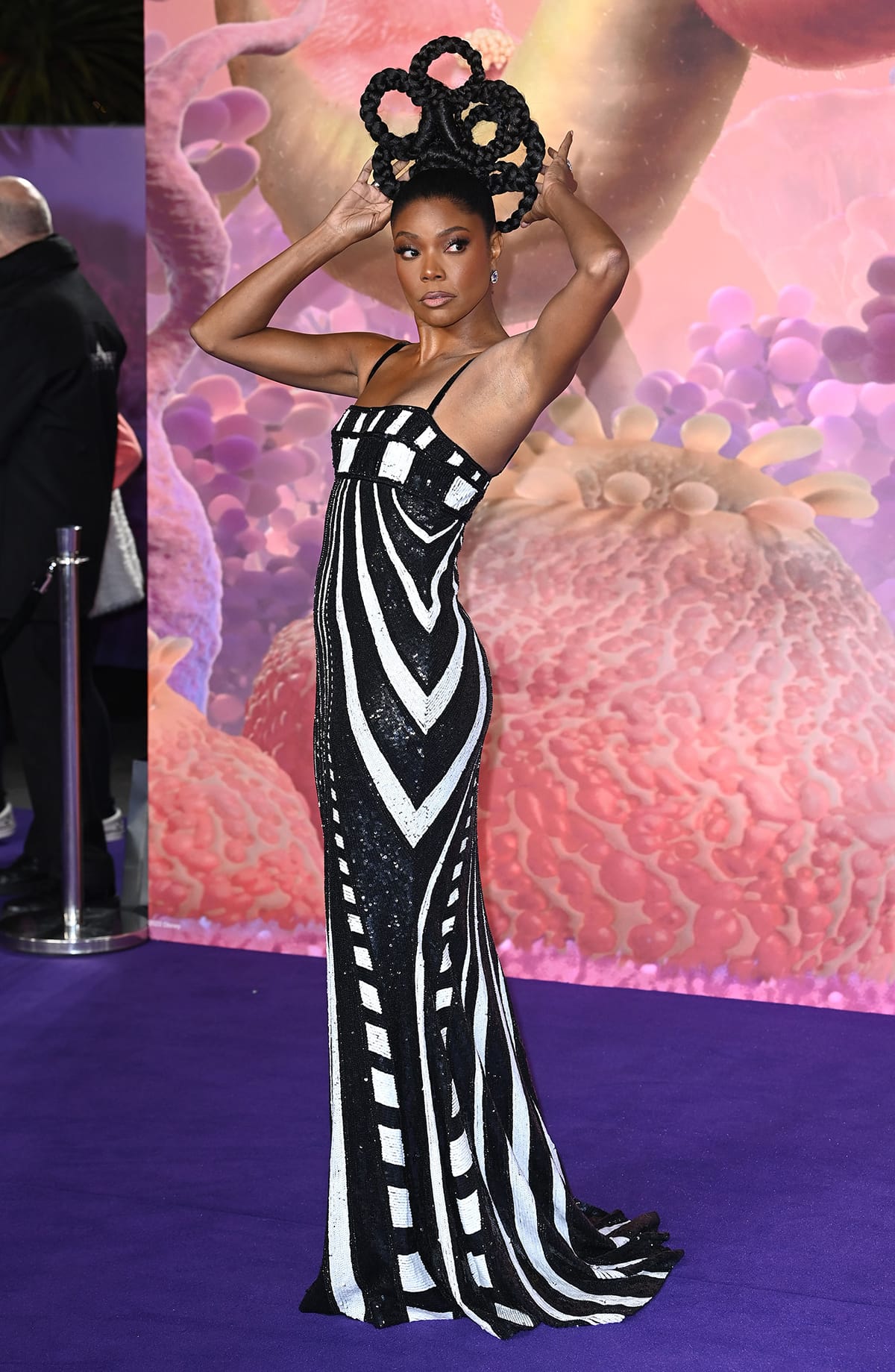 Gabrielle Union commands attention in an archival black-and-white sequin gown by Elie Saab (Credit: Doug Peters / PA Images / INSTARimages / Cover Images)
While her gown was already striking enough, the focal point of her look was clearly her braided hairstyle, created by Tyeesha. It was hard to ignore, given the large circular designs reminiscent of a flower headdress.
Gabrielle paired her quirky hair with soft, warm-toned makeup to balance out the look. Makeup artist Esther Edeme applied Pat McGrath's Mothership V and VII eyeshadow palettes to create a rosy bronzed look with Patrick Ta blush, Doll Beauty Dolled Out lipstick, Melanie Mills Hollywood bronzed glow, and Doll Beauty lashes.
Gabrielle Union makes a statement with a unique flower braid updo (Credit: Ian West / PA Images / INSTARimages / Cover Images)
Gabrielle Union's on-screen partner Jake Gyllenhaal, on the other hand, opted for a color-blocked look with an oversized navy trench coat with black satin lapels, an orange-and-brown sweatshirt, and black pants.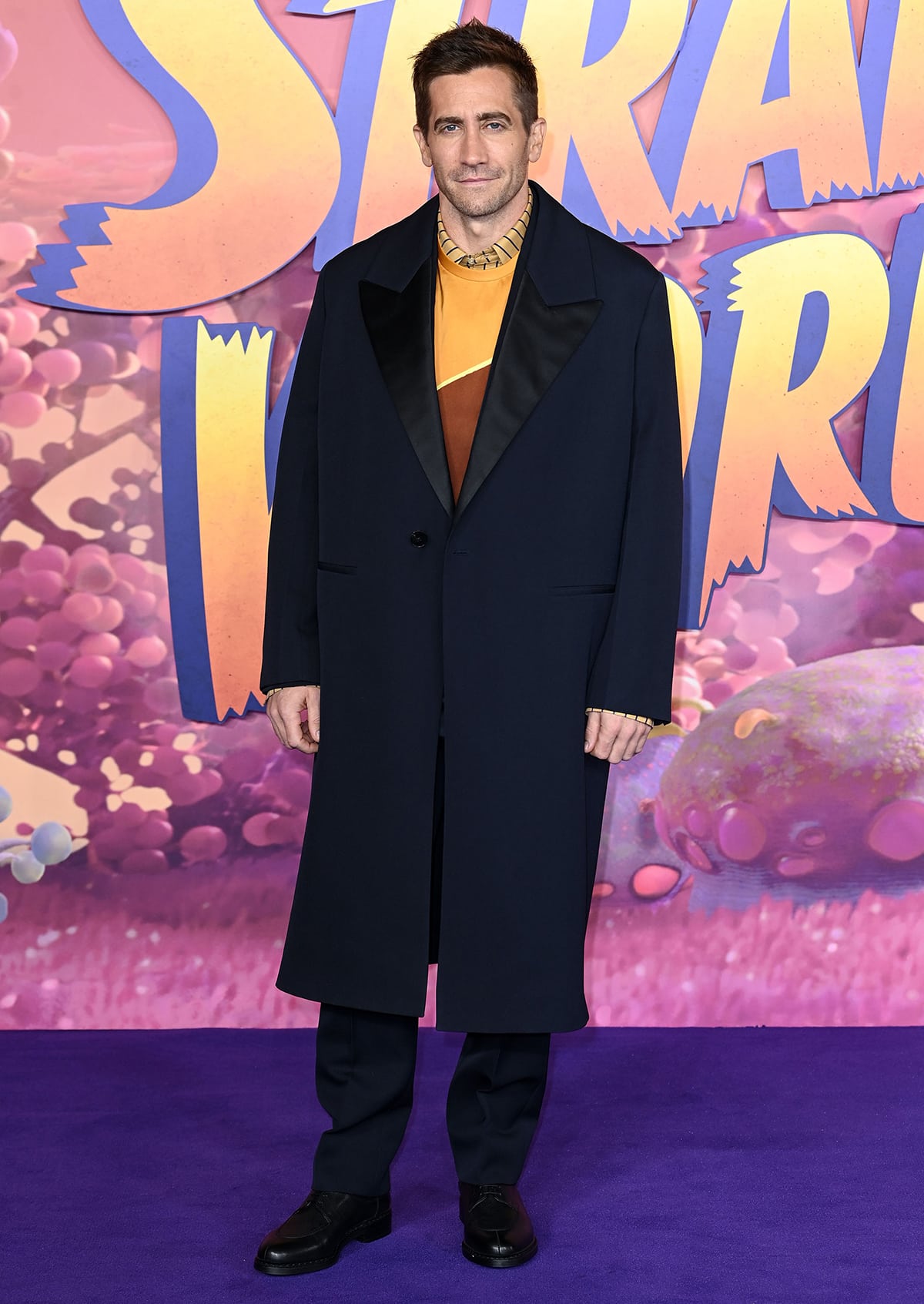 Jake Gyllenhaal looks handsome in an oversized navy coat and color-blocked sweater (Credit: Doug Peters / PA Images / INSTARimages / Cover Images)
Jaboukie Young-White, who voices their gay son Ethan in the film, was also present at the premiere. The 28-year-old actor wore a rainbow tweed suit, composed of a blazer and matching flared trousers.
He wore a black shirt underneath and rounded out his look with black platform heels.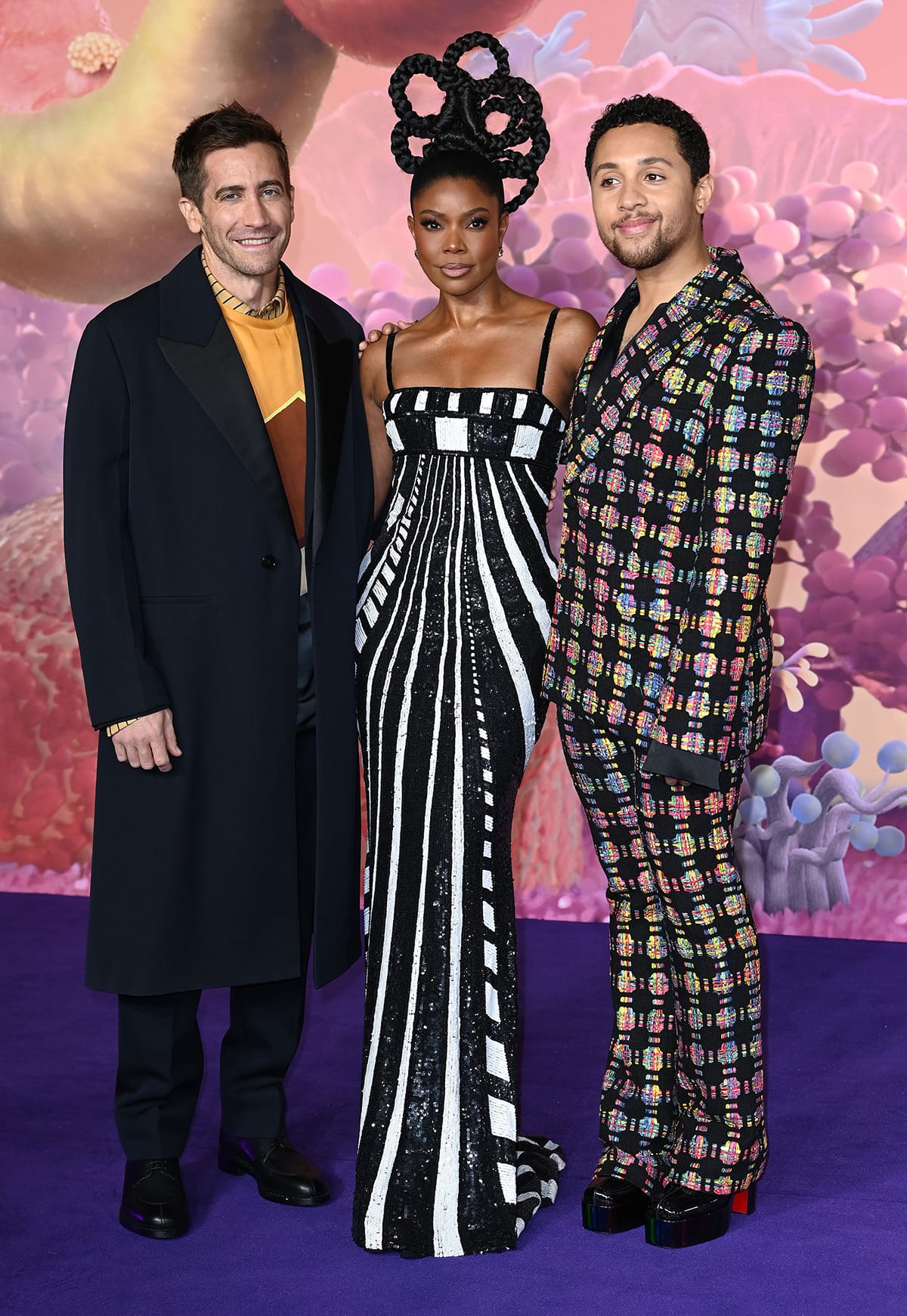 Jaboukie Young-White poses with Jake Gyllenhaal and Gabrielle Union in a rainbow tweed suit and platform heels (Credit: Doug Peters / PA Images / INSTARimages / Cover Images)
On Monday morning, the former America's Got Talent judge visited Good Morning America to talk about Strange World.
Arriving at the studios, the 50-year-old actress looked half her age in a swing dress from Loewe's Resort 2023 collection.
The midi-length frock featured diagonal stripes in orange, white, and blue. It also had a cleavage-baring plunging neckline, halter straps, and a 3D elevated hemline that resembled large bubbles or basketballs.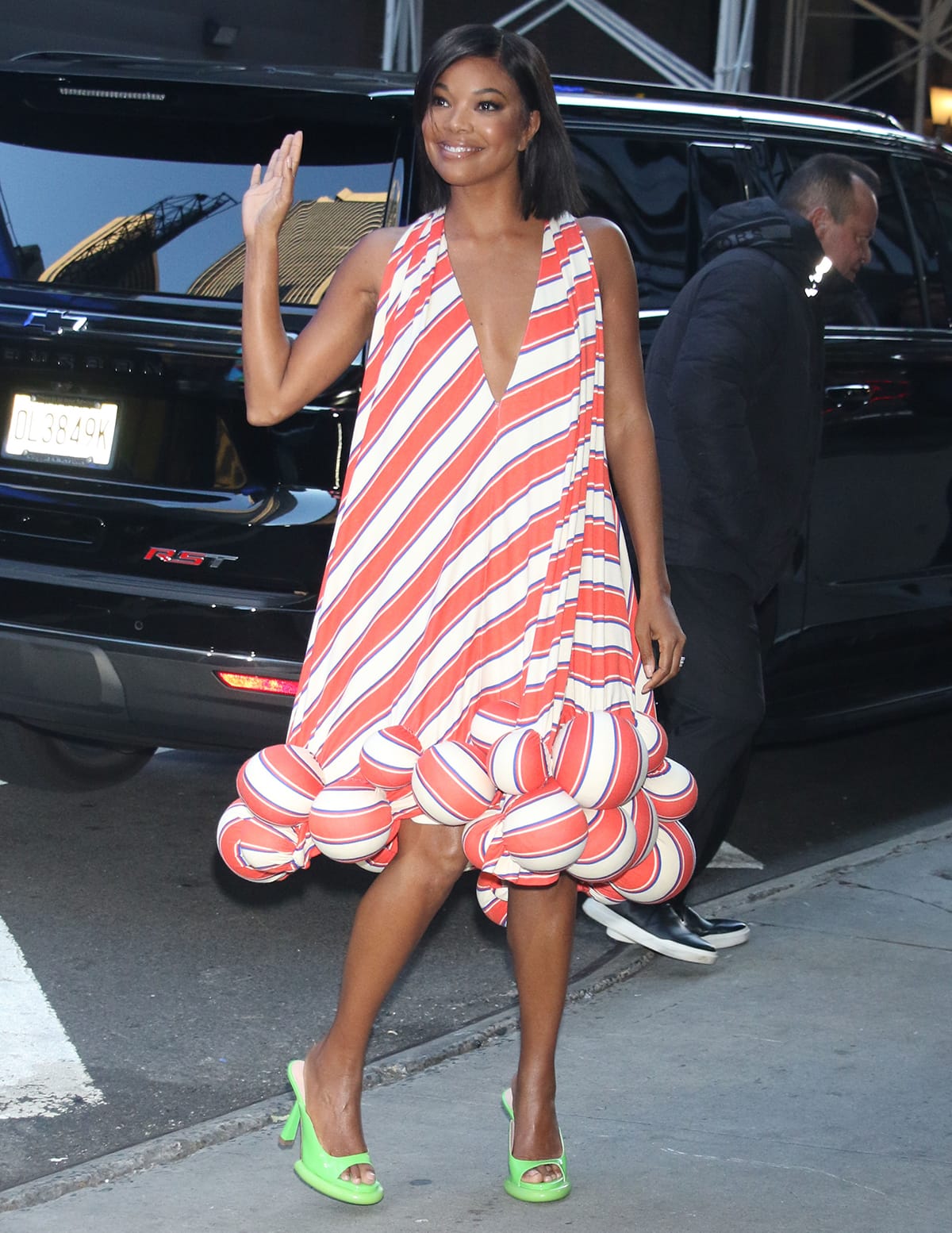 Gabrielle Union arrives at Good Morning America in a Loewe striped swing dress and neon green mules on November 21, 2022 (Credit: Roger Wong / INSTARimages / Cover Images)
Union skipped wearing any elaborate jewelry and instead paired her summery dress with neon green peep-toe mules with about 4-inch heels.
She took off her unique braids this time and simply wore her dark tresses straight with a side parting. Her natural-looking makeup, featuring eyeliner and nude lipstick, rounded out her look.
Gabrielle Union wears her chin-length bob straight with natural-looking makeup (Credit: Roger Wong / INSTARimages / Cover Images)
A day later, the 5'7.5″ actress continued with the press tour for Strange World in an all-black ensemble.
Stepping out of New York City, the book author was all smiles as she donned a black midi dress adorned with floral appliques. It also featured puff sleeves, a sweetheart neckline, and a billowy skirt.
Gabrielle Union continues with the press tour in a black midi dress and a matching fur-lined leather coat on November 22, 2022 (Credit: Roger Wong / INSTARimages / Cover Images)
The Cheaper by the Dozen star then kept warm by layering a fur-lined black leather coat over her dress.
Wearing a side-parted chin-length bob, Union completed her look with black slingback sandals featuring peep toes, buckled straps, and about 4-inch stiletto heels.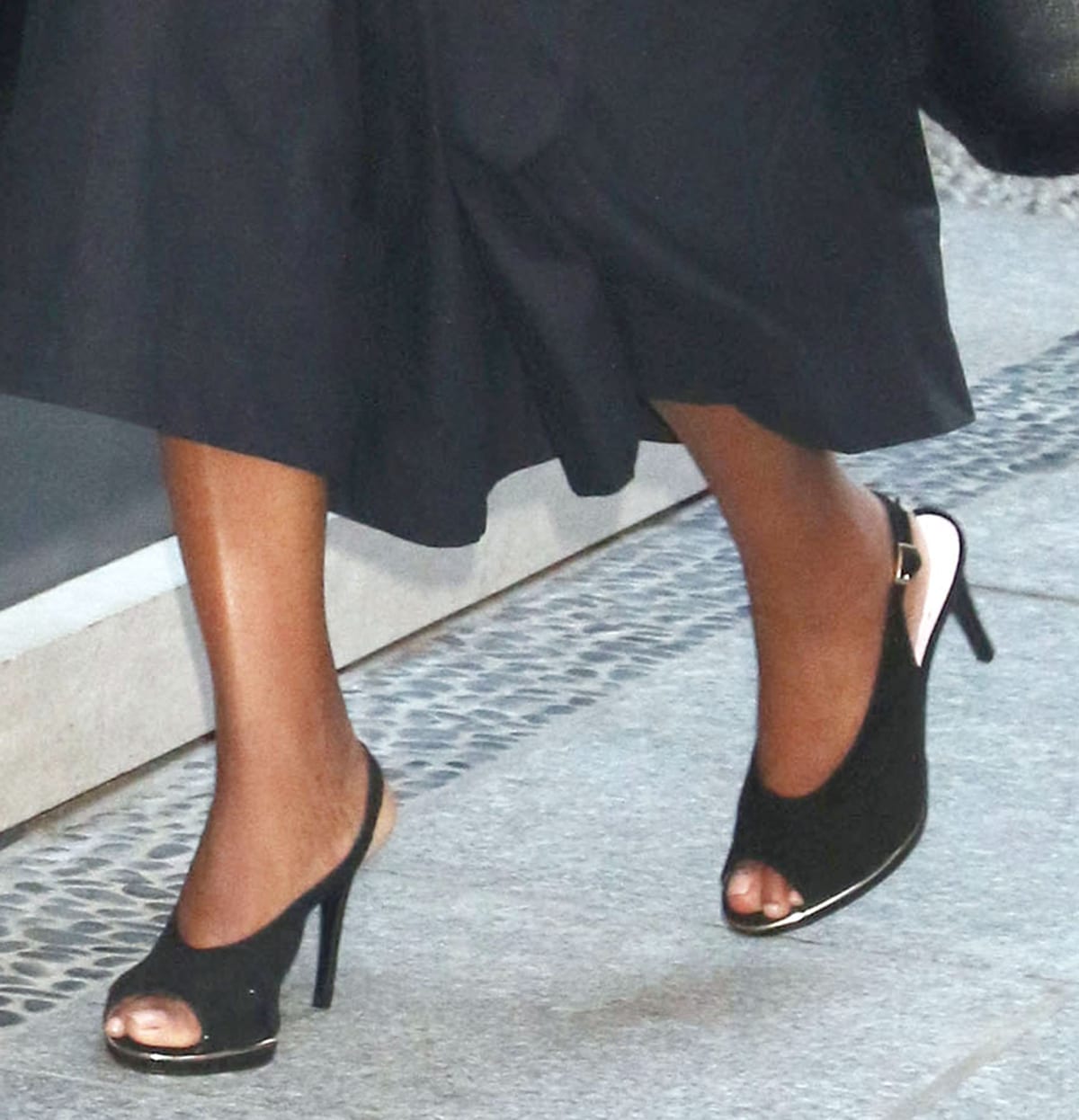 Gabrielle Union finishes her all-black ensemble with peep-toe slingback heels (Credit: Roger Wong / INSTARimages / Cover Images)
What Is Strange World About?
Strange World centers around lead protagonist Searcher Clade from the legendary family of explorers, the Clades.
Searcher, however, forged a different path from his famous explorer father Jaeger (voiced by Dennis Quaid). He never had the bravery of his family and instead chose to live a life as a farmer.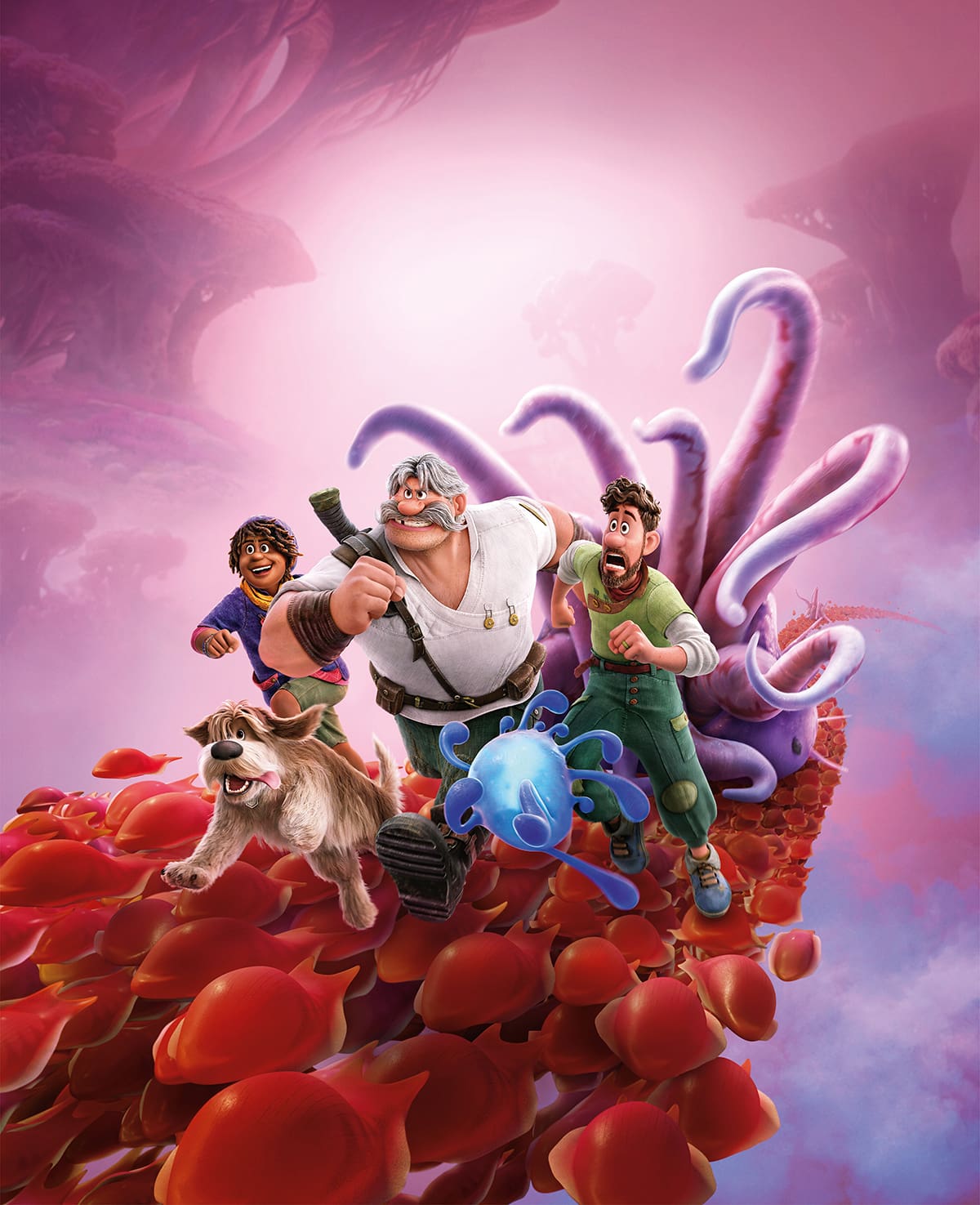 Strange World chronicles the legendary family of explorers, the Clades (Credit: Walt Disney Studios
Motion Pictures)
Following an environmental emergency that's threatening his crops, Searcher embarks on a journey to Avalonia, which was inhabited by surreal lifeforms.
"As they are forced to tackle their latest and most crucial mission, they must rely on each other and are forced to put away their differences while in the uncharted and treacherous land of Avalonia."
Why Disney's Strange World Skipped Several International Markets
Strange World just hit theaters Wednesday, November 23. And while Disney movies usually perform well on opening weekend, the company is lowering its box office expectations for Strange World, "eyeing an overseas start in the $21M-$29M range," according to Deadline.
This is because Disney has decided to forgo 20 offshore markets where LGBTQIA+ content is most likely to be prohibited.
Ethan Clade, a key character in Strange World, happens to be gay and has a crush on a boy in the film. Instead of editing the storyline, Disney decided not to submit the movie to conservative foreign markets, such as China, Malaysia, Indonesia, Pakistan, Vietnam, and Turkey, among others.
Is Disney's Strange World an LGBTQIA+ Movie?
Strange World features the first openly gay protagonist in a Walt Disney Animation Studios movie. But as per Jaboukie Young-White, the openly gay comedian who voiced Ethan Clade, Strange World is not "a coming out story" for his character.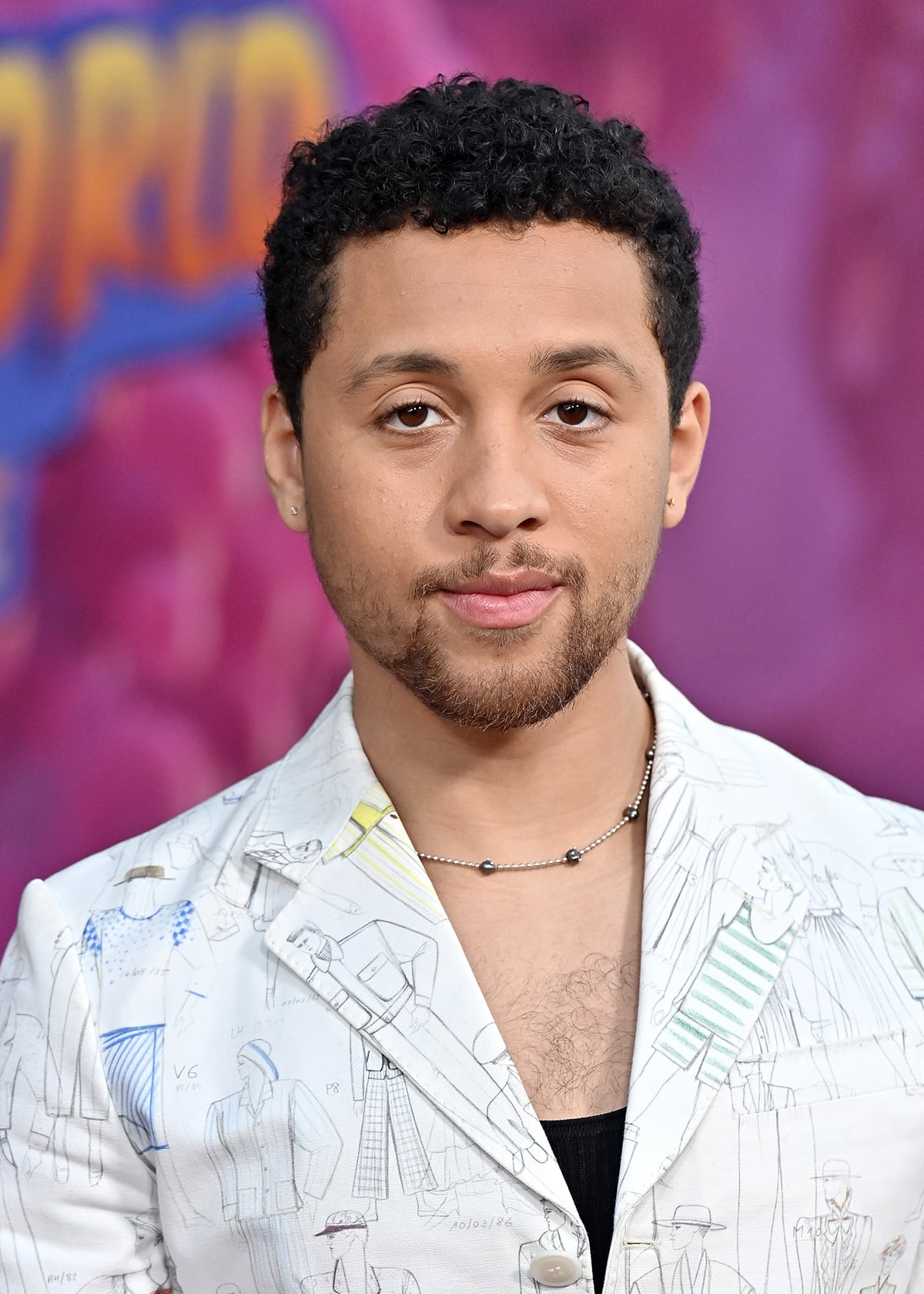 Openly gay actor Jaboukie Young-White says Strange World is not "a coming out story" for his character Ethan Clade (Credit: BauerGriffin / INSTARimages / Cover Images)
"It's not him looking for acceptance of his identity. That's just who he is, and it's not underlined or made to be a big deal. It's an aspect of Ethan and one of the many things that makes him who he is," he told THR.
Gabriel Union, who has a transgender daughter with husband Dwyane Wade, added: "I just love that we have created a space where you can show a loving, affectionate family that creates enough loving space for everyone to chart their own course in life. I'm absolutely honored to be a part of telling that story."
Gabrielle Union Opens Up About Criticisms Her Family Face
During an interview with ET Canada's Morgan Hoffman about their new film, Gabrielle Union and Jake Gyllenhaal were asked about their "strange world" that others might consider strange but not to themselves.
Union responded: "My house, judging from the comments section… clearly my house is the strangest world there is. What, you listen to your kids? What, you treat everyone with respect and kindness? What?"
"I'm going to have to go with Gabrielle's house. Absolutely," Gyllenhaal agreed.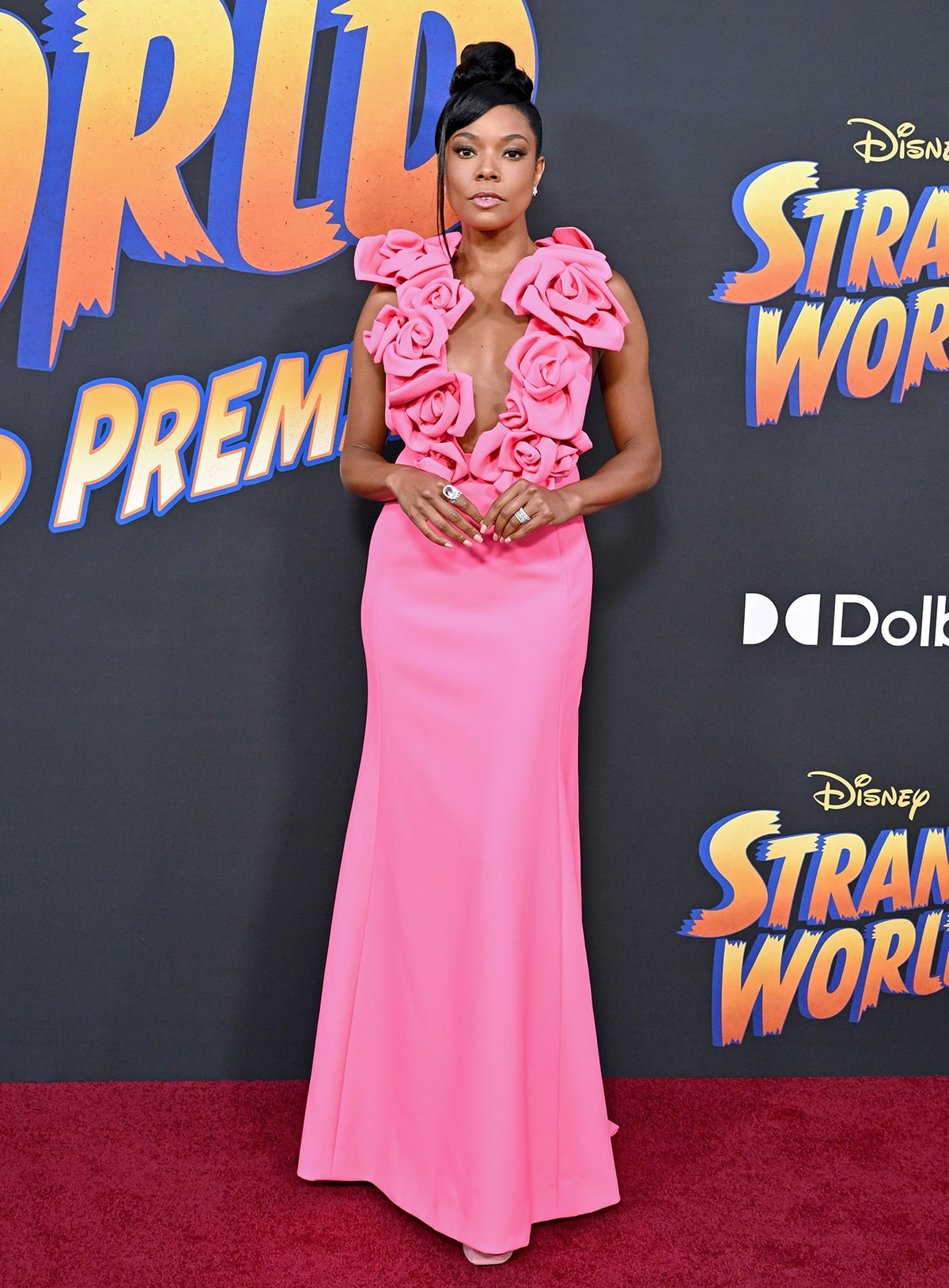 Gabrielle Union opens up about the criticisms her family face for treating everyone with respect and kindness (Credit: BauerGriffin / INSTARimages / Cover Images)
Union continued, "I think if you live out loud and you're not afraid to be exactly who you are and loving each other for exactly as we all want to appear in the world and we are in the world, people are going to have things to say. We're afraid and we always want to have… make sure our way is the right way, you know what I mean?"
"But if you always center peace, grace, love, you can't go wrong. So that's how we live. If that's strange, welcome to 'strange world.' It's a good time, the water's warm."