Emily VanCamp is a Canadian actress who stole the show as Nic Nevin in The Resident. She played a nurse practitioner character with a complex romantic history with protagonist Conrad Hawkins, played by actor Matt Czuchry.
In March 2017, Emily VanCamp was cast as nurse practitioner Nic Nevin in the Fox medical drama The Resident (Credit: 20th Television)
Being hired due to her impressive contributions to film and television at that point, Emily was 30 when she was cast as the female lead Nic Nevin in March 2017. She turned 31 on May 12, 2017.
Both Emily and Matt actually also starred in WB Shows, with Matt starring in Gilmore Girls and Emily starring in Everwood.
Emily evidently dipped her toe further in the water of the acting industry, with her and another star from The Resident, Shaunette Renée Wilson, having both appeared in the Marvel Cinematic Universe.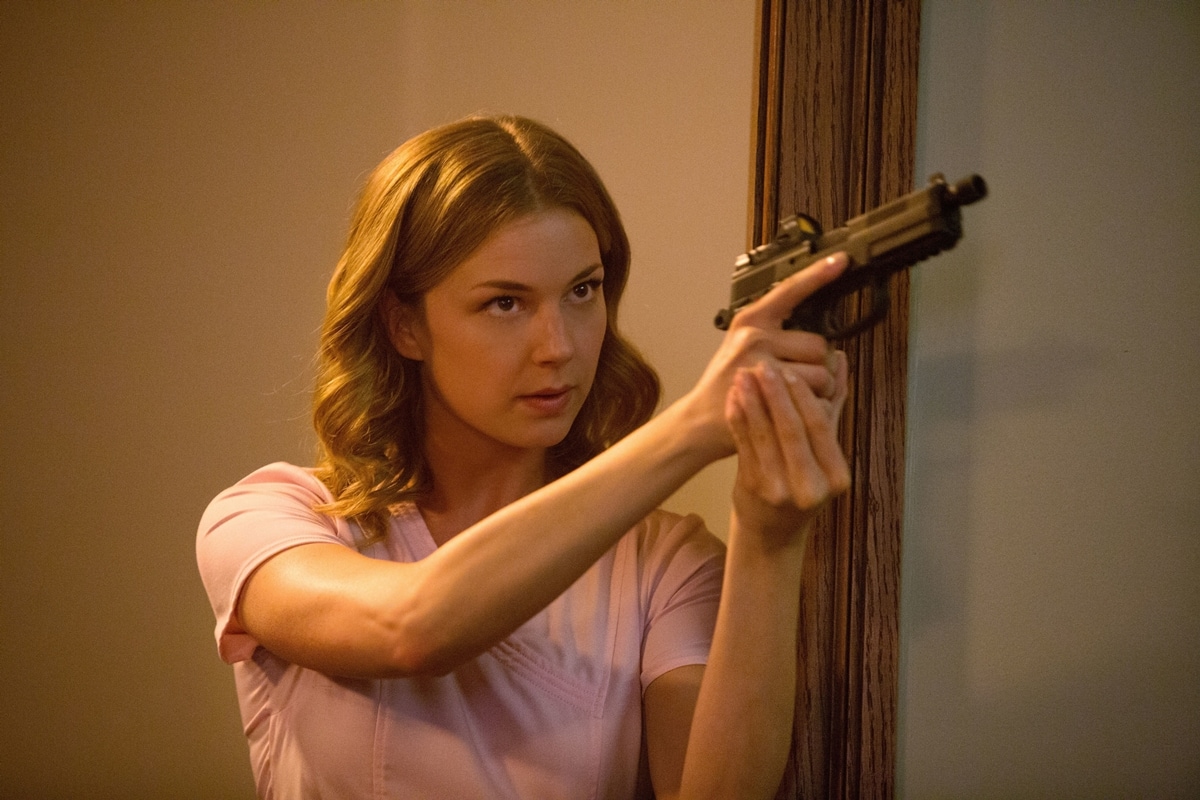 Emily VanCamp as Sharon Carter / Agent 13 in the 2014 American superhero film Captain America: The Winter Soldier (Credit: Walt Disney Studios Motion Pictures)
You may have spotted Emily in Captain American: The Winter Soldier and Captain America: Civil War, whilst Shaunette appeared in Black Panther.
But what's really on everybody's lips is Emily's exit from The Resident, in which, after a car crash, Emily's character dies.
This storyline left both fans and the actress devastated, although Emily admits that this was the right decision for her personal life at the time.
So, Why Did Emily Leave The Resident?
There was some overlap between Emily's real-life pregnancy and her character Nic's, helping her keep the secret of her baby bump quiet until she was ready to announce this news in her own time.
This suited the actress just fine, who had always valued privacy within her family life.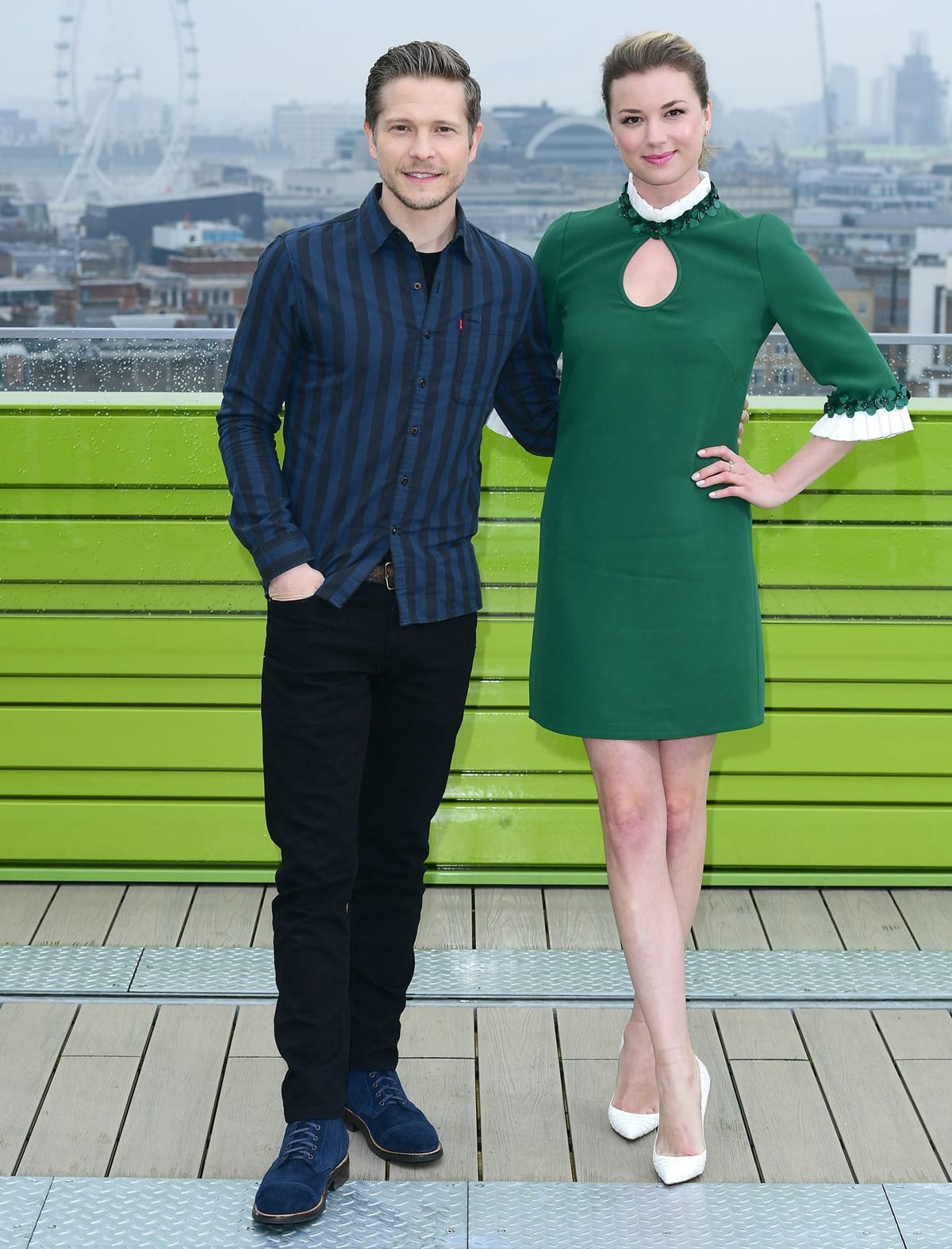 Matt Czuchry and his co-star Emily VanCamp in a green Andrew Gn Pre-Fall 2018 dress pose in London to promote their new medical TV drama 'The Resident' on April 10, 2018, in London, England (Credit: Doug Peters / PA Images / INSTARimages)
Emily had spent many years on the face of network television, but the priorities abruptly shifted for her when it became clear that family was more important than work.
The actress admitted that she'd discussed leaving the show a while before it happened. This realization occurred for the actress whilst she was making the show.
In season 5, Emily VanCamp's character Nic dies after suffering a traumatic brain injury in a car crash (Credit: 20th Television)
However, with the constant transitions to different cities to film episodes and adding the restrictions of Covid-19 to the mix, many cast members couldn't see their families for around a year. It was this situation that finalized Emily's decision: family came first.
"I spent so many years on network television, but then suddenly priorities shifted," she told Deadline in October 2021.
"I think there comes a moment in every woman's life—in every person's life—where it becomes less about work and more about family, and that's what happened while I was making the show. Doing that many episodes in a different city and then you add COVID to that, most of us couldn't see our families for almost a year. It really solidified for me that family is where my heart is at the moment," Emily added.
View this post on Instagram
Emily Vancamp and her husband Josh Bowman announced the birth of their first child, Iris, in August 2021.
Emily VanCamp and Joshua Bowman met in 2011 on the set of Revenge and married in 2018 (Credit: Sara De Boer / Startraksphoto)
"I loved doing The Resident so much for the four years I was on it," Emily added. "Oftentimes you hear about someone exiting a show because something bad had happened or there was some bad blood. But in this case, it's the exact opposite. There's nothing but love and respect between all of us and this decision was not an easy one for anybody but it was the right one for me, personally."
The Possibility of Return
After leaving the show in 2021, aged 34, Emily admitted that she wasn't ruling out returning to The Resident in the future.
With the possibility of featuring in flashbacks and dreams, the actress would love to step back into Nic's shoes and relive her incredible time on the show. However, this all depends on what works best for The Resident as a show!
Looking to the Future
Despite Emily's departure, we can undoubtedly say that The Resident is not a show to miss, infused with complicated characters and gripping storylines.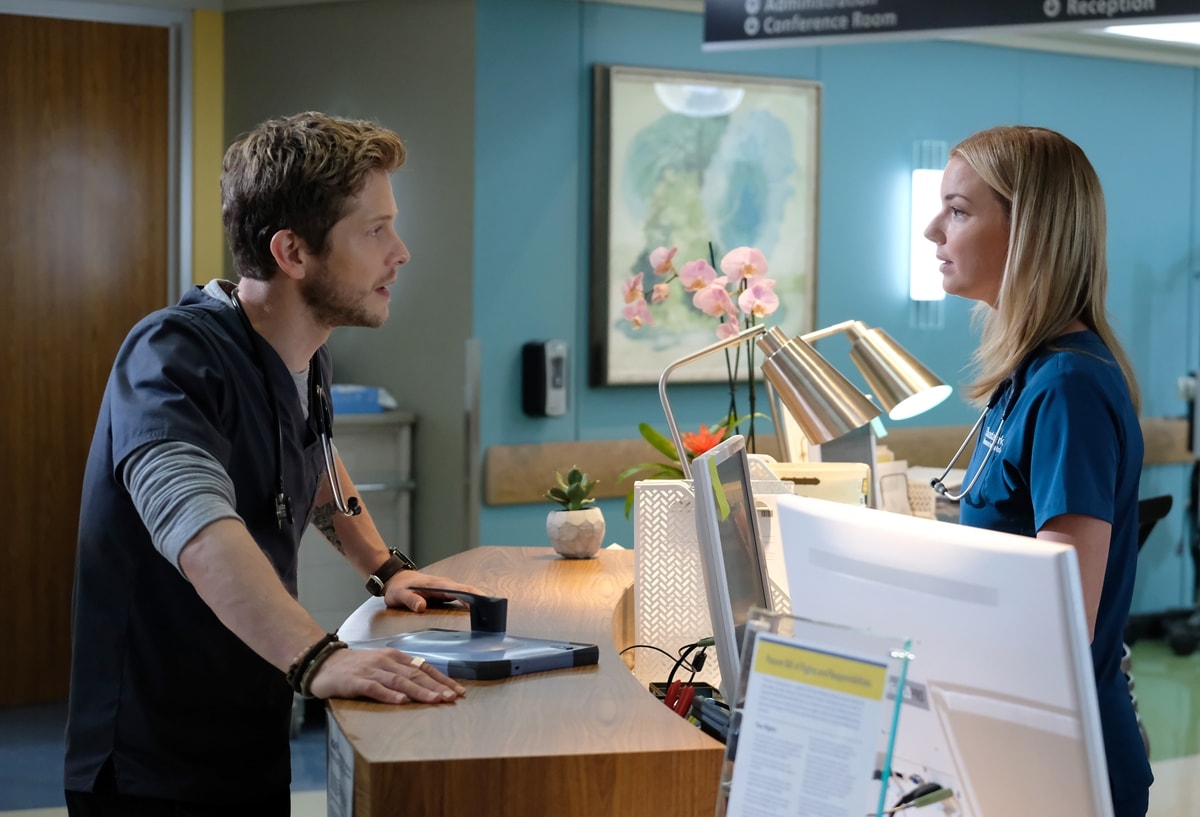 Emily VanCamp as Nicolette 'Nic' Nevin and Matt Czuchry as Conrad Hawkins in the American medical drama television series The Resident (Credit: 20th Television)
Emily admitted that it was challenging to say goodbye to Nic, but she acknowledges that the show will still be able to move on without her.
As for Emily's bright future, the actress plans to endure lots of quality time with her family, which may expand further!
Despite this, not wanting to pass up exciting opportunities, Emily is sure to take to the screen once more – especially if Marvel asks her to!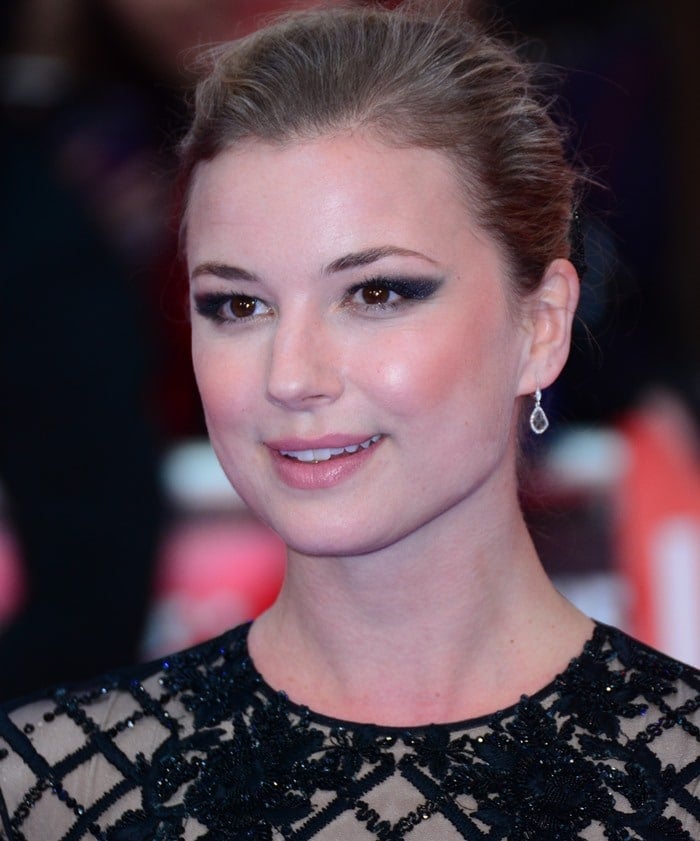 Emily VanCamp pulls her hair back at the premiere of "Captain America: Civil War" held on April 26, 2016, at the Vue Westfield in London (Credit: WENN / Lia Toby)
In April 2016, Emily VanCamp shared the red carpet with Elizabeth Olsen at the premiere of "Captain America: Civil War" held at the Vue Westfield in London.
The two were also joined by Robert Downey, Jr., Samuel L. Jackson, Paul Bettany, and Daniel Bruhl.
Emily VanCamp wears a floral embroidered jumpsuit from Zuhair Murad (Credit: WENN / Lia Toby)
Emily donned a floral embroidered lattice jumpsuit from the Zuhair Murad Pre-Fall 2016 collection, which featured glitzy, baroque embellishments.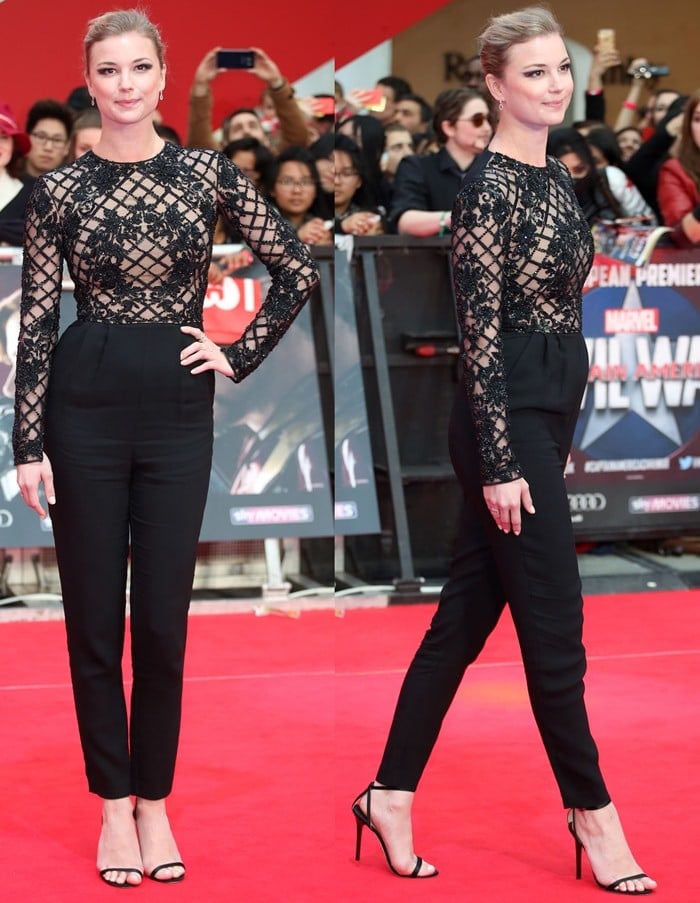 Emily VanCamp wears a black lattice-patterned Zuhair Murad jumpsuit on the red carpet (Credit: WENN / Lia Toby)
The then 29-year-old Canadian actress styled her black jumpsuit with dramatic smokey eyes and a pair of leather "Minny" sandals from Jimmy Choo.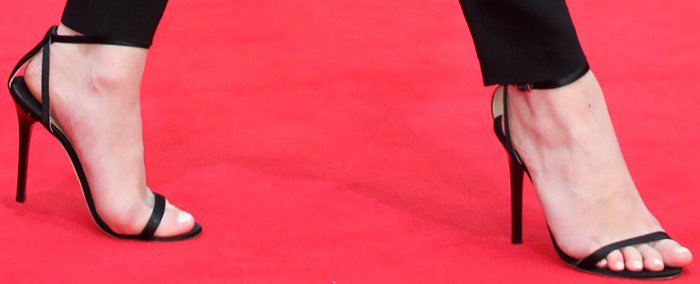 Emily VanCamp's feet in black leather Jimmy Choo sandals (Credit: WENN / Lia Toby)

We've previously spotted the same "Minny" sandals on numerous celebrities including Charlize Theron, Maisie Williams, and Julianne Moore. You can find them at Net-a-Porter and Farfetch.
Jimmy Choo Black Leather 'Minny' Heeled Ankle-Strap Sandals, $750