Looks like those pointy d'Orsay Jenny Kayne flats are slowly making the rounds. Besides gaining a fan in Jessica Alba (remember her fuchsia flats?), another celebrity spotted sporting those comfy designer pointies was young startlet (and budding fashionista in her own right), Emma Roberts. And much like Jessica, Emma paired hers with printed psychedelic pants. Hmmm…looks like we're seeing a pattern here: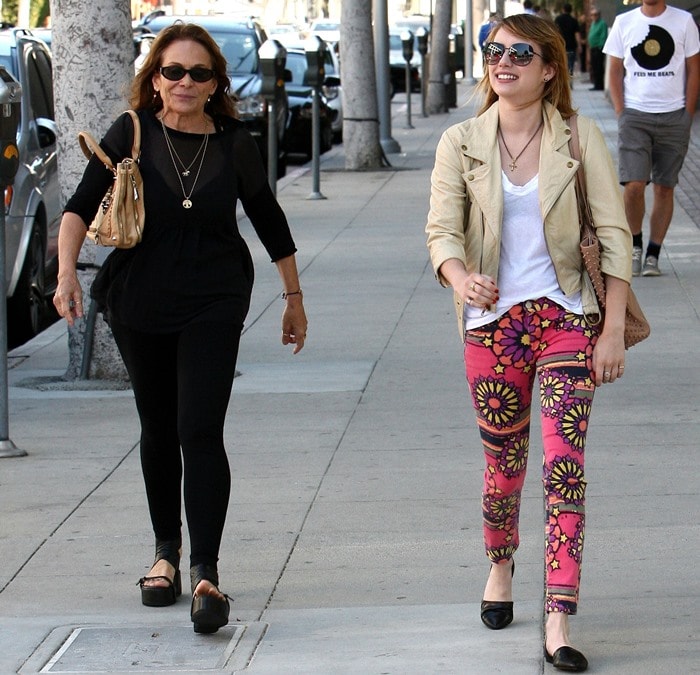 Emma Roberts enjoying an ice cream while out and about with her mother in Los Angeles on July 6, 2012

No doubt, they're sexier than your usual ballet (flats), thanks to the pointy vamp and d'Orsay silhouette. With such a sleek and modern design, the absence of a heel actually no longer matters. In fact, we get the feeling even those who prefer their stilettos wouldn't mind donning a pair.
As mentioned in our post last week, if you want some of these Jenni Kayne flats, you can grab 'em via Shopbop. Emma's black version isn't available online, but other more interesting renditions like croc and chambray are yours for the taking:
Jenni Kayne d'Orsay Flats in Oliva, Brown, and Red Croc, $495 at Shopbop
Jenni Kayne d'Orsay Flat in Chambray, $395 at Shopbop
Credit: Hailey-R/WENN