There are few things we love more than a good, old-fashioned sports romance.
No, we're not talking about Riverdale-esque stories where the high school football quarterback sweeps the varsity cheerleader off of her feet with a big smooch after the winning touchdown—we're talking about Erin Andrews and Jarret Stoll!
Erin Andrews and her husband Jarrett Stoll attend Michael Rubin's 2022 Fanatics Super Bowl Party on February 12, 2022, in Culver City, California (Credit: Faye's Vision / Cover Images / INSTARimages)
A match made in ESPN heaven, Erin Andrews and Jarret Stoll have been making headlines since their relationship began… but not all of the publicity has been good publicity.
Why Are Erin Andrews and Jarrett Stoll Famous?
If you are not the biggest sports aficionado (or only tune in for the Super Bowl, we don't judge) there is a good chance you have no idea who either of these people is.
At 43 years old, Erin Andrews is one of the most prominent personalities in American sports broadcasting.
Jarret Stoll and Erin Andrews met through mutual friend Michael Strahan and began dating in 2012 (Credit: Tony DiMaio / Startraksphoto)
Even from a young age, Andrews had a passion for sports and knew that she wanted to go into the broadcasting field, inspired by her father, Stephen Andrews, a six-time Emmy Award-winning investigative journalist.
After graduating from the University of Florida with a BA in telecommunications, Andrews got her first gigs at Fox Sports Florida and the Sunshine Network before hitting the big time in 2004 when she scored a reporter position with ESPN National Hockey Night.
Since then, Erin Andrews has gone on to cover nearly every televised sport and has appeared on College GameDay, Good Morning America, Dancing with the Stars, Fox NFL, and has even covered the Scripps National Spelling Bee.
ESPN reporter Erin Andrews flaunts her legs in a black dress at the 2009 ESPY Awards held at Nokia Theatre LA Live on July 15, 2009, in Los Angeles, California (Credit: INFevents)
As expected, Andrews found love in the sports industry, too.
Her husband, Jarret Stoll, is a 39-year-old Canadian hockey player. He joined the American Hockey League in 2002, playing for the Edmonton Oilers, Los Angeles Kings, New York Rangers, and the Minnesota Wild.
Jarret Stoll is a Canadian former professional ice hockey player with a net worth of $16 million (Credit: Photo Works / Shutterstock)
After being a two-time Stanley Cup winner (in 2012 and 2014) Stoll retired and began to work behind the scenes, working as a talent scout for the Los Angeles Kings.
How Did Erin Andrews and Jarret Stoll Meet?
Typically, falling in love with the subjects of your reporting is considered to go against the standards of journalistic integrity.
Luckily, by the time sports broadcaster Erin Andrews and her now-hubby Jarret Stoll got together, Stoll was technically retired from the hockey rink.
Erin Andrews and Jarret Stoll married in a ceremony in Montana in June 2014 in front of a small group of friends and family (Credit: FayesVision / WENN)
The pair first met due through ex-NFL player and TV personality, Michael Strahan, a mutual friend to both. According to Harper's Bazaar, their relationship first began—or didn't begin—the way many modern relationships do: a text message!
Stoll was interested in Andrews from the beginning, shooting Strahan a message in 2012 that simply read: "Can you set me up with Erin Andrews?"
Strahan relayed the message to his fellow reporter, but Andrews was not entirely interested in beginning a new relationship, as she was still deeply involved with her work during the World Series.
Erin Andrews is shorter and four years older than her husband Jarret Stoll (Credit: Sara De Boer / Startraksphoto)
Stoll wasn't discouraged, opting to shoot his shot in person during a baseball game in San Francisco. Bold as ever, the 6'1" hockey player snuck past multiple security guards to gain entry into the area Andrews was reporting from to simply introduce himself.
Towering over her impressive 5'10" frame from a bleacher above where she stood, she was impressed by his gumption, and Erin Andrews agreed to give Jarret Stoll a chance.
The pair finally went to dinner in Hollywood where they immediately hit it off.
Erin Andrews got engaged to her longtime boyfriend, hockey player Jarret Stoll in December 2016 (Credit: MEGA / WENN)
Stoll decided to propose in 2016 at Disney, where Andrews had visited many times as a child. At a beautiful candle-lit dinner at the exclusive Club 33, he popped the question and she said yes!
"I wondered if this was why I hadn't heard from my [closest] girlfriend all day long—it's because she can't keep a secret," Andrews said to Harper's Bazaar. "We drank champagne, took pictures… and cried."
The pair married on June 24, 2017, in Big Sky, Montana, surrounded by their loved ones.
Erin Andrews and Jarret Stoll Are Dealing With Fertility Issues
Though the couple wants to start a family of their own, 43-year-old Andrews has been struggling with her fertility due to her age and has been undergoing IVF treatments.
Late last year, the sportscaster revealed that she had undergone a whopping seven rounds of IVF treatments in an essay she penned on Bulletin.
"I'm now 43, so my body is kind of stacked against me," she wrote. "I have been trying to do IVF treatment for a while now, but sometimes it doesn't go the way you want it. Your body just doesn't allow it."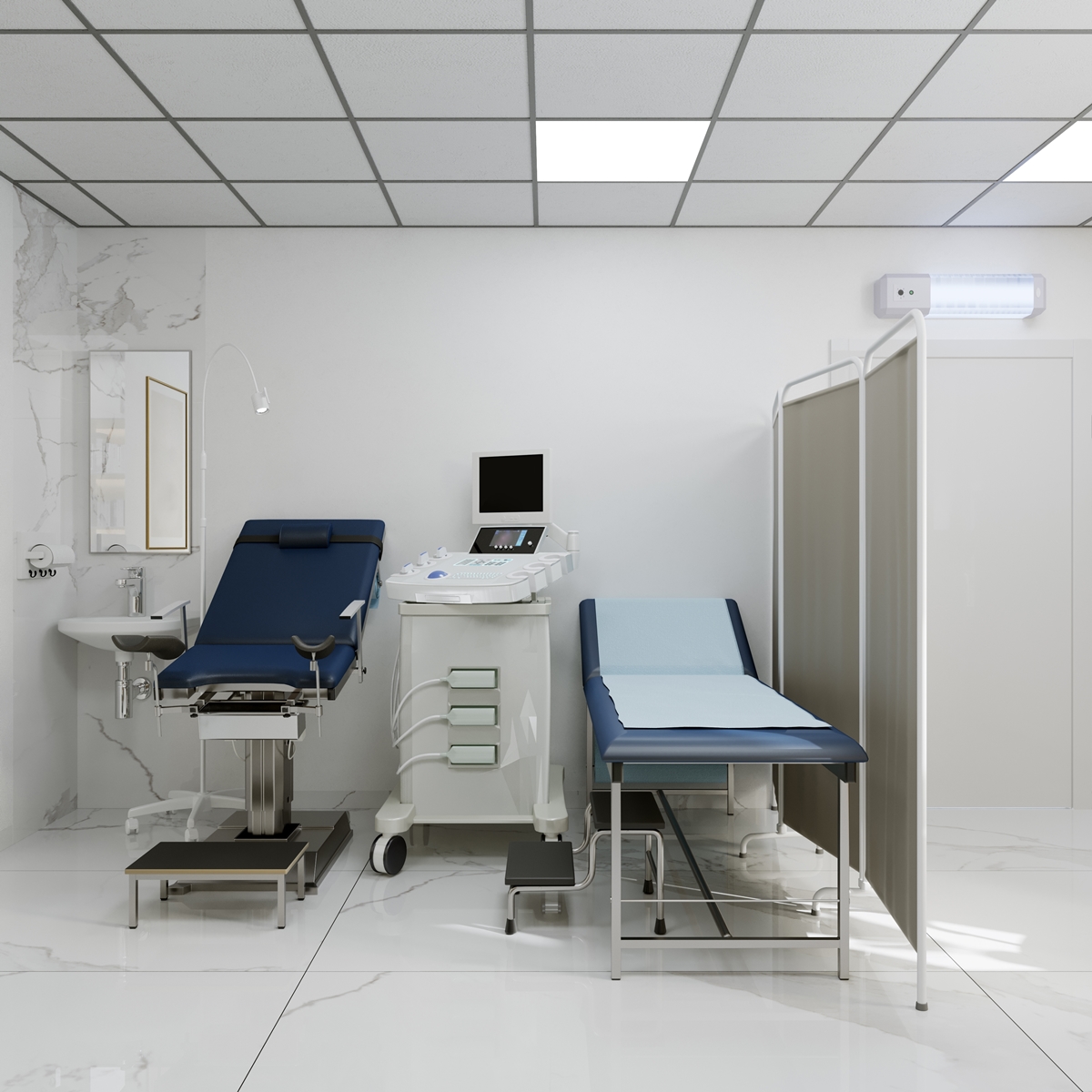 Erin Andrews has described her IVF journey as "time-consuming and emotionally draining" (Credit: IZ1737 / Shutterstock)
In the essay, she admits that it is hard to juggle trying to have children while managing her intense career, writing, "There are so many other women who maybe put their careers on the back burner because they don't want to miss out on any opportunities."
However, she refuses to keep quiet about her treatments, knowing that many other women struggle with fertility issues, too.
"Now that it's my seventh time, something just hit me. Why am I keeping this such a secret when this is just a part of our lives? Instead of feeling ashamed, we need to give ourselves more love," she continued.
Erin Andrews shows off her feet in high heel pointy-toe pumps at Time Warner Cable Studios Presents FOX Sports 1 Thursday Night Super Bash on January 30, 2014, in New York City (Credit: Derrick Salters / WENN)
"It freaking sucks, because it can seem like it's such a lonely thing. There are so many of us going through this though, and it's just not talked about."
We applaud Andrews' brave admission, even though it must be difficult for her. Here's hoping the treatments take and she and Stoll can have the children they so desperately want.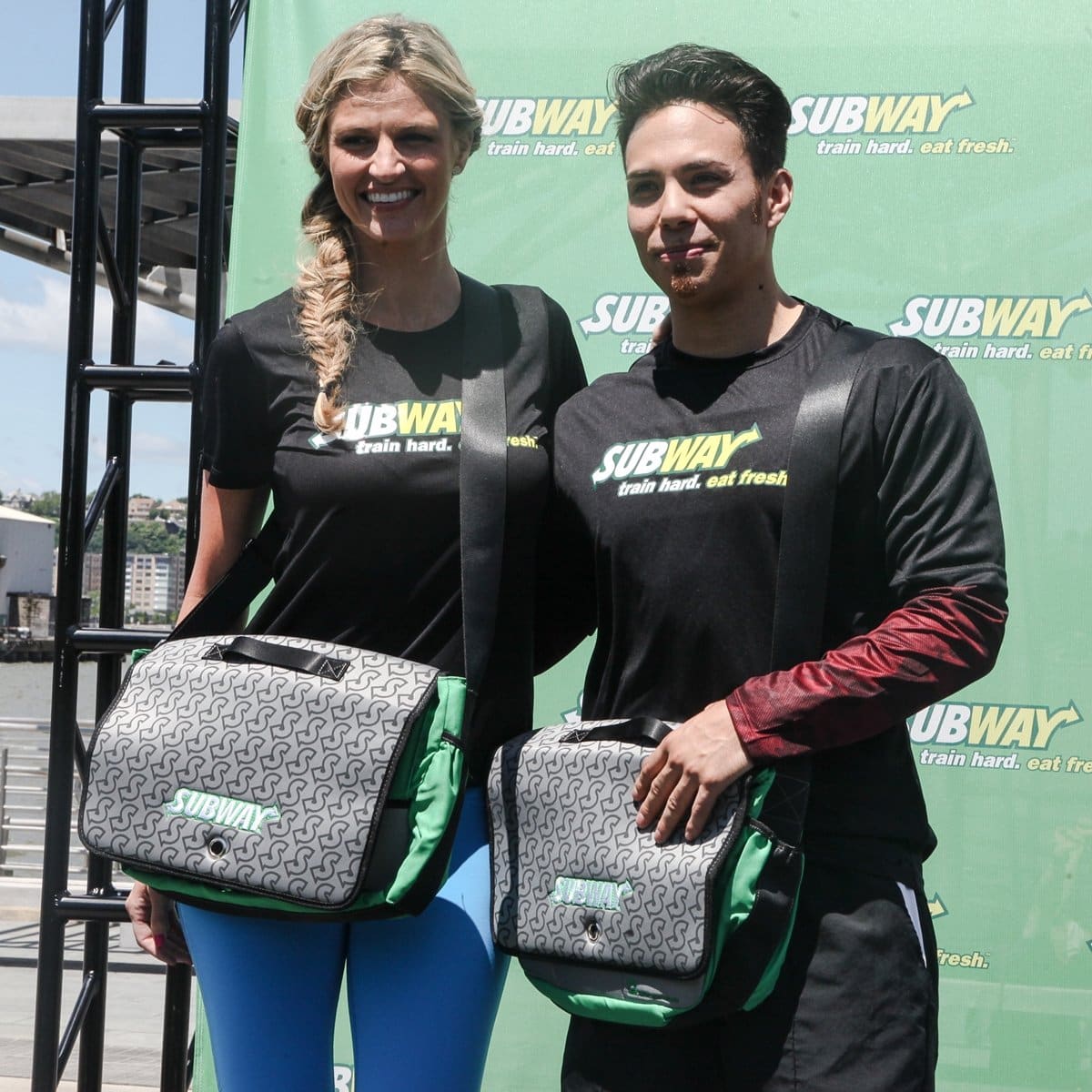 American short track speed skater Apolo Ohno and sportscaster Erin Andrews introduce the new limited edition Subway bag with a summer surfing workout in New York on December 6, 2013 (Credit: Kyle Blair / WENN)
Jumpsuits have become the alternative red carpet outfit of many celebrities. When dresses and gowns become repetitive and boring, many turn to jumpsuits to add some drama and surprise factor.
One of the most famous jumpsuits of all time is the Cushnie et Ochs sleeveless jumpsuit. It's a cut-out one-piece item of clothing that offers the perfect balance between edgy and sexy.
Alesha Dixon and Erin Andrews were spotted wearing the red version of this jumpsuit. Who do you think looked better in it?
1. Alesha Dixon in Red Jumpsuit
The "Britain's Got Talent" judge looked classy and polished in the jumpsuit which she wore with a pair of strappy red sandals. She accessorized with ear cuffs and kept her hair sleekly combed back.
Alesha Dixon wears a red jumpsuit at the Ant & Dec's 40th birthday party held at Kensington Roof Gardens in London on October 16, 2015 (Credit: WENN / FayesVision)
2. Erin Andrews in Sleeveless Jumpsuit
The then 37-year-old TV personality didn't look her age in this red jumpsuit. We love her choice of footwear – a pair of gold-tone sandals, her gold-tone accessories, and her disarming smile.
Erin Andrews rocks a sleeveless Cushnie et Ochs jumpsuit at the Nickelodeon Kids' Choice Sports Awards 2015 in Westwood on July 16, 2015 (Credit: WENN / FayesVision)
We think both women looked great in this jumpsuit. Both were sophisticated and stylish. It's really hard to go wrong with it since it's a stunning piece, but who do you think wore it better?
It's still available at Farfetch if you're thinking of adding it to your wardrobe: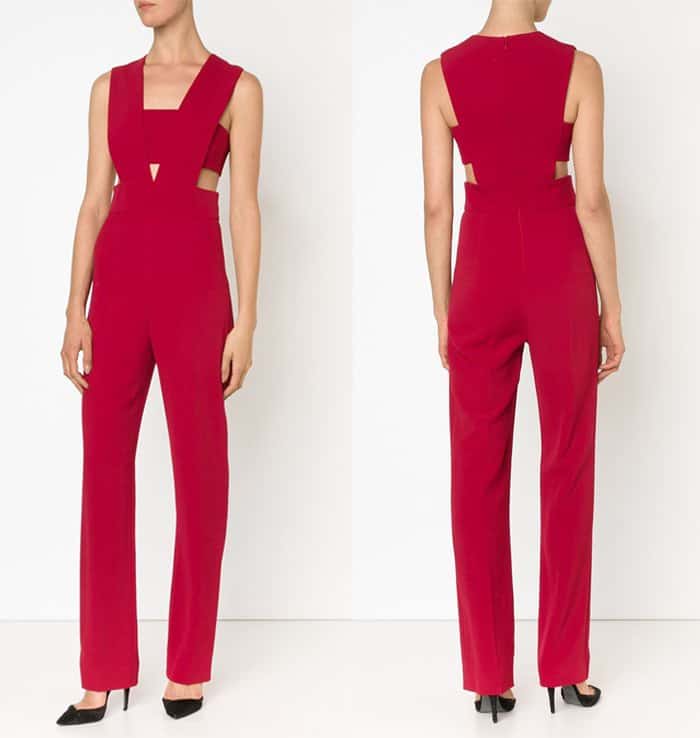 Cushnie et Ochs Sleeveless Jumpsuit, $1,695.00
You can also get these similar jumpsuits at Shopbop:
1. Mugler Bandeau Insert Jumpsuit, $2,680.00
2. Stella McCartney Naomi Jumpsuit, $4,095.00
3. Black Halo Joaquin Jumpsuit, $390.00
4. Black Halo Lena Jumpsuit, $390.00
Style these with a red or a gold-tone pair of footwear just like Alesha and Erin did!