"The Fast and the Furious" premiered at the Mann Village Theatre in Los Angeles on June 18, 2001, and the diverse age range of its cast added to the film's appeal.
Vin Diesel, who played Dominic Toretto, was born on July 18, 1967, making him 33 years old at the time of the premiere. Paul Walker, portraying Brian O'Conner, was born on September 12, 1973, and was 27 years old.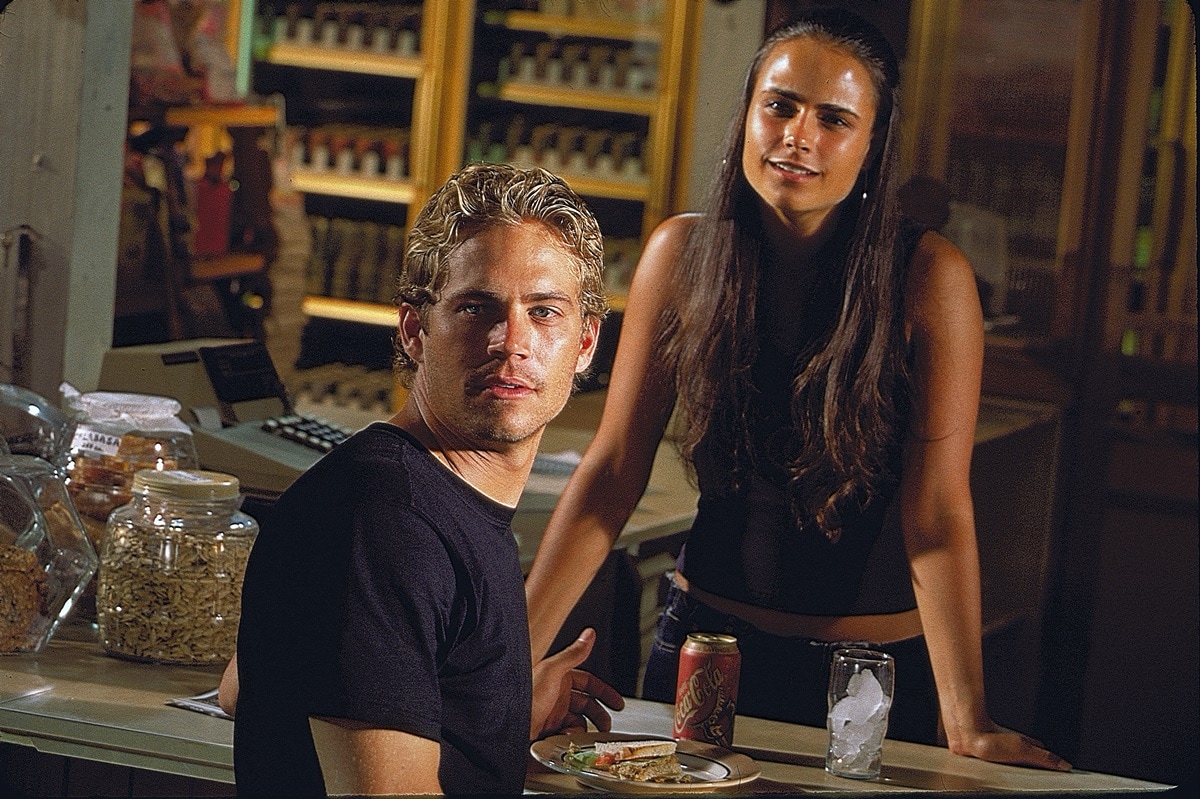 Paul Walker and Jordana Brewster played love interests in the 2001 action film The Fast and the Furious (Credit: Universal Pictures)
Michelle Rodriguez, who played Letty Ortiz, was 22 at the premiere, having been born on July 12, 1978. Jordana Brewster, the actress behind Mia Toretto, was 21 years old, born on April 26, 1980.
When "The Fast and the Furious" premiered on June 18, 2001, the actors Matt Schulze, Johnny Strong, Chad Lindberg, and Rick Yune were 28, 26, 24, and 29 years old, respectively.
Pre-Production and Casting
Neither Michelle Rodriguez nor Jordana Brewster had driver's licenses or even learner's permits before production. Mark Wahlberg, Christian Bale, and Eminem were considered for the role of Brian O'Conner before Paul Walker was cast.
Christian Bale, Eminem, and Mark Wahlberg were all considered for the role of Brian O'Conner in the original Fast and the Furious film (Credit: Kathy Hutchins / Shutterstock / DFree)
The role of Mia Toretto was originally written for Eliza Dushku, but she turned it down for unknown reasons, and Timothy Olyphant turned down the role of Dominic Toretto, thinking the film would be too similar to "Gone in 60 Seconds."
On-Screen Relationships and Improvisation
Vin Diesel and Michelle Rodriguez were dating off-screen during filming, mirroring their on-screen relationship.
Paul Walker and Matt Schulze improvised their fight scene outside the grocery store because the choreographed version didn't feel right.
Cars and Racing
Real-life drivers brought their cars to participate in the Race Wars scene, and over 1,500 cars were present. Filmmakers even asked owners of houses in the backgrounds to re-paint them with more muted colors to show off the colorful cars.
Frankie Muniz later purchased the Volkswagen Jetta that Jesse drives in the movie.
Paul Walker's 1994 Toyota Supra from The Fast and the Furious is a Mk4 Supra that was modified by Eddie Paul at The Shark Shop in El Segundo, California (Credit: Barrett-Jackson Auctions / Cover Images / INSTARimages)
Cameos and Connections
The driver of the big rig truck for the final truck heist is Kevin Smith from "Hercules: The Legendary Journeys" and "Xena: Warrior Princess."
When at the party after the first race, Ludacris's song "Area Codes" can be heard, a nod to his future role in the series.
Props and Locations
The house used as headquarters for the FBI and LAPD undercover investigation is the same house used in the 2000 American comedy-drama film Hanging Up.
The 1970 Charger that Dom drives and both Brian's Eclipse and Supra are featured in the Fast and Furious car packs for "Forza Motorsport 6" and "Forza Horizon 2."
Vin Diesel, Jordana Brewster, Chad Lindberg, Michelle Rodriguez, Matt Schulze, Johnny Strong, Paul Walker, and Rick Yune played Dominic Toretto, Mia Toretto, Jesse, Letty Ortiz, Vince, Leon, Brian O'Conner, and Johnny Tran, respectively, in the 2001 film The Fast and the Furious (Credit: Universal Pictures)
These details paint a vivid picture of the production process, showcasing the effort and creativity that went into crafting one of the most beloved action films of the early 2000s.
Jordana Brewster Flaunts Legs in Victoria Beckham Dress
In August 2016, the Brazilian-American actress arrived at the Fox TCA summer press tour in Los Angeles and talked about what it was like to work with the cast of her latest television series Lethal Weapon.
Jordana Brewster wears her hair down as she attends the FOX Summer TCA press tour held on August 8, 2016, at Soho House in Los Angeles (Credit: FayesVision / WENN)
Jordana started off her Fox TCA press tour in a cream-colored Victoria Beckham dress (with matching nude strappy heels) for her day interviews with co-star Keesha Sharp.
Later that evening, the then-36-year-old "Fast and the Furious" star switched into a sexy cutout little black dress by Victoria Beckham accented by jewelry from Doves by Doron Paloma.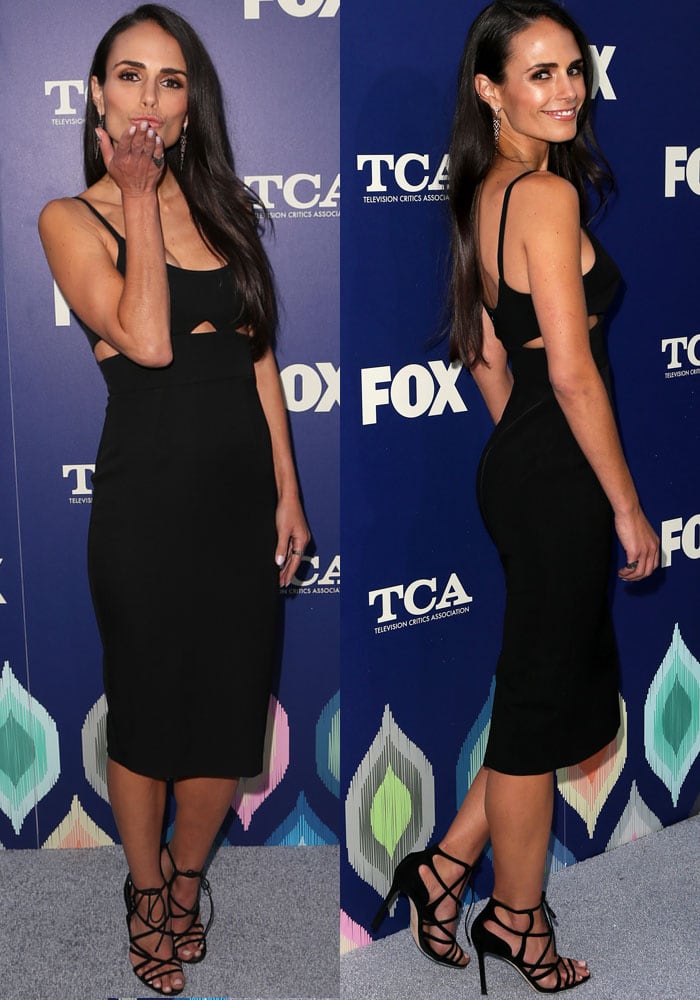 Jordana Brewster wears a cutout black dress from Victoria Beckham for her appearance on the Fox TCA summer press tour (Credit: FayesVision / WENN)
She also swapped out her shoes, trading her nude heels for strappy black Jimmy Choo "Tess" sandals.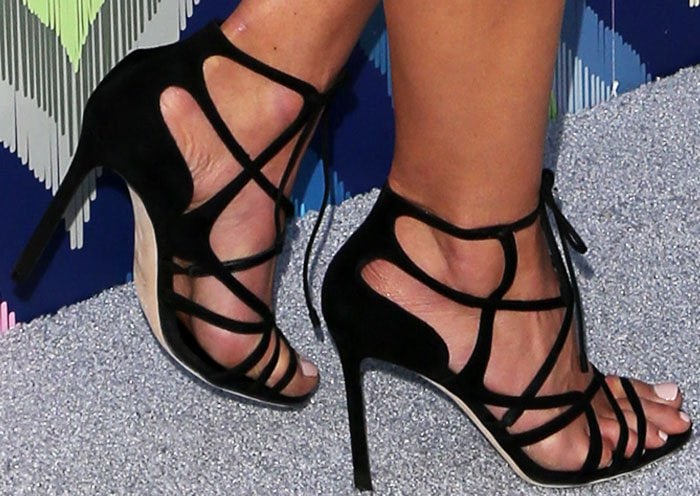 Jordana Brewster's feet in black suede Jimmy Choo sandals (Credit: FayesVision / WENN)
While Keesha quickly proclaimed that most film projects come with a mean person on set, Jordana quickly went into damage control mode and clarified that the cast members of "Lethal Weapon" were all nice and funny.
The two women credited the show's success to the amazing synergy they have on and off the screen.
You can shop Jordana's sexy Jimmy Choo "Tess" sandals in gold at Mytheresa and Net-A-Porter.
Jimmy Choo "Tess" Metallic Leather Sandals, $975