Reese Witherspoon was born in 1976 in the colorful city of New Orleans, Louisiana, although she spent the first 4 years of her life in Wiesbaden, Germany due to her father's career as a military surgeon.
Reese began her journey to silver screen stardom at a very young age, and by the time she was 7 years old, she began modeling and appearing in television commercials for a local florist.
This experience motivated her to begin her pursuit of acting, which she did by taking acting lessons.
Jason London as Court Foster and Reese Witherspoon as Danielle "Dani" Trant in the 1991 American coming of age drama film The Man in the Moon (Credit: Metro-Goldwyn-Mayer)
By the time she was 14 years old, she managed to land her first major role in the 1991 film The Man in the Moon.
Although she had only intended to audition for a small role, she ended up being cast in the main role of Dani Trant, a young teenage girl who falls in love with her slightly older neighbor.
While the film was not a smash success at the box office, it did manage to gain critical acclaim, and Witherspoon's role as Dani was well received. Diving headfirst into the world of Hollywood, the young actress quickly became an in-demand young talent in the industry.
Reese Witherspoon as Nonnie Parker in the 1993 American adventure drama film A Far Off Place (Credit: Walt Disney Pictures)
After appearing in the television series Wildflower and Return to Lonesome Dove, followed by minor roles in films such as A Far off Place and Jack the Bear, Witherspoon would quickly soak up the limelight with her casting in Fear, when she was only 18.
How Reese Witherspoon Was Cast in Fear
With several notable roles already under her belt, Witherspoon would try her hand at the thriller genre across from young rapper-turned-actor co-star Mark Wahlberg in Fear.
Her success in the roles she managed to land definitely drew the eye of Universal Picture's casting directors, who sought the young blonde idol to star as protagonist Nicole Walker in their romance-thriller film, which was filmed in Vancouver, Canada, and directed by James Foley.
When filming ended in late December 1994, Reese was 18. Her co-stars Mark Wahlberg and Alyssa Milano were 22 and 23.
When the film premiered on April 12, 1996, Reese had just turned 20. Mark and Alyssa were both 24 when the film premiered to negative reviews from critics.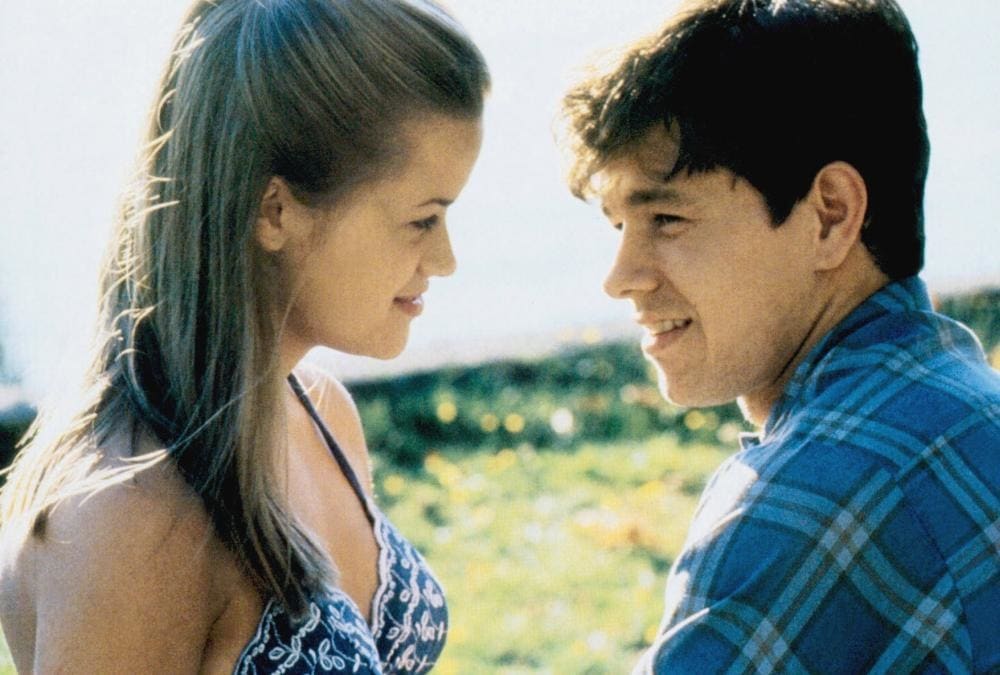 Reese Witherspoon starred in the thriller Fear alongside Mark Wahlberg (Credit: Imagine Entertainment / Universal Pictures)
Fear follows Nicole Walker, a sixteen-year-old girl who lives in the suburbs of Seattle with her father, her newly minted stepmother, and her stepbrother.
Following a chance encounter at a local bar, Nicole meets David McCall (Mark Wahlberg), a charming, handsome older man. Instantly being attracted to one another, they spark a romance, much to the dismay of Nicole's father.
As the film progresses, Nicole's relationship with David begins causing problems in her life, as David displays psychopathic tendencies and a penchant for violence.
Alyssa Milano was 23 years old when she starred as Margo Masse in the 1996 American psychological thriller film Fear (Credit: Imagine Entertainment / Universal Pictures)
Tensions mount as David's obsession with Nicole causes him to commit heinous acts like murdering Nicole's friends, vandalizing Nicole's father's property, and finally attempting to get rid of Nicole's family in a bid to have her all to himself.
Drawing from her own personal experiences with similar predicaments, Witherspoon immediately found herself attracted to the role of Nicole, as mentioned in an interview with Entertainment Weekly in 2005; "I saw a lot of my girlfriends get into obsessive relationships as teenagers. The film shows people can make mistakes and they can be fatal."
Alyssa Milano plays the best friend of Reese Witherspoon in Fear (Credit: Imagine Entertainment / Universal Pictures)
Within the film, Witherspoon plays the role with a certain sense of youthful naivete that adds to the suspense and believability of the role, undoubtedly contributing to the overall success of her depiction of the teenage Nicole Walker.
Being young herself, Witherspoon instantly connects to the character of Nicole, portraying her with ease on screen.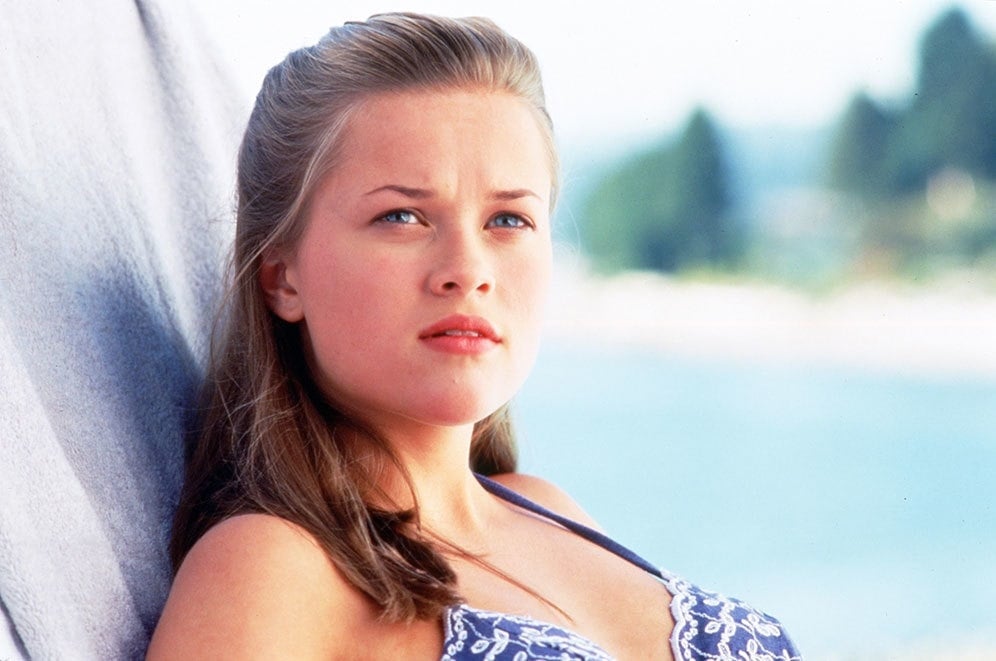 Reese Witherspoon portrays a good girl with bad judgment in Fear (Credit: Imagine Entertainment / Universal Pictures)
In their review of the film, Variety opined that "Witherspoon… inhabits the central role with such charming ease and credibility that young women will readily identify with her.", and we couldn't agree more.
The Impact of Fear
The film was finally released to audiences in April of 1996 and caused divisive reactions within both popular and critical circles at the time.
Reception to the film was mixed, and famous film critic Gene Siskel called the film "Predictable trash…". Other critics had more favorable things to say about the film, as Mick LaSalle writing for the San Francisco Chronicle believed Fear was "a maddening, satisfying, junky, enjoyable picture."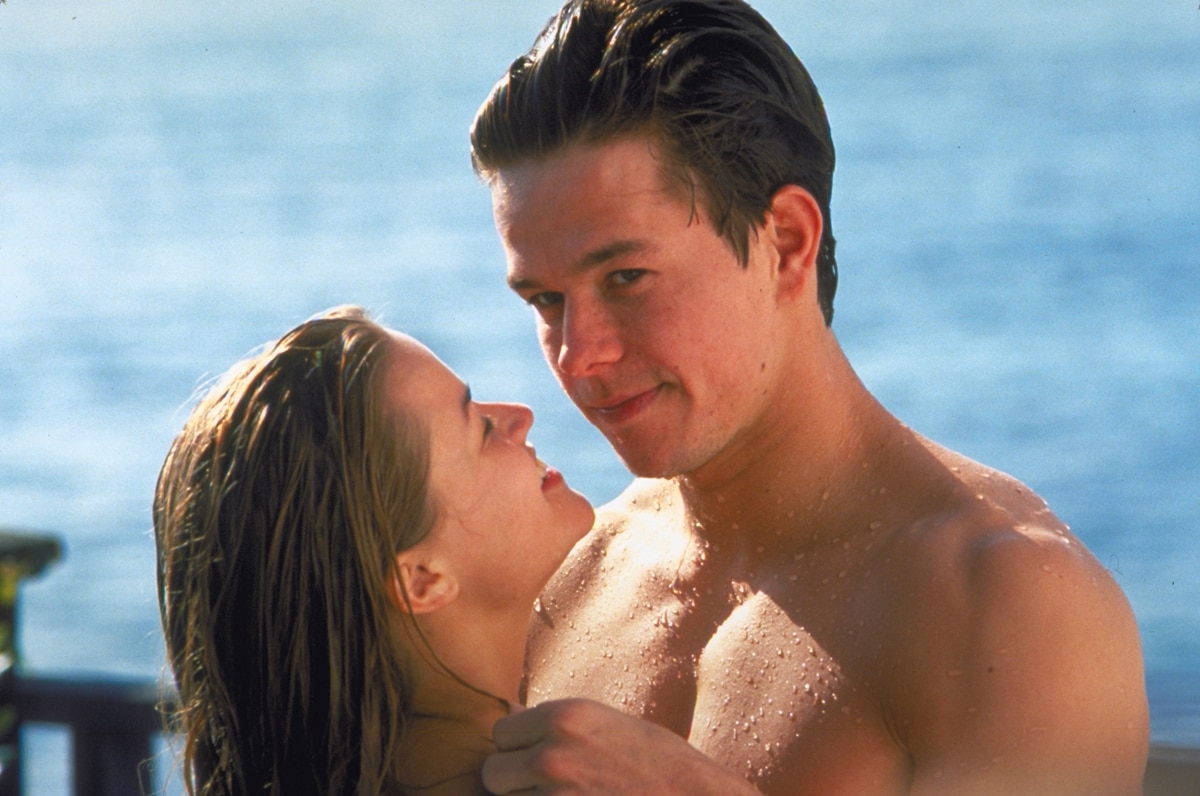 Reese Witherspoon was 18 and Mark Wahlberg was 22 when they filmed Fear (Credit: Imagine Entertainment / Universal Pictures)
Despite this mixed critical reception, the film would prove to resonate with audiences, as made evident by its respectable box-office gross of $20.8 million USD, against its relatively modest budget of $6.5 million USD.
The film would definitely cement the teen-idol statuses of its two major stars, and Reese Witherspoon's demand in Hollywood only increased following Fear's release, as she continued to land leading roles in major Hollywood films such as Overnight Delivery, Pleasantville, and Twilight.
These roles would eventually cause her to star in what is arguably her most iconic role as Elle Woods in Legally Blonde (2001).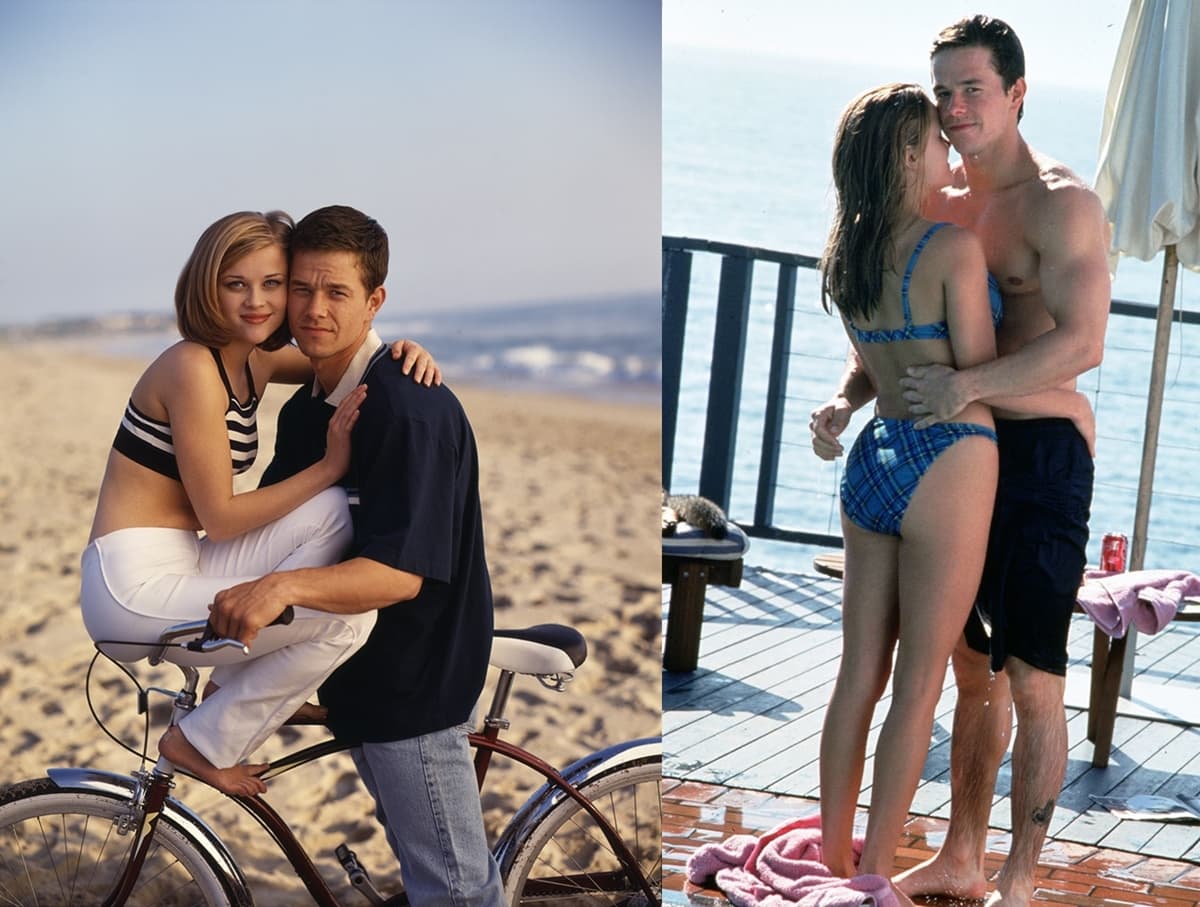 Mark Wahlberg and Reese Witherspoon went on to have successful movie careers after starring in Fear (Credit: Imagine Entertainment / Universal Pictures)
Wahlberg himself would also go on to enjoy a successful career in Hollywood, abandoning his hip-hop roots to act in critically acclaimed performances in films such as Dirk Diggler in 1997's Boogie Nights, and other popular roles in films such as Three Kings, The Perfect Storm, and Four Brothers.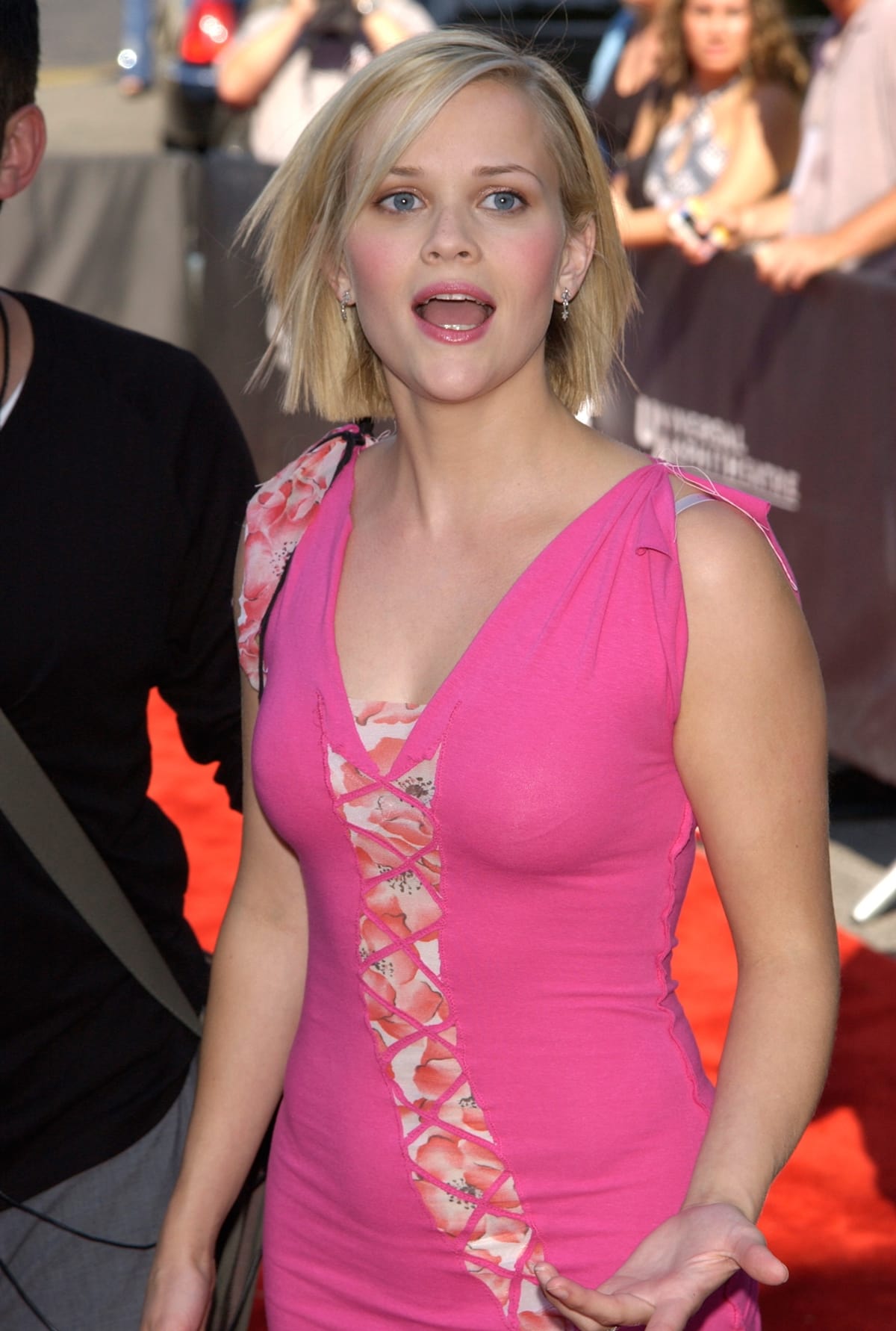 Reese Witherspoon was nominated for Choice Hissy Fit for her performance in Legally Blonde at the 2001 Teen Choice Awards held on August 12, 2001, at the Universal Amphitheatre, Universal City, California (Credit: Featureflash Photo Agency / Shutterstock)
Nowadays, Fear has gained cult status as an enjoyable stalker thriller film. Critical re-evaluation has been much more positive than it was in 1996, and the performances on both Witherspoon and Wahlberg have been noted as being particularly satisfying.
In a sea of teen thriller films of the 1990s, Fear has managed to stand out as one worth watching.
The Future of Fear: A Remake on the Horizon?
The cult following of Fear has led Hollywood producers to have renewed interest in the film. In 2019, Universal Pictures and Imagine Entertainment announced that they would be beginning production on a new Fear remake, this time starring young and up-and-coming actress Amandla Stenberg.
The remake will be written by screenwriter Jonathan Herman, whose most notable work includes a co-writing credit on 2015's Straight Outta Compton.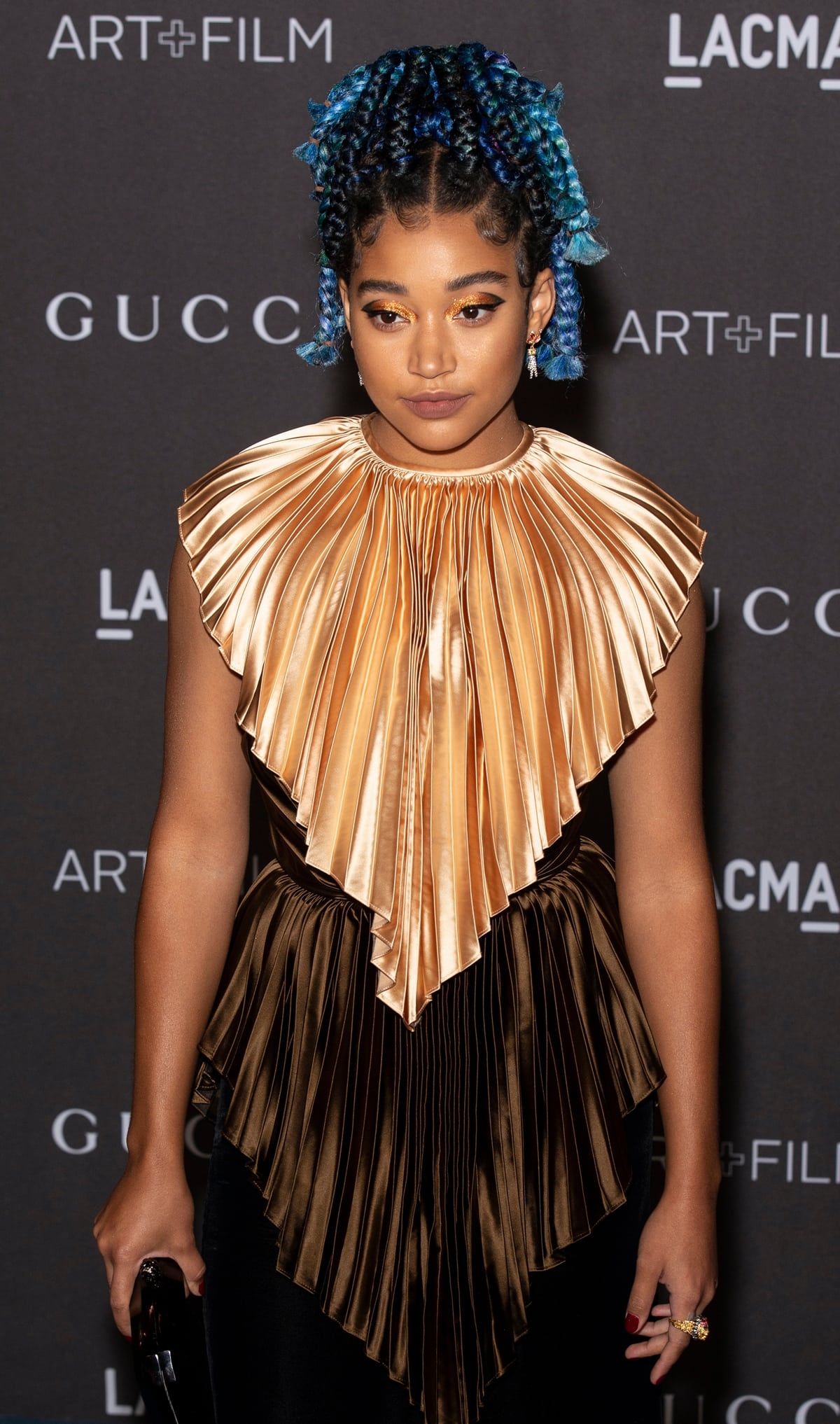 Amandla Stenberg has signed on to star in Universal's planned remake of the 1996 thriller Fear (Credit: Ovidiu Hrubaru / Shutterstock)
Since this announcement, however, no new news has been released on the status of the production. While Amandla Stenberg is undoubtedly a talented young star, we're curious if Stenberg and her supporting cast will be able to recreate the hair-raising thrills that Witherspoon and Wahlberg brought to the first film. Only time will tell.
Reese Witherspoon wears sunglasses from Illesteva Leonard in Brentwood, California on August 5, 2015 (Credit: WENN)
Actresses-turned-mompreneur seems to be a popular job title these days.
Take, for example, celebrity moms Reese Witherspoon and Jessica Alba. In August 2015, the two girl bosses spent a day together chatting it up about their professional business endeavors.
Around the same time, Reese was recently spotted taking a stroll with her adorable little man, Tennessee.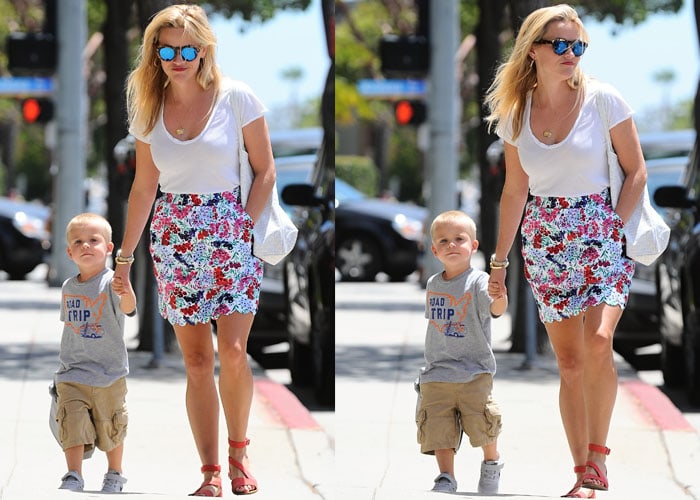 Reese Witherspoon and her son, Tennessee, take a warm day stroll along a sidewalk (Credit: WENN)
Reese, who had just launched her clothing line Draper James in early May 2015, exchanged tips with Jessica at the office of her billion-dollar business endeavor, The Honest Company.
Reese Witherspoon shows off her pedicured feet bright suede sandals from Prada (Credit: WENN)
We assume the meeting went well because Reese uploaded a picture to Instagram, in which she professed her newfound allegiance toward The Honest Company.
Tennessee James Toth, born in 2012, is the son of Reese Witherspoon and Jim Toth (Credit: WENN)
Reese was photographed wearing a skirt by Draper James, which she paired with a plain white tee, sunglasses from Illesteva Leonard, an oversized tote by Goyard, a bracelet by Tiffany and Co., and suede sandals by Prada.
Reese Witherspoon and Jessica Alba pose for a photo at The Honest Company office (Credit: Reese Witherspoon and Jessica Alba's Instagrams)
The name Draper James honors Reese's Southern heritage and her grandparents, Dorothea Draper and William James Witherspoon.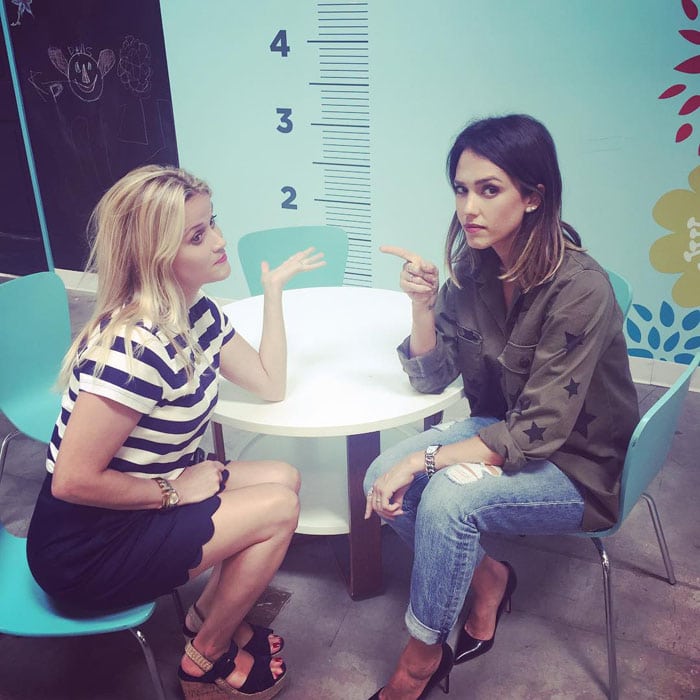 Reese Witherspoon spends a day "schooling" Jessica Alba about business at The Honest Company office (Credit: Reese Witherspoon and Jessica Alba's Instagrams)
Reese's coral suede flats have already flown off the shelves, but we found a few similar pairs of equally-summery sandals at Zappos and Nordstrom for you to peep.
Prada Suede Ankle Wrap Sandals
Belle by Sigerson Morrison Allegra Fringe Sandal, $105
MM6 by Maison Margiela Ankle-Strap Leather Sandals, £260
Zimmermann Ankle Tie Flat Sandals, $310