Not only are the ladies of Fifth Harmony great at singing, they're also great at picking out shoes. The girls — minus the recently departed Camila Cabello — arrived on the red carpet of the 2017 iHeartRadio Music Swards to receive accolades and introduce Thomas Rhett's performance. Each girl rocked a Philipp Plein outfit and a gorgeous pair of heels.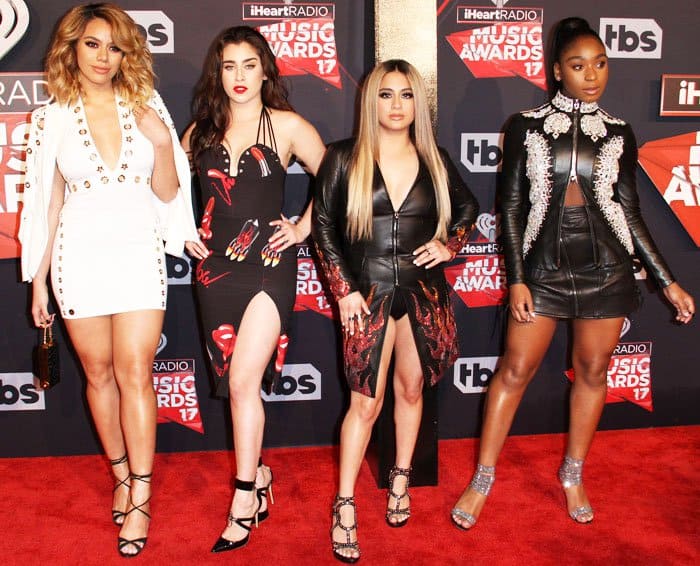 Fifth Harmony's Dinah Jane, Lauren Jauregui, Ally Brooke and Normani Kordei at the 2017 iHeart Music Awards at the Forumin Los Angeles on March 5, 2017.
1. Lauren Jauregui in ankle cuff patent pumps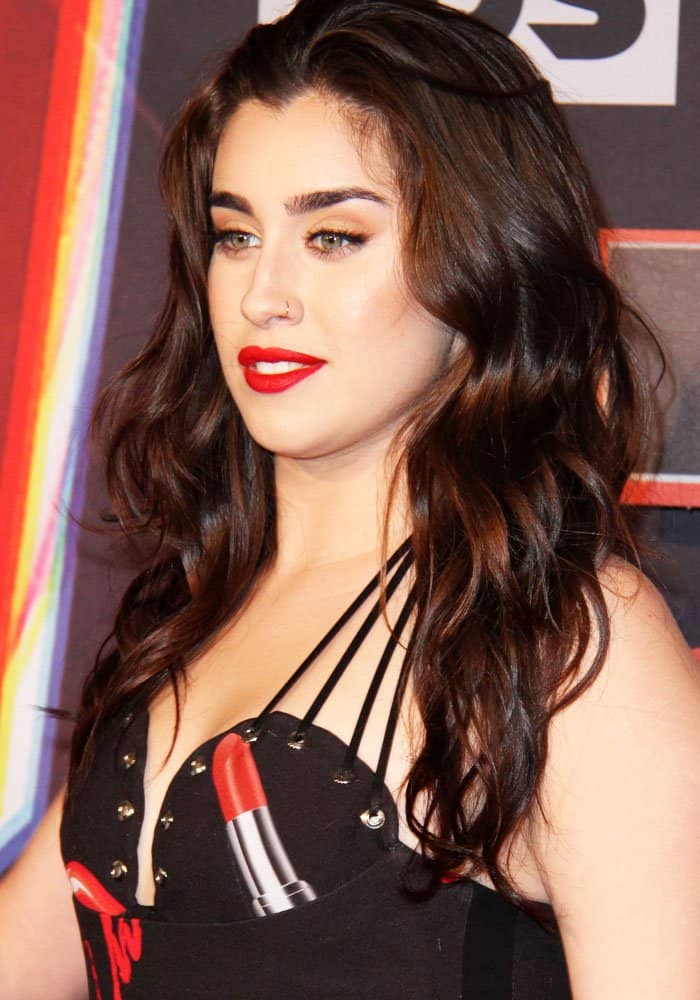 Lauren puts on a vampy red-and-black look.
Lauren gave us major enchantress vibes as she put on a funky lipstick and rocket ship-print bodycon dress by Philipp Plein. The bodice of the dress was held up by grosgrain ribbons, which emphasized the piece's rockstar look. A thigh high slit and a pair of ankle cuff pumps finished Lauren's sexy outfit.
Lauren finished her look with a pair of ankle cuff patent pumps.
Shop similar pumps here.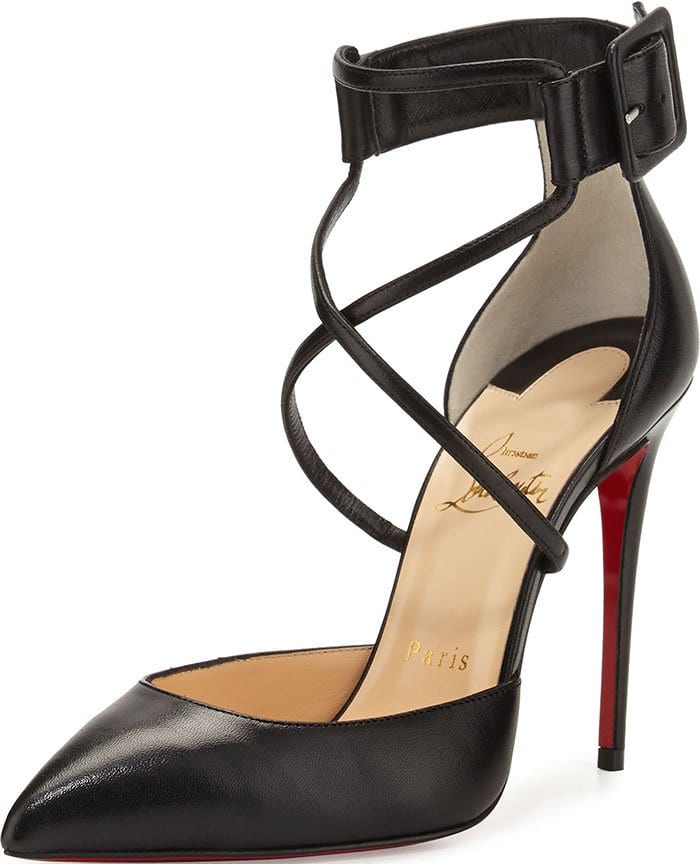 Christian Louboutin "Suzanna" crisscross pumps, $845 at Savannahs
2. Ally Brooke in studded Versace sandals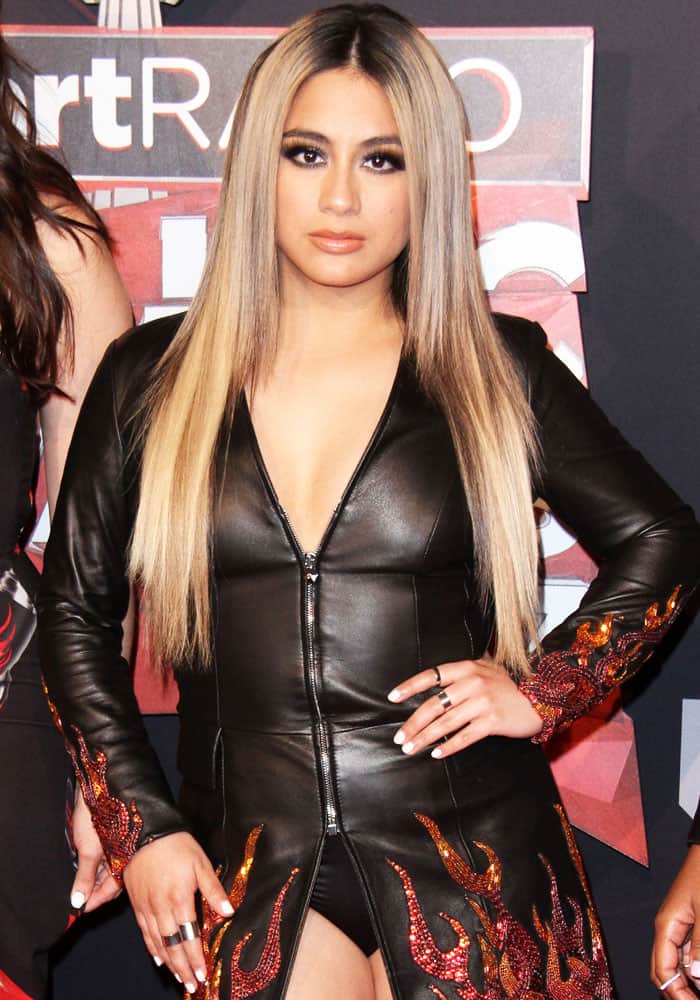 Ally decides to go for a leather-clad look at the awards.
Ally went with a fierce leather Philipp Plein look, opting to don short shorts underneath a jacket dress. We appreciate leather-on-leather, but this look left us a bit perplexed. The outfit was great from the top up, but we could have done without the crotch show. The only saving grace in this outfit was the sleeve and skirt embellishments.
The singer paired her bizarre look with studded leather sandals from Versace. As much as we love the gorgeous cut of the sandal, these shoes just don't fit with the rest of the outfit.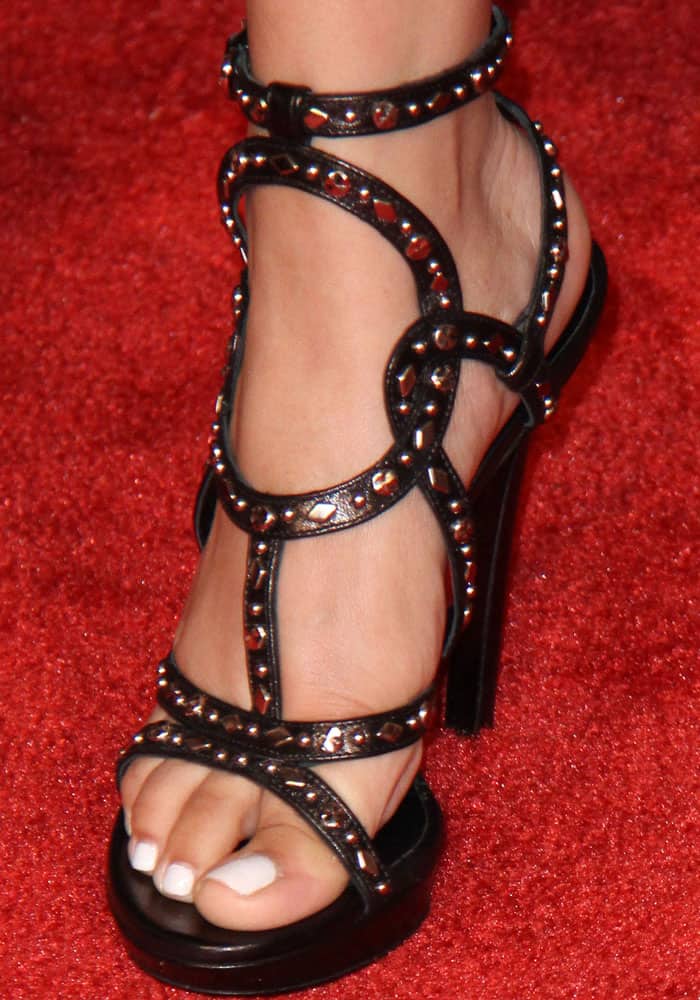 Shop Ally's Versace sandals at Saks Off 5th.
Versace studded leather sandals, $619.99 (original: $1,550) at Saks Off 5th
3. Normani Kordei in embellished sandals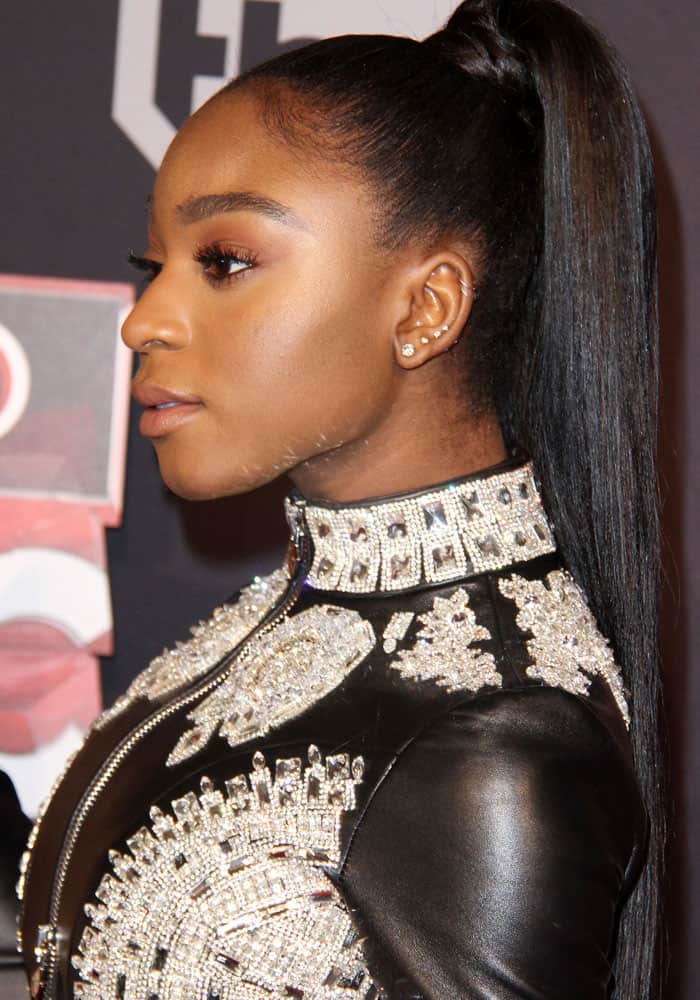 Normani wears a beautifully embellished leather jacket.
Now this is how you do leather. Normani picked out a high-waisted leather skirt from Philipp Plein and paired it with a beautifully and intricately embellished leather jacket from the same designer. The only thing we're not loving is the unzipped zipper.
Normani wore a gorgeous pair of embellished ankle strap sandals, and while we love them, we're not sure they were the best pick for the rest of her outfit.
Normani wears a pair of embellished satin sandals.
Check out a similar pair at Bloomingdale's.
Caparros "Elyzabeth" embellished satin multi-strap high heel sandals, $62.30 (original: $89) at Bloomingdale's
4. Dinah Jane in Jimmy Choo "Teira" sandals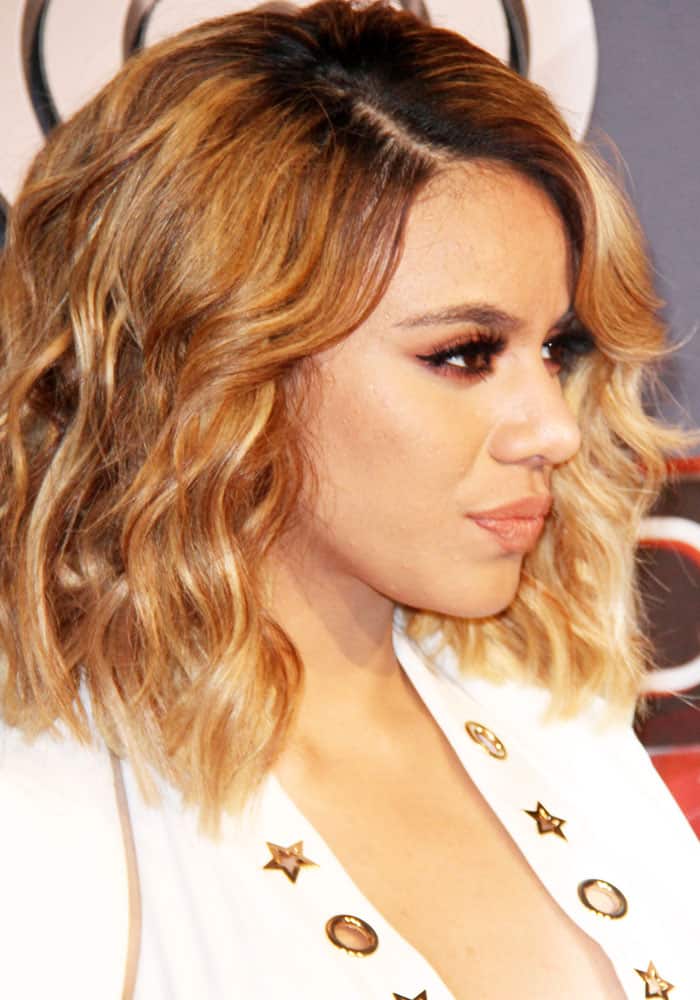 Dinah stands out in a white ensemble.
Dinah definitely stood out among the four in a white Philipp Plein dress. Dinah's outfit consisted of a low-neckline bodycon dress layered with a matching blazer. Apart from the star and round grommets lining the outfit, we've pretty much seen this ensemble everywhere.
Dinah contrasted her white ensemble with a sexy pair of Jimmy Choo "Teira" sandals in black suede leather. The ankle wraps and gold heels of these sandals just make us want to do the salsa.
Dinah amps up the sexiness in her look with a pair of Jimmy Choo "Teira" sandals.
Jimmy Choo "Teira" Metallic Leather and Suede Sandals, $895
Overall, we think the real footwear competition was between Ally's Versace studded sandals and Dinah's Jimmy Choo "Teira" shoes. But then again, we love how classy yet modern Lauren's patent pumps are. Normandi, on the other hand, schooled us on beautifully-fitted sandals.
Which Fifth Harmony member do you think wins this shoe-down?
Credit: Adriana M. Barraza / FayesVision / Nicky Nelson / WENN