Rowan Blanchard is never one for ordinary. As a Woman's March speaker, special ambassador for H&M's conscious collection and an activist, we expect no less.
"I'd like to educate myself more on how to dress sustainably, but if you follow me on Instagram, you know that I only spend real money on vintage clothes… it's obviously a sustainable way to shop—buy things that are already out in the world," the actress shared in an interview with Elle.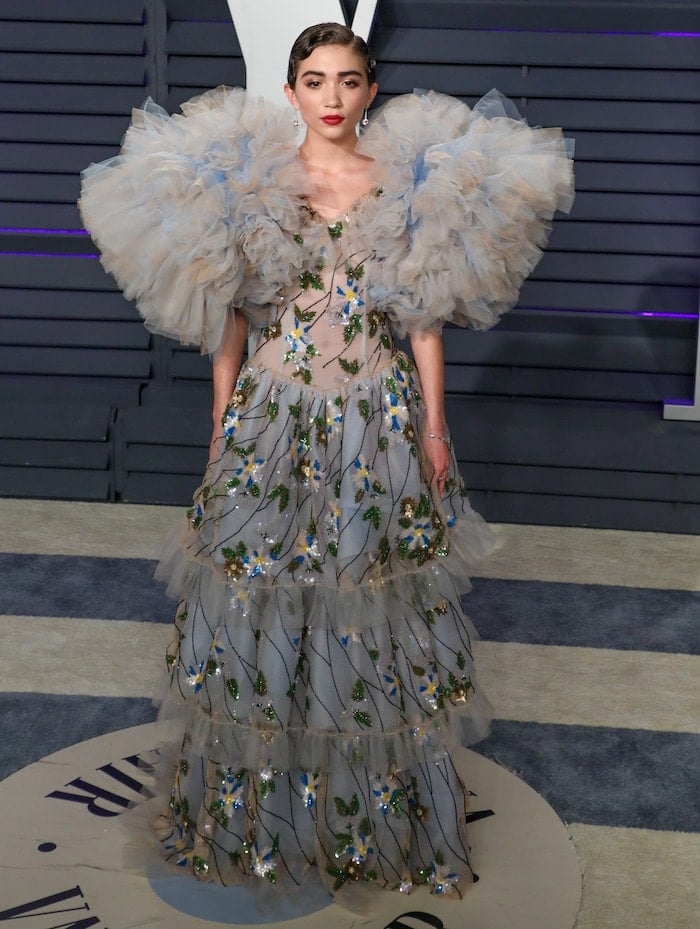 Rowan Blanchard in a unique, puff-sleeved Rodarte Spring 2019 gown at the Vanity Fair Oscars Party earlier this year
Her unique yet sensible approach to fashion is probably what dictates her sense of style. When it comes to her ensembles, we've seen the actress grow up and take more risks over the past year.
Just last week at the LA premiere of HBO's "Euphoria", the Disney starlet donned a cool Frankenstein-printed skirt from Prada's Fall 2019 collection.
The Guardian reports that designer Miuccia Prada cited themes of Mary Shelley's Frankenstein, "humanity, danger, [and] chaos," as the main peg for her latest line.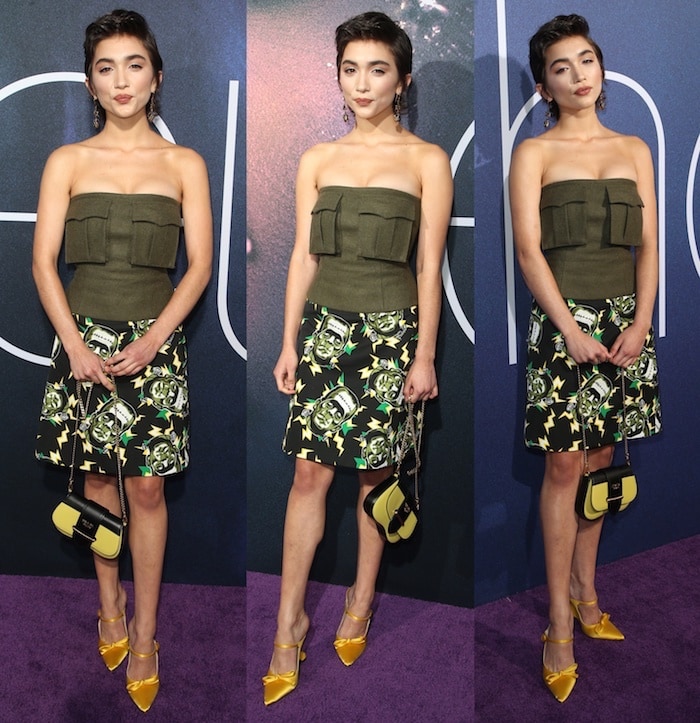 Rowan Blanchard wore a Prada Frankenstein-printed skirt at the LA Premiere of "Euphoria" on June 5, 2019
Rowan paired the skirt with a military green bustier, also from the same collection, that featured two very large distracting pockets on the chest.
Rowan Blanchard's military green bustier top also from Prada's Fall 2019 collection had large distracting pockets
The 17-year-old finished her look with funky yellow mules also from Prada.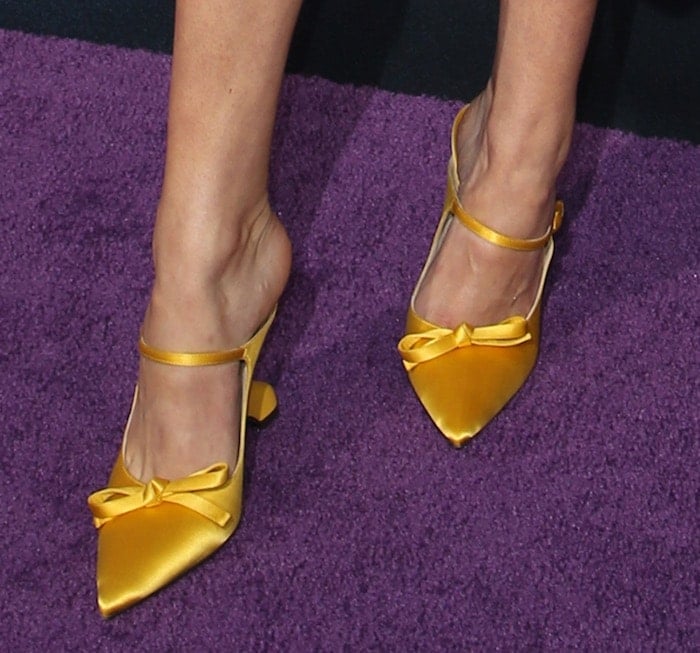 Rowan Blanchard finished her look with yellow structured heel satin pumps from Prada
Prada Angled Heel Satin Pumps, $950 at Farfetch
The satin and leather structured wedge pumps are conceptual and dramatic, featuring pointed toes, bow details, branded insoles, a slip-on style, and high structured heels.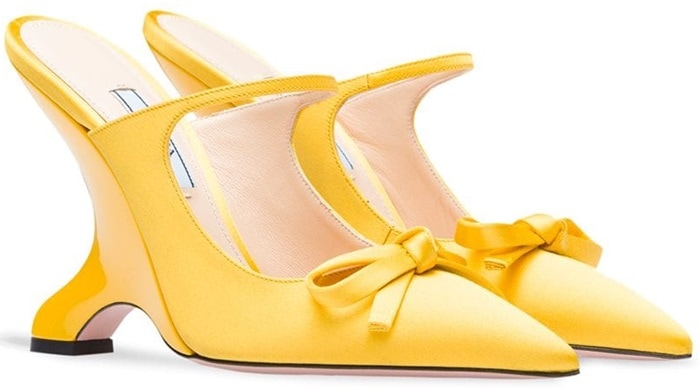 The first sign of Rowan's style evolution was at ELLE's Women in Hollywood party last October, where the former "The Goldbergs" star donned a funky pair of mismatched ankle-strap heels from Calvin Klein.
Her dress at the event, was gorgeous and classic, while her footwear was the perfect balance between classic yet fashion-forward.
Rowan Blanchard in black and white mismatched ankle-strap heels from Calvin Klein
Just a month later, at the LACMA Art+Film Gala the actress made a bold choice in an 80's-inspired blue, bow dress from Gucci's Fall 2018 collection.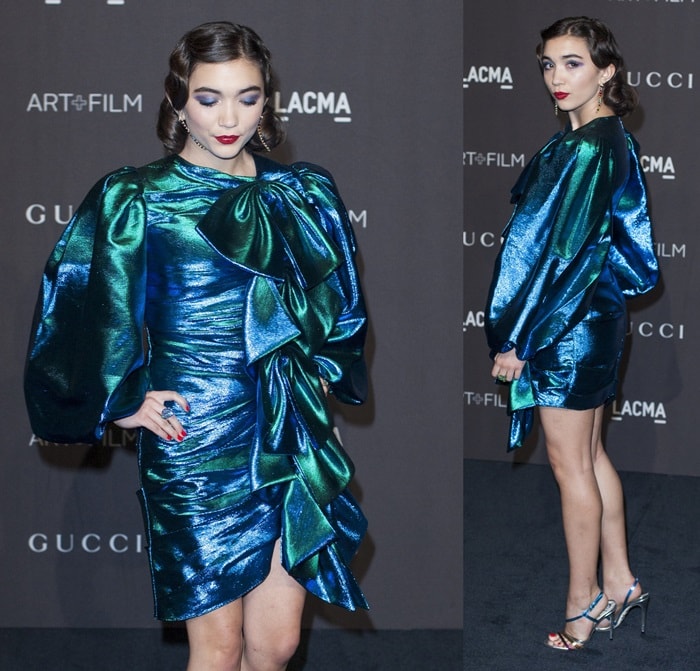 Rowan Blanchard in a blue Gucci Fall 2018 dress featuring large bow details at the LACMA Art + Film Gala 2018
She finished her look with cool metallic sandals also from Gucci.
Rowan Blanchard in Gucci metallic leather tri-color strap sandals with sequins
Gucci Metallic Leather Sandals With Sequins, $1,026 at Farfetch
This sandal is made up of strips of multicolored metallic leather that criss-cross around the foot, trimmed with glittering embroidered sequins.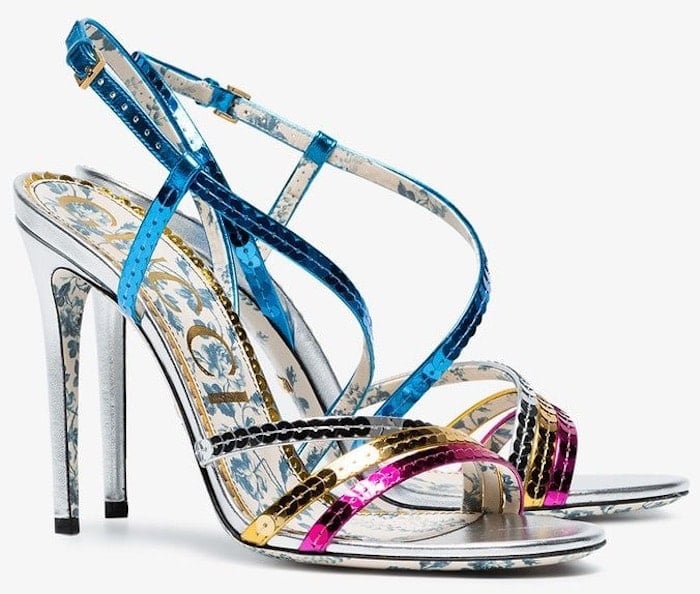 They feature metallic silver, metallic blue, metallic gold and metallic fuchsia leather straps with sequin trims and blue rosebuds and Gucci print leather lining. It also includes adjustable straps with buckle closures and 105mm heels.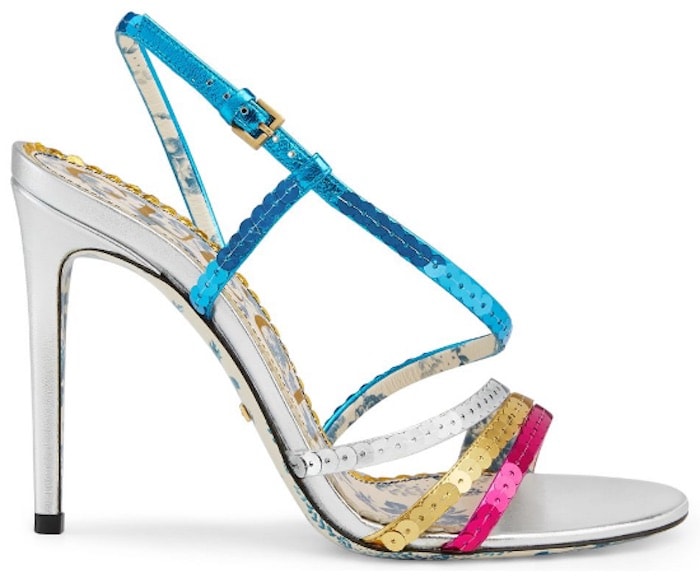 We are looking forward to seeing more of Rowan Blanchard's style choices this year.
Credits: Sheri Determan / FayesVision / WENN / Adriana M. Barraza