What are the Oscars without the parties? And now that we have recovered from Will Smith's "float like a butterfly, sting like a bee" moment and Maggie Gyllenhaal's dress, we can focus on what can only be described as one of the biggest parties around – the Elton John AIDS foundation 30th Annual Academy Award Party.
Sadly for the first time ever, Elton did not attend. During an interview with Good Morning American, Elton said, "It breaks my heart but I can't be there, because it's an event that means so much to us."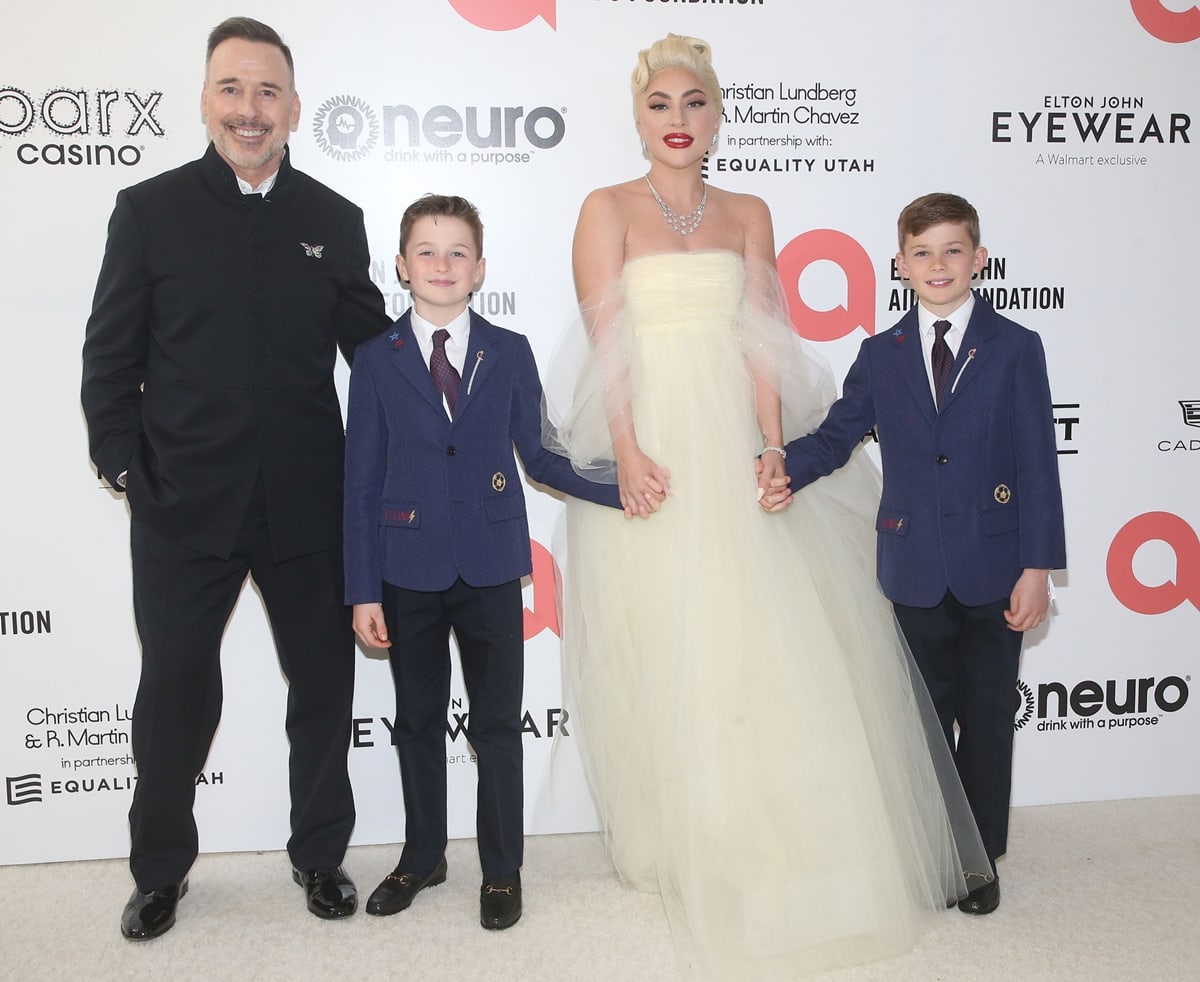 Elton's husband David Furnish, Chairman of EJAF, Elijah Joseph Daniel Furnish-John, Lady Gaga, and Zachary Jackson Levon Furnish-John arrive at the Elton John AIDS Foundation's 30th Annual Academy Awards Viewing Party on March 27, 2022, in West Hollywood, California (Credit: Fayes Vision / Startraksphoto)
Instead of attending, Elton performed at the Pinnacle Bank Arena, in Lincoln, Nebraska as part of his Farewell Yellow Brick Road Tour.
The red carpet moments at this famous event are no less spectacular than those of the awards ceremony with over 150 celebrities being spotted on the foundation's red carpet.
The event was co-hosted by David Furnish and Lady Gaga, the perfect stand-in for Elton John. Lady Gaga looked incredible in her pale yellow, strapless, tulle Rodarte ball gown.
Lady Gaga posting with Elton John's sons Elijah Joseph Daniel Furnish-John and Zachary Jackson Levon Furnish-John (Credit: Fayes Vision / Startraksphoto)
Her look was completed with the perfect updo, a stunning diamond necklace, and fabulous bright red lipstick.
And if you thought that Rodarte ball gown was going to go with her to the Oscars, you were in for a surprise as she appeared in a sparkling black fitted tuxedo and black heels at the ceremony.
Before heading off to the awards ceremony, she was seen posing with David and her godsons, Zachary and Elijah, Elton and David's sons.
Elton John met his now-husband, David Furnish, at a dinner party held at the singer's house in 1993 (Credit: Cubankite / Shutterstock)
Both sons were born to an anonymous surrogate in California and the name of their mother isn't known. To avoid confusion, the boys call Elton "daddy" and David is called "papa."
Elton, who is 15 years older than his husband, met David Furnish at a dinner party held at the singer's house in 1993.
"Before we had the children we just had our lives and we would spend money because we didn't have anything else to focus on," Elton John told The Mirror in 2018.
"I've learned that the simplest things in life, like having a minute with them, are worth more than any painting, any photograph, any house or hit record," he added.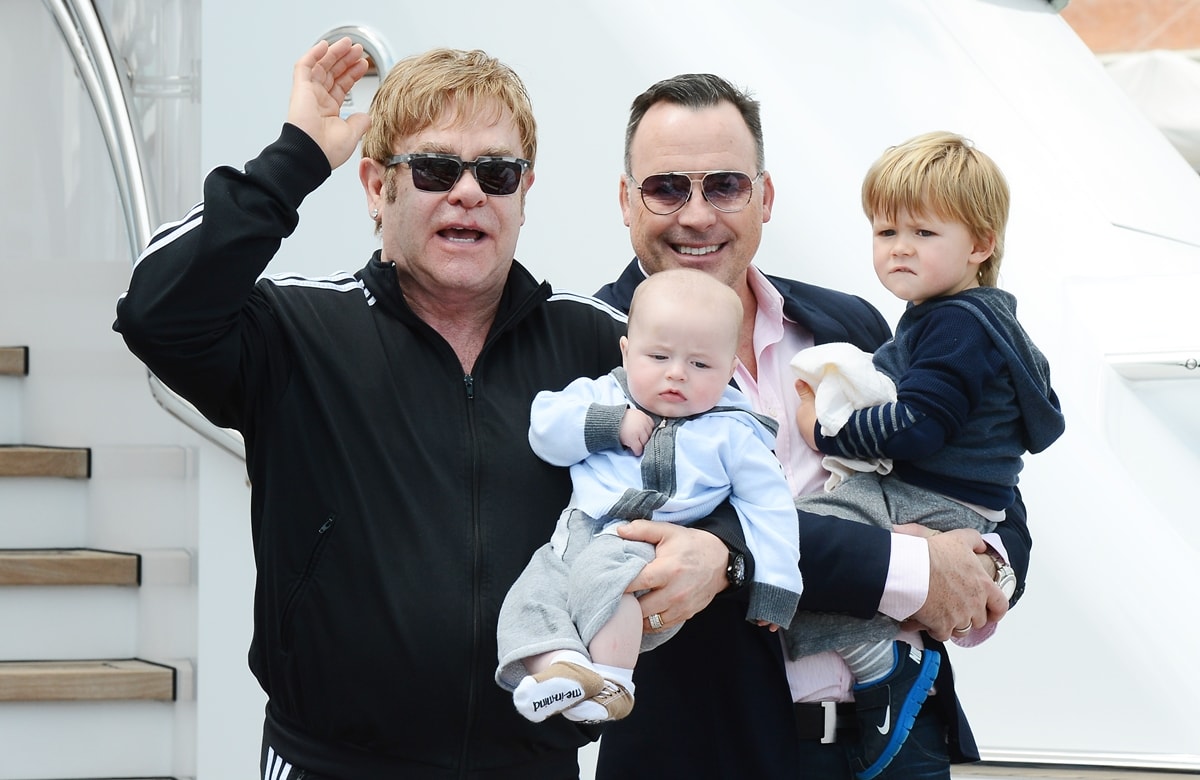 Elton John and his husband David Furnish with their sons Elijah Joseph Daniel Furnish-John and Zachary Jackson Levon Furnish-John in Venice, Italy, on May 29, 2013 (Credit: INFphoto)
In 2016, he spoke with Ellen DeGeneres about becoming a father. "If you'd had said to me 10 years ago I'd be sitting on your show married to the man I love and have two beautiful children, I would have said, 'You put acid in my drink.'"
"But life throws you challenges and life throws you curveballs — great curveballs — and these two children have come along at a time I never thought I'd have children," he added.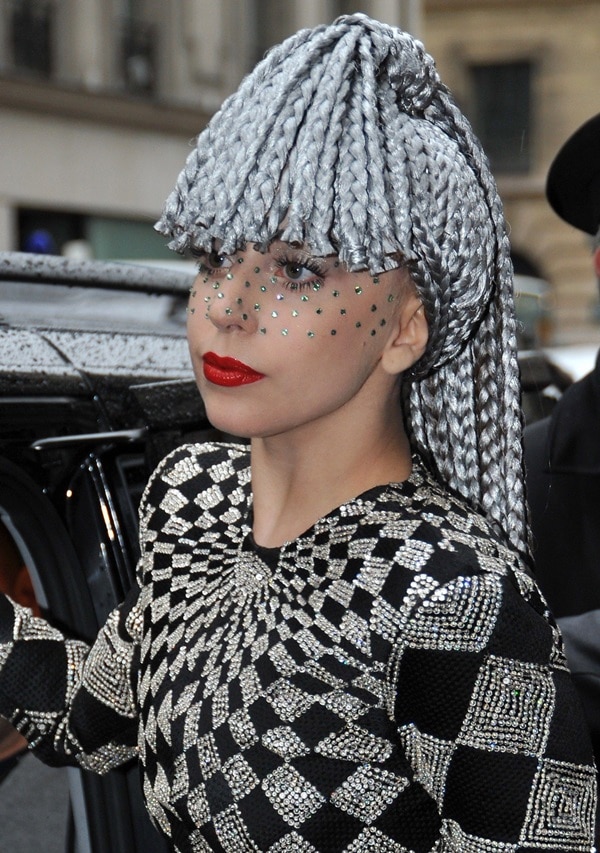 Lady Gaga with Muppet-inspired hair in a sequined jumpsuit (Credit: SIPA / WENN)
Visiting Musée du Louvre in Paris in January 2014, the American recording artist, activist, record producer, businesswoman, fashion designer, philanthropist, and actress wore a vintage Gianni Versace jumpsuit featuring a glammed-up argyle pattern.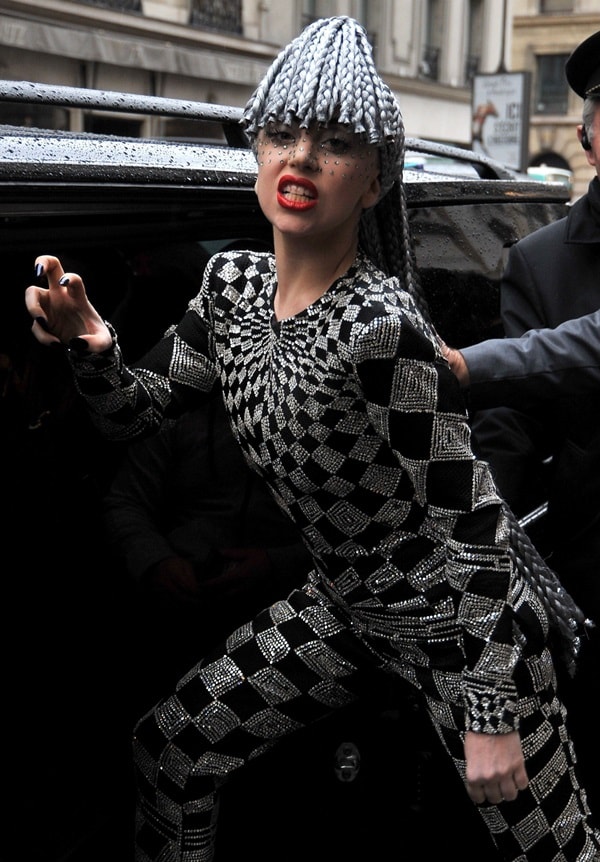 Lady Gaga rocks a vintage Gianni Versace harlequin-print jumpsuit (Credit: SIPA / WENN)
Lady Gaga paired the outfit, or shall we say costume, with the huge high-heeled shoes that we've seen her wear many times before.
Lady Gaga meeting fans outside of her hotel during Paris Fashion Week Haute Couture Spring/Summer 2014 in France on January 20, 2014 (Credit: SIPA / WENN)
Her jumpsuit was fully embroidered with crystals, but the metallic silver dreadlocks ended up getting the most attention as some fashion critics found them offensive.
The then 27-year-old later met with designer Azzedine Alaïa to view his exhibit at Jeu de Paume, an arts center for modern and postmodern photography and media.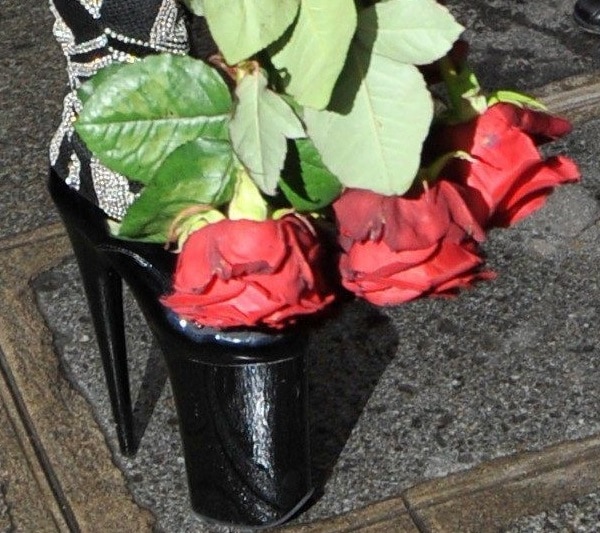 Lady Gaga rocks high heel platform pumps (Credit: SIPA / WENN)