GEICO, one of the most recognizable insurance agencies in the world, has been in business for nearly 90 years. For over 20 years, the company has been represented by its mascot, the GEICO Gecko.
The reptilian GEICO Gecko mascot was created by the Martin Agency and first appeared on August 26, 1999 (Credit: YouTube)
Now a famous mascot, the GEICO Gecko has a storied past and a beloved accent. Here's everything you need to know about the GEICO Gecko, including why one of the voice actors, Jake Wood, almost quit:
GEICO Gecko Background
GEICO introduced the Gecko in 1999. At the time, a strike at the Screen Actors Guild prevented live actors from being used in advertisements.
The first GEICO Gecko commercial was voiced by Kelsey Grammer (Credit: YouTube)
GEICO, looking for a new spokesperson, couldn't use a person to speak and instead had to animate a new mascot.
Since GEICO had often been mispronounced as the small green lizard, they chose a gecko, and the GEICO Gecko was born.
The Gecko's Influence
The GEICO Gecko became so popular other insurance agencies followed suit, quickly creating their own signature spokespeople or spokesanimals.
Now, Aflac is known for their duck, Progressive is represented by Flo, and State Farm has Jake.
Jake Wood's Professional Background
The GEICO Gecko has been voiced by a few different actors but is currently voiced by Jake Wood. He is a British actor known for his role on the BBC soap opera EastEnders.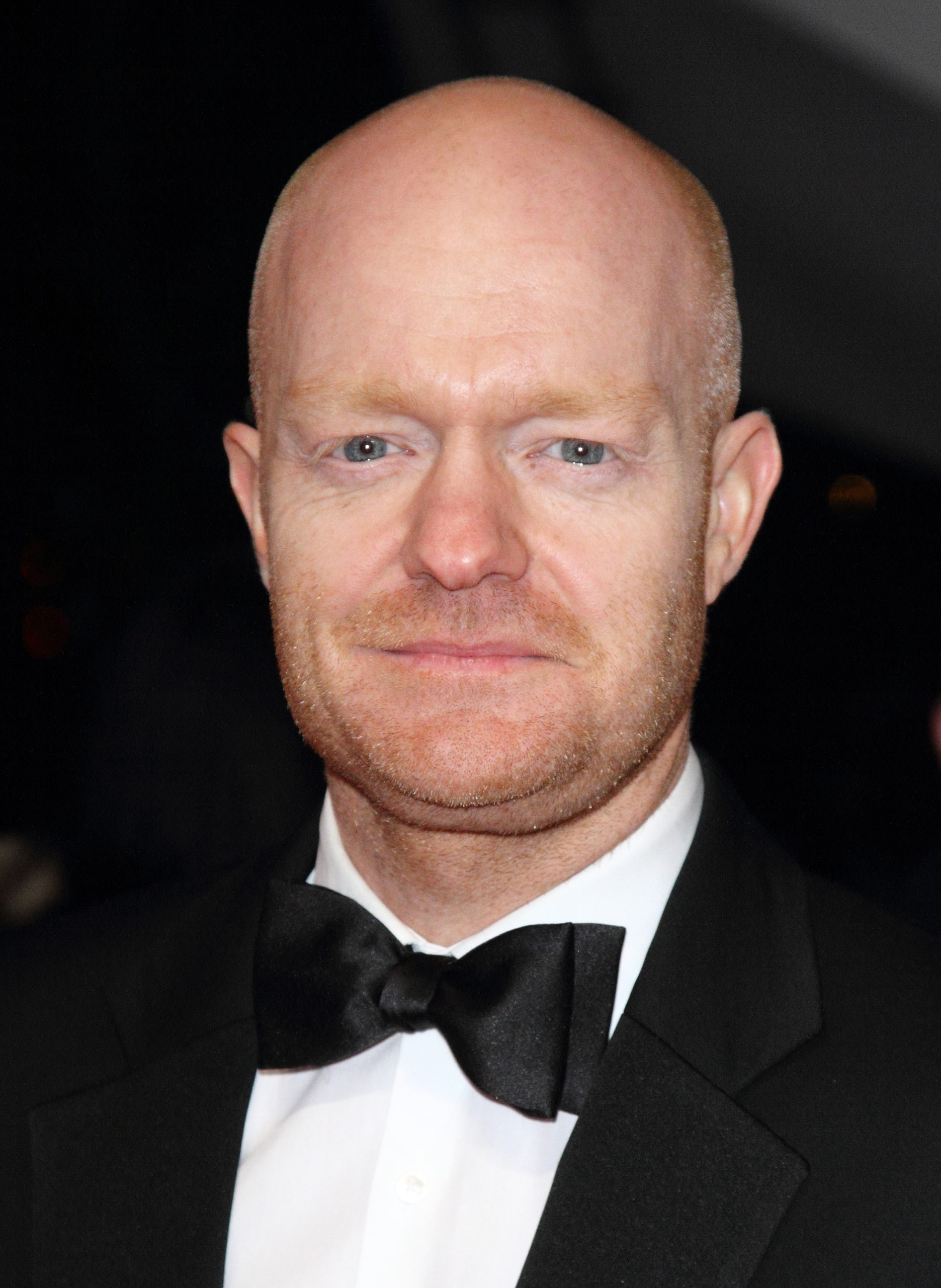 English actor Jake Dylan Wood is the voice of the GEICO gecko advertisements on American television (Credit: WENN)
Wood trained at London's Anna Scher Drama School and began his career in the mid-1980s. He's been active in the entertainment industry ever since and has even branched out into the podcast world, starting one about boxing, a sport in which he has participated for charity.
Jake Wood's Dispute With GEICO
In 2015, GEICO nearly had to find a new voice for the Gecko due to a dispute with Jake Wood. The actor took to Twitter to air his discontent, noting that the insurance company wanted to decrease his pay.
Wood was upset by the company's wishes and found it disrespectful as he'd been voicing the mascot for ten years at that point.
Eventually, Wood deleted the tweets and issued an apology, leading fans to believe he'd settled his issues with GEICO. There are mixed reports about his current status with the company, but it is widely believed Wood is still the voice behind the adorable Gecko.
"Hey Twitter, regarding a dispute I had with a lizard this week. I apologize," Jake Wood tweeted. "I was upset. Moving on, nothing more to see." (Credit: Twitter)
Wood's salary for his work with GEICO has not been publicly disclosed, but online sources have his net worth estimated at $3 million, so it's reasonable to assume he earns a handsome amount lending his voice to the mascot.
His net worth is also comprised of his acting work, as well as any money he makes from his podcast and other ventures.
The Gecko's Accent
Since the very first GEICO commercial featuring the Gecko, the origin of the mascot's noticeable accent has been up for debate. Some Americans believe it's a British accent, while others think it's Australian.
Since Jake Wood took over as the mascot, it's been generally accepted that the accent is British, particularly from the East End of London, as that's where Wood is from.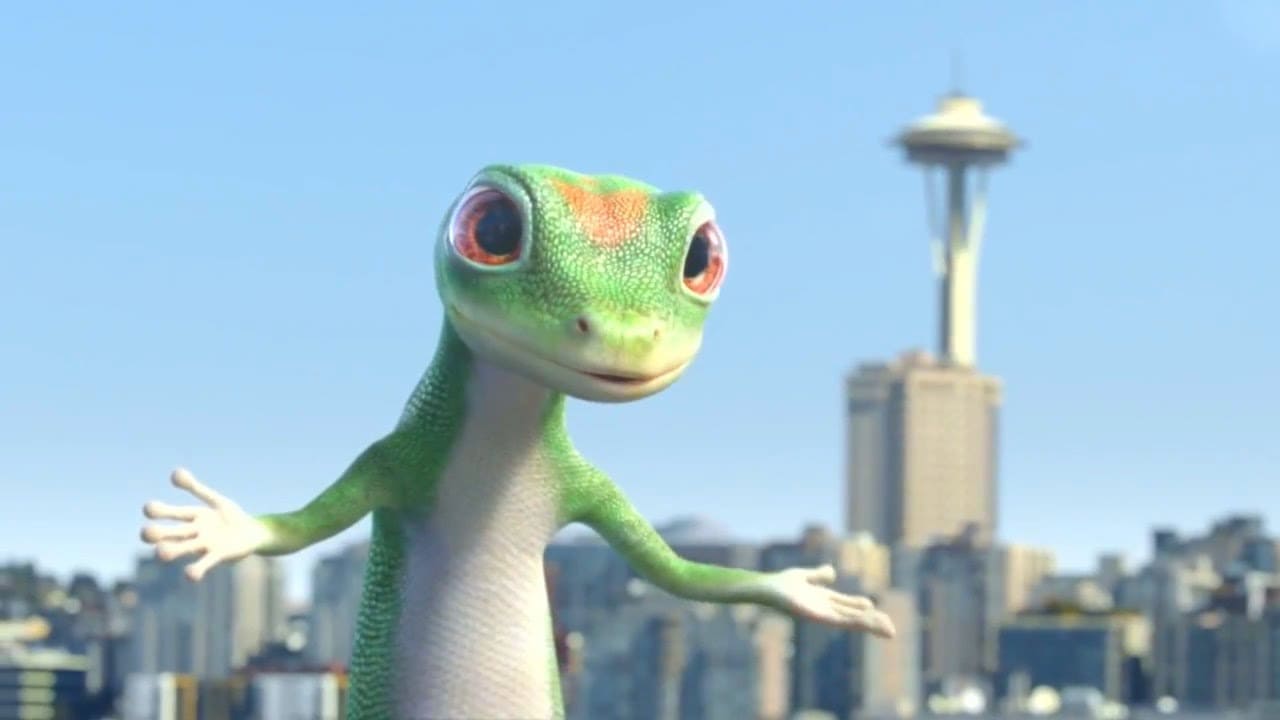 The GEICO Gecko's accent is widely debated and he speaks with a mixture of a British and an Australian accent (Credit: YouTube)
The other men to voice the famous reptile are from all over the world, including Australia, making it clearer why listeners have had trouble discerning where exactly the Gecko is from.
7 GEICO Gecko Fun Facts
We know plenty about the character's origin, as well as the actor who voices him, but there's lots more to know about the Gecko himself:
1. His name is Martin – The cute Gecko does have a name – Martin. He was named after The Martin Agency, the advertising agency that created him.
2. He's an author – Martin the Gecko wrote the book You're Only Human, which was published in 2013. Available on Amazon, the book is a guide to daily life where Martin shares the secrets of the universe.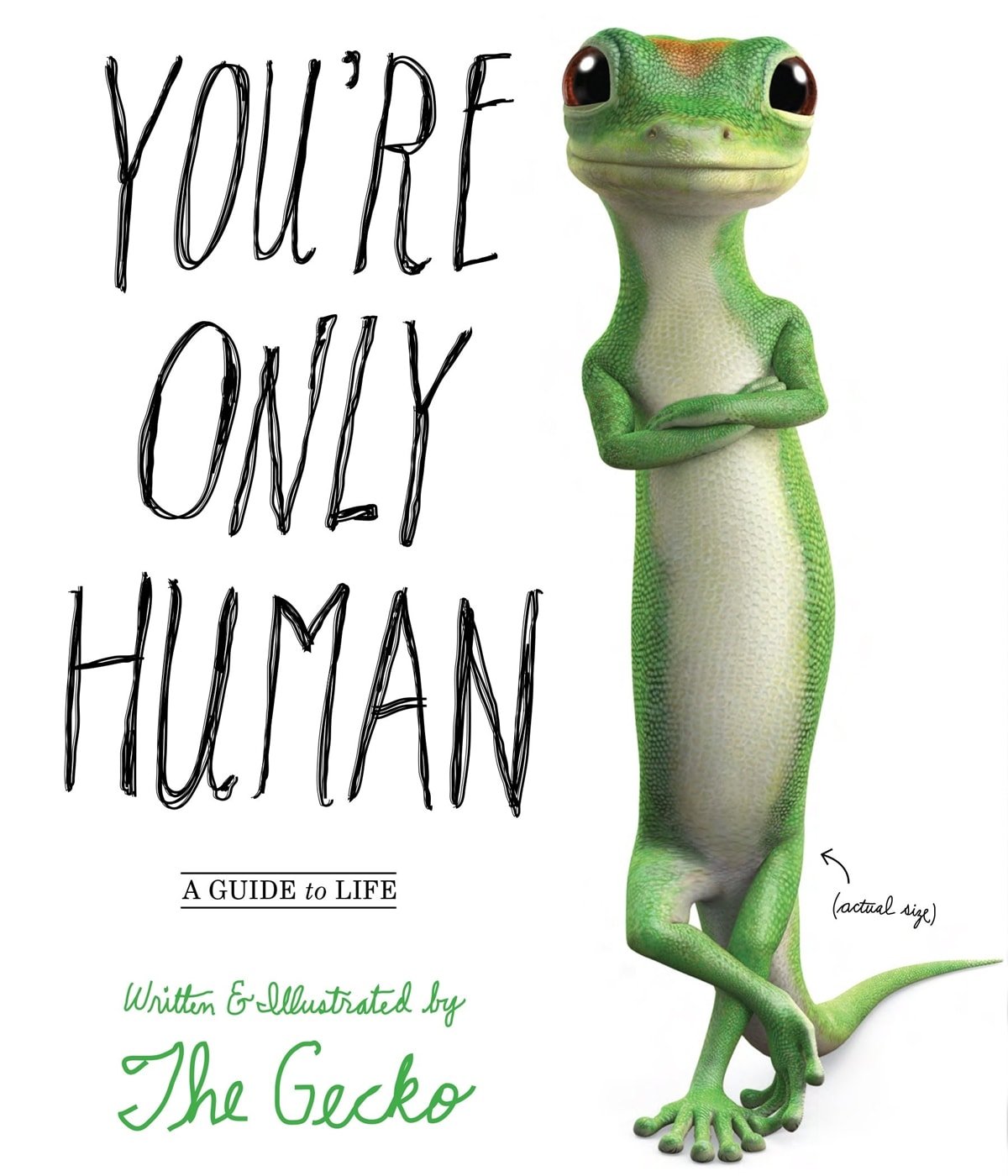 You're Only Human: A Guide to Life is a book written by The Gecko, a brand emissary for GEICO auto insurance
3. He was interviewed by a Clinton – Chelsea Clinton, daughter of former United States President Bill Clinton and former United States Secretary of State Hilary Clinton, interviewed the Gecko while she was working at NBC.
4. He's acted – Martin had fans ask him questions via Twitter, and he revealed that he once starred in The Lizard of Oz.
5. He doesn't wear pants – Many fans have noticed Martin doesn't wear clothes, and he has a good reason. As he revealed on Twitter, pants don't come in his size.
The GEICO Gecko explains why he doesn't wear pants (Credit: Twitter)
6. He's been in lots of commercials – Since his inception in 1999, Martin the GEICO Gecko has starred in over 150 commercials for the company.
7. He has a favorite genre of music – When a fan asked Martin what music he prefers to listen to, he answered Crocodile Rock.
5 Other GEICO Gecko Actors
As mentioned, Martin the GEICO Gecko has been around since the late 1990s, so the mascot has had its share of actors lend their voices:
1. Kelsey Grammer
The most famous of all the men to voice Martin, Kelsey Grammer is the original Gecko. He lent his voice for the very first commercial, where Martin famously tells the public he's just a gecko and begs them to stop confusing him with GEICO.
The original GEICO Gecko commercial was voiced by Kelsey Grammer (Credit: Adriana M. Barraza / WENN)
Grammer is an award-winning actor who's best known for his role as Fraiser Crane in two iconic sitcoms: Cheers and Fraiser.
2. Richard Steven Horvitz
From 2003 to 2005, Martin was voiced by American actor and comedian Richard Steven Horvitz, who's voiced many other characters, like Zim on Invader ZIM and Daggett Doofus Beaver on The Angry Beavers.
Horvitz lost the gig when GEICO made way for Jake Wood.
3. Thomas Bromhead
Actor and comedian Thomas Bromhead has also voiced the adorable little Gecko, and he's been the voice behind commercials for other major companies, too.
Bromhead has voice acted for McDonald's, FedEx, Toyota, Ford, and KFC, in addition to GEICO.
The GEICO Gecko has been interviewed by Chelsea Clinton and is one of the most recognizable corporate mascots (Credit: YouTube)
4. Dave Kelly
Another GEICO Gecko was Dave Kelly, who is a voice actor.
5. Andrew Randall
Andrew Randall is another accomplished voice actor to play Martin. He's been in several commercials and has narrated ads for loads of companies like Google, GE, Walmart, and Cisco.
Martin the GEICO Gecko has been a staple in American culture for decades. Once voted America's favorite advertising icon, he's a familiar face who's likely to remain part of advertising for years to come, no matter who's voicing him.