Renée Zellweger opted for a black lace Gucci scallop-neck dress with double thigh slits for the Women's Cancer Research Fund's An Unforgettable Evening Benefit held at the Beverly Wilshire at the Four Seasons Hotel on Thursday in Beverly Hills, California.
Last month, she picked up the Best Actress honor at the 2020 Academy Awards for her role as Judy Garland in Judy.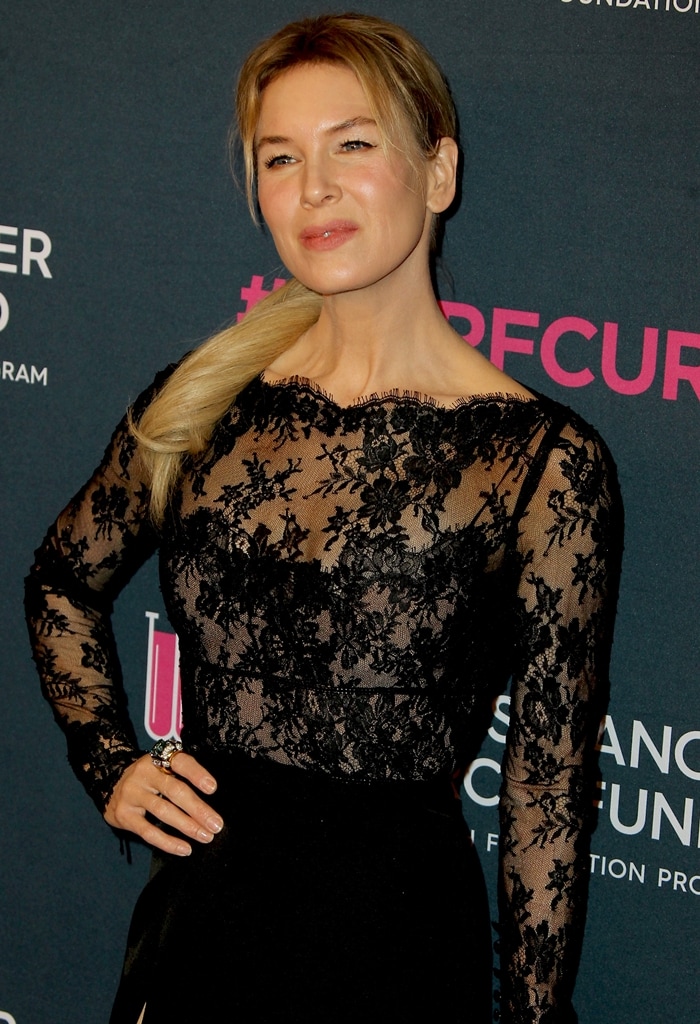 Renée Zellweger attends The Women's Cancer Research Fund's Unforgettable Evening 2020 at Beverly Wilshire, A Four Seasons Hotel on February 27, 2020, in Beverly Hills, California
The 50-year-old star styled her sensual sheer bodice gown with David Webb jewelry and Jimmy Choo 'Anouk' pumps.
"An Unforgettable Evening" mobilizes the influential entertainment community to raise critical funds to support cancer research. This year's Courage Award winner, Zellweger received a glass trophy and tribute from Rita Wilson, who is one of the honorary chairs along with Tom Hanks, Kate Capshaw, and Steven Spielberg.
Renée Zellweger flaunted her legs in a sexy Gucci dress with double slits
"Ultimately, we are honoring Renée, first and foremost tonight, not just for her talent, which is extraordinary, or for her charm, which is undeniable, but for her grit and grace, qualities Renée has demonstrated throughout her life in ways large and small. Renée's charitable contributions and philanthropic efforts throughout the years are too many to include tonight but [do include] Renée's loving support of breast cancer research, especially when it came to being there for her longtime publicist Nanci Ryder, who was diagnosed with breast cancer and later ALS. Renée stood up on many occasions for Stand Up to Cancer events and has been a driving force in raising funds on behalf of the ALS Association's Golden West Chapter rallying support as a key member of Team Nanci."
Wilson, who was diagnosed with breast cancer in 2015, continued: "Courage is sometimes depicted as a solitary achievement but our organization has taught us that courage is also a team effort. Tonight, we honor Renée not just for being on Nanci's team but also for being on our team."
Renée Zellweger wore a black lace scallop-neck dress
Credit: Adriana M. Barraza / WENN