Leopard print is what you would wear when you want to, say, go clubbing, seduce a date, or basically come off as a sexy and fierce vixen.
It's not what you would wear to go to an outdoor fair with your husband and kids. Well, not unless you're Gwen Stefani.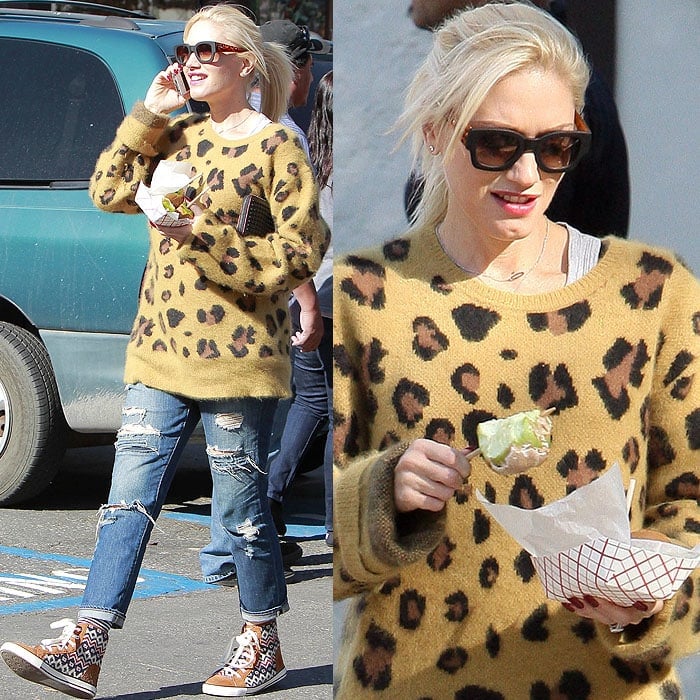 Gwen Stefani with a plain-Jane-ponytail do at an outdoor fair at the Lake Arrowhead Resort and Spa in Los Angeles, California, on October 12, 2013 (Credit: WENN)
The fashion-forward 44-year-old rock star, proudly showcasing her baby bump, confidently donned a striking leopard print ensemble for her family's day out.
Embracing her bold style, she selected a stunning leopard print with an eye-catching, larger-than-life pattern that couldn't be ignored.
Surprisingly, her outfit didn't emanate the typical "sexy," "fierce," or "vixen" vibes that are often associated with leopard print. Instead, her leopard print ensemble exuded an effortlessly laid-back and relaxed charm.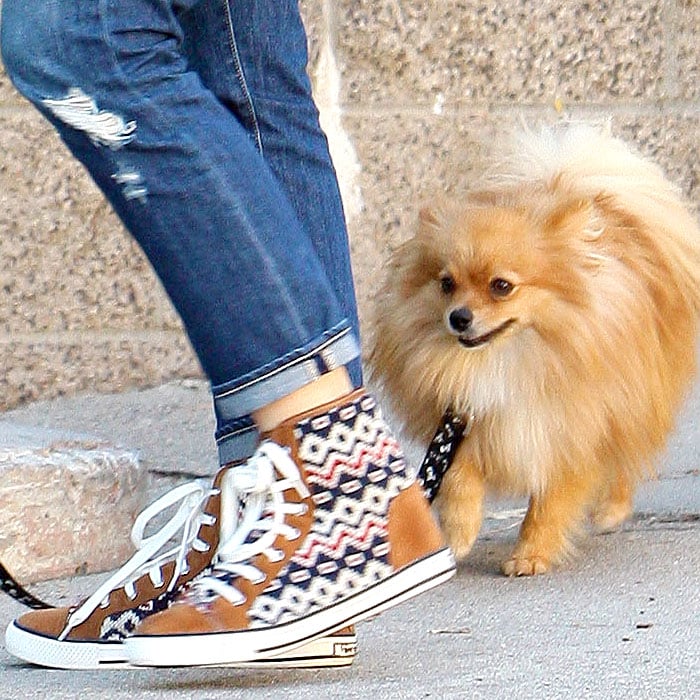 Gwen Stefani's fair-isle-printed fashion sneakers with zig-zag print knit panels and her Pomeranian puppy (Credit: WENN)
Gwen Stefani's leopard-taming technique? Casual and low-key pieces like a gray tank, tattered jeans, and a plain-Jane-ponytail do.
Tomboyish high-top sneakers (plus a poofy Pomeranian!) finished her toned-down leopard look.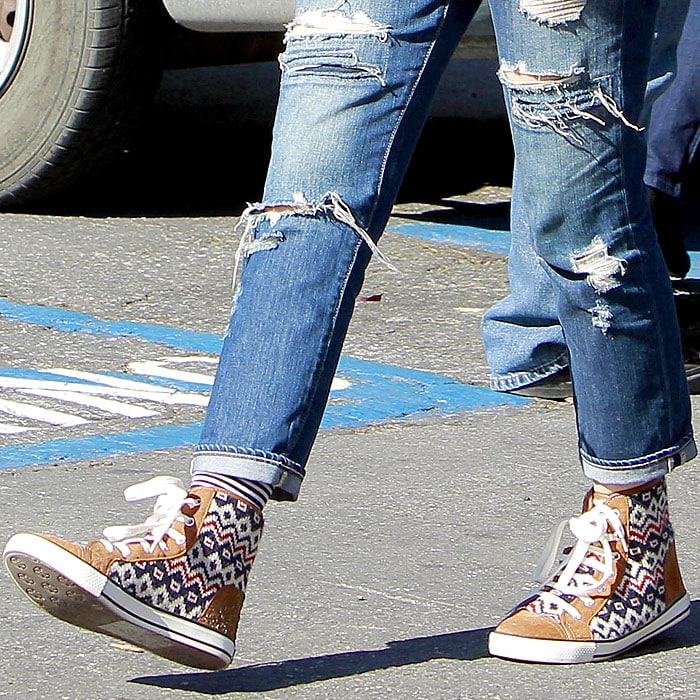 Gwen Stefani elevates her style with a high-top sneaker adorned in chunky knit insets and a luxuriously warm genuine sheepskin lining, exuding both comfort and vibrant charm (Credit: WENN)
We imagine many things being tamed by these Tory Buch "Noah" sneakers at Nordstrom:
Chunky knit insets and genuine sheepskin lining cozy up a high-top sneaker with colorful charm.
Step into ultimate style with the captivating Tory Burch Noah high-top sneakers showcasing a stunning combination of colors, including rich brown, deep navy, and vibrant multicolor hues
They have that infectious chilled-out vibe. With our Rita Ora, Rachel Bilson, and Gwen Stefani shoe spots, it has become a sneaker Sunday here on Your Next Shoes!