Gwen Stefani is pregnant, but that's not keeping her from looking fashion-forward and fabulous. Ever the stylish dresser, the celebrity entrepreneur was recently spotted sporting two different maternity outfits that were fresh and look-book-worthy. And that's not all. She wore these outfits with two striking pairs of footwear — super cool booties, to be exact.
While out having breakfast at Sherman Oaks last week, the mom-of-two wore a chic ensemble that included a sleek tailored coat over a printed shirtdress and a pair of leather skinnies. She then finished the outfit with lace-up boots from her fashion line, L.A.M.B.. The shoes looked like a pair of Dr. Martens, except that they were less bulky and they featured 5-inch-tall heels.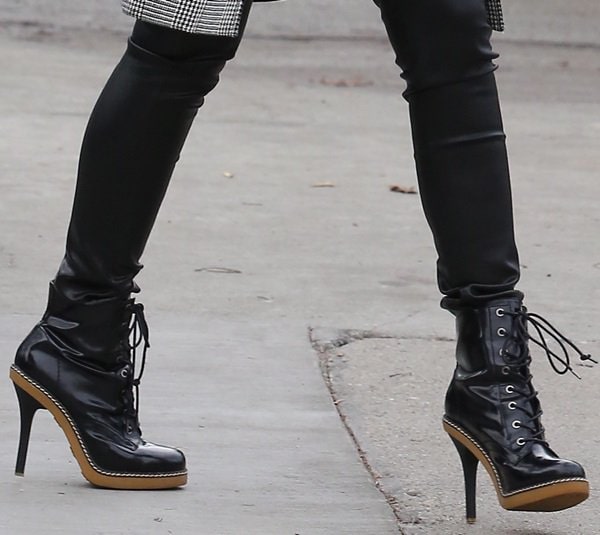 Gwen Stefani looking fashionably cool in lace-up booties from L.A.M.B. and a tailored coat while out having breakfast in Sherman Oaks, Los Angeles, on November 19, 2013
Gwen's boots are called "Nichol." They have a slim silhouette and come with lace-up closures at the front. The shafts of these boots are about 4.5 inches tall, so they end just slightly above the ankles. The rubber platforms are about 0.75 inch thick so that (if you do the math) they're a little on the steep side.
L.A.M.B. "Nichol" Booties, $395 at Shopbop
As for Gwen's other envy-worthy pair of boots, well, we spotted them over the weekend. The singer wore them with a fantabulous denim outfit and topped the combination with a coat. We were even amazed at how very un-pregnant she looked in the whole mix.
Gwen Stefani wearing a denim jumpsuit and tasseled boots while out with her family at Travel Town Museum in Los Angeles on November 23, 2013
Gwen's second pair of boots are actually from AllSaints. We agree, they look too much like men's footwear, but the slender silhouette and dainty tassels make up for the masculinity. Unlike the Nichol booties, however, these Kiss Tassel Chelsea boots from the British label aren't high at all. They're also very easy to wear because you simply slip them on.
AllSaints Kiss Tassel Chelsea Boots, $398
So, what do you think of Gwen's latest collection of boots? You like? Which of the two boot styles would you wear? You can score both online if you wish to make a purchase. Both retail at a little under $400.
Credit: WENN