Fall season is coming, and Halloween is just around the corner. It's the perfect time to cuddle up for a spooky movie on date night!
That said, considering the pure magnitude of content available on streaming platforms from years past, it can be tough to find the perfect Halloween movie to watch.
Luckily, we've brewed up this list of the best Halloween movies that are perfect for date night, so you don't have to waste time browsing every option out there.
Halloween is the best time of year for a scary movie night date with your spouse or partner (Credit: New Africa / Shutterstock)
We know that horror movies aren't everyone's cup of tea, so we've made sure to include a variety of Halloween movies that include animated films, comedies, and more. To add an extra element of unbiased assessment, we've also ranked these movies by their Rotten Tomatoes critics score.
If you're looking for a few fun flicks to check out as the calendar turns into the spookiest season of them all, here are our picks for the best Halloween movies to cap off your date night:
10. Fright Night (2011) – 72% Score
A fun and creepy romp with an element of romance that doesn't take itself too seriously, 2011's Fright Night was based on the 1985 film of the same name.
Directed by Craig Gillespie, this darkly comedic horror film stars Colin Farrell, Anton Yelchin, David Tennant, and more.
David Tennant as Peter Vincent and Anton Yelchin as Charley Brewster in the 2011 supernatural horror comedy film Fright Night (Credit: Walt Disney Studios Motion Pictures)
It centers on Charley Brewster (Anton Yelchin), a teenager living in Las Vegas who begins to suspect that his new neighbor is harboring dark secrets.
Fright Night takes a classic tale of attractive vampires wooing unsuspecting victims and gives it a modern facelift, making for a fun and aloof horror adventure. Colin Farrell is impeccable as Charley's neighbor Jerry, oozing both sex appeal and a sinister side.
Colin Farrell as Jerry in the 2011 supernatural horror comedy film Fright Night (Credit: Walt Disney Studios Motion Pictures)
With its entertaining fusion of classic supernatural tropes, light horror, and salacious fun, Fright Night is a great choice for your Halloween date night.
9. Crimson Peak (2015) – 73% Score
Written and directed by Guillermo del Toro, who is best known for his work on films like Pan's Labyrinth and The Shape of Water, Crimson Peak is an artistic and interesting take on the traditional ghost story.
The film stars Mia Wasikowska as Edith Cushing, a young author living in England during the early 1900s. After marrying a wealthy inventor named Thomas (Tom Hiddleston), Edith moves into his sprawling mansion, where she starts to have visions of ghostly apparitions.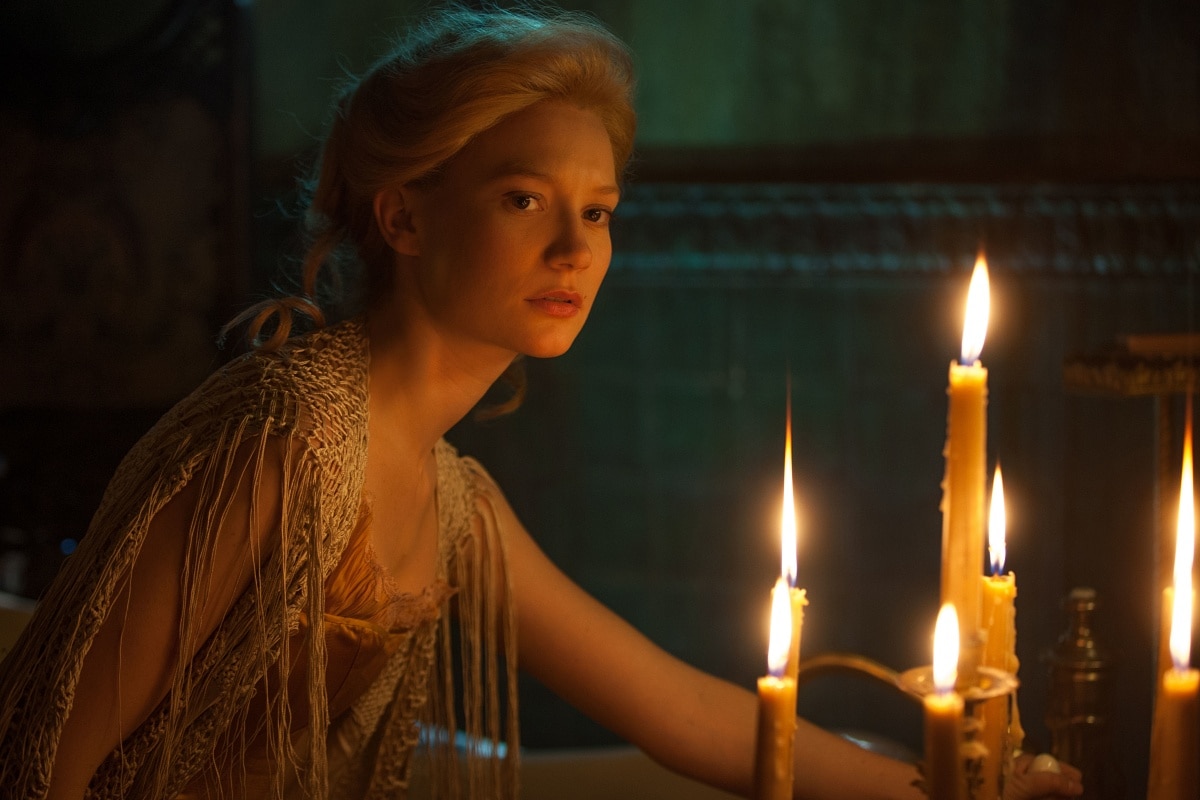 Mia Wasikowska as Edith Cushing in the 2015 gothic romance film Crimson Peak (Credit: Universal Pictures)
While some criticism has been lobbed at the film's story, it's hard to deny the beauty of the sets, costuming, and make-up on display in Crimson Peak. Although it's billed as a horror film, it often feels more like a romantic period piece, opting for lavish displays of beauty instead of grotesque imagery.
Regardless of critical opinion, we think Crimson Peak is an exceptional movie in Guillermo del Toro's filmography and a must-watch for any fan of romance and horror.
8. Bram Stoker's Dracula (1992) – 76% Score
Based on the iconic 1897 novel that helped birth the vampire genre, Bram Stoker's Dracula is a darkly beautiful horror film directed by the esteemed Francis Ford Coppola.
Set in the late 1800s, the story follows Jonathan Harker (Keanu Reeves), a legal agent who begins to work for the shadowy Count Dracula (Gary Oldman), who lives in Transylvania, Romania. After Dracula moves to London and preys on Jonathan's fiancée Mina (Winona Ryder), things take a turn for the worse.
Keanu Reeves as Jonathan Harker and Gary Oldman as Dracula in the 1992 gothic horror film Bram Stoker's Dracula (Credit: Columbia Pictures)
As an adaptation of one of the most iconic horror stories of all time, Bram Stoker's Dracula somehow exceeds expectations, offering a wild rollercoaster of love, horror, and suspense.
The film is bolstered by its fantastic cast, including the likes of Anthony Hopkins, Cary Elwes, and many more. With excellent costuming, fun scares, and a few clever twists, Bram Stoker's Dracula is well worth your time.
7. Warm Bodies (2013) – 81% Score
While vampires are often at the center of supernatural love stories, it's not too common to see a romance about zombies. However, that's exactly what Warm Bodies has to offer, with its eclectic mix of bloody action and heartwarming intimacy.
Directed by Jonathan Levine and based on the novel by Isaac Marion, the film follows a zombie named R (Nicholas Hoult), who falls in love with Julie (Teresa Palmer), a human survivor of the undead apocalypse.
Nicholas Hoult as R in the 2013 paranormal romantic zombie comedy film Warm Bodies (Credit: Summit Entertainment through Lionsgate)
Bloody, comedic, and ultimately adorable, Warm Bodies takes a wholly ridiculous concept and manages to make it relatable and fun to watch.
Despite being a love story at its core, Warm Bodies rarely pulls the punches, resulting in a gruesome yet hilarious experience. If you've grown tired of the repetitive zombie genre and are eager to see a new spin on old ideas, check out Warm Bodies on your Halloween date night.
6. Trick 'r Treat (2007) – 81% Score
Written and directed by Michael Dougherty, who also created the Christmas-themed horror film Krampus, Trick 'r Treat is easily one of the most underrated Halloween films of all time.
Although it was originally intended for a full theatrical release, this beloved and festive film was ultimately pushed straight to home video, becoming a cult classic after just a few short years.
This amazing horror film is entirely set on Halloween and features four interwoven stories – each with a fun twist and endearing characters.
Trick 'r Treat is a 2007 anthology horror comedy film featuring four Halloween stories with a common element (Credit: Warner Bros. Pcitures)
If you're struggling to pick a perfect Halloween movie to watch on date night, it's best to pick Trick 'r Treat, as you're essentially getting four short films in one. This short but sweet movie offers everything a horror fan could want, including classic monsters, creepy urban legends, and plenty of blood and guts.
If you haven't seen this bona fide Halloween classic yet, we guarantee it'll quickly become one of your favorites.
5. Paranormal Activity (2007) – 83% Score
Paranormal Activity is a prime pick for your Halloween date night if you're looking for a remarkably frightening movie but would rather avoid the gory elements of the horror genre.
Written and directed by Oren Peli, this low-budget indie film became a smash hit upon release due to its stunning suspense and unique style. Often considered to be the movie that launched the found footage craze of the early 2000s, Paranormal Activity will have you gripping your couch with anxiety.
Katie Featherston as Katie and Micah Sloat as Micah in the 2007 supernatural horror film Paranormal Activity (Credit: Paramount Pictures)
The film follows Katie (Katie Featherston) and Micah (Micah Sloat), a couple who moves into a new home in San Diego, California. Plagued with bad memories from her childhood and convinced that she is being haunted by a malevolent entity, Katie and Micah begin to document supernatural activity as it crops up around the house.
Despite its simple premise and rudimentary scares, Paranormal Activity is easily one of the most terrifying films on this list. Once again proving the old adage that "less is more" when it comes to scaring your audience, Paranormal Activity earns its spot on our list of excellent Halloween movies to watch on date night.
4. Ready or Not (2019) – 88% Score
Directed by Matt Bettelli-Olpin and Tyler Gillet, Ready or Not is a recent hit that's been garnering plenty of buzz since its release just a few years ago.
Centered on a new bride named Grace (Samara Weaving), who marries Alex Le Domas (Mark O'Brien), the heir to a successful board game company, the film follows the pair as they compete in a traditional game at the Le Domas mansion.
Eager to prove herself to her new family, Grace prepares for a simple game of hide-and-seek but soon realizes that her competitors are deadly serious.
Samara Weaving as Grace Le Domas in the 2019 black comedy horror film Ready or Not (Credit: Fox Searchlight Pictures)
Bloody, hilarious, and tons of fun to watch, Ready or Not is a wonderfully twisted flick that engaged and soon-to-be-married couples will wholeheartedly enjoy.
When compared to Grace's night of terror and torment, your pre-wedding jitters will seem like child's play. By the end of the film, you'll be rooting for Grace's success in the face of insurmountable odds, making the adventure all the more satisfying.
Although it's not a terribly frightening film, Ready or Not contains plenty of bloody fun, making it a nice alternative to your standard slasher flick.
3. It Follows (2014) – 95% Score
Indie horror films are often hit or miss, but It Follows knocks it out of the park with its intriguing concept, excellent performances, and atmosphere of ever-increasing dread.
Maika Monroe as Jay Height and Jake Weary as Hugh in the 2014 supernatural psychological horror film It Follows (Credit: RADiUS-TWC)
Directed by David Robert Mitchell and starring Maika Monroe in the lead role, this psychological thriller offers some interesting twists on an otherwise classic formula.
The story follows Jay Height (Maika Monroe), a student who becomes tethered to a deadly supernatural entity after an intimate encounter with a new boyfriend.
Perpetually chased by a spirit that can change forms and is only visible to her, Jay must find a way to reverse the curse before it catches up to her.
Maika Monroe as Jay Height in the 2014 supernatural psychological horror film It Follows (Credit: RADiUS-TWC)
It Follows takes a simple premise and executes it with perfection, resulting in some ultra-tense scenes with thrilling payoffs. It's unnerving, paranoia-inducing, and packed with suspense, creating some effective scares without resorting to disgusting gore or violence.
Maika Monroe and the rest of the young cast put in commendable performances, making this supernatural tale of terror more believable than most modern horror flicks.
If you're looking for a thriller with a unique plot and immensely creepy vibes, It Follows is one of the best you can find.
2. The Nightmare Before Christmas (1993) – 95% Score
Created by the beloved and quirky Tim Burton and directed by Henry Selick, The Nightmare Before Christmas is one of the few picks on our list that the whole family can enjoy.
If you're stuck entertaining your children on date night, but you still want to enjoy a festive film, this animated classic will be a surefire hit.
Featuring voice-over work from all-star actors like Catherine O'Hara, Paul Reubens, and more, this musically-inclined feature film has become a traditional watch for tons of Halloween lovers.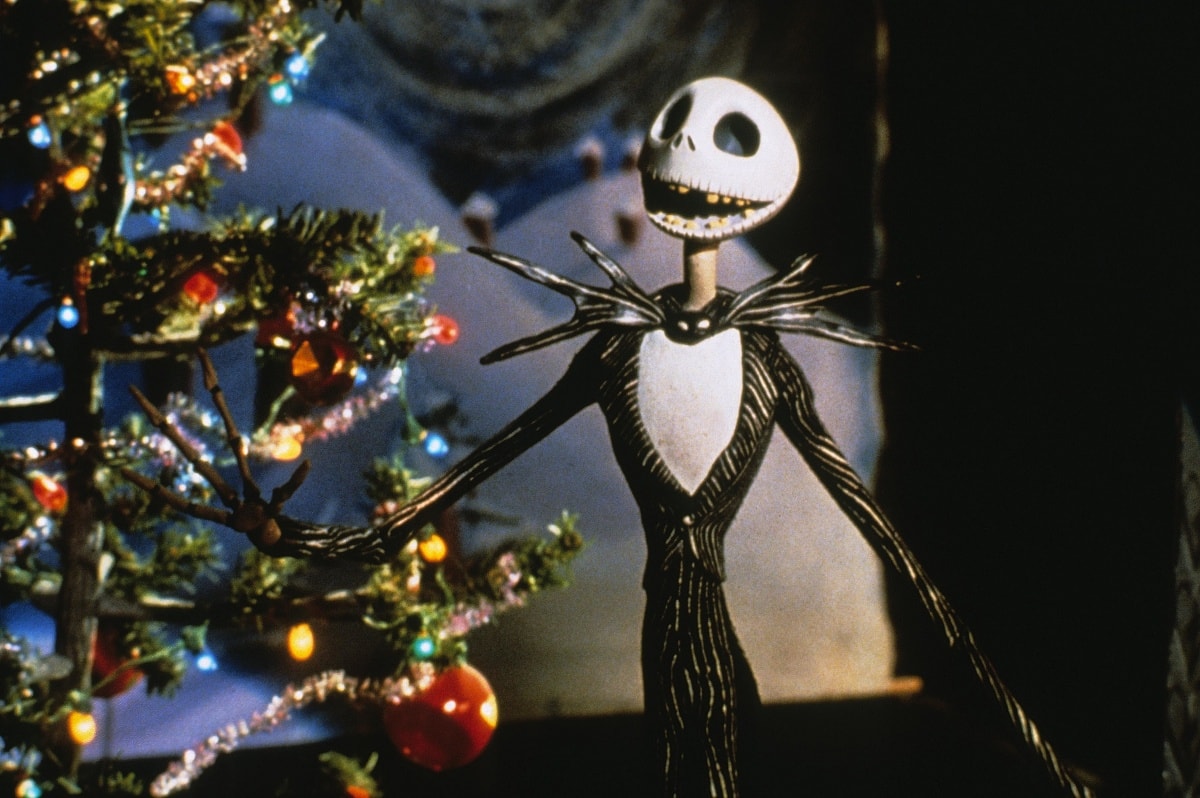 The Nightmare Before Christmas is a 1993 stop-motion animated musical dark fantasy film that has become a holiday classic and a cult favorite (Credit: Buena Vista Pictures Distribution)
Spinning a tale that has become iconic as the holiday itself, The Nightmare Before Christmas follows Jack Skellington, the leader of a fantasy world simply known as Halloween Town. Bored with performing the same tasks year after year, Jack ventures into Christmas Town and uncovers a brand new holiday to celebrate.
Fully festive and featuring one of the best love stories in all of animated cinema, The Nightmare Before Christmas is an ideal pick for families or couples who are bursting with seasonal cheer.
1. Halloween (1978) – 96% Score
It's only fitting that our list is capped off by one of the most iconic slasher films ever made, Halloween.
Not to be confused with either of the two modern reboots/sequels, this epic 70s horror film was directed by John Carpenter and started a franchise that is still kicking to this day.
Jamie Lee Curtis as Laurie Strode in the 1978 independent slasher film Halloween (Credit: Compass International Pictures / Aquarius Releasing)
The movie stars Jamie Lee Curtis as Laurie Strode, a high school student living in suburban Illinois. On Halloween night, Laurie is slowly stalked by Michael Myers, an insane knife-wielding killer with a vengeance.
While the sequels to Halloween consistently amped up the levels of gore and violence, the original film is more of a slow-burn horror punctuated by terrifying scares and bloody bursts of action. Since the core of the film is set on Halloween, you can expect a wholly festive atmosphere with enough suspense to keep your heart pumping.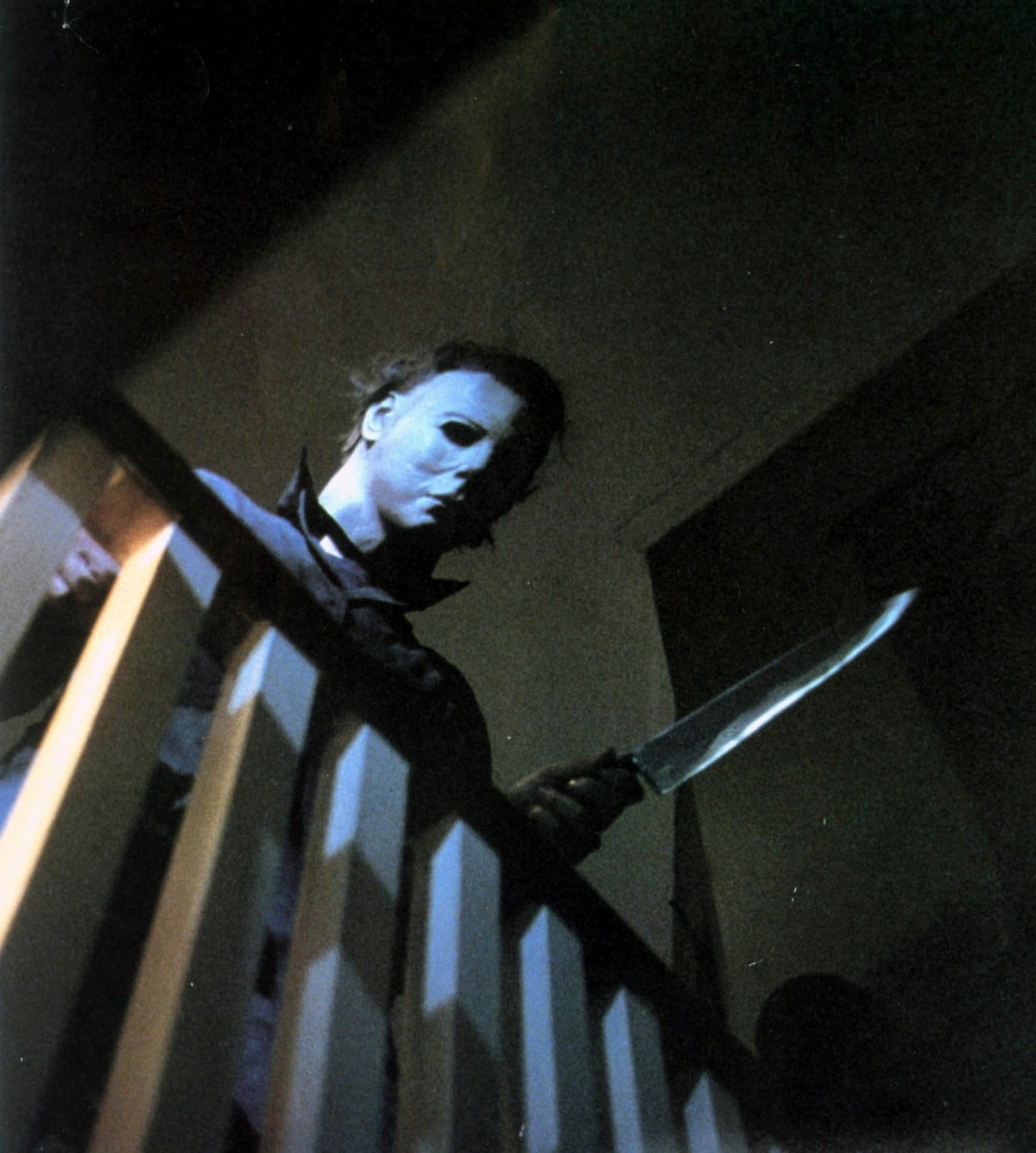 Nick Castle as Michael Myers / The Shape in the 1978 independent slasher film Halloween (Credit: Compass International Pictures / Aquarius Releasing)
If you could only choose one horror flick to watch on date night, make it Halloween, as this fantastic movie has withstood the test of time and remains one of the greatest slasher films in all of cinema.