She's been racking up awards and accolades ever since she broke into mainstream fame last year. However, amidst all the awards she's been getting, Billie Eilish admitted that she's dealing with a lot of haters. Last year, she increased her net worth by $25 million after selling the rights to a documentary about her life to Apple+.
On Tuesday, the 18-year-old singer broke down in tears while giving an emotional speech at the 2020 BRIT Awards. She won the award for Best International Solo Female Artist, but while accepting her trophy, she revealed that she felt "very hated."
"I also wanted to say something that I was thinking like two seconds ago… I felt very hated recently." She was struggling to keep her composure before adding: "And when I was on the stage, and I saw you guys all smiling at me, it genuinely made me want to cry. "And I want to cry right now, so thank you," she said in a shaky voice.
Before hitting the stage, Billie walked the red carpet in head-to-toe Burberry. She wore a Burberry trench coat ($6,900 at Farfetch), which features gold-toned hand-threaded chains, polished eyelets, and signature check lining. She layered it over a baggy sand-colored, chain-detailed co-ords, styled with Burberry checkered socks.
Billie Eilish in head-to-toe Burberry at the 2020 BRIT Awards held at The O2 Arena in London on February 18, 2020
Samantha Burkhart accessorized the look with Tiffany jewelry, a clear sun visor, and a pair of chunky sneakers.
Billie Eilish in Burberry Arthur chunky sneakers
Burberry Arthur Low-Top Sneakers, $790 at Farfetch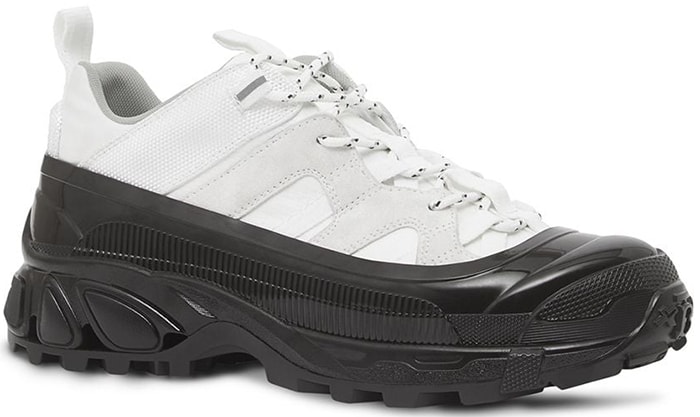 Burberry Vintage Check Cotton and Nylon Arthur Sneakers, $790 at Farfetch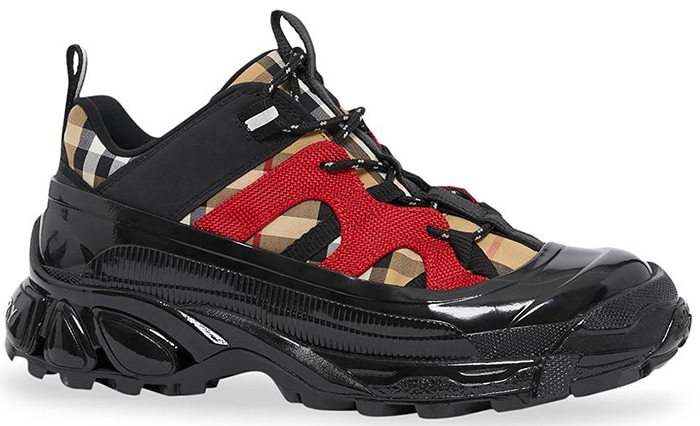 Beauty-wise, Billie wore her signature green-and-black ombre hairstyle in loose curls with soft, barely-there makeup.
To complete her Burberry look, Tammy Taylor gave Billie long plaid nails, designed by Dawn Marchand.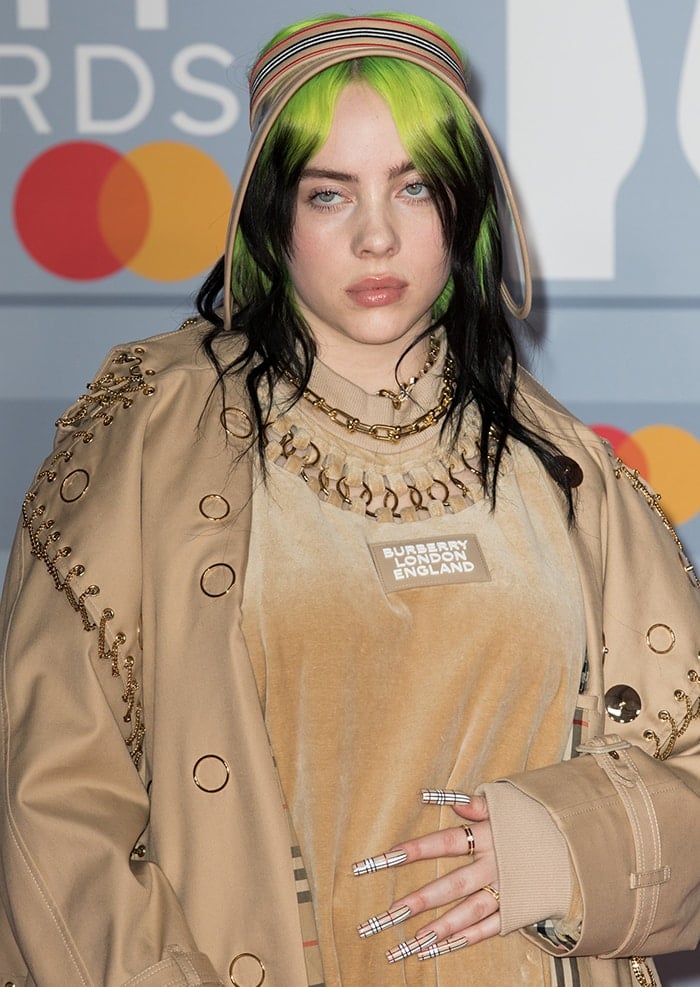 Billie Eilish completes her Burberry look with long plaid nails and sun visor
Billie earlier performed the new James Bond theme song, No Time to Die, live for the first time at the BRITs. She was accompanied by her brother Finneas on piano, Johnny Marr on guitar, and an orchestra led by Hans Zimmer.
Billie Eilish: Internet is ruining my life
Just a few hours before attending the BRIT Awards at the O2 Arena in London, Billie and her brother Finneas stopped by BBC Breakfast to discuss No Time To Die. Finneas said it took them only three days to write the song while on a tour bus in Texas.
The two also talked about their experiences with social media, with Billie saying she stopped reading comments just two days ago.
"I stopped reading comments fully because it was ruining my life. It's weird, the cooler things you get to do, the more people hate you. It's crazy," she said. "Cancel culture is insane. The internet is just a bunch of trolls, and the problem is a lot of it is really funny. I think that's the issue, I think that's why nobody really stops," she continued.
Billie added that she "should have stopped long ago" but she "wanted to stay in touch with the fans and keep talking to them." The haters, however, ruined it for her.
Credit: Phil Lewis / WENN