There's a saying that goes, "the bigger the storm, the bigger the rainbow," and there's no question Tarek El Moussa endured his share of storms. From battling cancer to his public divorce from Christina Anstead, he had a rough go for a number of years.
That was until he met Heather Rae Young, the former Playboy model turner real estate agent.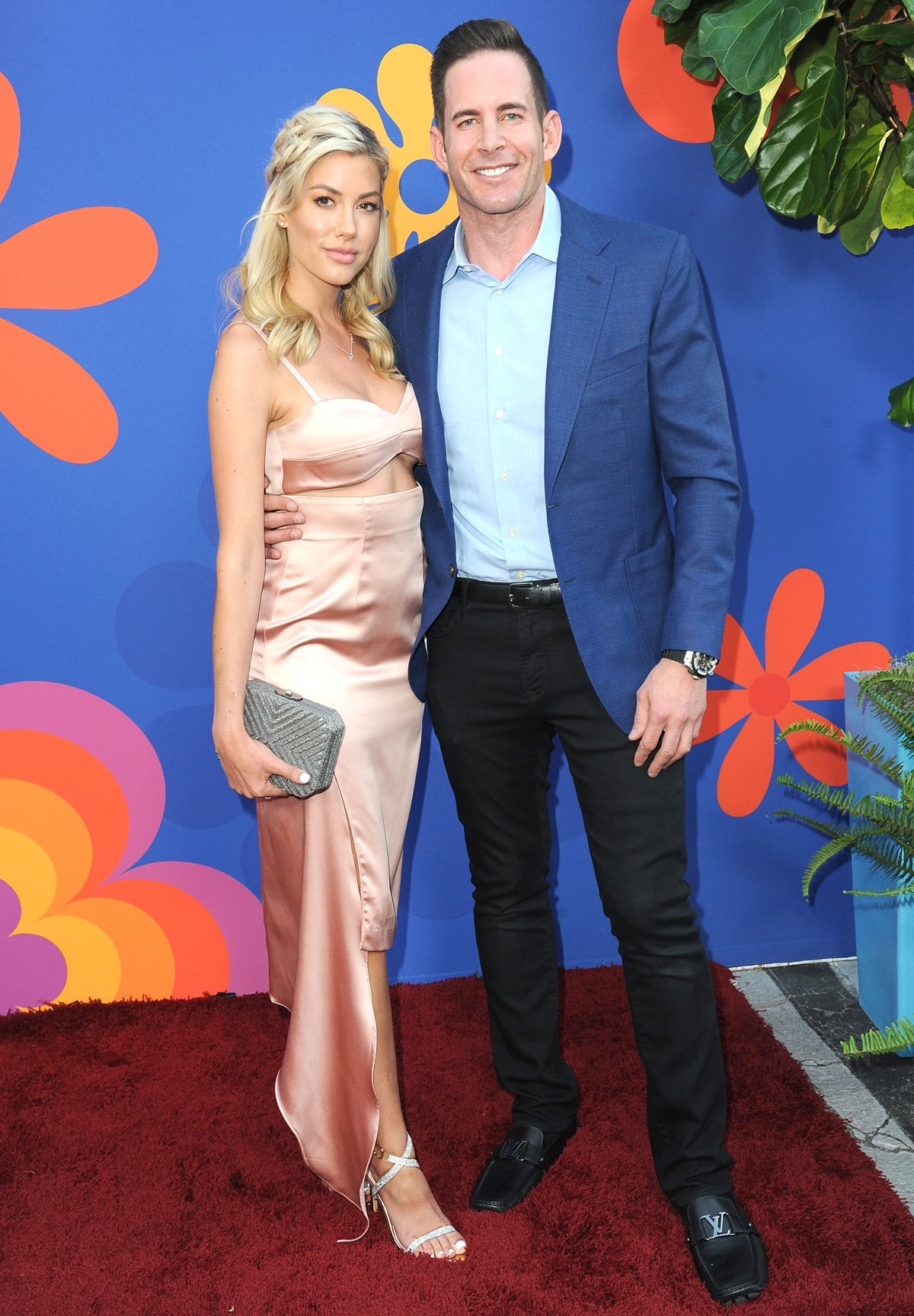 Tarek El Moussa and Heather Rae Young got engaged in July 2020, one year after meeting on his yacht, which is named Bad Decisions
Ever since his life has witnessed one rainbow after the other. His relationship with Heather Rae Young seemed to come up out of the left-field, leaving many wondering how the two met – and it's likely not what you'd expect.
Before we get to how the two met, here is a little more about who they are.
Who is Heather Rae Young?
If HGTV isn't your thing, perhaps Netflix's Selling Sunset is. If so, you'd likely be familiar with Heather Rae Young. Heather is the most googled person from the show, which is now entering its fourth season.
Heather was born on September 16, 1987, making her 33 years old. She was born and raised in Anaheim, California, and still lives and works in California.
View this post on Instagram
Before starring in the popular series, she was a model and featured in Playboy magazine as Miss February in 2010.
As a playmate, she appeared nude in the magazine several times, and she believes this and the people she met during her modeling career helped land her a spot on Selling Sunset.
Heather was also a Pilates instructor, which explains how she stays in such great shape! In addition to Selling Sunset, she co-hosts a podcast called Flashbacks, where she reminisces on incredible stories of the past with radio host Jessica Hall.
With such a full and eventful career before she even turned thirty, many are curious about her net worth. Her net worth is estimated to be $3 million, which is significantly higher than her other female co-stars on Selling Sunset.
Combined with Tarek El Moussa's net worth of $10 million, it's obvious these two will live quite comfortably together.
Who is Tarek El Moussa?
Tarek El Moussa is co-host of HGTV's long-running series, Flip or Flop, that he stars in with his ex-wife Christina Anstead. Tarek suffered from thyroid and testicular cancer as well as a debilitating back injury.
He was first diagnosed in 2013 after a viewer noticed a suspicious lump and notified the show. It wasn't until years later that he proudly announced he was cancer-free.
Tarek is a father of two children, a daughter named Taylor, who is 10 years old, and a son named Brayden, who is 5 years old. He shares custody with his ex-wife Christina Anstead.
Heather Rae Young and Tarek El Moussa: Relationship History
Although the two first met less than two years ago, they've hit many relationship milestones. Let's take a look at the action-packed timeline.
2019
In season one of Selling Sunset, Heather had a long-term relationship with a hockey player, Nick Ebert, who was playing in Sweden for Örebro HK of the Swedish Hockey League and then Slovakia. On the show, you could see the strain the distance was putting on their relationship.
She was frequently traveling to visit him, which sometimes caused trouble for her at work. Heather was still dating Nick when she met Tarek on July 4, 2019. Shortly after meeting, Heather broke it off with Nick.
The first time they met was on El Moussa's boat named "Bad Decisions" in Newport Beach, California. Heather's friend was on board, but once the two met, Tarek asked her out on a date.
Playboy Playmates Harley Lauren, Tiffany Toth, Stephanie Branton, Gia Marie, and Heather Rae Young at the "Muck" After Party held at Smithhouse Tap & Grill on February 26, 2015, in Los Angeles, California
Interestingly, this wasn't the first time Tarek asked her out. Tarek had sent her a direct message on Instagram before she started filming Selling Sunset.
In these messages, he asked her out, but she told him she had a boyfriend. Tarek had forgotten all about the interaction and had to go back through his messages to find it. Although Heather wasn't in a great place at the time, she agreed to dinner (and it's a good thing she did!)
The first date clearly went well because they moved in together less than a week later. They then split their time between his home in Orange County and West Hollywood.
A month later, in early August, the two posted to their Instagram pages that they were in a relationship. That same month Tarek introduced Heather to his two children – a meeting that went very well.
View this post on Instagram
Things continued to move at a steady pace, and they started renting a home together in April after dating for just 9 months. The pair then purchased a home together in September and used their real estate expertise to renovate the home into the perfect house.
2020
Heather and Tarek celebrated their first anniversary on July 4th, 2020, and a couple of weeks later, Tarek proposed! The proposal was filmed for Flipping 101, Tarek's TV show.
During the finale episode, the two went to Catalina Island to celebrate their anniversary. He had rented a private beach and picked out a jaw-dropping eight-carat diamond engagement ring.
The episode shows Tarek telling his kids he will propose where his daughter insists he wears a black and white tuxedo to pop the question.
While on a boat, where Heather thought they'd be spending all their time, Tarek read her poem, hinting at the time they'd spend on land. The rest of the trip was full of surprises like off-roading around the island, a spa day, and a romantic dinner.
Playboy Playmate Heather Rae Young arrives to host an evening at Tabu Ultra Lounge at MGM Grand on May 22, 2010, in Las Vegas, Nevada
Before their romantic dinner, an unsuspecting Heather was met by her glam squad, who helped doll her up for her special date. When Heather met Tarek on the beach for dinner, she found him in the middle of a rose petal-covered beach wearing a tuxedo.
He then opened a letter Heather had written him after they dated for one month, telling him not to open it until their first anniversary.
After reading the letter aloud, Tarek told Heather how much she changed his life for the better before getting on one knee and asking her to marry him. She, of course, said yes!
Celebrations were in order, and it seemed the celebrating continued for months. In August, Heather joined her co-stars Amanza Smith, Chrishell Stause, and Mary Fitzgerald on her now-fiancées boat.
It was a girls-only celebration as Tarek was away with his friends. She had so much fun (and a little too much to drink) that she forgot a lot of the celebrations.
The following month in September, Tarek gifted Heather a brand new Ferrari for her 32nd birthday. Not bad for a birthday present!
2021
As for the wedding, the two have said they are waiting until it is safer to hold a larger gathering of people. With the pace these two are on, it's surprising they'd choose to wait.
Although they haven't revealed many details, they have said they don't want to have a big wedding.
View this post on Instagram
At the start of the year, the couple was still gushing over each other online. In January, they celebrated their 18-month anniversary, and Tarek took to Instagram to share a picture, a loving caption, and a bit more insight into their dating history.
"I came home with @heatherraeyoung after 4 days of dating, she moved in, and we never looked back. She has exponentially improved the lives of everyone in my family.
Everyone said I was crazy, but here we are, engaged almost two years later. She's out rock, our best friend, and my hunny bunny.
We love you to the moon and back. Can't wait to take more photos like this in fun places like New York City! I can't wait to continue to build this life with you. You make me a better man."
View this post on Instagram
In February, there was a bit of controversy when Heather revealed her latest tattoo, "Yes sir, Mr. El Moussa," on her hip/butt.
With many concerns being expressed in the comments, she quickly took the post down, saying she didn't want to deal with the drama.
In response to taking down the post, Heather told US Weekly, "It was completely taken out of context, and the whole meaning of it was blown way out of proportion. And so, obviously, you saw, I took it down. We woke up the next morning, and it was, like, so much negatively surrounded by something that was meant for my fiancé and meant with so much love."
Their relationship has moved very quickly, and many have speculated that the pairing would never last. Yet, Heather and Tarek continue to put naysayers down as they appear happier than ever.
Although a date has not yet been set, we look forward to the pictures and video of what is sure to be a gorgeous wedding. For now, we can continue to watch their relationship highlights on their Instagram.
Credit: Instar / WENN / Judy Eddy