You can say that Hilary Duff doesn't really have a style to call her own, but you can't accuse her of not changing up her look or not mixing things up when it comes to fashion.
The Houston-born actress, singer, songwriter, entrepreneur, and author loves to wear different outfits in different styles nearly every single day, going from 70s retro to LA summer casual to head-to-toe designer the next.
For lunch in Beverly Hills with her family last Wednesday, Hilary went for the modern urban chic look in an all black outfit. She paired a loose knit top with skintight jean leggings, and finished off her look with an olive Balenciaga Motorcycle bag and these bad black biker buckle booties (try saying that five times fast!).
Hilary Duff wore these boots from Vivienne Westwood:
Vivienne Westwood Skyscraper Seditionary Buckle Boots, £435.31
You can shop for Vivienne Westwood shoes at Amazon and Zappos.
Like many of Hilary Duff's gorgeous and expensive shoes, we're probably never going to see these Vivienne Westwood buckle boots on her ever again. However, she has long been a fan of Vivienne Westwood's designs. We still remember this cleavage-popping gown from the same designer that she wore back in 2007 paired with Miu Miu pumps: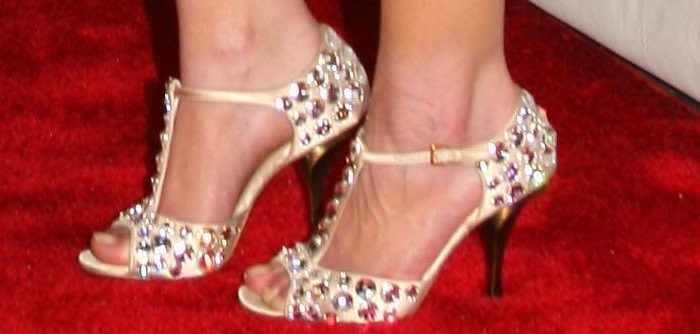 Hilary Duff at the 18th Annual GLAAD Media Awards held at The Marriot Marquis in New York City on March 26, 2007
Credit: PNP/WENN